One of the best ways to raise funds for a new product or service is to launch a product with pre-orders. Numerous brands have successfully done this, with or without a discount, and have therefore funded product development. To help you do this on Shopify, you can use one of the best Shopify pre-order apps.
Why Use Shopify Pre-Order Apps?
There are numerous reasons why you will want to use Shopify pre-order apps. For one, those customers that are excited about your product will want to make a purchase. There are lots of examples of this like when you have a new product, or when a highly anticipated product is not yet released.
A classic example is DVDs and CDs. Customers can make a purchase when they want to buy a film, single, or album and then get it shipped out when the order has been made.
And there can be big advantages to this. For example, 20-30% of games' first year's sales are pre-orders. A classic example of this is CyberPunk 2077 which made $8 million in pre-sales, 74% of these were made online.
Pre-orders have also been known to outpace the availability of the product on release. This can mean that there is no need to have your store stocking the product and paying for that storage space.
And pre-orders are a good way to encourage engagement between you and your customers. You can engage with emails and get them excited. And at the same time upsell to them, which can improve revenues.
So what are the best Shopify pre-order apps for your website? Here is a list of the 10 best.

Show More
* read the rest of the post and open up an offer
PreOrder Globo & Back in Stock

Globo is a pre-order and back-in-stock notification app. It is perfect for any website that would like to improve sales. When a product is not available or will be made available in the future, the add to cart button will be replaced with a simple 'pre order' button. This can be a great option for your brand to make sales before the product is available.
Customers will just need to wait until the product is back in stock or available. In addition, you can add the time and date when the products will be available. This can include a countdown timer that can add urgency to the website.
The app is powerful. You can process partial payments for any pre-orders. Or you can offer a discount for pre-orders. Therefore, you can build a much more successful business.
PreOrder Globo & Back in Stock Highlights:
Control what products/variants can be ordered before they're available.
You can add discounts/partial payment options to the website.
Add warnings to your cart pages about the products that are not available.
Easy to install and customize for your needs.
OnVoard Back In Stock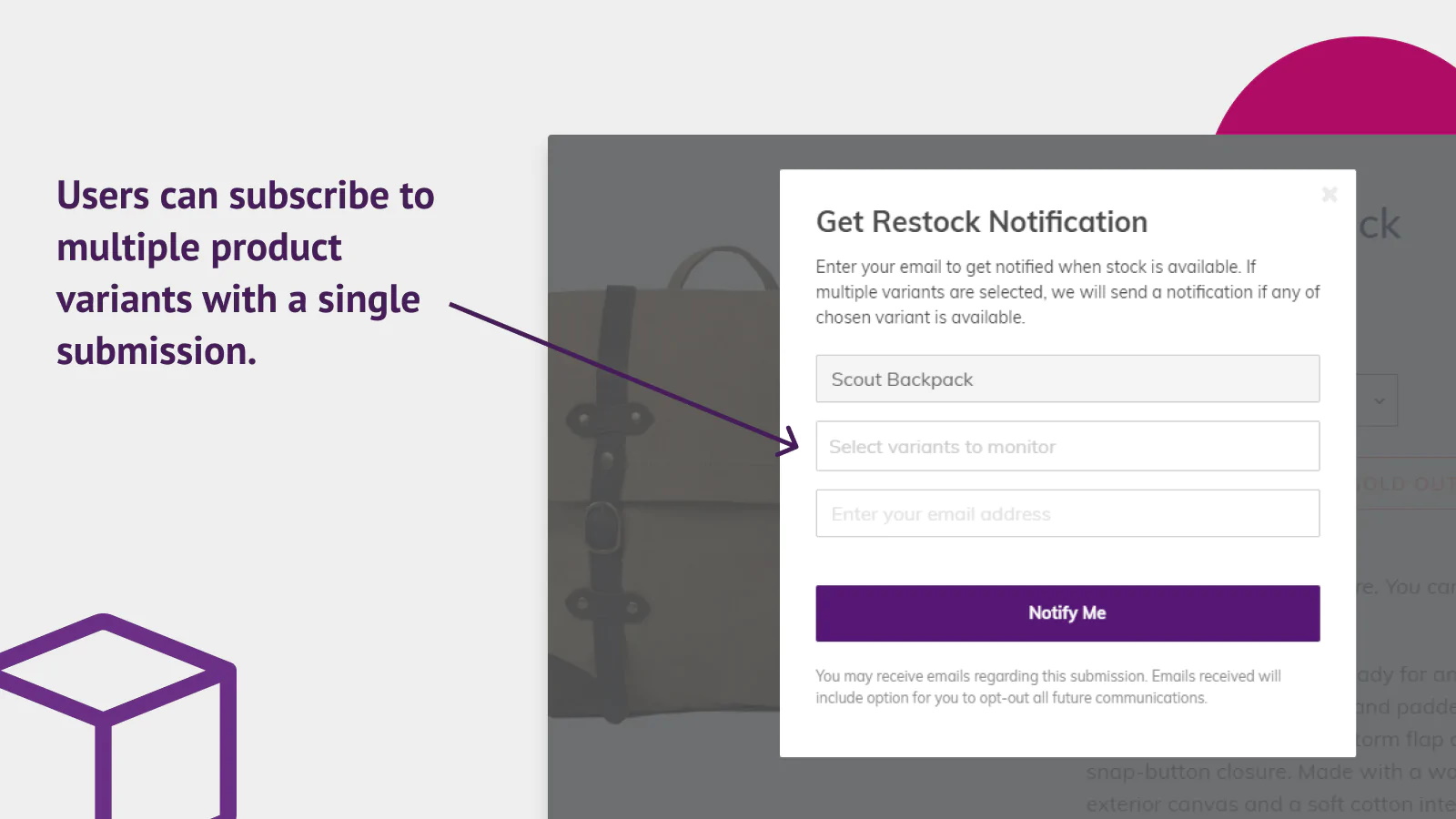 While this is considered a back-in-stock app, it is easy to convert into your website's pre-order app with ease. The app allows you to subscribe any visitor to your website to a mailing list. There is a double opt-in option that allows you to build your website's mailing list and improve long-term sales.
The app has lots of great options for merchants. You can see the best statistics between what products are in demand and which are not. And you can see what products you need to order quickly.
The app adheres to all GDPR and other regulations within an email as well.
OnVoard Back In Stock Highlights:
Numerous triggers for you to find the right pre-order or out-of-stock button.
Complies with all international marketing laws.
Is quick and easy to install.
Shows the most in-demand products that you don't have available.
Vitals

Vitals is one of the top options when you want an app that will improve your website's performance. It isn't just one app, it is a collection of forty apps that cover everything from increasing sales to improving pre-orders on your website. When you've got pre-orders, this app can manage this for you.
Or you can improve the website's speed. A good website speed can help you to increase your conversions and grow sales. At the same time, you can improve the number of abandoned carts by using retargeting customers through Facebook and email.
There are also ways that you can grow your marketing list. There are popups that you can design or use the spin the wheel game that offers a prize in exchange for an email address. The app can also be used to build trust with audiences thanks to the review system that allows you to import them from other sites or collect them from past customers.
Vitals Highlights:
More than forty apps are included within this one bulk app.
Numerous apps to help you improve trust with your brand.
Live chat options for your website to increase communications.
Allow pre-orders of all your products that are not available yet.
Preorderly
This app, Preorderly, is about capturing more sales on your website from customers who are looking excited and want to buy your product now. Preorder can start to work as soon as it is installed. It will automatically replace the 'add-to-cart' button with a 'Pre Order' button. Therefore, you can get customers to continue to purchase from you.
You're also able to keep customers up to date about the product's availability. You can publish delivery timelines and display a brief message alongside the 'pre-order button' to inform the customers more about the delivery times. And this can reduce the customer service hassles that are there.
You can apply the pre-order settings to any product, variant, or collection with ease. The app can also be set so products are on pre-order with a set start and finish time.
Preorderly Highlights:
This app allows you to set any product, variant, or collection on pre-order.
Set a time and date for the start and end of the pre-order.
Easy app to install and start using.
Order tagging can be used to help you find orders with pre-ordered items in there.
PreOrder Panda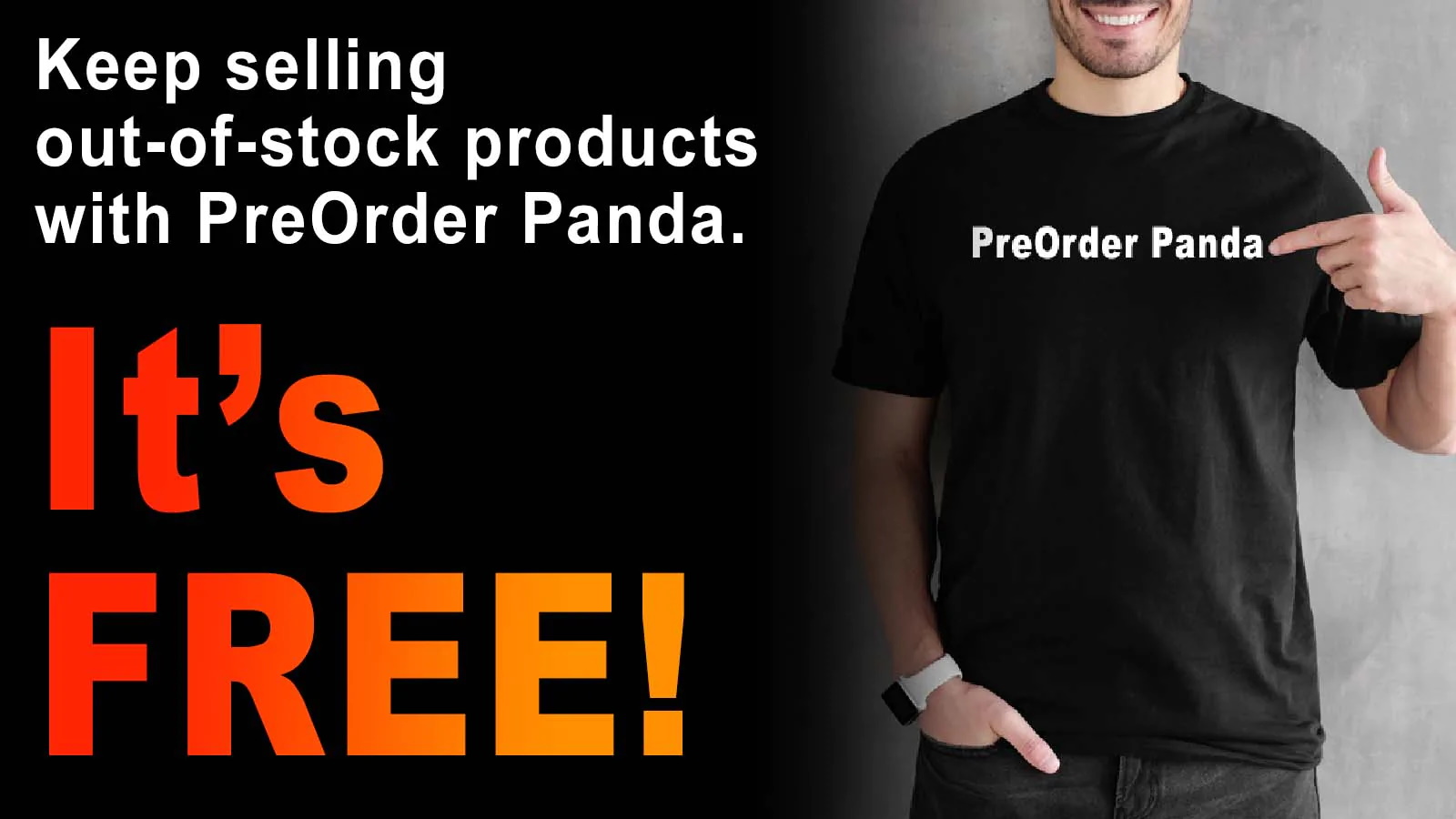 This app allows you to enable customers to pre-order products from your store. This is great when you have products that have gone out of stock or when there is a new product launch. This app will replace the sold-out page with one that allows a customer to pre-order and collect payments from the customer.
When the product is back in stock, you can then fulfill the orders with ease.
The app was developed by previous merchants on Shopify, so they know how best to build a business and what businesses need. And this app is completely free, allowing you to save money on an essential element of your website.
PreOrder Panda Highlights:
There are rules you can set for the pre-order page to be seen.
Works on whole product sets or variants with ease.
Blends in with any theme or design that you might have.
Support is available, and responses are within 24 hours.
PreOrder Bear
This free app is one of the best options for you to offer pre-orders to your customers. Once enabled, the app will detect the add to cart button and replace it based on what your riles are. If you need help with these settings, then that isn't a problem, there is a development team who is there to help.
The app helps you to sell more. Customers no longer have to wait for you to be back in stock with items, they can just order them and wait for you to get them back into stock.
The design of the app will integrate perfectly with your theme and the design of the website. Therefore, you can improve the overall appearance of your website. And any orders that are made can be tracked with ease.
PreOrder Bear Highlights:
Allows for you to set pre-order instructions for all products, collections, or specific options.
Complete control over the design elements.
Add tags to pre-orders to ensure you know where they are.
Works with the latest Shopify version and themes.
Timesact | Discount Pre‑Order
This app has one of the best response times. They respond to any support inquiry within eight hours. If you've not had a response by then, they recommend checking your SPAM folder to ensure there isn't a message there. The app development team is one of the best features of this app, they have free services like a code clean-up service to help you improve the performance of your website when you're switching to them.
The app is perfect for most brands. The pre-order button is supported on product pages, quick views, mobile devices, and AJAX carts. This makes it one of the best options for numerous brands that have a complex website and want a good relationship with customers.
The app can detect the sold-out products and replace them with pre-order options. There can also be discounts added to the pre-order.
Timesact | Discount Pre‑Order
Add a pre-order tag to your order list.
Set availability dates for any product.
Can offer discounts for pre-orders.
Automatically makes the changes so you don't have to.
Pix Preorder
Pix Preorder is a great option for those that want customers to make orders even when the product is not available at the time of purchase. The default add-to-cart button is replaced with a pre-order button that can help customers get their product as early as possible and not have to come back to your website.
The app is really easy to use and one of the best for those without any technical knowledge at all. You can customize lots of elements of the website, including the labels, messages, button design, and more.
Pix Preorder Highlights:
Sell products not currently available.
Use to crowdfund future products.
Capture customer interest and build a strong mailing list.
Change numerous elements of the website's pre-order system to your needs.
Advanced PreOrder(Partial Pay)

This is one of the apps that has the most features of any on the list (excluding Vitals). The app has several features to help you sell pre-orders, stock that is not currently in, and also stock that is delayed without disappointing the customer. But not only that, it gives you control over who can make the purchase and when.
The app allows for an advanced pre-order system when any item goes out of stock and customers can receive their goods as soon as you've got the product back in stock. And you can take payments at the time of the order or when the product has been delivered by the customer. This is a perfect solution for those brands that like to take cash on delivery or cash in hand. Or it can be used by local businesses with ease.
The app can be disabled on an individual product basis. So if you don't want certain products to be available for pre-order, just turn the app option off. The customer can't make an order and you will be protecting your reputation.
The date of the stock coming back in can be set on the app, therefore you can manage the customer expectations with ease. And you can also have a notification system that will send the customer a note when the stock is available again. Therefore, you can bring customers back to your store, even if they weren't happy to make a pre-order.
To encourage sales, you can offer a partial payment option. This is perfect for those who want to build more trust with audiences. Discounts can be fixed price or percentage based.
The app also includes a countdown timer to help you create urgency and tell customers when the product will be back. Or when a sale on the pre-orders will be available until. There is also a mixed cart warning that tells customers when carts have in-stock and out-of-stock items in them.
Finally, you can set pre-orders for specific regions whether that is states or countries.
Advanced PreOrder(Partial Pay) Highlights:
An advanced app with lots of options.
Easy to use.
Can send back in-stock notifications.
No need to know any coding to get to work.
PreOrder Manager
Pre-order Manager is one of the top options for those who are looking for a better way to get pre orders for products out of stock or in stock. The app allows you to set rules for products and then enact them. Using this style you can create rules that differ from product to product. So some you can take a deposit, others you can take full payment.

All pre-order products can be managed on their own or in bulk. And you can manage the success of the preorders in an analytics dashboard that tracks everything from the pre-orders.
The easy-to-use app works on most Shopify and third-party themes and can be installed without the need of a developer.
PreOrder Manager Highlights:
Easy to install and use, takes just five minutes.
Works with 95% of themes.
Manage pre-orders individually or in bulk.
Analytical dashboard to monitor success.
Final Word: The 10 Best Shopify Pre-Order Apps
Above are 10 of the best Shopify pre-order apps for your website. Use these to improve sales and help keep customers on your website. Which of the apps will you use? Let us know.