When shopping online customers have lots of options when it comes to choosing which brands to shop with. So when customers shop on your Shopify store you want them to return to buy your products regularly.
A great way to achieve this is to encourage the customer to set up a repeat prescription for one or more of the products available on your Shopify store. In fact, 70% of business leaders believe subscriptions are vital for future business success. This way you can ensure that the customer continues to use your store regularly.
And the results show for many businesses. 40% of finance businesses get their revenue from subscriptions.
Many customers find regular subscriptions to be very useful. The subscription model continues to increase in popularity and is a great way to increase revenue. Customers are now increasing the number of subscriptions they buy.
What are the Benefits of Shopify Subscription apps?
It takes a lot more interactions to achieve a new customer than it does to market to an existing customer. So it is really beneficial to encourage customers to return. You also avoid the risk of customers forgetting where they purchased an item last when it runs out, especially if it is a product that lasts for a couple of months or so. Having an app that allows customers to skip a delivery can also be helpful in this case.
Existing customers can also be encouraged to make additional one-time upsells alongside their regular orders to increase revenue and it's also a great way to advertise other products that your customer might be interested in setting up a subscription to.
So what are the best Shopify subscription apps? Here is a list of the best options.

Show More
* read the rest of the post and open up an offer
Subify Subscriptions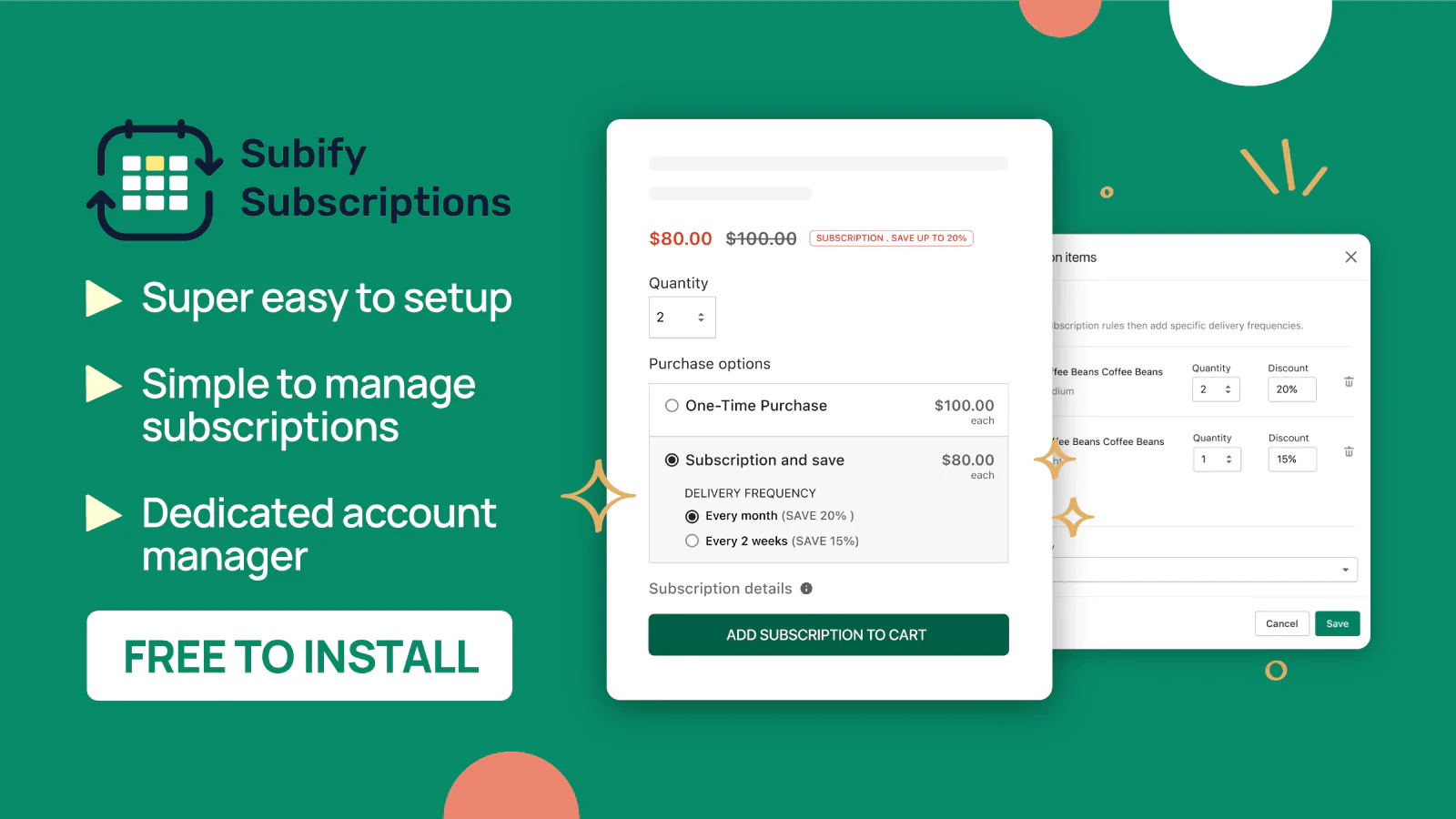 Subscription apps are great for building recurring revenue and encouraging loyalty from customers. With this app, you can offer subscription plans using the Shopify checkout process and provide several subscription plans for customers to choose from.
Customers can have their own portal where they can edit their plans with this app, either removing products or customers can edit, skip or change a delivery. You can manage billing with friendly reminders and invoices in your brand's style.
This app is easy to install and doesn't require knowledge of coding or developer experience. It doesn't take long to set up, about 30 minutes or so.
Subify Subscriptions Highlights
Customers can easily edit or change their subscriptions.
Customizable and easy to set up.
24/7 support team.
Send friendly reminder emails.
Recharge Subscriptions
With a subscription, you can increase the lifetime value of customers by encouraging them to take out a subscription to your products. You can also use this app to encourage customers to add a product as a one-time addition alongside their normal subscription.
This app makes it easy for you to take recurring payments on your Shopify store. With Recharge Subscriptions you have a merchant portal that uses Shopify Payments and customers can also manage their subscriptions.
This app is easy to set up and this can be done in minutes with no coding knowledge required. You will be able to see plenty of useful information and insights with Recharge Subscriptions.
Customers can also manage their subscriptions with ease. They can reschedule deliveries or skip one and can change products on their subscription.
Recharge Subscriptions Highlights
Integrates with Klaviyo, Gorgias etc.
Customers can manage their subscriptions.
Encourage upsells.
Automatic notifications.
Seal Subscription
This subscription app is full of features. There is a payment calendar, quick checkout, swap products and more. There are different subscription payment options. You can send customers email reminders about their subscription and then payments are taken automatically.

Seal subscription is EU-made and is compliant with GDPR laws. This app allows you to easily transfer from another subscription app by importing your subscriptions over in bulk.
There are lots of options for customers when managing their subscriptions through this app. They can have different subscriptions with different times between products. They can change their subscriptions by adding or removing products. Change the subscription timings and make payments through your Shopify store.
Seal Subscriptions℠ & Loyalty Highlights
Lots of features.
Founded by eCommerce experts.
Competitive pricing
Thousands of merchants are already using this app.
Propel Subscriptions
You can use this app to increase revenue by offering subscriptions to the products on your Shopify store like many other popular brands currently do. There are lots of features available such as 1-click checkouts and a customer subscription portal. By using this app you will be able to offer your customers a wide range of subscription options.
Subscriptions and Recurring Orders is capable of language translation and is GDPR compliant. It is compatible with 2.0 Shopify themes and is easy to install and use. You do not need to be able to code to be able to use this app. It will instantly load onto your product page and you can start using this app straight away it integrates fully with the Shopify payment portal.
Propel Subscriptions Highlights
No transaction fee for subscription payments.
Great live chat support 24/7 that responds promptly.
Made in Canada
A great look for your website.
Ongoing Subscriptions
This is a great subscription app that has plenty of features so you can offer customers subscriptions to any of the products available on your Shopify store. You can offer customers discounts depending on the frequency of their subscription as either a percentage, set price or customized discount.
Helpfully, you can offer products as both a subscription and a single purchase. Encouraging subscriptions, especially with a discount, can help with customer loyalty and provide additional ways to cross-sell and up-sell to them.
Ongoing Subscription apps are easy to install but there is customer support should you need it with a complimentary welcome call. The app is both PCI and GDPR compliant. You can also see how revenue is improving by the reports made available to you.
Ongoing Subscriptions Highlights:
Automatic recurring payments.
A range of subscription frequency options.
A prepay annual subscription offer.
Offer discounts.
Bold Subscriptions
This app is an official certified Shopify Plus subscription app that is certified for performance and growth. It integrates with Shopify checkout with ease and you can migrate from another subscription app in minutes. There are lots of tools and features to help you get the most out of your subscriptions which can be accessed from the dashboard that is easy to use.
Subscriptions can be added from one product to your whole store. You can also add Shopify discount codes to encourage subscriptions. Customers can also choose to purchase single items and subscriptions to items in the same transaction.
Should you need support, there are 24/7 options available. Bold is used by over 20,000 brands that offer subscriptions in 142 countries! They process over 60 million orders per year. So you should take a look at this app.
Bold Subscriptions Highlights
You can customize the look.
Integrate through Zapier for automation.
Send customers email updates about their subscriptions.
Dunning management.
Timo Subscriptions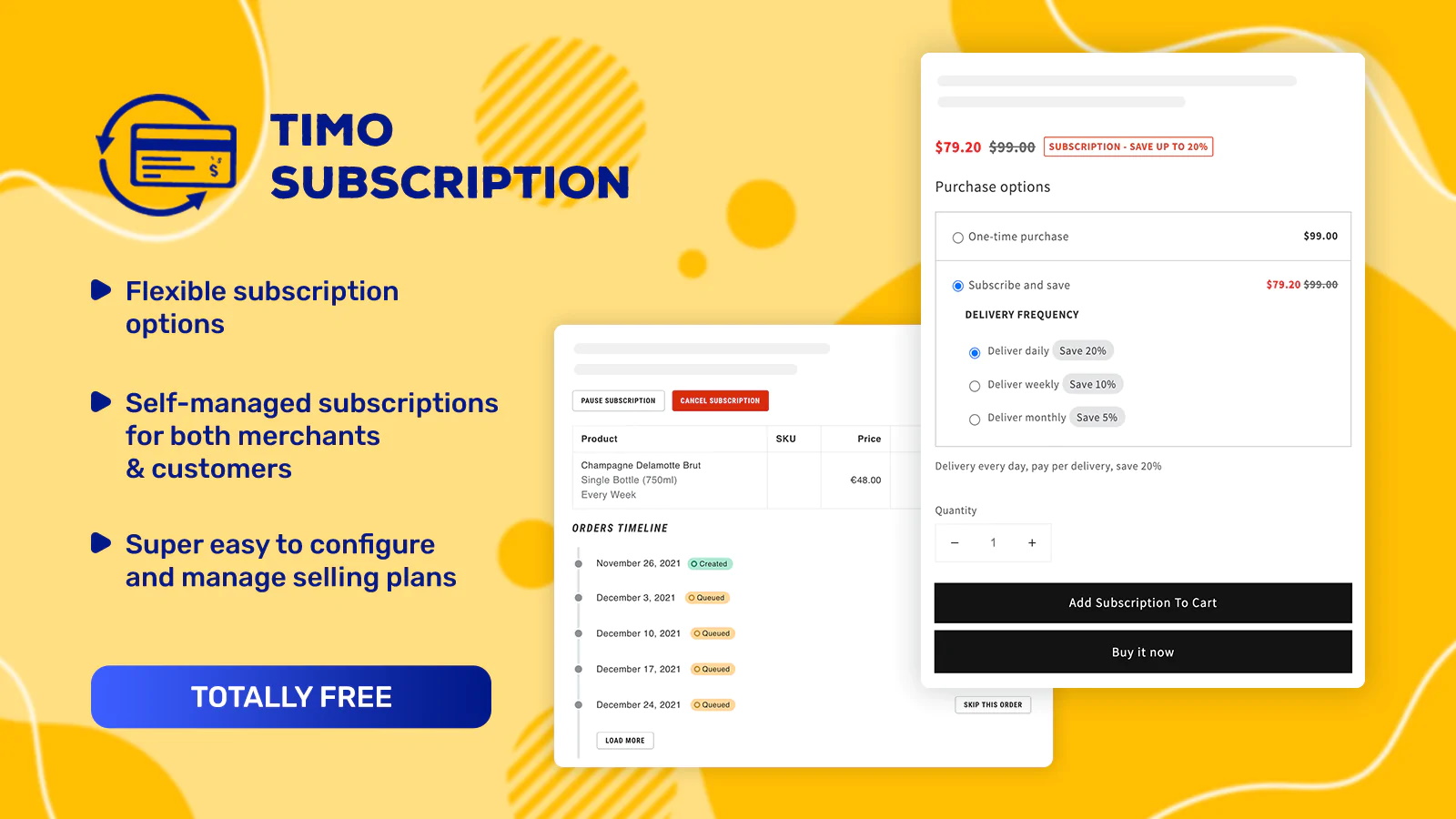 This app makes use of Shopify checkout so you can offer your customers subscriptions. This functional app uses automatic billing and customers can check out products that have different subscription times.
Customers also do not have to register with your store; they can follow a simple email link to manage their subscription. They can also manage their subscriptions through the customer portal. Subscriptions can be paused, cancelled or skipped.
You can offer both flexible and fixed subscriptions and offer subscription offers for your customers. There is also the option to entice customers to make bulk purchases by offering bulk order discounts.
Timo subscriptions is a GDPR-compliant app with no transaction fees. It is a fast and up-to-date app to minimise the impact of your website speed. It works with all Shopify 2.0 themes.
Timo Subscriptions Highlights
Offer both flexible and fixed subscription plans.
Provide discount options for subscribing.
A customer portal to manage subscriptions.
Customize emails to send to your customers.
Subscription & Recurring Order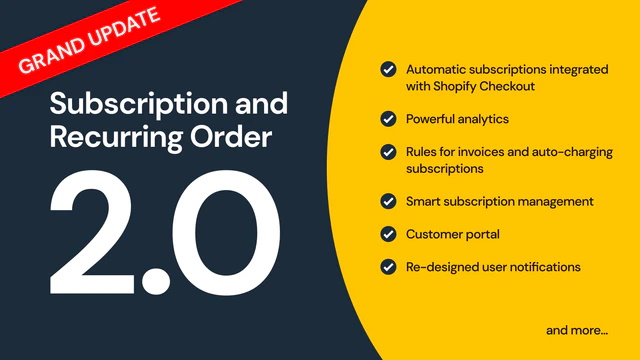 You can use this app to manage your customers' subscriptions. You can send invoices and auto-charge customers with automatic recurring payments. The app integrates with Shopify checkout. There is 24/7 support should you need it.
A great feature is that you can leave notes for your customers so you can let customers know about the benefits of their subscription and offer them discounts etc. Discounts can be offered depending on the frequency of the subscription.
Customers can use the customer portal to manage their subscriptions. They can cancel, pause and skip their subscriptions with ease. They can also add multiple different subscriptions to the cart and you can give the customers offers for their subscription.
Subscription & Recurring Order Highlights
This app has been recently updated.
It integrates with Shopify checkout.
You can leave notes for your customers.
With this app, you can analyze the success of your subscription program.
Subscription Plus

This is a great app with lots of features for encouraging your customers to continue to purchase your products regularly. Customers can receive personalized emails and be offered discounts for making purchases in bulk. They can use the customer portal so customers don't have to sign up. They can use this to alter their subscriptions such as skip, pause etc. There are great options for communicating with your customers to retain their loyalty and offer adverts for products you are sure they will love.
This is also a fast app so it won't affect your SEO which is great and it is up-to-date and suitable for current Shopify themes.
Subscription Plus offers lots of ways to enhance and vary your subscription offerings. You can offer a variety of subscription plans, customize shipping rates offer a variety of discounts. You can either offer pay-as-you-go or pay upfront and you can keep your customers informed of the whole process of shopping with your brand.
Subscription Plus Highlights
Choose from unlimited subscription plans.
Offer both recurring and fixed payment plans.
There are a variety of billing options available.
Offer discounts either as a percentage or fixed price.
Native Subscriptions
This app offers recently updated features. It is easy to switch over from another subscription app to set up prepaid and recurring payment subscriptions for your customers. Native allows you to ask customers why they cancelled their subscription so you can continue to improve and grow.
From their customer portal, customers can easily skip, pause or cancel their subscription. They can change their address, and card details and amend the frequency of their subscription.
Native Subscriptions Highlights
This app is compatible with 2.0 Shopify themes.
Integration with Klaviyo.
A complete subscription app.
You can offer your customer both fixed or percentage-based discounts.
Final Word: The 10 Best Shopify Subscription Apps
Shopify subscription apps are a great way to retain customers and encourage loyalty to your products and your Shopify store. There are lots of features that you can add to your store by using any of the apps above.
Think about the type of subscription you're looking for and the types of offers you'd like to encourage customers to subscribe with. You'll want an app that allows customers to manage their subscription with ease and might consider additional features such as single purchase upsells alongside their regular subscription.
There are quite a variety of options so consider what is most important for you to get out of a Shopify subscription app and have a look to see which app most closely matches your requirements.
By encouraging customers to sign up for subscriptions you will increase revenue. So which of the 10 apps on this list will you use?