Elementor is a great, and one of the best page builders that can be used on a WordPress website. There are lots of great features that can turn a basic website design into something that is much more effective for your website goals. However, Elementor is not a complete solution, there are addons that can be applied to make it even more powerful. These Elementor plugins can offer numerous functions to your website.
Why do you need Elementor Plugins?
Plugins are there to expand the functionality of the main program, and Elementor is no exception. There are lots of different functions that the main application doesn't have, which many sites might not need. For instance, not all businesses can offer or should offer a live chat feature. However, this can be added through certain plugins. You might also have more management plugins, when you want to display only certain elements on your website.
By using plugins to add features, websites can be saved from unnecessary coding added to their website. WordPress websites will load all the code that is installed on them, even if they're not used on the page. So, if you have a live chat function within a plugin, but don't use it, then that code is loaded regardless. When you have plugins, you can pick and choose what functions are installed on the website, and therefore decide how much code is installed.
This can be very important, because the more code that is installed on your WordPress website, the longer it will take to load any page. Therefore, by having addon plugins for Elementor, you can improve your website's speed.
Show More
* read the rest of the post and open up an offer
AnyWhere Elementor
This is a free Elementor plugin that allows you to do many of the things that Elementor Pro lets you do, but for a much cheaper price. And it also provides you with more functionality than the Pro version of Elementor. For example, it supports Pods and ACF relationship fields. Therefore, you can display post collections and more. If you're a blogger, this can be really important as it can increase the stickiness of your website.
You can also set a background for a section. This adds interest and makes your site a lot more aesthetically pleasing to your audience. This can improve the amount of time customers are on your website.
There are a couple of concerns with this app. The first is the potential for conflict when you're using Elementor Pro. This can mean that certain elements won't work on your website and could cause problems. Another is that there might be some bulky code within the plugin. However, there are some excellent benefits that make this free and the premium version of this Elementor plugin a great option.
AnyWhere Elementor Highlights:
This is a free Elementor plugin that provides you with many of the benefits of Elementor Pro.
There are new features that aren't included with Elementor Pro.
Great for those who utilize a lot of content on their website.
Has a strong reputation on WordPress.org.
Livemesh Addons for Elementor

LiveMesh Addons for Elementor is a freemium plugin for Elementor that adds more than 13 new widgets, heading style options and more to your site. Some of the notable additions to Elementor that you could benefit from include a blog post grid, testimonials, testimonials slider and pricing plants.
If you want to use the Pro version of the software, you can gain access to another 13 elements and options to your site. Some of these options are designed to improve existing elements such as lazy loading to blog post grids and AJAX pagination to the post grids. You might also want to add custom animations to widgets across your site.
The Pro version also includes responsive tabs, FAQ and Flat style buttons. The app has a good reputation, is regularly updated and the free version can really help you expand and improve the design of your website. Therefore, it is certainly an Elementor plugin that you would wish to consider.
Livemesh Addons for Elementor Highlights:
A free and pro version of this app adds lots of new functions to your website.
Lots of free features that can help you customize the look of your website.
Almost perfect rating from users.
Blog post grids, testimonials, sliders and more can be added to your site.
Flexible Elementor Panel – Organize All Those New Widgets!
When you're adding new plugins to your WordPress website for Elementor, you're going to get a lot of new widgets, elements and templates. This can be challenging to manage, especially when you're looking for one feature that could be among dozens or hundreds options. That is why you need to have something that can help you organize all the elements for you.
This plugin doesn't change anything for Elementor. Therefore, there are no new functions to expand what you can do with Elementor. Instead, what you have is the ability to manipulate, organize and change the Elementor panel. This is the screen that contains all the widgets, elements, settings and templates for Elementor. So, you can organize your panel to have the elements you want closer to the top in easy-to-reach locations.
The plugin allows you to resize the panel, collapse it and change its position on the screen for more convenience. You can also make other changes like the skin color and sort the categories for the widgets. Therefore, managing the Elementor panel can be an easier experience that improves the use and application of the main Elementor plugin and any add ons that you install.
Flexible Elementor Panel Highlights:
A free forever plugin that allows you to organize the Elementor panel.
Make it easier to use your Elementor app.
Hide options in Elementor that aren't suitable for your website.
This is a lightweight plugin, so your website doesn't slowdown.
Element Pack
Element Pack is a top quality, premium set of Elementor widgets. It has one of the largest collections of additions for your website including 98 new widgets, more than 60 page templates and more than 100 block templates.
There are numerous different widgets on the list that can be beneficial for your WordPress website. For instance, you can add document viewers, member profiles, weather, user logins and cookie consent elements. Therefore, there are lots of great options that allow you to save on other plugins.
The templates that are included with the plugin are equally as useful. They cover a wide variety of niches and therefore this plugin is perfect for almost any business model. This plugin is certainly a great option for Elementor as it adds lots of new functionality to your website without too high a price.
Element Pack Highlights:
Adds more than 98 new widgets, 60 page templates and 100 block templates for additional website options.
Templates are for lots of different niches.
Good price the additional options that have been included within this plugin.
One of the largest collections of additions on a website.
Premium Addons – 46+ New Widgets
This plugin includes more than 50 highly customizable Elementor addons and widgets with more than 270 premade Elementor templates that can help you build on your current website to make sure that you're giving the right impression to customers. There are two options when it comes to Premium Addons, there is the free version and a premium version.
One of the new features of this plugin allows you to use Lottie Animations. Lottie animations are open sourced, lightweight and available for free. They can make your website more eye-catching and improve the stickiness of your website with ease.
The page templates are really easy to use. There are lots of free options available and they take just a click to install on your website. More templates are being added at a time. The plugin is also WPML ready, therefore, making your website multilingual easily. The plugin is also fully responsive and can be viewed perfectly across all browsers.
Premium Addons Highlights:
WPML ready and can be used on any device or browser.
Lots of page templates and widgets.
New elements being added all the time.
Free and premium versions for your website.
Stratum

Elementor plugins aren't always large collections of new features packed into one plugin. While these large packages are popular, they aren't always the best for your brand. The more elements that are added to the website, the more code there is and the longer it will take to load the website. This can harm your SEO and ranking on Google and other search engines. However, with some smaller options, you can get the functions that you need without overburdening your website with unnecessary code.
Stratum Elementor adds extras to your website that are premium and for a good price. The freemium option adds 20 widgets to your Elementor powered WordPress website that allows you to add new functionality to your website with ease. For example you can add an advanced slider, Google Maps, Instagram and more to your site with ease and for free.
The plugin is easy to use and there are more than 20 widgets can be customized to your specific needs. Some of the plugin options are analogs to Elementor Pro widgets. There is also a Stratum Pro plan.
Stratum Highlights:
An affordable option that allows you to add a selected number of advanced options to your website.
Some are things that add functionality to Elementor Pro widgets.
Free and premium plans.
Doesn't affect your website's loading speed.
Mega Menu For Elementor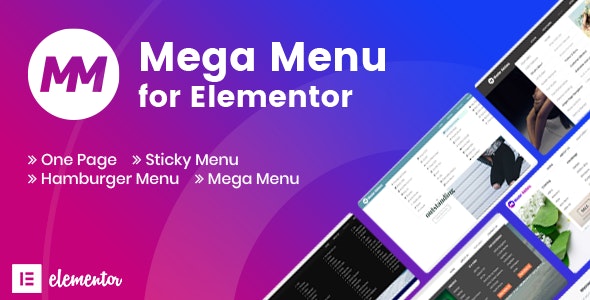 This plugin allows you to add in more menu options to your website using the Elementor page builder app. There is sticky navigation available in four variations. For instance, you can have vertical navigation, off-canvas menu and more.
The plugin comes with so many options, it is hard to list them all. But each one, from the Sticky Navbar to the mobile menu logo allows you to improve the experience of users on your website and allows you to build a better search rank as navigation is a fundamental part of the Google algorithm.
Some of the options you have for the sticky menu includes fixing it to the top. You can also align your menu to any option, left, right and center. You can also add a Hamburger menu. This can make a real impact on your business' website and adds lots of interest.
Mega Menu For Elementor Highlights:
Adds new menu elements to your websites.
Can add a sticky menu to your website.
Hamburger menu options for those who want to make a real impact on your site.
Lots of options for your website.
Octagon Elements for Elementor
This simple plugin allows you to add more than 25 new elements to your WordPress website for better designs and improved conversions. This library of Elementor widgets also adds flexibility and more to your page builder.
Some of the elements included within the plugin are an advanced button that has more than 10 button styles. There is also an advanced counter, image box, icon box, portfolios, content type slider, content type lists, login and register forms and much more. These elements help improve the site's overall look and feel.
If you're an eCommerce store, there are several features that you can utilize to improve conversions and engagement with customers. For instance, you can list products, show products in a grid view, have a slider, compare products, give customers the chance to make a wishlist and have a product search option.
Therefore, your store could be highly effective and help you improve your order values and conversions.
Octagon Elements for Elementor Highlights:
Adds more than 25 new elements to your Elementor panel for use on your website.
Great for eCommerce sites that sell lots of different products.
Numerous features help to make your website unique.
Easy to install and use.
WooLentor Pro – WooCommerce Page Builder Elementor Addon
WooLentor Pro is a page builder plugin for WooCommerce and Elementor. It allows you to build unique and powerful custom product and archive pages for your site. There are more than 43 Elementor widgets included within this plugin that allows you to build numerous WooCommerce pages like Shop, archive, product pages, account pages, cart and more.
With the plugin you'll be able to showcase the best sellers, new products, products on sale, featured products or even limit products viewed by category all with ease. You can also add unlimited background colors and images to make your site more professional.
WooLentor Pro – WooCommerce Page Builder Elementor Addon Highlights:
Adds new elements to your WooCommerce site that enable you to customize your website.
Can change many elements to your product pages.
Limit what products are displayed based on numerous factors.
Great for improving the performance of your WooCommerce powered WordPress store.
Icon Box - Elementor Addon Plugin
This Elementor plugin has 12 design layouts with lots of options for your WordPress website to take on a new, sophisticated look that can help you improve performance, convert more and increase revenues. There are lots of great options for you to get the most from the plugin including grid options, general and styling options and the fact that the plugin allows your site to be fully responsive.
The coding is completely clean, allowing for a fast load of any pages and improved ranking for your site. The code is also W3C valid code and there is lots of good documentation and support from the developers to help you make the most out of this plugin.
Icon Box - Elementor Addon Plugin Highlights:
Developed with the best coding practices to ensure your site loads fast and ranks better.
12 design layouts for you to use on your WordPress website.
Grid, styling and typography options available.
Your website will be fully responsive.
Final Word: The Top Elementor Plugins for WordPress
Elementor is one of the best options for your website if you're looking for a page builder on your website. However, that doesn't mean that you have to just use that plugin. There are lots of other plugins that you can add to your website to improve the functionality of the original app.
The list above are the 10 best Elementor plugins for your WordPress website that will help you make your design the best in your niche. If you want to know what plugins or themes another website is using, then you can use this WordPress detector.