When it comes to selling online, you want to make sure that you have a fast website. A website that loads quickly and can change from page to page quickly, can have better traffic, revenues and profits. Speed is so important you should really look at some of the fastest WordPress themes available.
What can you get by Using One of the Fastest WordPress Themes?
Speed is an integral part of the online experience for customers and your ranking on search engines. Research has shown that for every second that it takes your site to load, you will lose 7% of your revenue. And a quarter of your audience will abandon your store if it takes longer than four seconds to load.
Search engines know this, and will therefore promote the fastest websites first. This can result in more traffic to your website. The more traffic your website can generate, and the better the speed of the website, the more revenue you can generate.
Many different themes can help you build a strong, fast WordPress website. Here is our list of the top speedy WordPress themes.
Show More
* read the rest of the post and open up an offer
Astra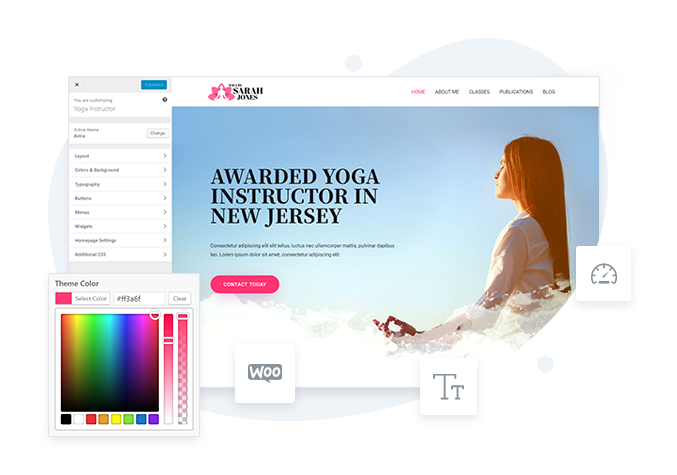 Astra is one of the top WordPress themes that can be used on your next project. It doesn't matter what industry you're in or what you're hoping to achieve, Astra has the tools to help you setup your site perfectly. There are numerous features that can help you build a profitable site that can be easily designed, maintained and updated without any designer skills or knowledge.
To help you get started there are lots of demo sites that can be uploaded to your site and customized with ease. This helps you get your site up and running with ease. You can also worry less about the core functions and concentrate on building the finer details of your website. You can also concentrate on your website easier.
The Astra theme comes with a great editor, this is a drag and drop experience like no other. Editing your website for your own specific needs is therefore simple and easy, and you don't need any experience with coding.
Astra is a light-weight theme. The coding for the theme makes it faster. The coding is also perfect for your website to be viewed on all mobile devices, browsers and screen resolutions.
Astra Highlights:
The theme is optimized for user experiences, SEO and mobile devices. This improves revenues and more.
Astra is built for speed, improving your rank on search engines and more.
Use one of the numerous demo sites to get you started.
You can speak to a community of developers for support.
Soledad
Soledad is a great WordPress theme for many brands. It can be used for any niche and has a wide variety of functionality that makes it perfect for those new to website building and can help customer conversions with high levels of usability, speed and ranking on search engines. Whatever the final design you get with this theme, you can be sure that it will be elegant and fast. This will help you attract traffic to your store.
There are numerous features you can use on your website, like using videos for brand/product promotion. And it is compatible with several premium plugins that can help you add functionality. Two classic examples are BuddyPress and bbPress. Therefore, your site can be turned into a social hub. The theme also works perfectly with eCommerce plugin Woocommerce. So, if you want to create a retail store, you can build a strong one with this app.
There are more than 2000 demo sties that you can use with this theme to help you get started. These demos will give you a basic design and content. This can speed up the process of starting your website. You can then customize your website with unique colors, text, images and more.
Soledad Highlights:
There are more than 2000 demo sites you can use to help you get started.
Can be used with numerous other plugins.
Optimized for fast loading times. Get more traffic to your site and make it convert better.
Is easy to use, whether you have experience building a website or not.
Kalium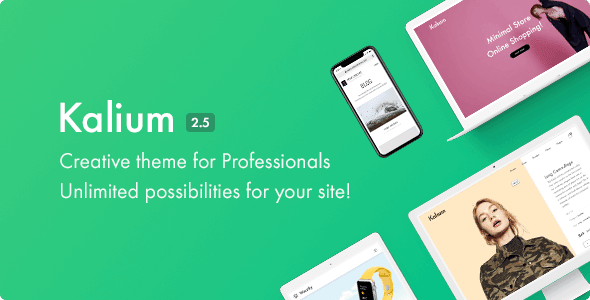 Kalium is a light-weight theme that is perfect for loading speeds. This can result in higher ranks on search engines like Google and others. You can therefore enjoy higher traffic levels, more revenues and great profits. And for those who want an easy time building their website, this theme could be the perfect candidate.
The theme comes with visual composer. This is a drag and drop builder that allows you to build a website within minutes. Numerous demos can help you build the website within minutes and then customize the pages as you see fit. There are also page templates that you can use to build your website with ease.
There are more than $300 worth of free premium plugins that can be used that are included with this theme. And with the additional support that you can get with the purchase of this theme allows you to feel confident with your website.
Kalium Highlights:
This theme can support languages from across the world and these include languages in RTL.
Customize your website's design use a drag and drop builder that is easy to use. No need to know any coding.
Choose from the numerous demo sites to help you get started with a professional design and demo content.
This theme offers you a fast website that will help you rank high on Google and attract more traffic.
Armania - Multipurpose Elementor WooCommerce Theme
Armania is designed for those website builders who want to build a marketplace within the WordPress environment. It can be used within any industry with ease and you don't need any specific designer experience to make it work. There are lots of demos, that look elegant and are fully functioning with demo content that can be installed on your website within a single click. These demos can then be customized with ease. So your dream website is just a few clicks away.
The theme has coding that is optimized for speed. Therefore, load times are much reduced across devices, including mobiles and tablets. This can help you rank better on Google and other search engines. Your site will therefore have better traffic and with the other SEO features that are on the theme, you can rank even higher.
The theme allows you to customize most aspects of your website through the powerful Elementor drag and drop builder. You can also add any image you want to illustrate products, branding or other content. The theme is also compatible with numerous plugins.
Armania Highlights:
The theme is compatible with numerous premium plugins, including WooCommerce.
Use one of the highly engaging and well designed demos, these can help speed up the process of building your business.
Can use the Elementor drag and drop page builder for quick and effective changes to your site.
Is perfect for numerous uses online, including services, portfolios and retail.
Responsive
This is a very stable, reliable, lean and fast-loading theme with minimum hassle for eCommerce stores.
This is a fast loading eCommerce WordPress theme and is very suitable for eCommerce stores. This ready template comes with a pre designed Pages for Home, Shop, Blog, About and Contact.
This WordPress theme comes with services and contact form section which you can edit as per your business requirements. It is easy to import with a single click and loads very fast. This WP theme loads fast and its GTMatrix score is as high as 96. The theme is much lighter and faster than most other WooCommerce themes.
The eShopper eCommerce theme comes with Responsive Pro by CyberChimps. It has many more features that fulfill the needs of a WoCommerce store.
With this WordPress template, you can easily set up your fashion blog and sell products through the shop as well. The major attractive part of this theme is the testimonial slider.
Responsive Highlights:
Online store
Fully Customizable Layout
Suitable for Gutenberg
Suitable for Elementor
SEO friendly
Easy to import
Testimonial Slider
Contact Form

Reign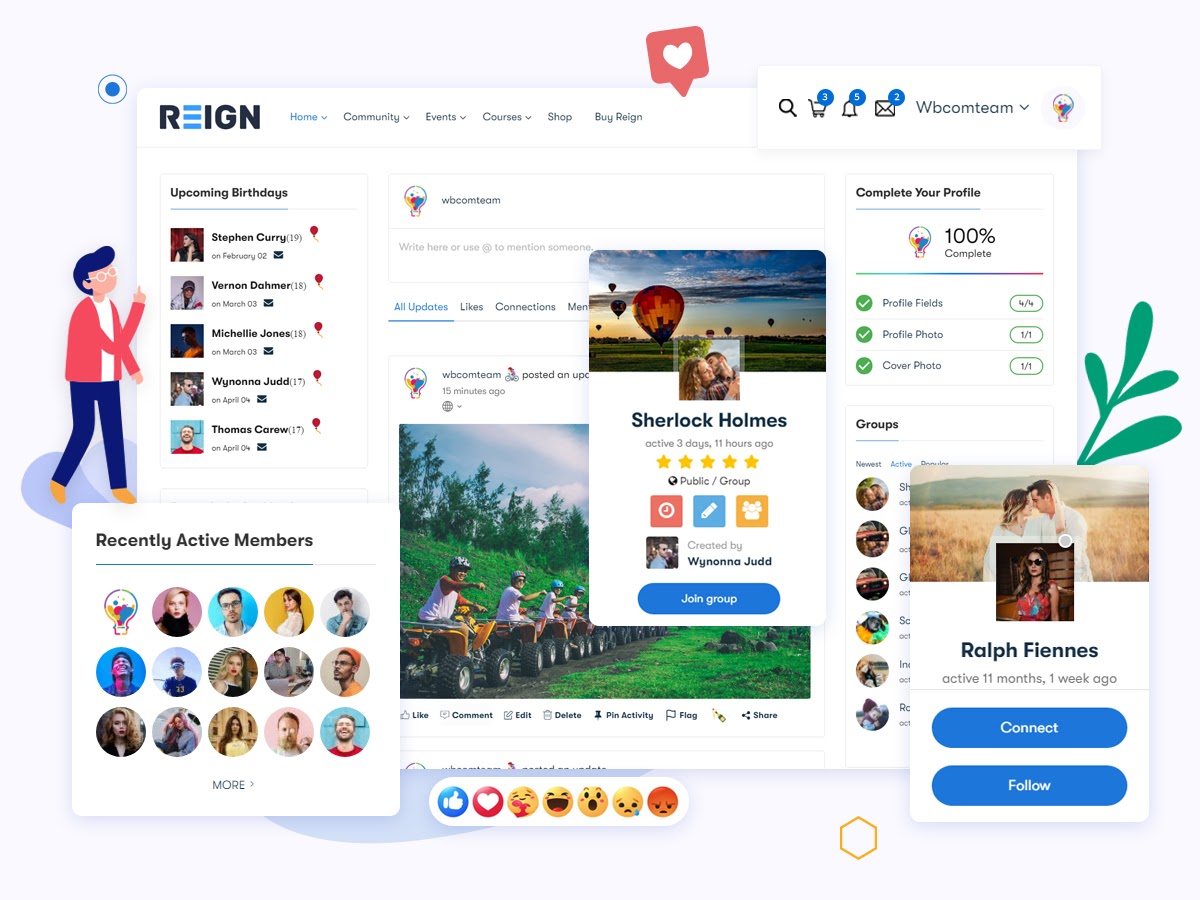 Reign is a BuddyPress WordPress theme that has been created to aid you in the creation of an online community or social network website. Thanks to the capabilities of BuddyPress it is simple to use a range of social media tools to WordPress.
Each social media function has been wrapped with the stylish design of Reign. If there are certain elements of the Reign design that don't seem appropriate for your needs you can easily alter these features. Reign also offers support for plugins like Gutenberg Page Builder and the Elementor Page Builder plugin for large-scale modification.
Reign offers all the BuddyPress social network page layouts your website is likely to require. In addition, there are other options to provide even more options. If you're a newbie to WordPress and also an experienced web designer, Reign should be suitable for you. It comes with helpful online resources to aid you in making the most of the theme. Experienced users can benefit from the customization features that allow you to customize this theme with CSS. This theme is also compatible with the most recent BuddyPress Nouveau Template and offers customized customization features specifically for it.
Another option to utilize Reign is to set up your membership website. Members can create their profiles on your website. Any site with protected content could also benefit from themes such as Reign.
If it's a marketplace and also an online education portal, or directory website, BuddyPress can be used to integrate a community element across all these sites. However, choosing the right theme with the specific design that is designed for BuddyPress in conjunction with your particular specialty website isn't easy. Reign BuddyPress Theme is an ideal solution for these websites since it comes with a variety of Reign extensions for niches like this.
Reign Theme Highlights
The installation of a website is as simple as a click.
A visual page builder that has advanced drag and drop.
Multiple members & group header layouts.
Advanced theme customizer and different header styles.
Group directory with multiple members and design.
BuddyPress customizable options.

Divi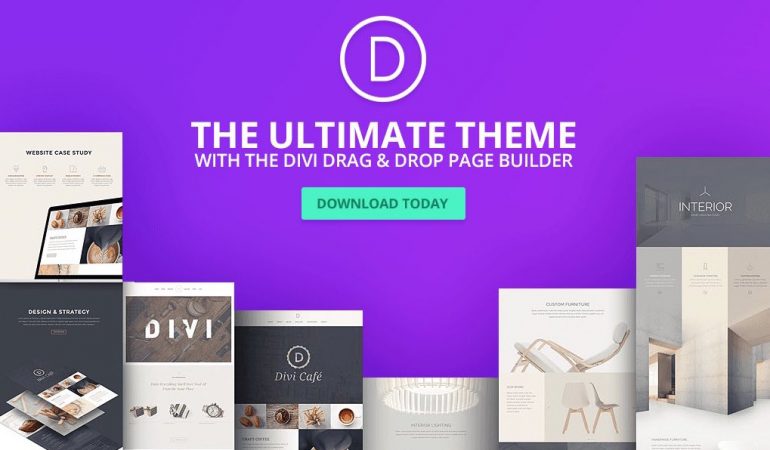 Divi is one of the best premium WordPress themes that you can use on your website and it has lots of high profile users across the world. There are lots of great features that include one-click install demo sites that can help you get started on your website in no time at all. There is also a drag and drop page builder on the site, that allows you to customize the website without any coding knowledge.
If you need help, there are lots of great options to seek out help. There are numerous support videos, documents and even a community of developers that can help you. They can support you with some of the quick, simple fixes that many people need and they also can offer you complex problem solving.
There are also lots of features that can help you stay connected across the world. There are social media functions through the Monarch social media plugin, included with the theme. This allows you to showcase social media content from your profiles on your store.
Divi is fully compatible with many premium and commonly used plugins, including WooCommerce. Therefore, you can find numerous ways to increase conversions on your website and monetize your website with ease. And with lower bounce rates and improved revenues, Divi is one of the best options for website projects.
Divi Highlights:
Divi is one of the fastest WordPress themes that you can use on your site.
Whether your visitors are on a mobile, desktop or other device, this theme is suitable for them.
This comes with lots of different functions to help you optimize your site for users and search engines.
Lots of demo sites to help you build your website with ease.
Uncode
Uncode is a visually impressive, versatile WordPress theme that is perfect for most website owners to create a website. There are a wide range of functions that can help you sell any product/service on your website without too much effort. You can get the visual composer with this theme, that allows you to use the drag and drop functionality to build a website page without any coding knowledge.
In addition, to help you start building your website, there are lots of demo sites that can be used. It takes just one click to upload them to your website. Then all you need to do is to customize them.
Uncode is a fast website through excellent coding. Therefore, you can experience lower bounce rates, higher conversions and better ranking on search engines. You will also find that this theme is compatible with all GDPR regulations.
Uncode Highlights:
This theme is visually impressive with lots of demo sites that can be customized with ease.
The theme is highly responsive theme allowing your customers to visit your store regardless of the device they're using.
Optimized for search engines and speed for better ranking and improved engagement with audiences.
Includes the popular Visual Composer, drag and drop builder.
MinimalistBlogger
This is a highly responsive WordPress theme that is free for you to use. There are lots on offer with this theme that can help you build a great blog or news site. The elegant and minimalist look is highly attractive, but the theme is also perfect for those that want a fast website.
There are many ways that you can share your content on this elegant website theme. For instance, you can use the sidebar that is compatible with AdSense and can also include affiliate links. This makes monetizing your website easy.
The installation of the theme is very easy. You don't need the skills of a developer or any coding skills. It is a simple case of uploading it to your website. The code is very clean, making your website rank highly as well as quick to load.
MinimalistBlogger Highlights:
A great free theme available from WordPress.org.
Clean coding allowing you to have a site with great SEO, so your site will rank higher.
Fast website theme, allowing you to attract more people to your website.
Responsive so your website will look great on any device.
Minimalisticky
Minimalisticky is a very basic theme that allows you to build a simple, but attractive website on WordPress. The simple, but attractive, theme is quick to install and setup. You can do it within minutes and have a website that is responsive and fast.
The responsiveness of the theme allows it to be displayed on any device or screen resolution.
Minimalisticky Highlights:
Lightweight coding, so it is easy to load.
Elegant design, so looks good to audiences and helps project a professional image.
Is very popular with audiences and downloaded many times.
Looks great on any device thanks to the responsive elements of the theme.
Minimalist Portfolio
This theme is one of the best minimalist WordPress themes for those that want to showcase their creativity online. This simple design hides a website theme that is perfect for advertising your skill and attracting audiences. It is also good for converting those on your website into customers or subscribers.
The theme works with a lot of great plugins that can help improve your site's functionality. But the theme's perfection comes in its light code, a trademark of the minimalist theme. There are two skin choices you can use within the design of your website. One of these is known as light, the other is dark.
The theme is also responsive, able to be viewed perfectly on any device, no matter the size. The theme is also free.
Minimalist Portfolio Highlights:
Fully responsive so it looks great on any device, whether a mobile, tablet or desktop.
Lightweight so it loads quickly, regardless of the device that the user is on.
You can use the set up tutorial to help you design your website using this theme.
Keep costs down using this free theme.
Gillion - Minimalist Blog WP Theme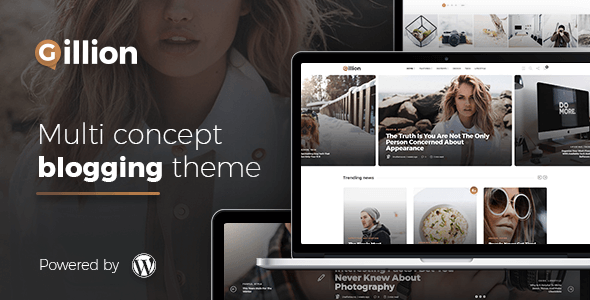 Gillion is one of the easiest WordPress themes that can be used to build a website. It's primarily used as a minimalist blog post, and therefore has the features for that, however it can be used within numerous niches for perfect website designs. The final design will have few distractions, allowing you to get the customer to focus on the information you would like them to.
There are 12 prebuilt demos that you can use on your website. This includes a beautiful minimalist theme. The theme also comes with numerous header and style options that can help you customize your website to match your branding and the experience you want to build on your website.
Further customizations can be achieved with the use of the Visual Composer drag and drop builder. You can also improve readership and customer retention on your website through the use of logins and bookmarking content to read later.
You can also use MailChimp with this theme. This is a great way to build a list for newsletters and email marketing. MailChimp allows you to have 2,000 contacts and send 10,000 emails every month for free.
Through the use of good coding and great design, Gillion is perfect for fast speed and ranking high on Google. The higher you're ranked on Google, the more traffic you will generate and this will lead into more sales. Therefore, Gillion can be the first step into a better online business.
Gillion Highlights:
Make use of the unlimited color choices that allow you to match your website's design to your brand's.
You can use the 12 prebuilt demo sites and their data including images you can use.
The theme is ready for translation so it can be read in many different languages.
Fast theme, that allow you to rank high on Google and improves user experiences.
Final Word: The 12 Fastest WordPress Themes
Whether you're looking to build a strong presence on Google or having more engagement on your website, you need to install one of the fastest WordPress themes. The list above are some of the best. Which one will you install?
If you want to see what another website is using as a theme, then use this WordPress theme detector.