SMS messages are becoming an important part of marketing. Customers actually respond and prefer receiving messages via their mobile devices, SMS, than other forms of marketing. The majority of customers (
42%
) would like to see a message a week from brands. However, to do this, you might need to use one of the best SMS apps for Shopify.
What Criteria are you Looking for in the Best SMS Apps for Shopify?
Many things are necessary to make a great SMS app for Shopify. For instance, you want to ensure that your SMS app can add value to your online marketing campaign. For instance, you could SMS to reach out to customers who haven't bought from you in a while. Or you could use it for abandoned cart recovery.
Using an SMS app like this can bring in missing revenue. There are numerous stories of how some brands, like Peak Designs, have recovered up to 12% of their abandoned carts. Other brands have managed to recover more. A 20% recovery rate can increase the average store's revenues by 14%.
It is also a great way to tell customers about orders. You can inform them when their order has been picked, shipped and delivered. About 90% of customers want to know immediately when there is a change in the shipping status, and SMS is one of the best ways to do this.
So what are the best SMS apps for Shopify? Here are some of the top options for you to consider.

Show More
* read the rest of the post and open up an offer
SMS & Messenger marketing Tobi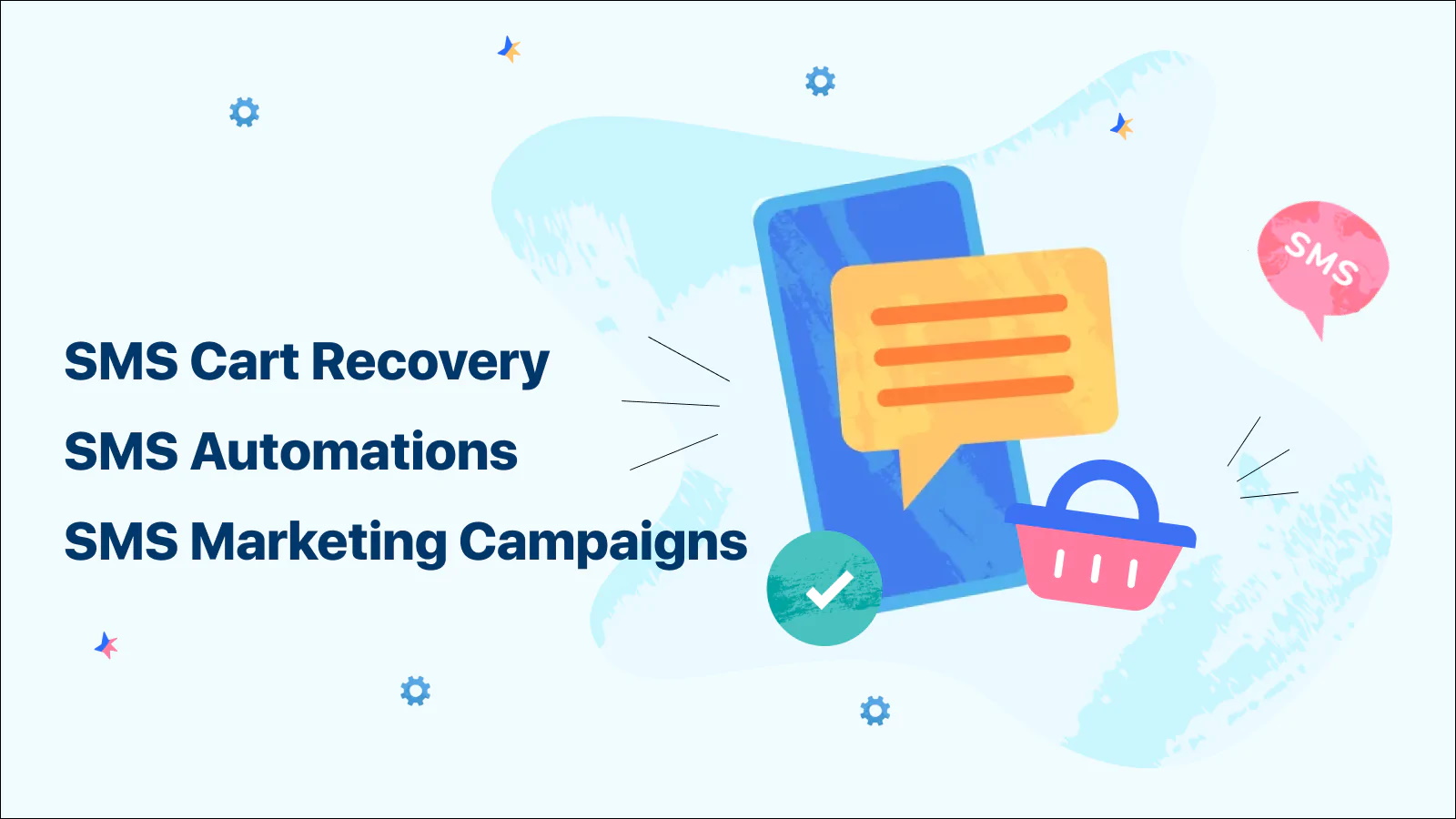 If you want to reclaim your lost carts by marketing to your customers, you can do that with this easy-to-use app. The app can help you recover abandoned carts on both Facebook messenger and also through SMS. Therefore, you can generate more income from your customers and be in a stronger position.
The app can be used to cross-sell and upsell other products to past customers. Therefore, you can improve the lifetime value of your customers. You can automate all marketing messages that need to go out to your customers. Therefore, you can use your time more efficiently, like to help with other marketing activities or to fulfill orders.
There are also other app options. This includes sending discount codes for your website's shop. Or you could build trust indicators for your website by requesting reviews on your website.
SMS & Messenger marketing Tobi Highlights:
Use SMS and Facebook Messenger to recover abandoned carts with customers who could become loyal customers.
Cross-sell or upsell to customers to help you build more revenues and the lifetime value of customers.
You can win back past customers to improve the long-term profitability of your website.
There are lots of other campaigns that you can run.
AVADA Marketing Automation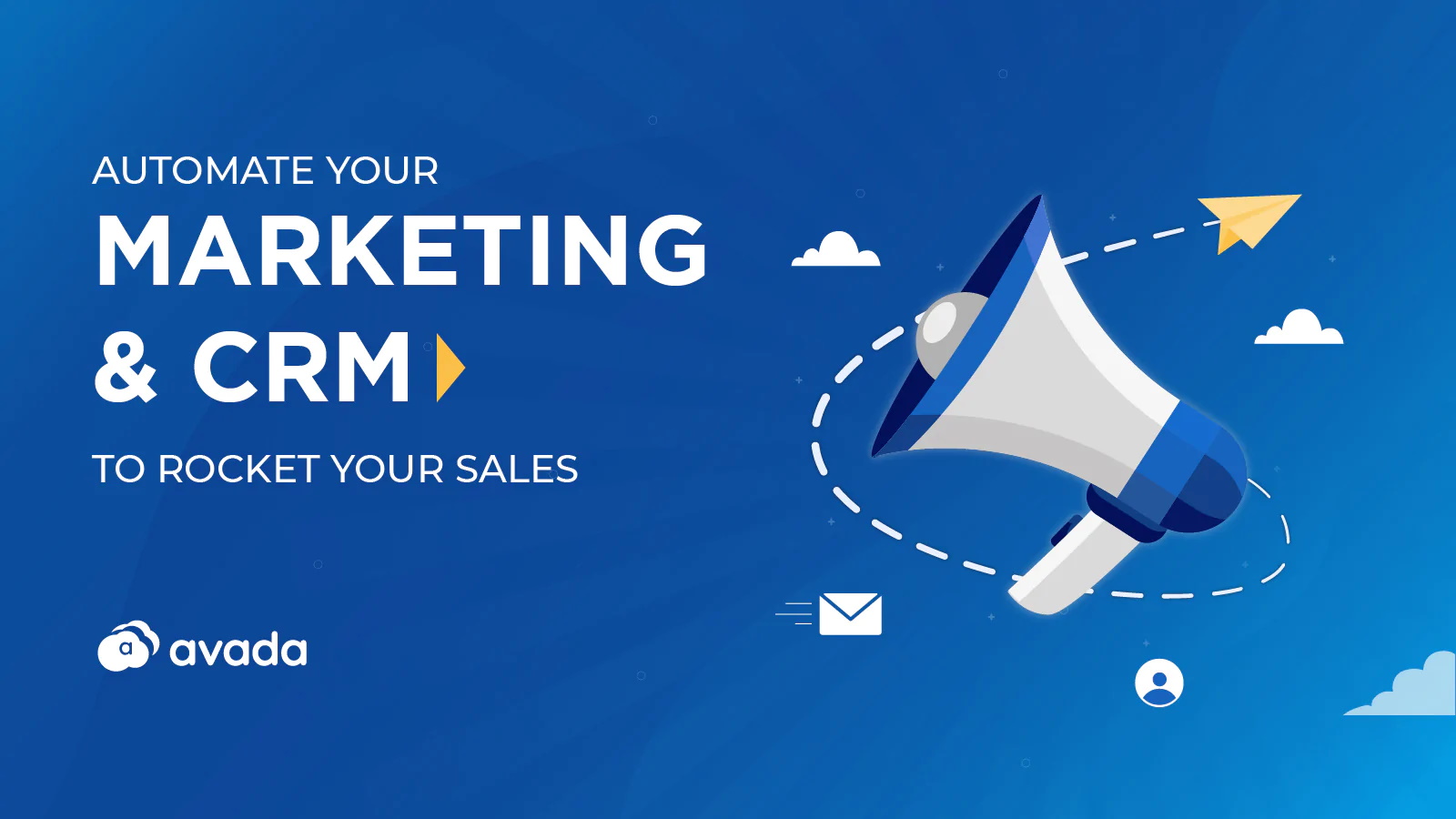 This is one of the top marketing apps that you can use on your website. It can help you to reach customers not just through SMS but also by email. Therefore, you can find lots of ways to build profitability on your website.
The main features of this app include one of the best lead collection and signup forms that you can use to engage and convert visitors. There are also ways that you can track prospects and present them with a signup form for your mailing list.
You can build lots of automation within the marketing workflows. These can be created within the app. All triggers can be based on consumer behaviors such as when they've abandoned a cart on your subscribed, placed an order, come back to your store or intend to exit the website.
Email designs are excellent and can help you convert more of your subscribers into customers. Therefore, this app can really pay back its investment.
AVADA Highlight features:
There are lots of great automations that can save you time and money.
You're able to send emails and SMS campaigns with ease.
You can get more visitors to subscribe with beautiful forms.
Other elements, like the spin-to-win, add-to-cart popup and more.
Omnisend
Omnisend will seamlessly integrate with any Shopify store within seconds. There are numerous features on this app that can help you attract and convert new audiences to your website. For instance, there are SMS marketing features, email marketing, automation, customer intelligence, list-building tools and much more.
Omnisend is one of the most powerful apps that allow you to start an SMS or email marketing campaign. There are lots of templates that can be used with this app, which makes creating campaigns much easier. And once the campaign has been released, you have the chance to see the results with the use of analytic tools.
There is a free option for this app. There are also two premium options for your brand.
Omnisend Highlights:
Numerous features can help you improve your workflows with automation.
This comes with complete and powerful segmentation tools.
SMS campaigns can be sent out to any customer, no matter where they are.
Can add push notifications to your website.
SMS Marketing ‑ Winback

If you're looking to find a way to win back your visitors, then this app is one of the best options. Their services have been used for brands across Shopify and the developers have found that the SMS response rate is 209% more than email, phone or Facebook. The app can be used for abandoned carts but also upselling to customers, so you can make more from your orders.
The app is very intelligent. It will only send messages when there has been no response from the customer to previous messages. If the customer has recovered their cart, the system will ignore them. This means that you won't annoy your customers and instead they will be pleased with their experience. No more than three pieces of content are sent to your customers. In addition, the same rules are applied to win-back campaigns.
The app is perfect for those who are operating in US and Canada. But outside these areas can become more expensive.
SMS Marketing – Winback Highlights:
You can send SMS messages to help you win back customers.
Send upselling messages that you can get customers to spend more.
Intelligent AI system that protects customers from getting annoyed.
The SMS system can be 200% more effective than email or Facebook.
ConvertWay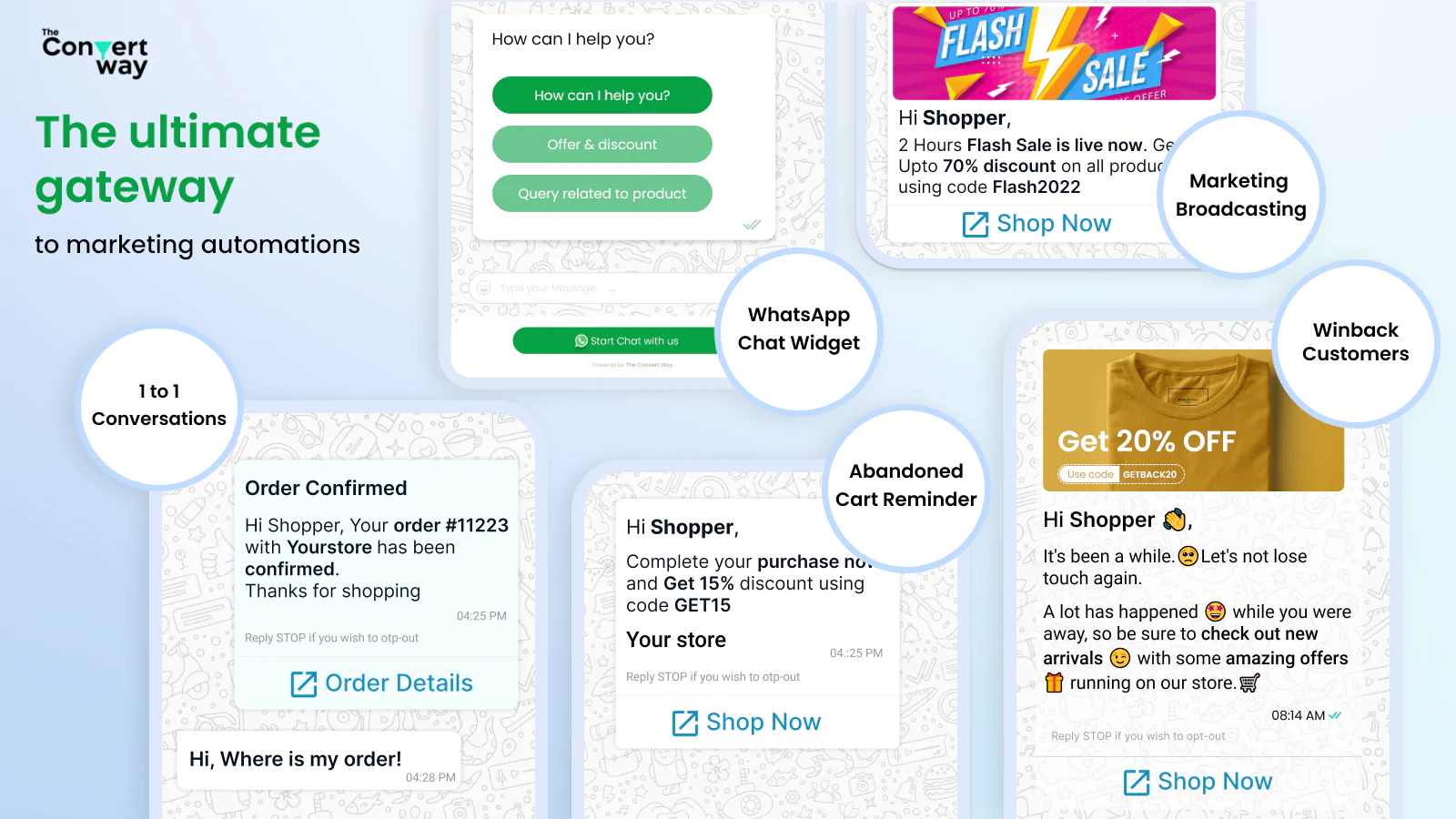 You can reconnect with your customers by sending them regular SMS alerts to them. Alerts can be sent to customers in more than 200 countries across the world. You can notify customers about new accounts, and orders, when orders are fulfilled, when orders are out for delivery, cancelled orders and more. You're also able to earn more revenue by sending automated abandoned cart emails.
The app works in numerous stages by offering three follow-ups to those who've abandoned their carts. The first is ideally sent within the first 10 hours. A second one can be sent up to 24 hours later and then you can complete a third up to 72 hours later. Any of the SMS messages can include discounts and offers to help bring back your customers.
All of these actions are completely automated. Therefore, you can spend more time on other aspects of your business.
ConvertWay Highlights:
Works in more than 200 countries.
You can send several important updates about orders or other details.
Recover customers' abandoned carts with three SMS messages.
Can be integrated with other apps to help with workflows.
Marsello: Email, SMS & Loyalty
Connect with your customers with the Marsello app. This one allows you to create lots of great automated retention marketing through several different marketing avenues. The app will combine with any current loyalty programs that you currently have and automate the entire process. Campaigns can be delivered through SMS and email.
The app can be used to collect and analyze data for one-off campaigns with customers. Or you're able to create much more lucrative, long-term campaigns that can help you recover lost customers who haven't purchased for a while.
The app has the latest technology to offer customer rewards for actions. For instance, you can provide them with a link within an SMS for a 5% discount.
Marsello: Email, SMS & Loyalty Highlights:
You can reward your best customers with this app. Ensure that you're getting the best from them.
Send automated SMS campaigns to your customers to win them back.
Welcome new customers with an email or SMS message.
You can send long-term campaigns, or use it to just send one-off campaigns.
FirePush

This app is used by hundreds of Shopify Plus stores to provide lots of remarketing tools to improve revenues and grow business success. The app can help with automated functions like email marketing, web push notifications, SMS and Facebook messenger campaigns. This wide range of tools can reach customers where ever they are.
The app allows you to send up to three automated SMS abandoned cart notifications. This has been proven to help you bring back customers and complete their purchases. Some research has shown that this app can help you to recover enough of your abandoned carts to improve your revenues by 30%.
The app can also be used to improve the customer service element of your website as well. You can send win-back campaigns.
FirePush Highlights:
You can create push and SMS campaigns that you can reclaim lost abandoned carts.
Add more value from your existing customers and earn more revenue.
There is a free migration from other suppliers.
Send more campaigns across numerous marketing campaigns.
Cartloop
Cartloop helps Shopify brands to recover about a third more abandoned carts with experts and others by texting customers in real-time. They can combine your sales and support options to personalize the customer experience.
The app can work for brands who want to engage with audiences in real-time. There are real people in each conversation. And because you have live agents working on the system.
Unlike other SMS service platforms, Cartloop is a completely managed service and offers the best customer lifecycle support.
Cartloop Highlights:
Personalized product recommendations.
Assistance when there are failed transactions with customers.
Great interaction between customers and your brand.
An excellent option for your brand to maintain personalization.
Postscript SMS & MMS Marketing
SMS marketing can help you grow your store because it can help you reach more customers and build revenues. This app allows you to grow your TCPA-compliant subscriber list that is perfect for your website's marketing potential.
The app can synchronize the store data within minutes and there are lots of automations that are brilliant for you. Some of the automations can include abandoned cart recovery, shipping notifications, welcome messages and loyalty messages. These can be used within just a few minutes of your store having the new app installed.
This app is perfect for growing your subscriber count at various points across your website. This can include the checkout and more.
Postscript SMS & MMS Marketing Highlights:
Create segmented lists for your subscribers for better performance.
Automate your SMS marketing to help you spend more time doing other options.
This app is completely compliant with TCPA rules.
Track your store's revenue and ROI to see SMS marketing work for your business.
Automizely SMS Marketing

This SMS app is a perfect option for those who want to have a Shopify abandoned recovery cart option that will help you raise revenues with ease. All abandoned cart messages are sent out to your customers with SMS and these SMS messages do comply with all TCPA and GDPR legislation.
You can enable SMS notifications within minutes and set up the triggers. All SMS notifications can grow in sales.
Automizely SMS Marketing Highlights:
Very easy to install on your website.
Can be automatised to ensure you can spend more time working on other projects.
Can work across the world.
Complies with all US, UK and EU laws.
Final Word: The 10 Best SMS Apps for Shopify
Above are 10 of the best SMS apps for Shopify which can help you generate a lot more revenue for your website. Some of the above are automated, others allow you to send off campaigns as and when you need them.