Squarespace is one of the best online website building tools available. There are a range of great templates that can help you rank well on Google and other search engines. But there are so many SquareSpace templates that you could be using. So, we have produced a list of some of the best SquareSpace templates.
What are you Looking for in Squarespace Templates?
There are many things that you need to look for when you want to buy one of the Squarespace templates. The first is speed. Loading time can have a massive impact on the performance of your website and how much revenue you can generate. For every second it takes your website to load, you will lose 7% of your revenue. The average website takes about 10 seconds to load, which means that many businesses can lose up to 70% of their revenue.
Speed is also important for ranking. Google takes into account how long it is for your website to rank you in search results. The faster your website, the better you will rank and this can make a huge impact on traffic. The first three results on a Google search will get 90% of the traffic from Google and organic search can contribute to 70% of your traffic. Therefore, speed can be vital.
Another thing to look for is responsiveness. This is when a template can be viewed just as well on mobiles as it is on desktop. With half of all website traffic now on mobiles, this is very important. It is also a vital aspect of your website's performance on search engines.
Finally, you want to make sure that your Squarespace template has everything that you need for your business. If you want to run an eCommerce store, does it have the ability to take payments online? Do you want to have a contact form? Team sheet? Get a list of what you need for your website and check your Squarespace template against these measures.
There are several excellent Squarespace templates that you can use. Here are some of the best that you might want to consider.
Show More
* read the rest of the post and open up an offer
Ready – Freelancer Squarespace Template
Minimalistic and elegant in its design, Ready is a great template for Squarespace websites for those who are looking to offer professional services like coaching, consulting and freelancing. It is designed for attracting clients to your website and then selling them your services with ease. The white background with a clear, high-quality image at the front will draw the attention of the audience and help you to portray your professionalism.
You can utilize the call to action button that can help you get appointments with visitors. Squarespace has a built-in scheduling system that allows you to connect your website to and then you don't need to do any work on it. To help your visitors with navigation on the website, you can have a menu that is hidden on the left-hand side and only appears when the customer clicks on the menu icon where it slides out from the left.
Ready is completely mobile-friendly, helping you to attract audiences across devices. This can also help you to rank on Google and other search engines with ease. This is helped with minimalist coding that helps with website speed. You can also connect your audience to your social media contacts with a group of icons located in the top right corner.
Ready – Freelancer Squarespace Template Highlights:
Aesthetically designed for those working in professional services.
Use the in-built appointment facilities to get clients to have times with you.
Minimalist design for fast loading.
Connect your audience with social media.
Skye – Modern Blog Squarespace Template
Skye is one of the best Squarespace templates that you can use if you're looking to start a simple blog on your website. It is perfect for those who want to have a blog with plenty of images, like those with travel or food aspirations. These are very visual niches and you will be impressed by how the minimalist design will give you focus on your images and content.
There are lots of features that can also help you build your website. The template features a fullscreen design that has grid-based content blocks that helps with designing the website. Easy for your website maintenance allowing you to spend more time in creating your content rather than managing your website.
The blog posts on Skye are beautifully designed, perfect for improving the user experience on your website. In addition, navigation is really good on this website with a slide-out left-hand side menu that is hidden until it is needed. As with most of the themes on this list, Skye is the perfect option for those who want a responsive template and can be great at ranking online.
Skye – Modern Blog Squarespace Template Highlights:
Modern design perfect for bloggers.
Very visually impressive, perfect for showcasing your images.
Great for mobile responsiveness.
Grid-based content blocks that can help you with designing your website.
Harris – Minimal Corporate Squarespace Template
Take your website to the next level with this minimalist Squarespace template. It is very suitable for corporate businesses and agencies but can also be used by other professional businesses. The template homepage is perfect for showcasing your business' information and it is great at convincing visitors that you can offer them a good service.
The beautiful header is perfectly placed and designed with customization options that allow you to create a brand image that matches your current settings. At the same time, the navigation is really easy, located in the top right corner, it will be easy for your clients to find their way around your website.
There are also multiple inner page templates that you can use to help visitors to understand more about your brand, services, clients and more.
Harris – Minimal Corporate Squarespace Template Highlights:
Super fast, minimalist website for professionals.
Great header for setting the expectations of your brand.
Top right corner menu for easy navigation.
Easy to rank this template on Google.
Galapagos – eCommerce Squarespace Template
This is a modern eCommerce website template that looks sleek and sophisticated, allowing you to build a relationship with your customers that is built on trust. The minimal design features an easy-to-use grid-based layout. This is great for promoting your products perfectly on the homepage.
The template supports numerous features that are common on the best eCommerce websites around the world. This includes the quick view that can speed up the purchasing process for customers and allows them to add products quicker to the integrated Squarespace shopping cart system. You can also use the secure payment processing system on this template.
The Squarespace template is one of the top options when it comes to building a website for shopping. It features three menus. One at the top that allows the shopper to navigate the whole website, one above featured products that allows the customer to browse the products on your website and footer menu.
Galapagos – eCommerce Squarespace Template Highlights:
Effectively designed for the perfect eCommerce experience.
Can use the Quick Look feature to speed the journey of the purchasing route.
Build trust with your audience and use the Squarespace payment processing.
Fast speed and responsive layout.
Hayden – Agency Squarespace Template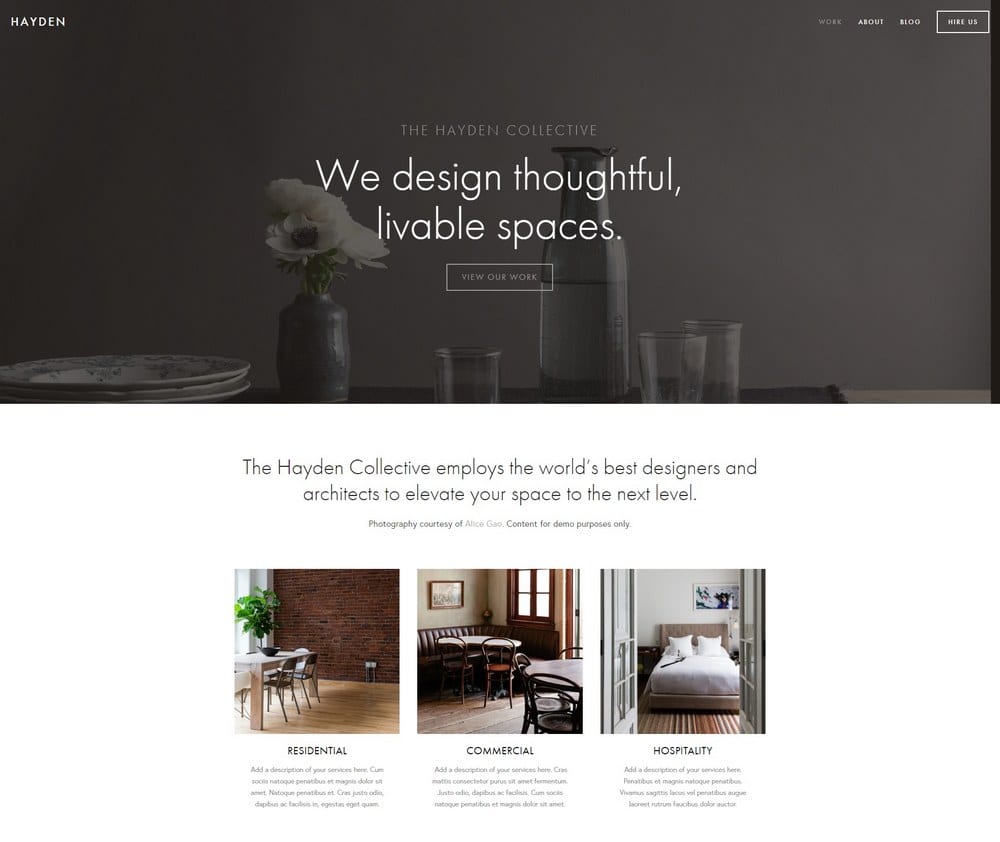 Specifically created for design agencies, this template can be used by many businesses who are looking for an effective, modern and sleek Squarespace template. There are many sections on this website template that can help you highlight many areas of your business including services, clients, portfolio and case studies. You can also add the scheduling system for getting visitors to book schedules with you.
Hayden features a beautiful design that is very striking. The menu at the top right is beautifully placed to help people to navigate around your store. This is a sticky navigation bar, so matter how much the visitor scrolls down the page, the menu will still be there, helping them to get around your site easily and reducing bounce rate. In addition, there are social media links that are featured at the bottom of the page, right in the center.
For those that want to use their website for blogging, this is also a great option. It contains a blog section that is easy to use. And if you blog more than 15 times per month, you will see the benefits in improved traffic and better ranking on Google and other search engines.
Hayden – Agency Squarespace Template Highlights:
Easy to customize Squarespace template that is perfect for many different industries.
Great sticky navigation bar that is at the top of the page.
Has a blog section that allows you to promote your website.
Beautiful design that will impress guests.
Sofia Rey – Freelancer Squarespace Template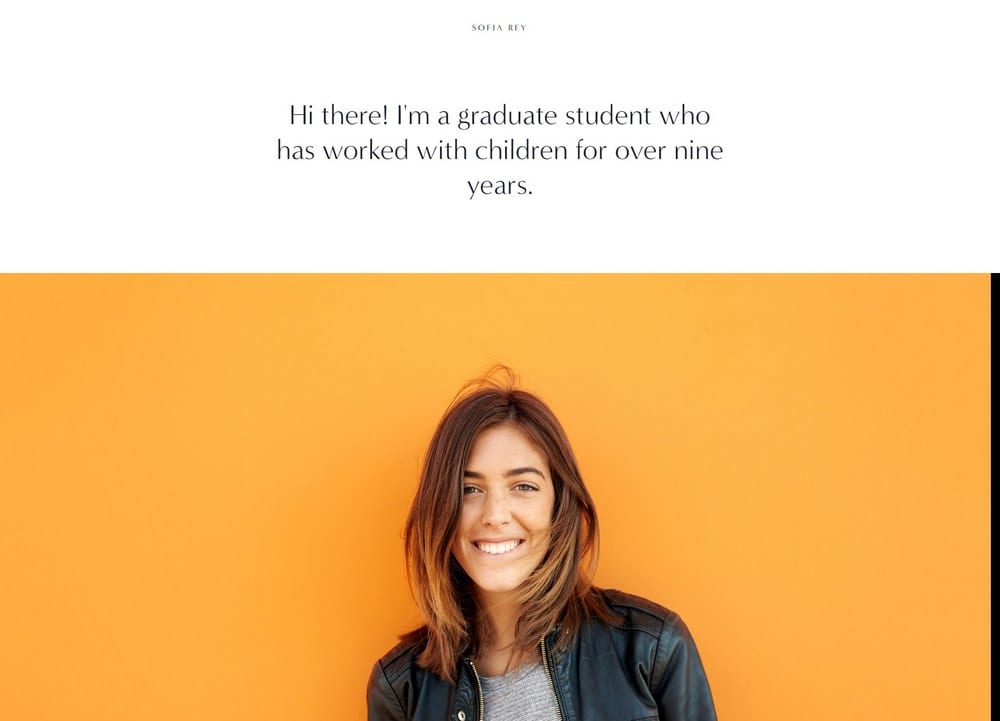 If you're a freelancer, then you know how important it is to market your services on the web. This template comes with everything your small business needs with different sections for information, your skills, services, client testimonials and a contact for to encourage people to get in touch with you.
The template comes with a beautiful resume section that allows those looking for a job to get to the next stage in their career and create a resume website. This can be a great way for some people to find new jobs and is probably one of the best ways that contractors can help.
The vibrant, sleek and professional design will impress your guests as you describe more about what you and your skills.
To help with navigation, on the top left you have a simple menu and on the top tight you have links to your social media profiles. This is important because social media can be an important part of your career development.
Sofia Rey – Freelancer Squarespace Template Highlights:
A great way to promote a personal brand such as freelancers or those looking for a job.
Connect your website to social media with ease.
Contact form so prospects can speak to you.
Can showcase testimonials on your website.
Pacific – Restaurant Squarespace Template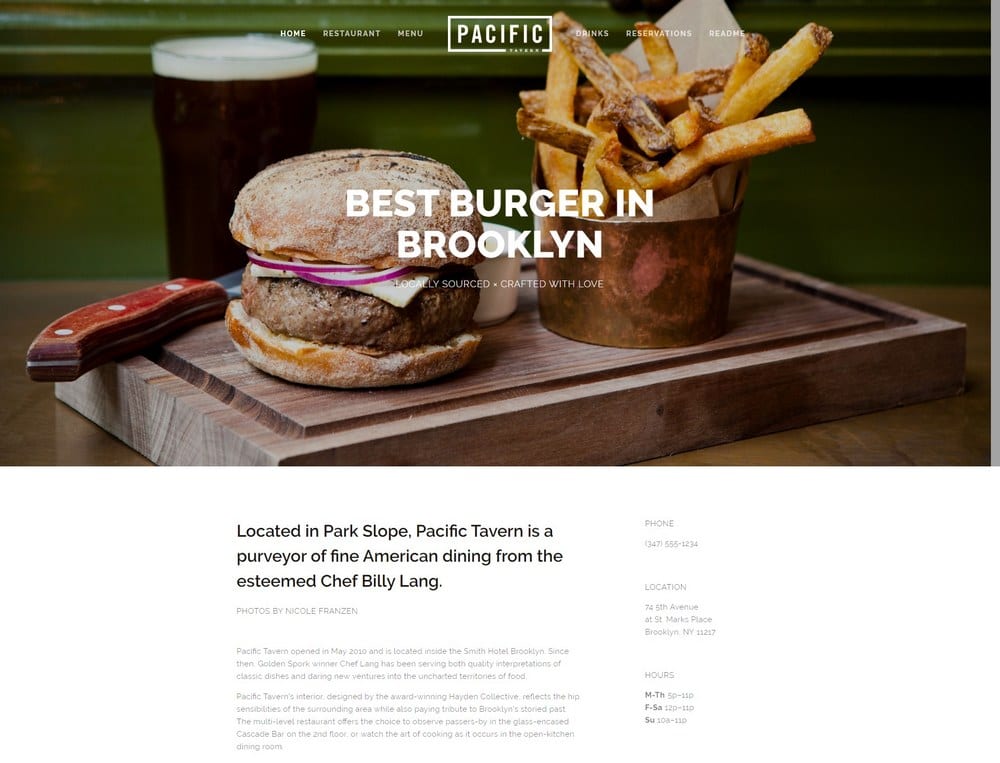 Pacific is easily one of the best templates on Squarespace for those that are in hospitality such as restaurants, hotels, cafes and more. It is designed with numerous features that are perfect for these types of business including a fullscreen image slider that can display your rooms/food in beautiful, high-quality images. In addition, there are Call to action areas that allow your visitors to make reservations at your business.
The detailed menu is excellent, allowing you to showcase what food/services are available at your business. This can be a great way to get customers to have a look and really start to plan their day.
While the impressive design looks intimidating and confusing, the actual maintenance is really easy. It takes limited knowledge of website design to make it work and those who are new to Squarespace will learn very quickly. At the same time, the potential for ranking and traffic for your website is great. With a little SEO effort, your site can rank highly on search engines.
Pacific – Restaurant Squarespace Template Highlights:
Great for those with limited knowledge of website design.
Professionally designed for impressing guests on your website.
Perfect for those who are selling food/hospitality products.
Great imagery.
Carson – Portfolio Squarespace Template
Carson is a little more unusual than most Squarespace templates. It has a unique design that is part of the appeal of it, but it can sometimes put some people off. Instead of a scrolling website layout, that you would expect from your website template, there is a static homepage, where you can highlight the top pages in an engaging way that encourages visitors to visit them. The benefit of this is that your bounce rate is likely to be higher.
The customer will notice that the background of the website will change every time that a mouse pointer moves over a link. This can be interactive, interesting and really does show off the talent of the website development team on this theme. In addition, each page that is used on this template can showcase clients and previous projects.
There is also a hidden menu that can be linked to other pages across your website, including contact, about and services pages.
The theme is highly adaptive for a lot of industries.
Carson – Portfolio Squarespace Template Highlights:
A unique template design that is attractive and engaging.
Changes the background image every time that a customer hovers over a link.
Hidden menu.
Can showcase client, services and more.
Impact – Education Squarespace Template
The impact is a great modern website template that has been made specifically for schools, colleges, online learning programs and charity organizations. There is a beautifully rendered website design that has an effective header section that can grab the attention of the audience with ease. The well-crafted sections after the main header section can detail much about your brand including any lessons, teams, missions and more that you have.
The template is easy to edit and loads quickly on most browsers and devices.
To help move visitors from one section of the website to the next there are great call to actions that you can utilize. These can be customized to specifically meet your needs and branding.
Impact – Education Squarespace Template Highlights:
Loads quickly for improved user experience.
Lots of call to actions to move customers from one page to another.
Sleek design that tells customers about your professionalism.
Easy to edit.
Avenue – Portfolio Squarespace Template
Avenue is one of the most minimalist portfolio website template that is great for designers and illustrators to showcase their branding and work. It uses a grid-based layout that allows you to showcase numerous items on the homepage to grab the attention of the visitor within a few moments.
Then there are single pages for each portfolio pages. This can be used to give more details about the item and get the visitor to enquire more about them. Using this template can help you bring in more revenue to your business.
The basic design of this template means that you can improve the performance of your website, making it faster.
Avenue – Portfolio Squarespace Template Highlights:
A minimalist portfolio that allows you to have a fast website.
Describe projects in more detail on single item pages.
Good for search engines.
Grid-based layout.
Final Word: The 10 Best Squarespace Templates
When it comes to Squarespace there are lots of templates that you can use to ensure your website is the best it can be for your brand. There are so many templates that it can be hard to know which of them are the best Squarespace templates for your business? Use the list above to help you out and let us know which one you will install on your website.
If you want to find out what theme another Squarespace user has installed, use this detector.