WordPress is one of the top CMS software suites you can have on the internet. It turns having a website into an enjoyable, easy experience that even those without any knowledge of how to build a website can experience. One of the key aspects to this is the use of themes. Themes give the basic design, style and look for a website. There are lots of them on the store and there are many that could be considered for this list of the best WordPress.com themes.
What Does it Take to get on the Best WordPress.com Themes List?
There are many different aspects that can make a theme onto the best WordPress.com themes list. For one, you want something that is easy to use and has the simplicity so that even those who don't know what they're doing can make changes without the help of a developer. Next you want it to be user friendly, those coming to your website should be able to navigate around your site with ease.
You also want to make sure that the theme you're using is good for search engines. You want people to find your website. The higher you're ranked, the better your traffic will be. Considering that you need traffic to earn revenue from your site, this is a very important aspect.
And you also want to make sure that the WordPress.com theme you're using is going to have the functions you need for your brand. However, there are so many large brands that use WordPress.com themes, that you can be sure that you can find at least one WordPress.com theme that is suitable for you.
So, which themes made it onto our best WordPress.com themes list?
Show More
* read the rest of the post and open up an offer
Radiate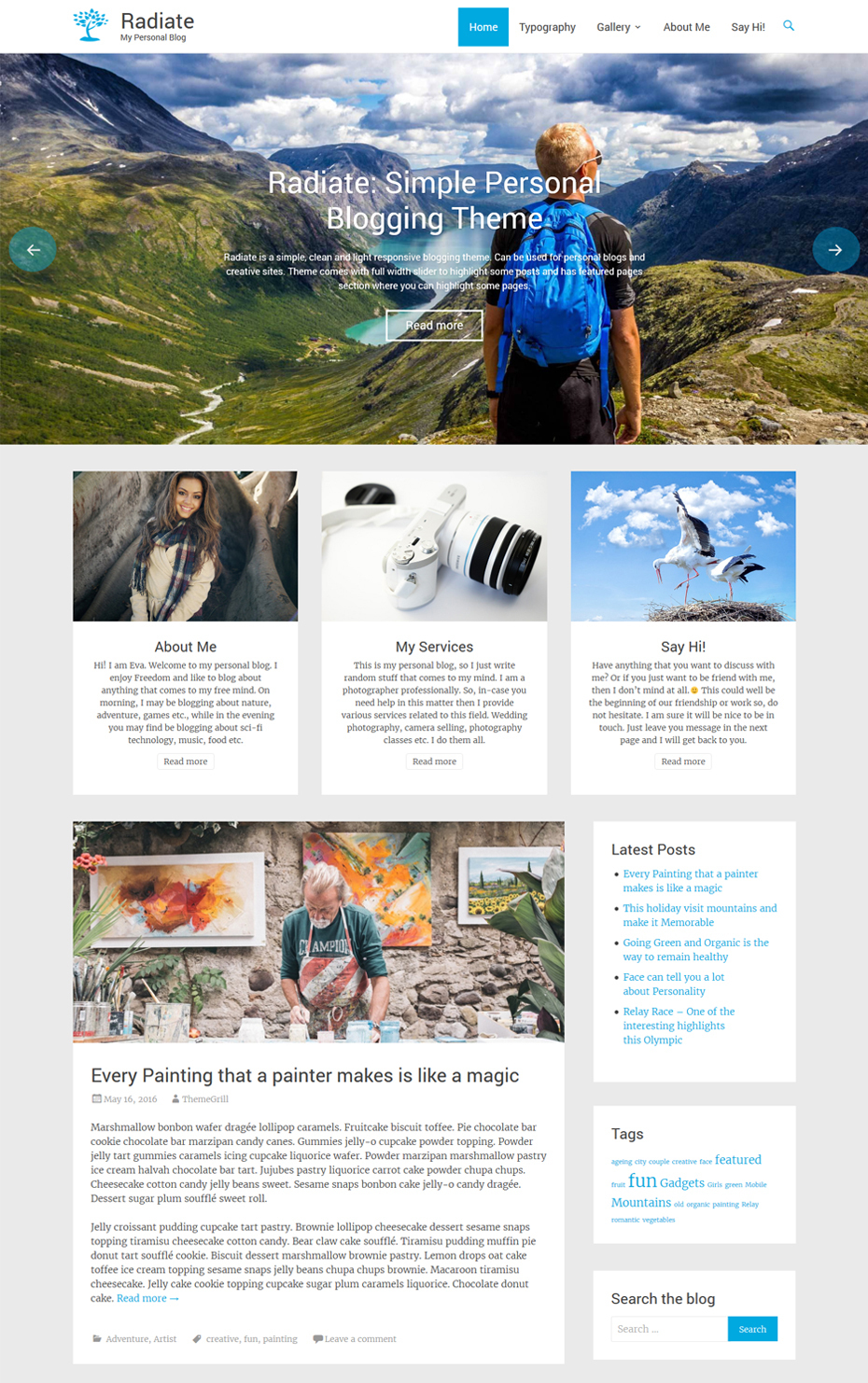 Radiate is a simple, creative and clean WordPress.com theme that is perfect for those looking to start a blogging career or want to switch themes. The retina ready theme supports numerous great design features like the parallax header image and is fully responsive. Therefore, you can be sure that your blog/website will render perfectly on any device, including desktops, mobiles and tablets.
The minimalistic design is perfect for those that want their content to take center stage. You don't need lots of color to attract audiences, just your content and the simple design. The minimalistic design also helps to build a stronger SEO footprint. It helps with speed and this can be turned into more visits as you raise the ranks of search results.
The theme is compatible with WooCommerce, allowing you to build a strong eCommerce element to your WordPress.com website. This might include selling products you ship out or using POD services to sell merchandise to loyal fans of your blog.
The theme also supports more than 600 Google fonts.
Radiate Highlights:
A sticky header bar that keeps navigation on the site.
Highly responsive design.
A featured content slider for your best blog posts.
Primary and multiple color options to choose from.
Shoreditch
Shoreditch has three theme options to help you build a great website for your business or blogging requirements. The main purpose of the website was for a simple business blog, however, the responsive, multipurpose design has allowed it to become the perfect choice for those who are on a tight budget and for any use.
It has some of the best features for a free WordPress.com theme. For instance, there are multiple page templates and widget areas that allow you to customize the design of your website with ease. You will also find that you can feature posts for audiences to read that can be based on top rated articles you've written or important news they should read first.
In addition, you can add testimonials to your website to increase the trust that audiences will have on your website.
Shoreditch Highlights:
Highly responsive, free WordPress.com theme that can be viewed perfectly on any device.
Highlight what other customers have said about your business with a testimonials section.
Use panel page templates or full-width page templates in the design.
Built for business, perfect for most business purposes.
Carmack
Carmack is one of the top magazine templates that can be suitable for a wide range of niches including video games, movies, music and other visually based businesses that require a lot of images to sell. There are lots of features that make Carmack the perfect option for numerous brands, but the visual appeal of this theme is certainly something that makes it stand out from the crowd.
Carmack is fully responsive and therefore, whatever design you decide on, you can ensure that it will look good on all devices from desktops to mobile phones. And you can support several different post formats, from image, video, gallery and audio, so however, you publish content, you can be sure that Carmack can help you. And each format has its only unique style on the blog, archive and search pages.
You can also highlight featured content in a unique slider that allows you to reach out to audiences with the best content you have to offer. Carmack also lots of options with the customizer. You can preview changes as you make them, to ensure that you like what you're publishing online.
Carmack Highlights:
Visually impressive WordPress.com theme.
Great for those who publish content in lots of different formats.
Highly responsive.
Each post format has unique style on other pages so visitors can identify what kind of content they're clicking onto.
Traveler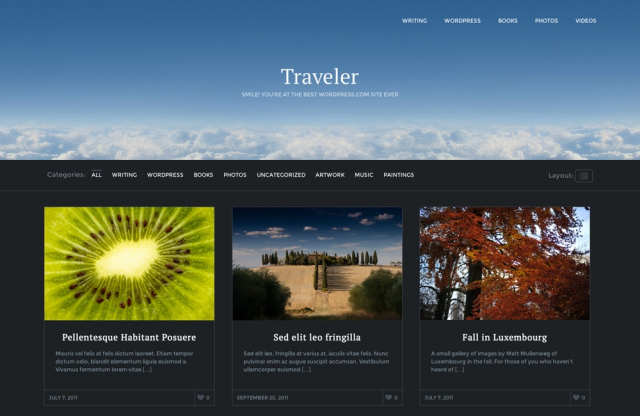 Traveler is the perfect WordPress.com theme for those that want to tell a story. Designed specifically for those in the tourist or traveling niche, the theme can be applied to anyone who wants to tell a story through stunning visuals. The homepage and archive pages have been designed with perfection to allow visitors to quickly scan entries to see what the site is about. And the post pages are kept intentionally simple to allow for stickiness on pages and reduce bounce rates.
The theme comes packed full of features, including large image headers (three included plus the option to upload your own). And you can add a custom background, widgetize the footer and more to help you make your website unique and perfect for your website. Despite all these options, Traveler hasn't forgotten about mobile users, the theme is perfect for anyone who is using a desktop, laptop, smartphone or tablet. There are no design flaws, so websites built with this theme show up perfectly on any device.
To help keep readers on your site, Traveler comes with a related posts option. These are selected from the posts recently published in the same category. And you can also have custom sidebars to help you direct users to the precise place on your website you want them to go.
Traveler Highlights:
Designed for those who want to tell a story.
Perfect for all users whatever device they're using.
Customize the sidebars and menus.
Comes with a related posts option to maximize readership.
Broadsheet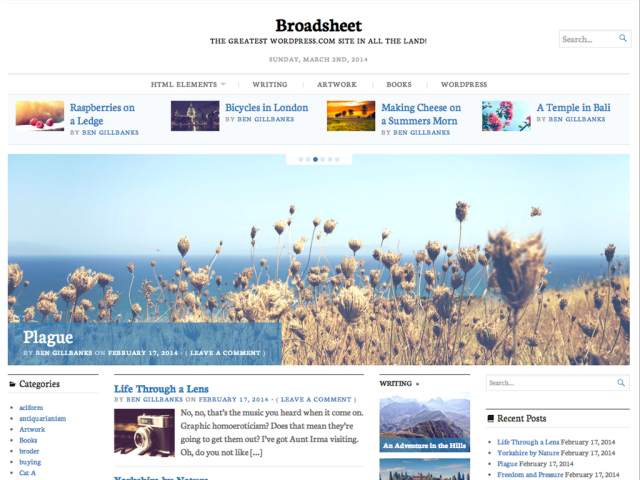 This newspaper theme comes with three optional widget areas, a homepage slider that contains numerous options and a design that will impressive visitors to your website. The WordPress.com theme was designed for newspaper style websites; however, it could be as equally good for bloggers or opinion writers who want to share information and spread news throughout the world.
The theme has the widget sidebars that can be automatically hidden if they're empty, allowing you to customize the information, links and design of the website as you see fit. And the design you create will be displayed perfectly on all devices, whether the user is on a mobile or desktop.
To help you showcase more content, you can use the infinite scroll. This prevents customers getting bored from having to load new pages to see older content. Therefore, you can get more readers. You can also improve readership for important news on the inbuilt Home Page Image Slider.
The theme works well with multiple languages. It can work with both left-to-right and right-to-left languages and can be localized. You can also translate the theme for your language, making it a multinational.
Broadsheet Highlights:
Upload your own header images for the theme.
Works perfectly on all devices and screen resolutions.
Flexible theme, perfect for all news-based websites.
Works with left-to-right and right-to-left languages.
Gateway
Gateway is another free WordPress.com theme that can help you take your website to the next level. It is highly responsive, can be used for any niche and suits users of any web design competence. The versatility of the blogging theme makes it a great choice and the price point is perfect for those who are on a tight budget.
The homepage design has a full-width header background image and includes an area that is perfect for featured posts. You can also feature a video on there. The theme allows you to create 'call-to-action' buttons that help you move customers along the purchasing path. All buttons can feature customized texts.
You can select up to three posts or pages that can be featured on your homepage. There is also a custom page template and full-width template that include four optional widget areas.
Gateway Highlights:
Have a custom home page template that is suited for your branding need.
Can have site-wide accent color.
Is developer friendly, so you can customize the theme for your needs.
There are multiple widget areas for you to use.
Perle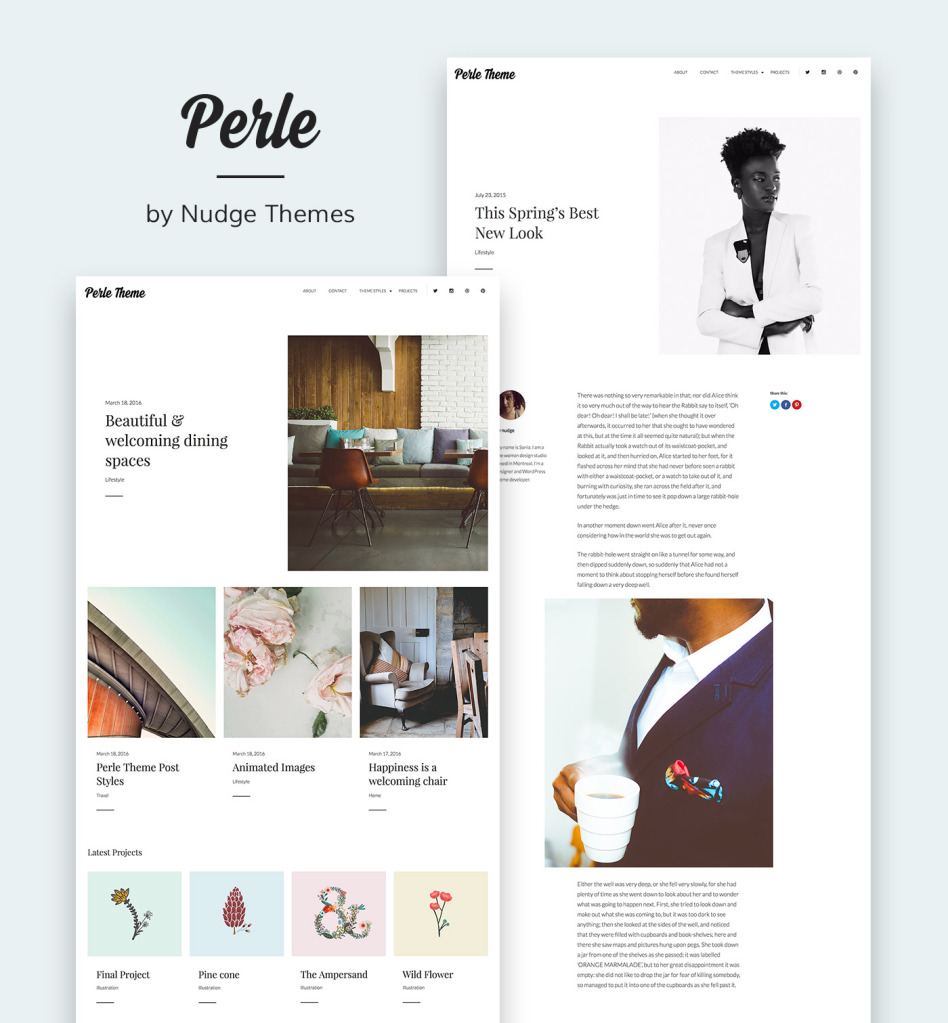 Perle is one of the best WordPress.com themes that is available for businesses and brands. The theme's elegant design is there to resemble beauty and luxury and there is a polished look that adds professionalism to any store. The theme is perfect for any fashion, luxury or high-end niche that wants to add some sophistication to their website without making it too challenging to manage.
The Options Framework is included with this theme. Therefore, the theme is easy to use and allows you to add recent projects, blog posts and feature posts to the front of your website. Therefore, you can build credibility to your website with ease.
You can also use the overhanding images, drop caps and sub-heading features to make your website look modern and more interesting. And don't worry about responsiveness, this theme is perfect for users who are on mobile devices, desktops or laptops.
You can benefit from using the unlimited color schemes, theme options, optional sidebar and more to really make your website standout with this theme.
Perle Highlights:
Designed for numerous luxurious brands.
Lots of design features to help you grow.
Uses the Options Framework for easier editing.
Add recent projects, blog posts and features posts to your home page.
Radcliffe 2
This is a clean, minimalist and free WordPress.com theme. The theme is designed for small business owners and entrepreneurs, but it is also a perfect option for those small or large bloggers looking to add style to their website with a well designed, functioning theme. The minimalist aspect of this theme allows it to be fast on loading, light on code and great for ranking on search engines.
There are three style packs that you can take advantage of when using this theme. The style packs are a combination of custom colors, and different fonts. Select the best style pack for your brand and away you go.
There is also a personal touch when you use this theme. You can add your business' logo with ease. You can also promote the main message of your brand using the headline, brief description and link the home page to most important page on your website. Therefore, you can help customers move along the sales path.
The theme also comes with a site-wide banner that can contain contact details and more. You can also have social link menus and other features to make your site unique.
Radcliffe 2 Highlights:
Three style packs to help you get started.
Great for ranking as there is limited code and it loads fast.
Unique messaging across the brand.
Add a business logo to your site.
Veni
Veni has a subdued aesthetic appeal that makes it a multi-functional website. You can blog all you want and also create a stunning portfolio that allows you to showcase your best work and attract new customers to your brand. There is a slider that allows you to highlight your best articles and you can set the slider to fullscreen and you can make a beautiful image the centre of attention on your website with a catchy, marketable, headline.
Below the slider you can add featured pages. You can choose up to three pages to display here. And Veni will automatically adjust the grid and columns to fit the number of pages you've asked to be highlighted. Therefore, if you've just got one, then the theme will adjust the design to make that one look awesome.
The navigation options for this theme are also excellent. There are two options, one menu will sit underneath your logo and is centred on the page. The other menu can push your logo left a little and elegantly pushes the links to the right. There are also other flexible layout options that you can apply to your website.
Veni Highlights:
An aesthetically pleasing look that can be useful for numerous businesses.
Lots of technology to help you create the perfect design.
Feature three pages.
Flexible layout options for your website.
Verity
Verity is a great, premium blog and portfolio theme that is perfect for lots of WordPress.com users. It is beautiful, elegant and ultra clean. Therefore, you won't have issues being found on Google as the code is perfect for search engines. The design is beautiful, with amazing features that can help you standout in a crowded market space. It is perfect for bloggers and also those who like to use a lot of imagery on their website.
There a stunningly balanced color palette and beautiful typography that allows you to create the best looking website with this theme. And all the finished websites will be completely responsive no matter what you add to the 14 widget sidebars.
Verity Highlights:
Stunning design that makes good use of color.
Lots of features including 14 widget sidebars.
Clean code, great for SEO and speed.
Highly responsive.
Final Word: 10 Best WordPress.com Themes
For those who are looking to use WordPress.com, there are lots of options when it comes to what theme you use. However, not all themes are created equal and if you want to standout in a busy marketplace, then you should be using one of these best WordPress.com themes. Many of them have specific uses or niches they cater for, but all of them are perfect for most brands.
Want to know what another WordPress.com website is using as a theme? Use this WordPress.com theme detector here to find out now.