Numerous features can help you to sell more on your website. One of these is a chat option for your website. Customers love to interact with brands through live chat, with 15% using this as their preferred way to engage with audiences. Therefore, you should be looking to install one of the free live chat apps for Shopify on your website.
What do you Get with Free Live Chat Apps for Shopify?
Live chat is a great way to offer a new way for customers to engage with you. Customers can contact you when they've had a problem with an order, or if they've got a question about your store. Unfortunately, there are normal costs when it comes to developing a live chat option for your website, but there are still some ways you can have a free live chat system.
A free live chat will normally allow you to run a live chat option on your website through Facebook Messenger or WhatsApp. Or you might be able to run your live chat through your website, but be limited in the number of agents you have.
There are advantages to this. For one, you can improve your website's conversion rate. Live chat can increase conversions by 12%. And it has a very high customer satisfaction rate (85%), second only to phone support. So you can increase sales with these apps.
Here are some of the best free live chat apps for Shopify for you to consider. Each one has some great features that you can use for your website.
Show More
* read the rest of the post and open up an offer
WillDesk
WillDesk is a great customer service app that allows you to offer the best experience for your customers. It can offer lots of support from numerous different avenues and manage these all from one place. The app can allow you to use live chat, WhatsApp, email, Facebook, and more to help you manage queries and support issues on your website.
The app can help you to cut customer support time in half, which can help you to reduce costs and improve the profitability of the business. The app allows you to see the entire support journey with ease, no matter if the customer has used different communication channels to contact you.
The app also allows you to reduce 30% of customer queries as the app can help them track orders through third-party tracking apps. Therefore, you can save more costs. The app is also available in more than 40 different languages, helping you to reach an international audience.
WillDesk Highlights:
An international app, with more than 40 supported languages.
Reduce the workload of your customer service team and save on costs.
Monitor support requests from numerous different channels.
Track the support queries even if the customer moves the channel.
Tidio
This is a very popular customer service platform that is used by brands worldwide. It offers a range of customer service options from live chat, chatbots, email, messenger, and Instagram chat to allow you to instantly communicate with customers. You can answer their questions, solve problems, engage during the purchasing path, and more.
The app includes chatbots that allow you to preprogram responses to provide customers, so customer service options are available throughout the day, no matter if you're online or not. The app also allows for self-service, improving response time and helping to keep customers happy.
The live chat functions on this app are great. They allow you to provide free, real-time support to your customers. It is really easy to install and works across devices.
Tidio Highlights:
Use the live chat to speak directly to your customers.
Use chatbots for round-the-clock customer support options.
100% mobile-friendly, allowing for a better experience for all users.
Can integrate with 20 other apps to improve performance.
PingMe
PingMe is a great app that allows you to have live chat support through Facebook, Instagram, and WhatsApp. Customers will enjoy the instant access that this offers them and you can be pinged directly wherever you are through one of the three social channels.
Responding instantly to customers provides you with a competitive edge that can please customers and improve conversions on your website. You don't need to choose just one option to get your website connected to live chat, you can choose Facebook, Instagram, or WhatsApp, allowing the customer to choose their preferred method of communication.
The app also allows you to reach customers when they've left your store, allowing for longer conversations and more chances to convert them.
PingMe Highlights:
Improve your communications with a 3-in-1 chat messenger service.
Provide customer support on multi-channels like Facebook, Instagram, and WhatsApp.
Control all the conversations in one place.
Can cut off the chat when you're not available.
BestChat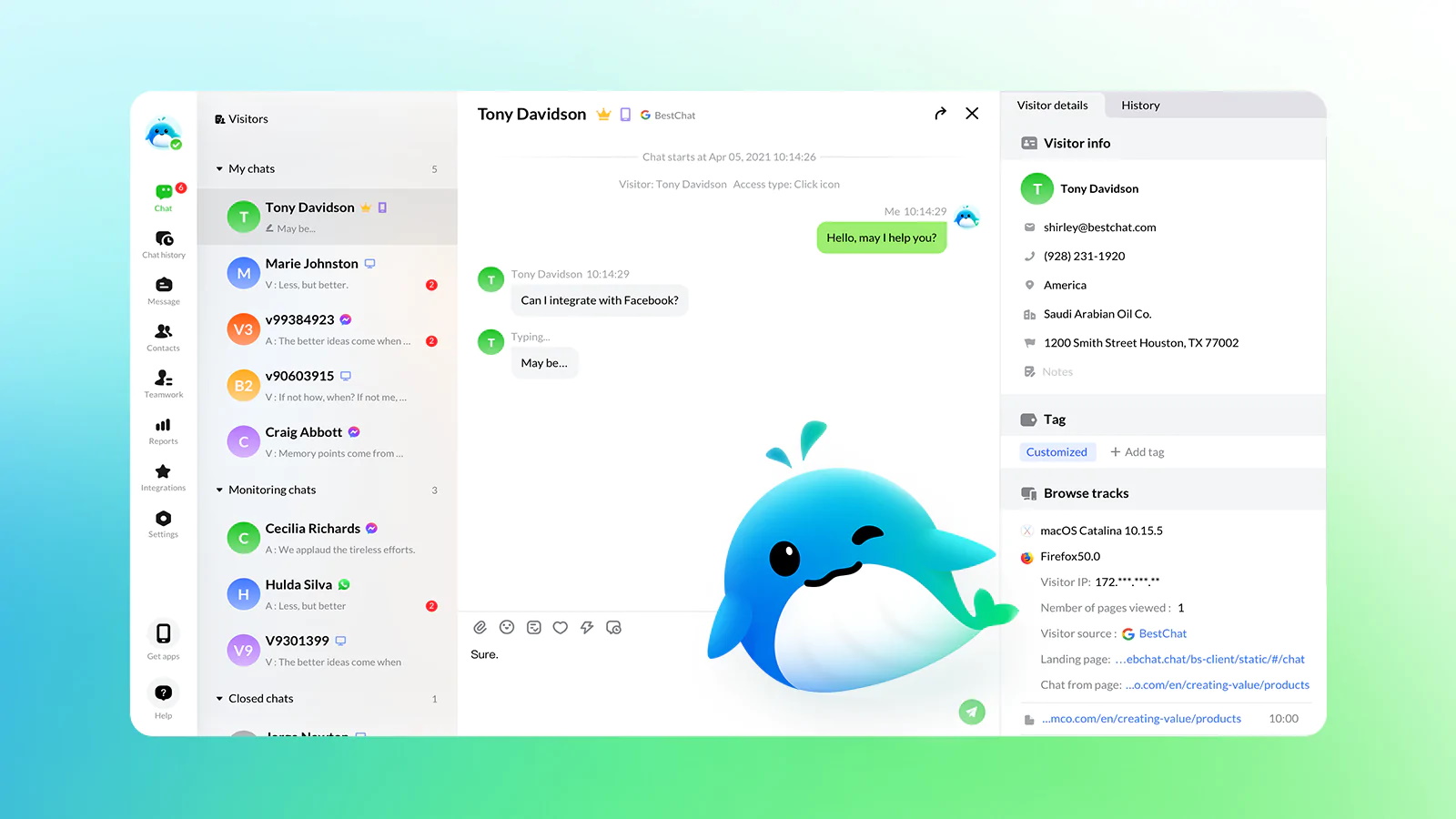 This app allows your customers to find the answers they need in real-time. You can engage them from any device through social media messaging systems, apps, and SMS. Therefore, you can reduce the frustration that is often experienced by online customers when they can't find the answer or solution that they're looking for.
The app has numerous customizations that allow it to snuggly fit on your website, looking like a native piece of software. You can display core brand identities including colors and branding. And the app allows you to handle ten times the number of customers that a phone or email agent could look after.
The first year is free for you for the first year.
BestChat Highlights:
Get for free for a year.
Can customize your website's live chat options.
Improves customer satisfaction.
Includes advanced data security.
Chatra
Chatra Live Chat is a great option for you to sell more, answer questions, and alleviate concerns customers might have about your products, orders, and more. You can use the information for ways to improve conversions, increase retention and prevent further costs by reducing time spent offering customer support. The app can also help you collect lots of data for feedback analysis.
The app can help you reduce the cart abandonment rate through the app. And it can improve how you monitor the performance of your website, for instance, you can see a real-time visitor list. And there are lots of integrations with this app. For instance, you can integrate with Facebook Messenger, and Instagram Integration.
You can also see what the customer is typing before they hit the 'send'. Therefore, you can prepare the answer for them.
Chatra Highlights:
Great way to add live chat to your website.
Improve how you monitor your website's performance.
See what the customer is writing before they send it to you.
Integrates with numerous third-party apps.
Channel.io
Channel.io is a great option that is available for your website if you want to offer the perfect customer service for your brand. It includes live chat, customer relationship management, and team chat. The app allows you to engage in real-time chats without having to log into your website. And all the customer data will be linked to when the chat is initiated.
The app can integrate with numerous message platforms. For instance, you can integrate with Instagram, Kakao Talk, Naver TalkTalk, and more. You're also able to manage customer data and track customer segments.
There is no capacity limit and files can be sent/received easily.
Channel.io Highlights:
Easy live chat integration for improved customer service.
Integrates with numerous platforms.
No capacity limits on documents.
Works well for teams.
Flowio

This all-in-one solution helps to improve sales through omnichannel while cutting down your workload. You can find lots of marketing tools on this app, including popup creation, email, SMS, live chat, and more. All of this can be automatically integrated into your website to improve your customer's experience with ease. And it is expected that this app can increase your sales by 30%.
This app allows you to create popups that can help you capture visitor details to help grow your email marketing list, or recover abandoned carts with an exit intent behavior. Or you can send emails and SMS content to your shoppers to get them to come back to your website.
The app excels with live chat. You can offer support, send out marketing messages, and more. And there are automations available that can help you reduce the workload you have and improve profitability.
Flowio Highlights:
A top option to offer one of the best customer service experiences.
Automated options to help you save time.
Recover abandoned carts on your website.
Live chat with customers with ease.
BeeApp - WhatsApp Chat
Do you want to be able to chat with your customers in real-time? Then you should consider installing this app and getting onto WhatsApp with ease. It takes less than one minute to get this app up on your website and loaded with ease. You can improve your website's conversion rate, offer better customer support and improve profits with this app. And customers will come back time and again to get the best deals and benefit from your better customer service.
The app installs a WhatsApp button on your store. You can then complete the WhatsApp information, add a call to action, and include a default message for your audience. You can also include a button placement option on your website before making customizations to the button that can include text size, color, background, and more.
As soon as a customer clicks on the button, they will be taken to their WhatsApp account. Then they can chat with you.
BeeApp - WhatsApp Chat Highlights:
Add a WhatsApp button to your website.
Takes seconds to install on your website.
Customize the button as you would like it.
Improve customer experiences.
Conzia
This app can help you to increase your sales by 40% if you use it to help you offer live chat on your website with WhatsApp, Facebook Messenger, and Conzia. It takes just two simple minutes to add the live chat to your website. You don't need to have any coding knowledge required. There is a free version to this website and this is for a lifetime.
The app allows you to talk to customers through numerous different messenger apps that include WhatsApp, Facebook Messenger, and other live chat options. It can also be used on a mobile device, with iOS and Android apps. You can manage conversations from one simple app that is simple and allows you to improve customer service performance.
The app can help you to also collect the details of your contact numbers and email addresses. And if the customer would like a copy of the chat, they can have the transcript sent to them for free. The live chat options can be customized with ease and there are sound notifications for every message that is received.
Conzia Highlights:
Add chat options to your website.
Control your chat with mobile apps.
Improve your customer service performance.
Improve sales up to 40%.
DelightChat
DelightChat is a powerful Omnichannel customer support option for your website. It can help you with numerous channels including WhatsApp, Instagram, Facebook, social comments, email, and a live chat on your website with ease. You don't have to switch tabs to control the conversation and therefore, you will never miss a reply to a customer query or support request. If you have a team, you can always see who is responsible for the support ticket.
The app includes an official WhatsApp business API and Green Tick Badge. Therefore, you can have a powerful connection to WhatsApp that improves your authenticity. The app can also help you use the official API to grow sales with abandoned cart recovery, order confirmation, and delivery notifications.
The app also allows you to set up abandoned cart recovery options.
DelightChat Highlights:
A powerful Omnichannel customer support app.
Takes just a few minutes to install and get working.
Official WhatsApp business API.
Can set up abandoned cart recovery options.
Final Word: The 10 Best Free Live Chat Apps for Shopify
Above are some of the best free live chat apps for Shopify. All of these can have live chat on your website for free. Which one will you use? Let us know in the comments.