Wix is one of the most popular website building tools online. It has a simple interface that's easy to use for those with no experience at all. Like a lot of website building tools, there are some templates that can be used to speed up design. There are numerous options when it comes to the best Wix templates.
What do you get when you use the Best Wix Templates?
There are lots of options when looking at the best Wix templates. All of them have simple features that make them powerful options for final designs on your website. Some of them have different aspects that can be more important for your niche. For instance, sports templates might have schedules for games.
In addition, you can be sure that the best Wix templates will be responsive, have good SEO features and be designed to monetize your site. They'll also have all the coding done for you, this can help with website speed which can improve ranking on Google and other search engines.
So, what are the best Wix templates for your next project? Here are a few options.
Show More
* read the rest of the post and open up an offer
Travel Blog and Podcast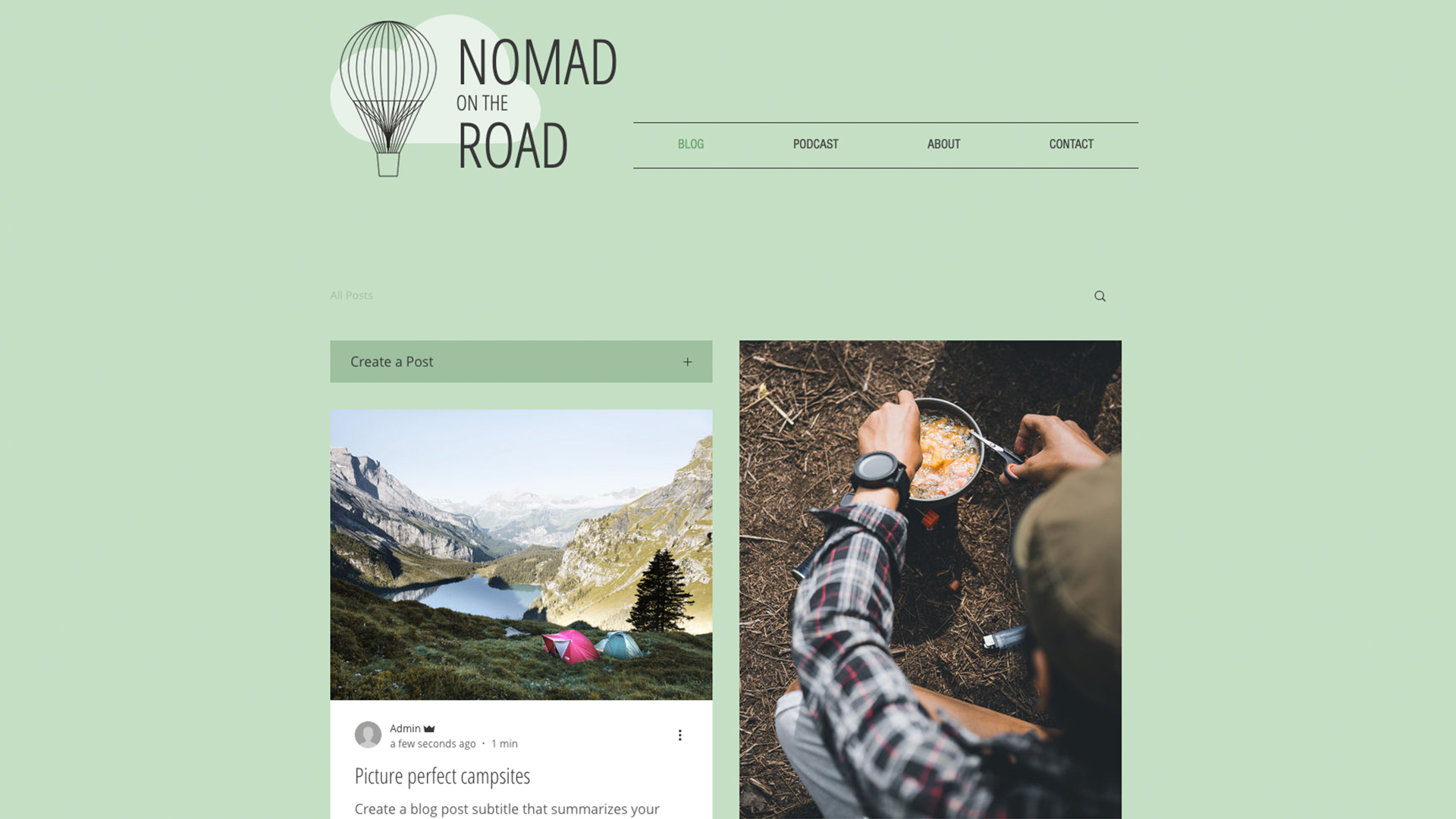 This blog is perfect for travelers, bloggers, backpackers and hobbyists to share their passion and explore the world. Every blog post that you can publish can have lots of text and visuals on them to attract audiences and make them want to learn more. You can customize and update the template with ease and share your adventures as you go across the blog posts and social media. The ease of updating also means you can focus on getting content, allowing you to collect more material and publish high amounts of content.
The pastel designs are easy on the eyes and the simple design makes it a great option for those that want something that looks good but not overloaded. The blog posts on the website can all have an image to attract audiences as they're promoted on the store's masonry-style front page.
To help audiences navigate your website there are simple menu layouts that look beautiful and seamlessly blend into the template's design. The template is perfectly designed for mobiles and desktops. Therefore, you can get customers on all devices and this can also help with ranking on Google.
Travel Blog and Podcast Highlights:
A simple to use template that offers lots of scope for your content.
All blog content can have images.
Beautiful and easy to use navigation on the website.
Quick template, helps with ranking on Google and other search engines.
Sports News
If you run any kind of sports website, whether it is a team website or one that follows a sport, then this app is a great option for you. It has a turf-themed background that clearly indicates what the theme is about and the sleek design makes it a perfect option to impress guests and monetise your website.
The template allows you to publish game schedules with ease, allowing fans to see the latest results, standings and what the future games will be. You can also use the theme to showcase merchandise to raise vital funds for your website. In a competitive world, the ease of which you can sell merchandise on your website can be very important. Visitors could use your site to show support for your team or offer you a way to make a living out of your website.
In addition, you can share photos and videos from your website with ease. This feature can help with engagement on your site and research has found that good visual content can help increase revenues from a website.
You can also engage with your audience in other ways with an excellent set of social media icons. The website is completely versatile and you can ensure speedy loading times that will impress guests and help you to rank highly on Google.
Sports News Highlights:
Static background of a pitch.
Upload videos and images to your website with ease.
Fast loading that will impress guests and search engines.
Monetize your website with excellent merchandise and other elements.
Tour Operator - Website Template
Travel is one of the biggest industries in the world and it is also very competitive. Therefore, you want to have a website that will standout from the crowd and allow you to attract travelers to take your tours. This website has vibrant colors and bold fonts to make a great first impression.
To help sell your services there is a slideshow that allows you to upload excellent, high-quality images of your tours and showcase them one at a time. The large images will look impressive and can help sell your brand's core messages. You can also add text to the front page that can help you sell your packages and services with ease.
The elegant design, with a list of the latest blog posts on the front page and good navigation across the store is beautiful. There is a clear and concise element to the design that is there to impress and with fast loading, you can be sure that ranking on search engines isn't going to be too difficult.
Tour Operator - Website Template Highlights:
Fast loading Wix template.
Clear and concise design that promotes your brand.
Vibrant colors to create a positive mood.
Slideshow to help you promote your products, tours and services.
Small Brand
As a small business, it can sometimes be hard to get noticed. However a good website is the first step to finding the traffic and revenues you need to become a success. This is one of the best Wix templates for small businesses that you're going to find. It has a sleek and stylish design that allows you to upload photos and show them off to visitors.
You can make numerous customizations to the template. For instance, you can change the layout to be more suitable for your needs. You can also change the colors of the website so they're more aligned to your branding. And these two changes can make your brand standout from the crowd more easily.
You can also use the blog page to keep your fans up to date on what is happening at the business. Research has shown that publish more than 15 blog posts per month can help with traffic, lead generation, rank on social media and revenues. Therefore, there's no reason you shouldn't publish more content on your Wix website. The template also has easy navigation.
Small Brand Highlights:
Sleek and stylish design that looks modern and will impress visitors to your site.
Make all the customizations to the design that you want to.
An easy to use blogging system to help you promote your website.
Easy navigation to help your audience go from one page to another on your website.
Exotic Pet Shop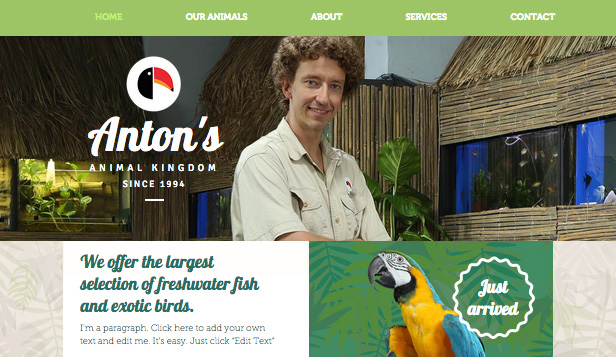 The Exotic Pet Shop template is a great option for those who are working with animals in any capacity. Whether you're a breeder, pet shop or offer animal education, this template has everything you need to promote your services and market to those interested. The template has bold fonts and vibrant colors that are perfect for anything associated with nature. And you can use the template to showcase high-quality images of your animals with ease.
The clean, natural-looking design is perfect for drawing the attention of the audience to specific areas on your website like the animals you have or the services that you offer.
The theme comes with several features that can be very useful for promotion too. For instance, there are contact pages and forms that can be embedded into your website for high engagement. Or you can list all of your upcoming events, great for those animal educators that want to promote their events and get more people to visit them in person.
Finally, you can build a large list of followers by having a subscription box on the home page. This allows you to collect email addresses from your visitors so you can market to them later.
Exotic Pet Shop Highlights:
Vibrant, natural colors that are perfect for nature-based businesses.
Publish a blog and events that are coming soon.
Can publish high-quality images on your website with ease.
Collect email addresses for future marketing activities.
Private School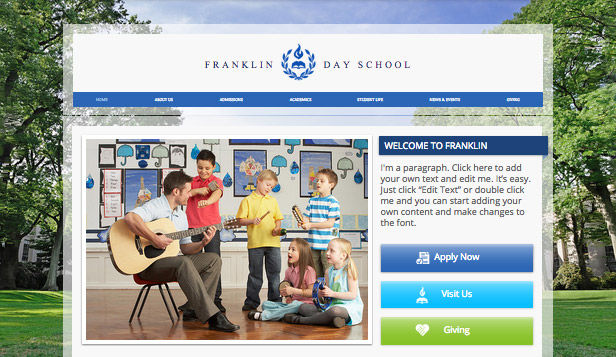 Education settings are needing a website more and more now as classes and lessons are moving online and busy parents are looking for a way to connect with the school other than phoning the front office. This Wix template offers that with a warm welcoming feel that is friendly but maintains that professional tone that is essential when you're offering education. The template looks like a traditional school website, with the colors, images and text able to be customized.
It has a simple drag and drop design element and you can use a slider to create a gliding portfolio of your education setting for establishing your branding.
In addition you can promote your school's latest events and upcoming sessions directly on your website. Parents can also use the template's easy navigation to get the information they need. This can save your support staff's time and help them be more productive.
Private School Highlights:
Pleasant and friendly design that helps you promote your school.
Simple drag and drop interface that can help you build a website with ease.
Use the slider to showcase images that highlight the message of your school.
Showcase your schools latest and upcoming sessions directly on your website.
Watch Store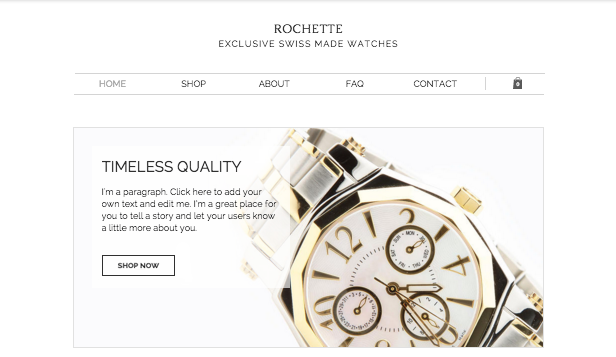 If you sell luxury items like watches, accessories or jewelry, then this might be the perfect Wix template for you. It is a polished template that provides a luxurious feel to your website. You can highlight your top sellers with ease thanks to a product gallery on the home page. This can help you sell products that have the best margins with ease on your website.
You're also able to edit the product details to get your online store ready to take orders and earn money. Customers are able to browse product images and descriptions with ease, allowing them to see if the product is the right one for them. There is also an excellent FAQ system that can help customers find out more about the product and your brand.
The clean, minimalist design is great for loading on any browser, whether they're on a mobile device or desktop. You can also ask customers to create an account and use the shopping basket on your store. With easy navigation and social media buttons in the lower right part of the page, this website is a delight for anyone looking to buy classy products.
Watch Store Highlights:
Easy to use navigation that helps customers to locate what they want on your store.
An FAQ system that allows you to reduce communications from your customers with things that can be answered simply.
Edit product details with ease and upload high-quality images.
Have products listed on the front page to help with sales.
Accessories Store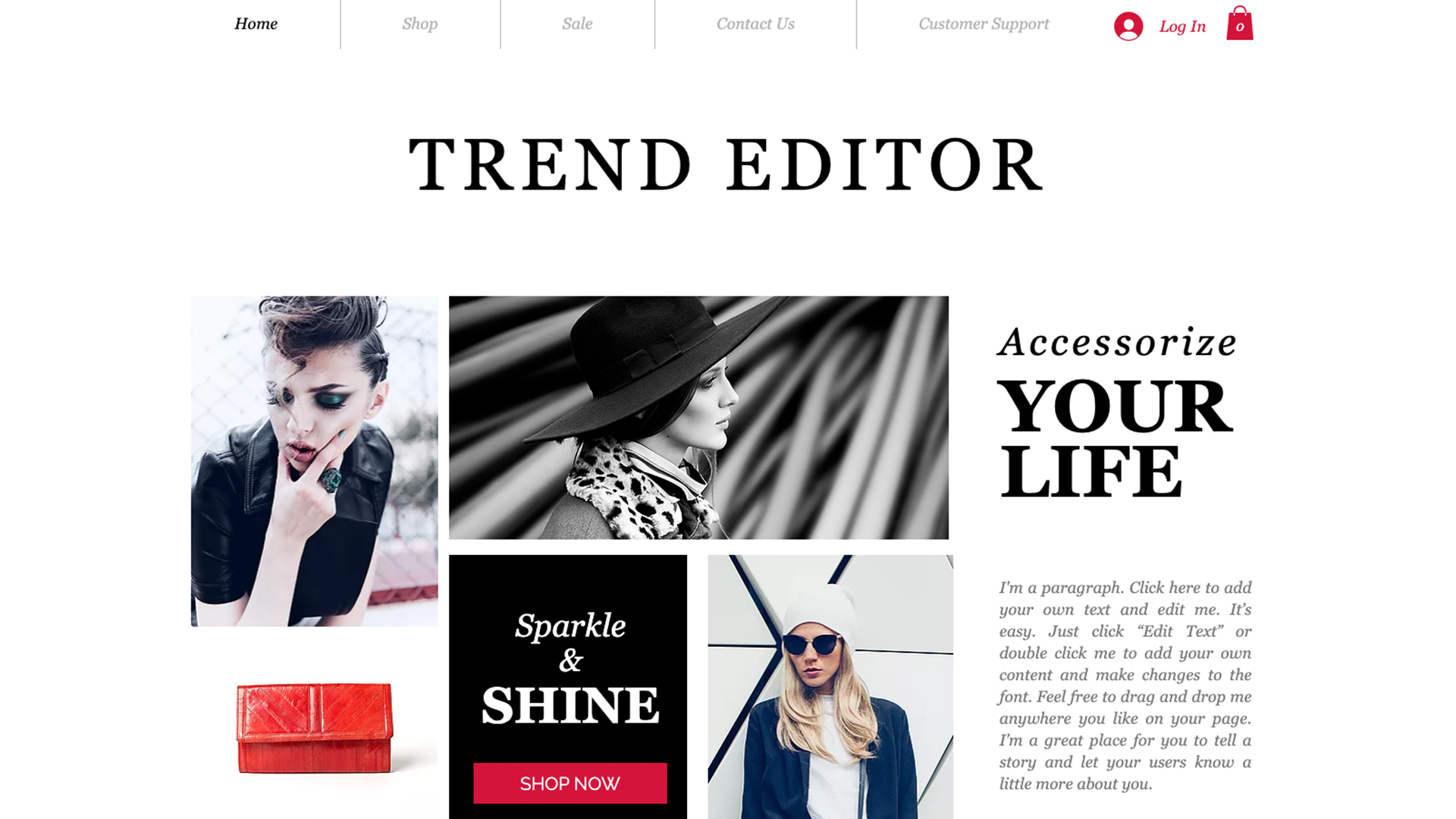 This eCommerce template is one of the top options when it comes to selling online. The trendy, chic template is perfect for any fashion retailer that wants to establish an online presence and maintain a relevant branding for their website. You can highlight your best products at the top of the website's homepage and you can use various galleries on the homepage to showcase your products and branding with ease. You can also add in an editor's favorites section to promote your favorite products.
To help sell your brand, you can use high-quality photos, add text and adjust the design to create an excellent website. You can customize the website with ease, so you're spending more time marketing your eCommerce store rather than editing your website.
You can add in customer account areas with a login area that is perfect for your customers to see their orders, past and present. You can also add a subscription area that can collect customer emails so you can use an email marketing system to promote your brand further.
Accessories Store Highlights:
Promote your store with ease thanks to an email subscription area.
Customer account areas so they can manage their account.
Highlight your website's best products in several ways.
Modern fashion design to impress guests.
Fashion Coming Soon
This is another fashion template that allows you to tell customers that you will soon be opening up a new fashion store. It is a one-page template with an aesthetically pleasing design to impress visitors. You can then collect their email address to sell to them later on when your store has opened.
While the default design is stunning, customization is probably advised. You can add your contact information, customize the background and make changes to the colors so they match your branding. It doesn't take long to get this website template going.
You can also add social media buttons to help you keep in contact with customers.
Fashion coming soon Highlights:
A one-page design to tell customers that you're going to be opening soon.
Easy to customize many elements of your website.
Subscribe visitors to your email marketing list so you can keep them updated.
Aesthetically pleasing design that will impress visitors to your store.
Travel deals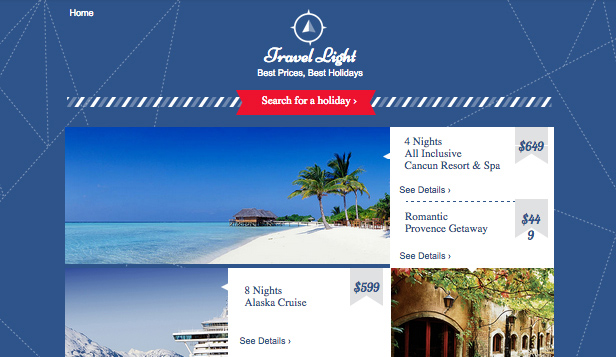 The travel industry is very competitive and that is why travel deal sites are so popular. Customers want a good deal when they go on holiday. This is where this template can be so useful. It is the perfect Wix template for any website developer looking to create a deal website, especially if you're in the travel industry.
The elegant template looks absolutely stunning and will impress many. You can add text, images and links to each of your website's deals and take a visitor to a stylish landing page. The whole template is easy to use and customize, allowing you to brand your website without the need to know any coding or have any developer skills.
The template includes eCommerce functionality, adverts for your latest deals and an email subscription form.
Travel deals Highlights:
Advertise the latest deals on your website.
Ecommerce functionality that allows you to take payments online.
Promote your brand with vibrant, exciting colors.
Easy to customize template.
Final Word: The 10 Best Wix Templates
When it comes to designing a website on Wix, you will want to be using one of the best Wix templates. The above ten are some of the top options you have that you can apply to your website. They can all be customized with ease and offer lots of functions for a great website. So, which of the best Wix templates will you use?