About 70% of your customers' carts will be abandoned. This can be a significant loss in terms of revenue. If you can claim about 20% of those carts back, you can improve your revenues by about 50%. That is a great amount of income. However, to help you need to be using one of the best cart recovery apps for Shopify.
How can the Best Cart Recovery Apps for Shopify Help?
The first thing to consider is that the best cart recovery apps for Shopify are there to reclaim lost sales. There are numerous reasons why customers abandon a cart. One of the top reasons is that they were hit by unexpected costs. This could be an unknown sales tax, higher than expected delivery cost or because you've not honored a discount that was advertised.
Another reason is that they are forced to go through an overcomplicated purchasing path. This can annoy customers. Or it could be that you require your customers to create an account to make a purchase. These aspects can be really annoying for customers.
However, some reasons can be good for businesses. One of the top reasons why customers abandon carts is that they plan to make the purchase but later. Therefore, giving them a nudge and perhaps a reason to buy sooner can be a great option. And these are the customers that you want to target.
However, to do this, you will need one of the best cart recovery apps for Shopify. So which of them are the best? Here are some of the top options.
Show More
* read the rest of the post and open up an offer
AVADA Marketing Automation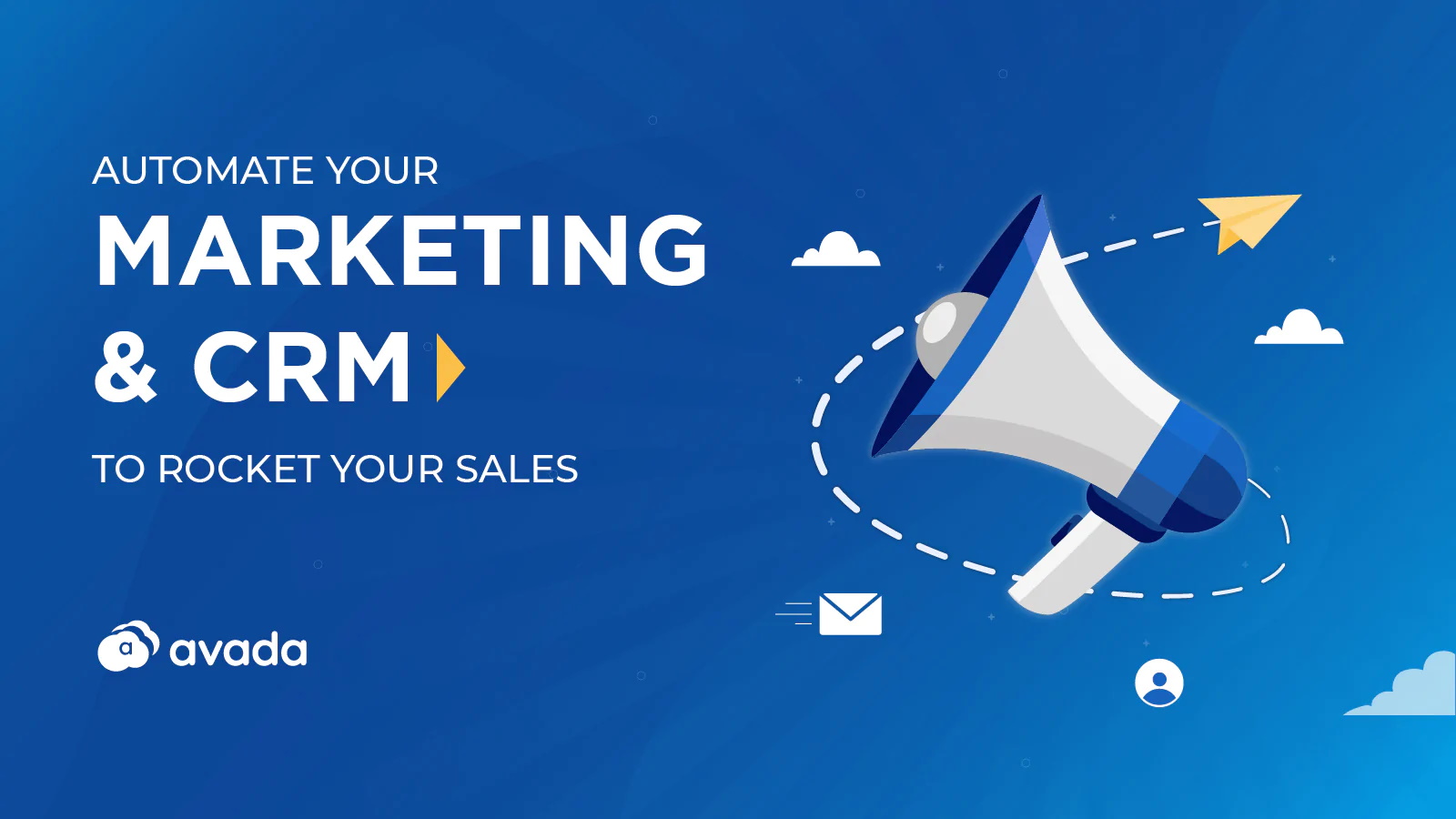 Avada Marketing automation is one of the best apps you can use for your website. It will help you to reach audiences who've visited you before through email and SMS. The platform can integrate through numerous different third-party solutions, allowing you to build an effective marketing workflow and system.
The main features of this website are the lead collection, signup forms, prospect following and abandoned cart options. Several different triggers can help you build a great email marketing system. For instance, exit intent, abandoned cart, on a page for so long can be behaviors that your website will react to.
Emails can be sent out in beautifully designed and eye-catching templates. These can improve the conversion rate of campaigns with ease.
AVADA Highlights:
There is great automation that can save you time and money.
Send emails or SMS to your subscribers.
Subscribe more visitors to your website with ease.
There are lots of gamification options like spin-to-win and more.
Cartloop
Cartloop helps Shopify brands to recover about a third of the carts that are abandoned on the website. Customer service experts and agents can help by texting customers in real-time to convince them to convert those who've shown a strong interest in your products. They can help with support issues as well as help sell, therefore your customers will get a truly personalized experience.
The app can work for brands who want to engage with audiences in real-time. There are real agents who operate each conversation. And because you have live agents work on the system, the whole sales transaction will build trust with your brand.
This abandoned cart app is a completely managed service and offers the best for customer experience. Therefore, the average order value and lifetime value should be increased.
Cartloop Highlights:
Offers personalized product recommendations to customers.
Assistance when customers are faced with a failed transaction.
Great interactions between your customers and brand.
An excellent option for those looking to have a more personalized touch.
Postscript SMS & MMS Marketing
While many brands look at email marketing to run their abandoned cart campaigns, research has shown that SMS can be just as effective, if not more effective. And with this app, you can ditch the email marketing and get straight to the mobile device of the customer. The app is completely compliant with the TCPA and GDPR regulations, which makes it perfect for your campaigns.
To help, the app will synchronize your store's data within minutes. And there are lots of automations that are there to save you time and money. For instance, you can have an abandoned cart notification sent to customers at specific times. There are also options to send shipping notifications, welcome messages and loyalty updates. These can be started within minutes of installation on your website.
The app is perfect for growing your subscriber count with various touch points across your website.
Postscript SMS & MMS Marketing Highlights:
Create a segmented list for your subscribers to improve results.
Automate your SMS marketing campaigns so you can spend more time doing other business activities.
Completely compliant with TCPA rules.
Track your store's revenue and ROI to see SMS marketing results.
Automizely SMS Marketing

This SMS app is perfect for those who use the Shopify abandoned recovery cart option and improve revenues with ease. All messages are sent out through SMS to encourage the customer to come back to your store and complete the purchase. The system is completely compliant with all US, Canadian, UK and EU laws.
You're able to activate your website's SMS notification system within minutes. You can set up numerous triggers for your notifications and then start growing your sales.
Automizely SMS Marketing Highlights:
This is very easy for you to install on your website.
Automation allows you to build your marketing campaigns with no action.
Can work with customers worldwide.
Is compliant with all major world laws on privacy.
Consistent Cart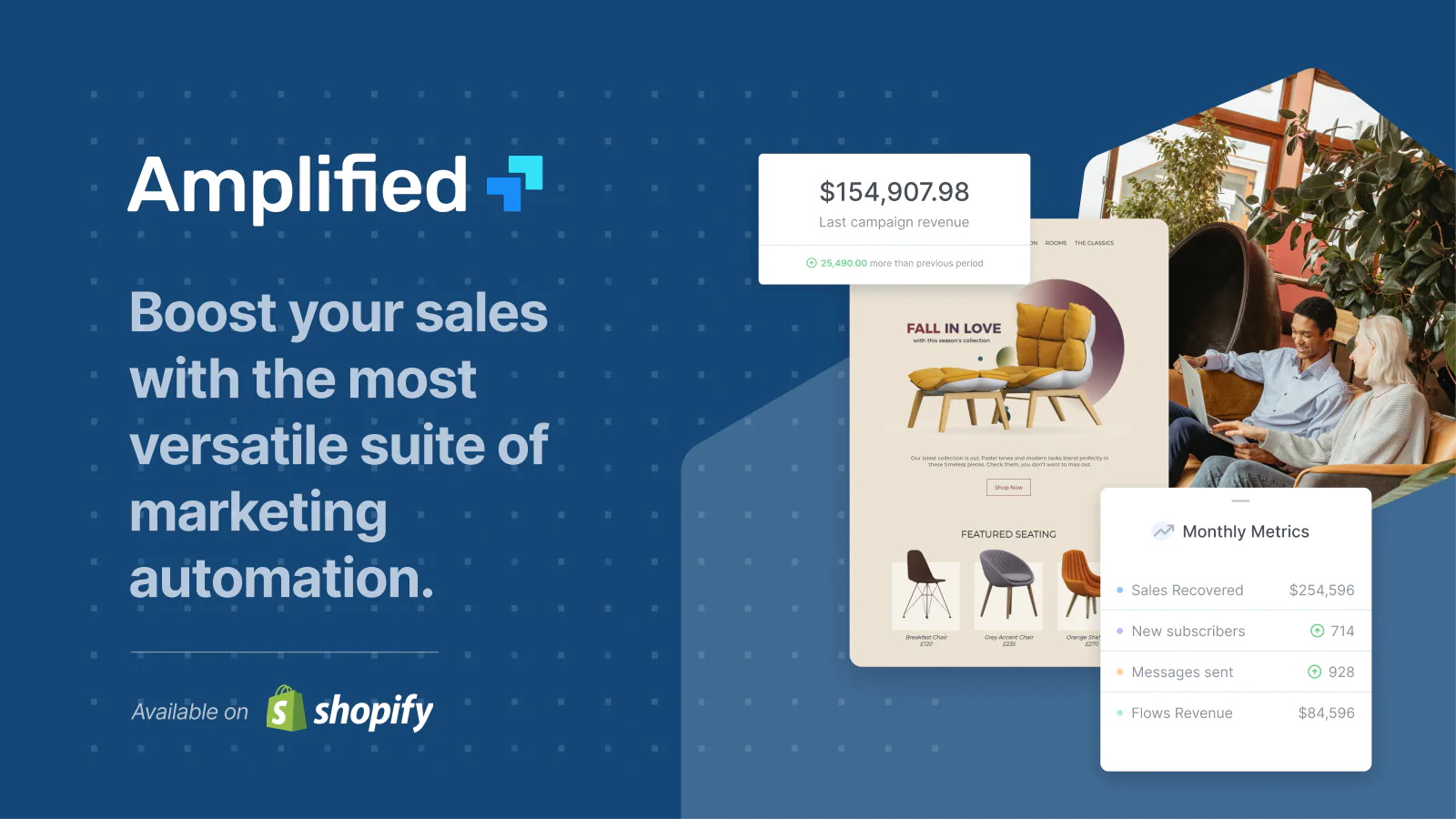 Consistent cart is one of the best email marketing apps because it has lots of features to help you grow your brand. Numerous features are designed to help you grow your marketing through email, Facebook, push notifications and other options. Therefore, you can reach customers across numerous platforms and avenues.
There are numerous notifications and campaigns that you can run with this app. For instance, you can send Happy Birthday emails. These can include a coupon to encourage engagement. Or you can send an abandoned cart email when a customer has forgotten to complete a transaction.
There is a popup that you can use on your website that can be designed within the app. This can showcase your recent sales that can create a little bit of urgency and FOMO on your website. These have been proven to increase sales and conversions.
Consistent Cart Highlights:
You can send messages to your customers through Facebook.
You can synchronize carts across devices to help customers streamline their shopping experience.
Send emails to your customers for numerous campaigns.
Capture and retain numerous carts from customers on your website.
Conversio Marketing Automation

Conversio is an alternative option to MailChimp. There are some great benefits of making the switch from MailChimp to this app. For one, Conversio will match the current price that you're paying if MailChimp is cheaper. This deal lasts for 12 months. They will also help you to import your contacts and templates from MailChimp.
The app can easily be integrated with your Shopify store. This allows you to get any new campaigns going within minutes. There are lots of automated campaigns that you can build with the app.
In addition, the time saved through the automated campaigns can help you save time and spend it on other activities like stock ordering and fulfilling orders. This app is also known for being good at helping merchants to recover abandoned carts.
Conversio Marketing Automation Highlights:
Automated email campaigns to help you run better email marketing.
Improve the recovery of abandoned carts customers make on your website.
Create workflows with ease.
There is great support should you need it.
BayEngage

BayEngage is one of the top apps for Shopify email marketing. There is a great set of reviews to tell you how previous users have used the store to sell more on Shopify. It takes just seconds to install this app on your website and just one click is all it takes. The account settings are hassle-free and the email campaigns are easy to build.
There are millions of free stock photos and email templates. The easy drag-and-drop editors allow you to build exciting campaigns that will convert audiences.
Several recovery solutions can help you improve your revenue generation. For instance, there are back-in-stock campaigns, win-back campaigns and even abandoned cart emails.
BayEngage Highlights:
Integrates with six major email marketing platforms with ease.
There is a free collection of email templates you can use.
Powerful segmentation options allow you to have better campaign results.
Native emojis, subject lines, preview texts and more.
Klaviyo
Klaviyo is a powerful abandoned cart and email marketing app that has some great features to help you sell more on your website. Customers who've visited your website before can be invited to come back and complete any transactions that they've abandoned. The app is used by some of the biggest US brands.
The automation that can be enabled on your website will help you save time. Klaviyo can help you with abandoned carts by sending customers to remind them of their carts. You're able to offer incentives to come back and make the purchase. For example, you can offer discounts, free shipping and other offers in the emails. These can help to convert audiences. There are also unique popups to help you capture email details before the visitor exits your website.
The app can be used for building loyalty with customers. You're able to add rewards for your VIPs and request feedback. You're also able to automate customer lifecycles with lots of different campaigns. You can also create lots of data-rich transaction emails to help keep the customer informed.
Klaviyo Highlights:
This app is perfect for those who have multiple stores.
Merchants can add several team members to help you manage your account.
Increase the deliverability of emails using your own domain.
Need help? The customer service team is available.
ConvertWay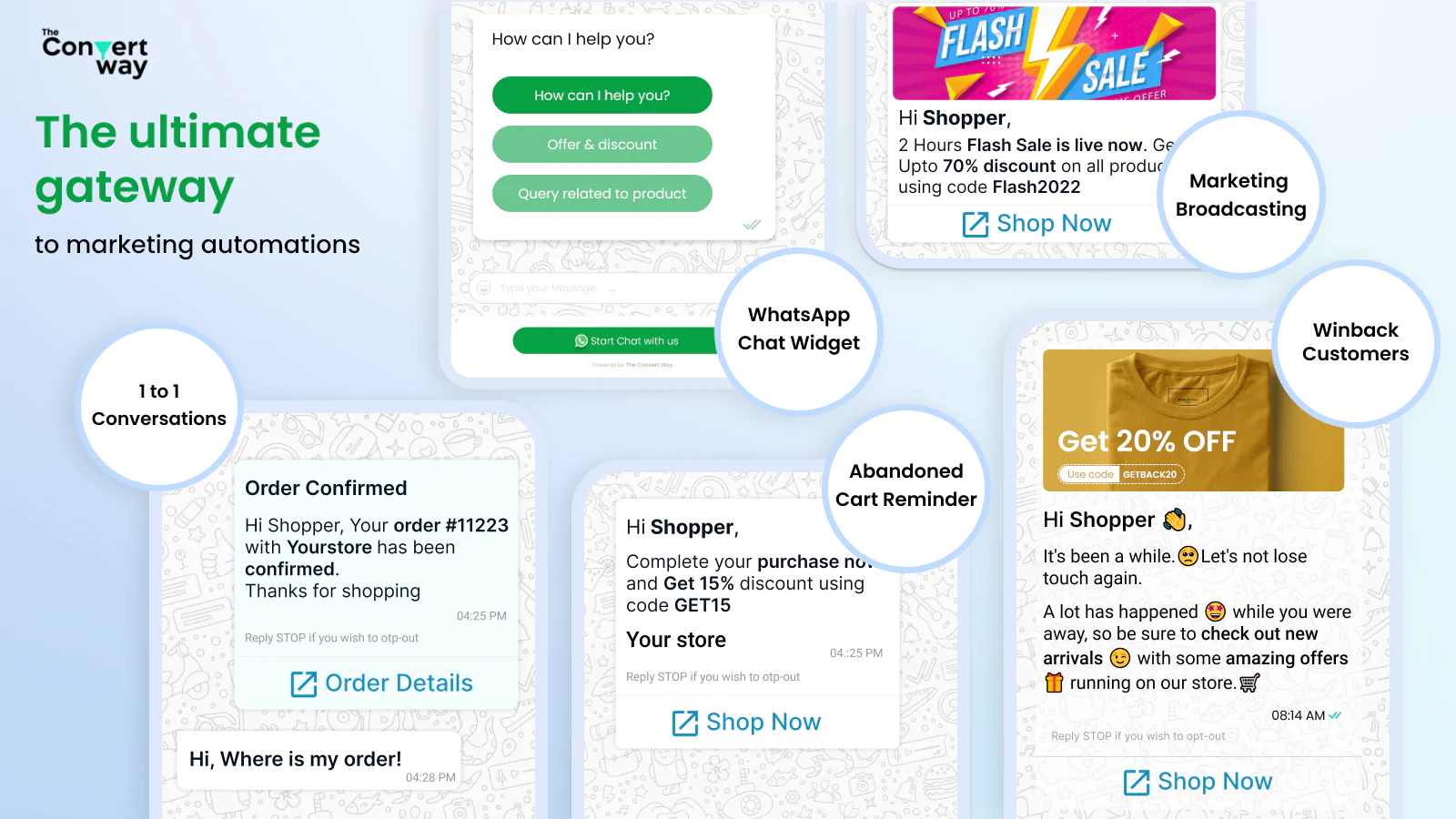 This app allows you to send notifications to your customers through a regular SMS alert to get them to come back to your store and complete the transaction. Working in more than 200 countries across the world, you can build revenue and add profitability to your website.
The app allows you to send several transactional messages as well. For instance, you can send SMS campaigns for out-on delivery, canceled orders, delivery and more.
The app works in numerous great ways. For one, you can send up to three follow-ups for those who've abandoned their carts. The first is sent within 10 hours. The second can be sent up to 24 hours later. Then the final SMS can be sent within 72 hours of the customer abandoning the cart. Each message can include discounts and free shipping. All of these actions are completely automated. This allows you to spend more time on other marketing activities or fulfilling orders.
SMS Notification Cart Recovery Highlights:
Can work in more than 200 countries.
You can send several important updates about orders.
Recover the customer's abandoned carts with up to three SMS messages.
You can integrate other apps to help with the workflows.
SMS, Web Push, Email‑ Firepush

This app allows you to use remarketing techniques to improve your website's revenues. This app has been used by hundreds of Shopify Plus stores. The app worked with lots of automation including email marketing, web push notifications, SMS and Facebook. There are so many ways you can reach audiences.
The app allows you to send more than three SMS abandoned cart notifications. These actions have proven to help you bring back customers and complete the purchase. The app claims that this technique can improve revenues by 30%. The app can also be used to improve customer service and send win-back campaigns.
SMS, Web Push, Email‑ Firepush Highlights:
Create push and SMS campaigns with ease.
Add more value from your existing customers and earn more revenue.
There is free migration.
You can send more campaigns across numerous marketing channels.
Final Word: The 10 Best Cart Recovery Apps for Shopify
Recovering abandoned carts can help you grow your brand's revenues. Using one of the best cart recovery apps for Shopify can make it a lot easier to get those extra revenues.