Dropshipping is one of the top ways that people earn money on Shopify. There are lots of reasons for this. Firstly, it is a simple business model for setting up. You don't need any inventory, all you need to do is set up your website, connect to a dropshipper and then start selling. There are some great dropshipping themes for Shopify.
What are you Looking for with Dropshipping Themes for Shopify?
There are many things that you want to have with dropshipping themes for Shopify. One is versatility. What you sell today might not be the same as what you sell tomorrow. You might change niches or have a wide variety of products where a theme that is specific for one set of products isn't suitable.
At the same time, you will want to make sure that you've got enough of a presence to ensure that you're ranking on Google and other search engines. Organic search is one of the top traffic sources that you're going to have and it is one of the top earners for your website (email being another top option).
Also, you will want the theme to be easy to use. If you can't make changes yourself you will have to call in a developer. This can be expensive and this can result in your website's profits being significantly reduced, or worse, wiped entirely. Therefore, be sure that you know how to edit your website.
Is Dropshipping Profitable?
Dropshipping is one of the most profitable business models. You can start a dropshipping business on less than $100. And you can expect growth. About 23% of all online orders are completed with dropshipping. And the growth of this is expected to be about 24-25% until 2026.
To make a profit there are two things that you must consider. How to choose the right products and what margins to set. To make a good profit, you should aim to add a 40-70% margin to profits. So if you are charged $10 for an item, you should be charging customers $14 to $17 for the item.
So, what are the best dropshipping themes for Shopify? Here are ten options.
Show More
* read the rest of the post and open up an offer
Woodstock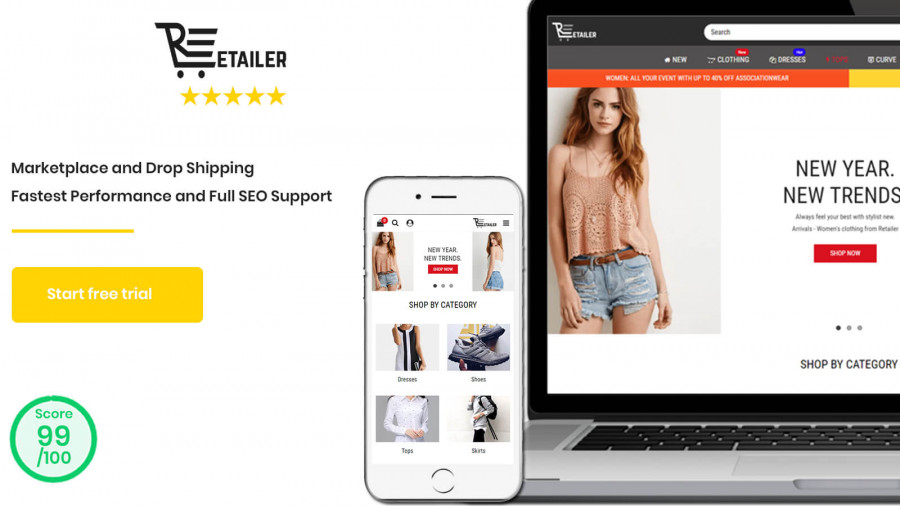 Woodstock is one of the top options when it comes to Shopify themes. It is the perfect solution for those that want to build a dropshipping business that is international. Originally it was built for fashion stores, but it is very versatile that it can be used for almost any niche. The basic theme has four different theme styles that can be used. These are all based on famous fashion sites with styles and familiarity. Therefore, you can gain high trust levels with your audience from the moment they land on your website.
The theme is great for selling internationally. The theme includes a currency converter that will change the currency and the prices that the customer sees based on their location. Normally this feature would require an app, and therefore this theme can help you save money as well.
Several page layouts are available for your products. So as soon as you've imported your products into your store, you can play around and choose the layout and design that looks best for your brand. You can also create great navigational systems on your website with a mega menu builder. If customers can find their way around your website better, they are less likely to abandon carts and more likely to add items to their cart, improve the average order value as well.
Woodstock Highlights:
There are numerous functions included with the theme that can help you build great websites.
Very easy to use and is versatile, being able to be applied to many different niches.
You can use a familiar style and design to some well-known brands to help build trust.
Mobile friendly and clean code for better ranking on search engines and better customer experiences.
Booster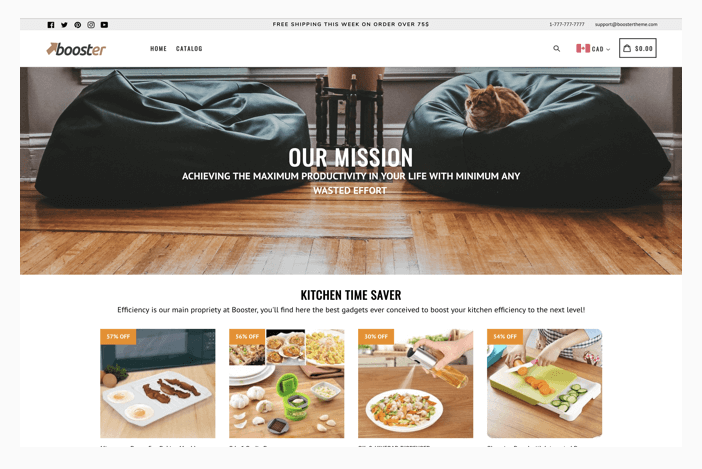 Booster is a very impressive theme. It has numerous features that can save you lots of money on your annual subscriptions with other apps. For instance, there are email subscription features, countdown timers and more included with this theme that would otherwise require you to have an app for. According to the developers, you might be able to save $2,000 a year on subscriptions with this theme.
The theme has also been designed for speed. Some websites using Booster can load in as little time as 1 second. Considering that for every second that it takes your website to load, you're going to lose 7% of your income, this can be a massive improvement. For reference, the average website can take 8 seconds to load.
There are numerous features that can help you build trust as well. You can have pleasing designs and layouts that look professional, but require no coding knowledge from you. At the same time, there are great navigational elements to help your customers get from one page to another. To help them trust your brand, you can also use social proof.
Booster Highlights:
There are numerous functions included with the app that can save you lots of money on your expenses.
The Shopify theme is fast and great at delivering high page ranks on Google.
Mobile friendly theme layouts that allow your website to be viewed on mobiles, tablets and desktops.
Build trust with your audiences but also give them a reason for buying from you quickly with urgency.
Loft
Loft is a stylish and elegance that is perfect for numerous Shopify models but is also great for dropshipping. It allows you to create an aesthetically pleasing storefront that will impress visitors and help you achieve sales. Loft has a simple, but effective grid style on it. The appearance of the website is very effective and can convert with ease.
The theme's main objective is to build a story. This could be about your products or your brand's story. This is an effective way to get your customers to feel an emotional pull to buy from you. You can create the story on your product description pages or your about us page.
You can also use this theme to create a multilevel menu on your website. This can help with navigation from page to page for your audiences and can help with increasing the average order values on your website and reducing cart abandonment.
The theme is also fast. This can improve the bounce rate that can cause a lower ranking on search engines.
Loft Highlights:
The theme has lots of storytelling elements to get the audience to emotionally bond with your brand.
Simple, but effective, grid-style for your website.
Multilevel menu for improved navigation on your website.
Perfect for all kinds of niches, including dropshipping.
Masonry
Masonry is called this because of the simple design style that it uses. You can use the masonry design to promote products, posts or announcements on your home page. These are easy to follow for your audience and can help you build a strong brand presence on the internet. In addition, you can improve branding on your website with the inbuilt slideshow. This can be used to showcase your brand's corporate image or showcase products that you sell.
There are four different elegant theme styles that can be used on your website. These are all beautiful and can help you attract the attention of specific audiences and more. And the theme has great infinite scrolling functionality that allows you to display all your products on one page, ensuring that your customers don't get lost in lots of collections. It doesn't matter how many products you have, they can all be shown on one page.
There are also other navigational helps with this theme with the accordion-style menu. This can be used to great effect for those who are viewing your website on their mobile.
Masonry Highlights:
Use one of four aesthetically pleasing styles on your website.
Fast loading for better search position on Google and other search engines.
Navigational tools to keep customers happy when searching your website.
Easy to use, even for those who don't have any developer skills.
Expression
Expression has four unique styles that can be used to build one of the most beautiful websites for dropshipping. It is great for those who want to use several different sources for their dropshipping products as it is great for different vendors and can handle a large catalog with ease.
The first element of this great theme is the slideshow. This allows you to display all the best products with ease right on the front page. This can increase sales for products where you can get the best profit margins. You can also include links within the images that can direct visitors to different pages include important brand information or product pages. You can also include videos within the slideshow, with videos being hosted on YouTube or Vimeo.
The theme includes multi-level menu settings. These are easy for you to implement and help the customers get from page to page without too much trouble. You can also build a better search rank with improved navigation and with the fast loading, there should be nothing holding you back.
To help you promote products/details about your website, you can use the versatile sidebar area on the theme. You can showcase any information in this area and include promoted posts, images, adverts and more.
Expression Highlights:
Use the image rollover that will display other images of the product when a visitor hovers their mouse over them.
Optimized coding for mobile devices and search engines.
A speedy theme, loading times are greatly reduced.
Host videos of your products on YouTube and showcase them on your website's slideshows.
Avenue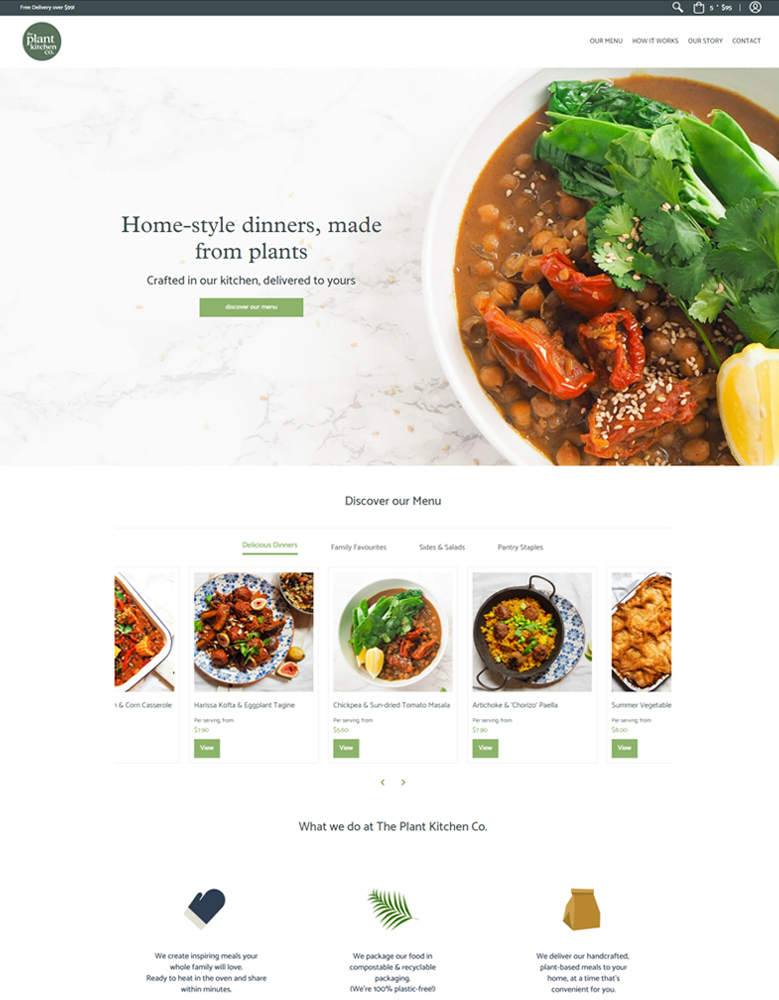 Avenue is the perfect theme for helping your customers find the products they want fast and then checking out. Because of the design, you can expect lower abandoned cart rates than you would with other themes. The theme includes a unique product filtering feature that allows customers to find products by displaying only those that have specific colors, type, size or customization. This can be great for those who have large catalogs.
You can also have collection sublists that make reducing the number of options for a customer down significantly. And when customers do find the products they want, they can add product simultaneously, even if they've opened new tabs and windows on their device. The theme can handle this with ease.
The theme comes with breadcrumbs that can help improve navigation on your website. It is also known as a great way to increase your SEO profile and achieve a better ranking.
Avenue Highlights:
The theme has been perfectly optimized for search engines with many features to help you rank higher.
Product filtering to help customers find the products they want quicker.
Add free images from Burst.
Easy to use, you don't need coding skills for editing this website.
Capital
Color can be a very powerful marketing tool when it comes to selling online. And if you're dropshipping you will probably have a very large catalog. That is why this theme is probably one of the top choices for you. There are excellent styles that can be used on your store within moments, all of them very colorful, grabbing the attention of the user almost instantly.
To add to this, navigation across the site is really easy. There are multi-level menu options that make it easier for customers to find the categories or sub-categories that they want with ease. Customers can also use an advanced product filter or the live search function to find the products they're looking for. Normally you require an app to get these features.
For those who use Instagram, you can connect your account with ease. Then use the fantastic Instagram gallery. This will include a nice hover-over effect that will impress guests and increase orders on your site.
Capital Highlights:
Use one of the three aesthetically pleasing theme styles on your website.
The theme is highly responsive, can be viewed on any device or screen resolution.
Optimized for search engines, allowing your brand to be found and improving your traffic levels.
Customers can use the live search and advanced filtering options on your website.
Magic World
Magic World is one of the top themes for those that want to add a little colour to their store. It is perfect for those who work with children, nature or fashion, but it can be applied to many different niches and is great for dropshipping. The theme also emulates some of the top brands across the world, this can help you build trust with audiences quickly and they will know they will get a happy experience on your website.
There are some fantastic navigational options when it comes to building your store. This can help you keep customers on your website for longer and will lead to more conversions, higher-order values and better ranking on Google.
And the navigational options aren't the only ways this theme can help you on search engines. It is completely responsive, working on all devices and screen resolutions. Plus you can sell across the world with multilingual and multicurrency functionality, not a common function of Shopify themes.
Magic World Highlights:
Sell across the world with multilingual and multi-currency functions.
Add social media channels with ease and generate traffic through these options.
Use Google Maps to promote any physical stores that you might have.
Advanced coding for better ranking on Google and improved loading times.
Boundless
Boundless is a free theme that isn't feature-packed but can be something that can help you sell online. The theme has sticky navigation that improves the experience for the customer. They don't need to move to the top of a page again to find a new page, they can just see the menu at the top of the screen. This is easy to use for the customer.
The theme is also optimized to display your large product images without slowing down your website. By seeing more details, your customers can make better purchasing decisions and you can expect higher sales. You can also have a home page slider to help promote your best products.
Finally, you can promote your brand or high-profit products in a great video that can be shown on your home page.
Boundless Highlights:
This is a free theme that is great for those who are looking for a low cost option to start a dropshipping business.
The slideshow allows you to promote your top products.
Optimized for search engines and mobile devices.
There are plenty of navigational options that can help customers find products they want.
Impulse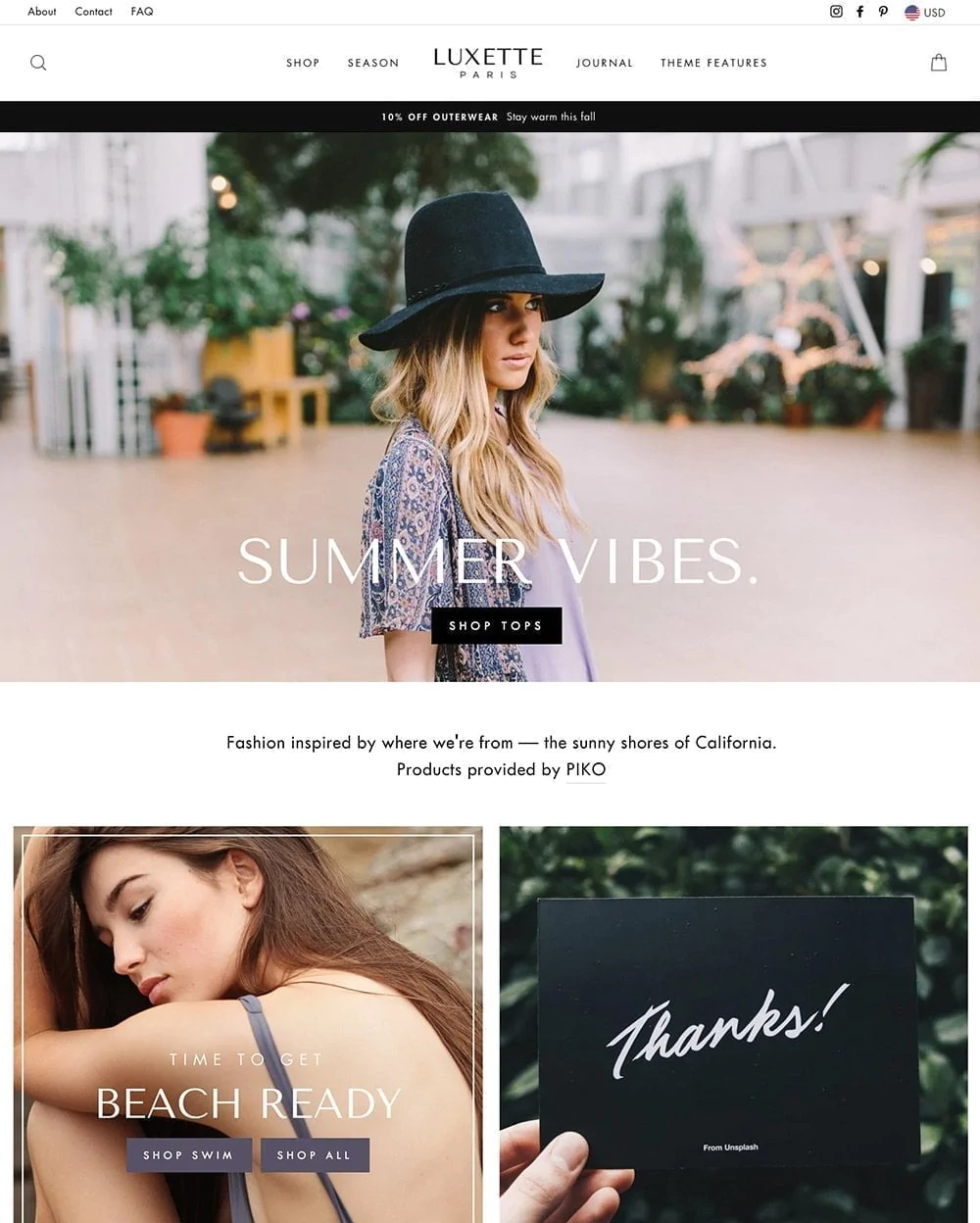 Impulse is a great theme for those who want to dropship fashion items. However, this theme is known to be used within other niches such as health and beauty, sports and more. The theme is perfect for smaller catalogs and also those with large catalogs. You can also integrate this theme with the physical store elements, to help you manage all sales avenues with ease.
This theme requires no developer experience to work. You don't need to know any coding to make customizations. You can use a drag and drop page builder to help you create a strong website design.
The design elements can include videos, images, animations and more. There are also lots of different fast store that can improve your website's conversion rate.
Impulse Highlights
This is the perfect theme for fashion stores.
Offers a free trial until you are ready to publish.
Custom promotion designer.
This theme is fast, allowing for a better customer experience.
Grid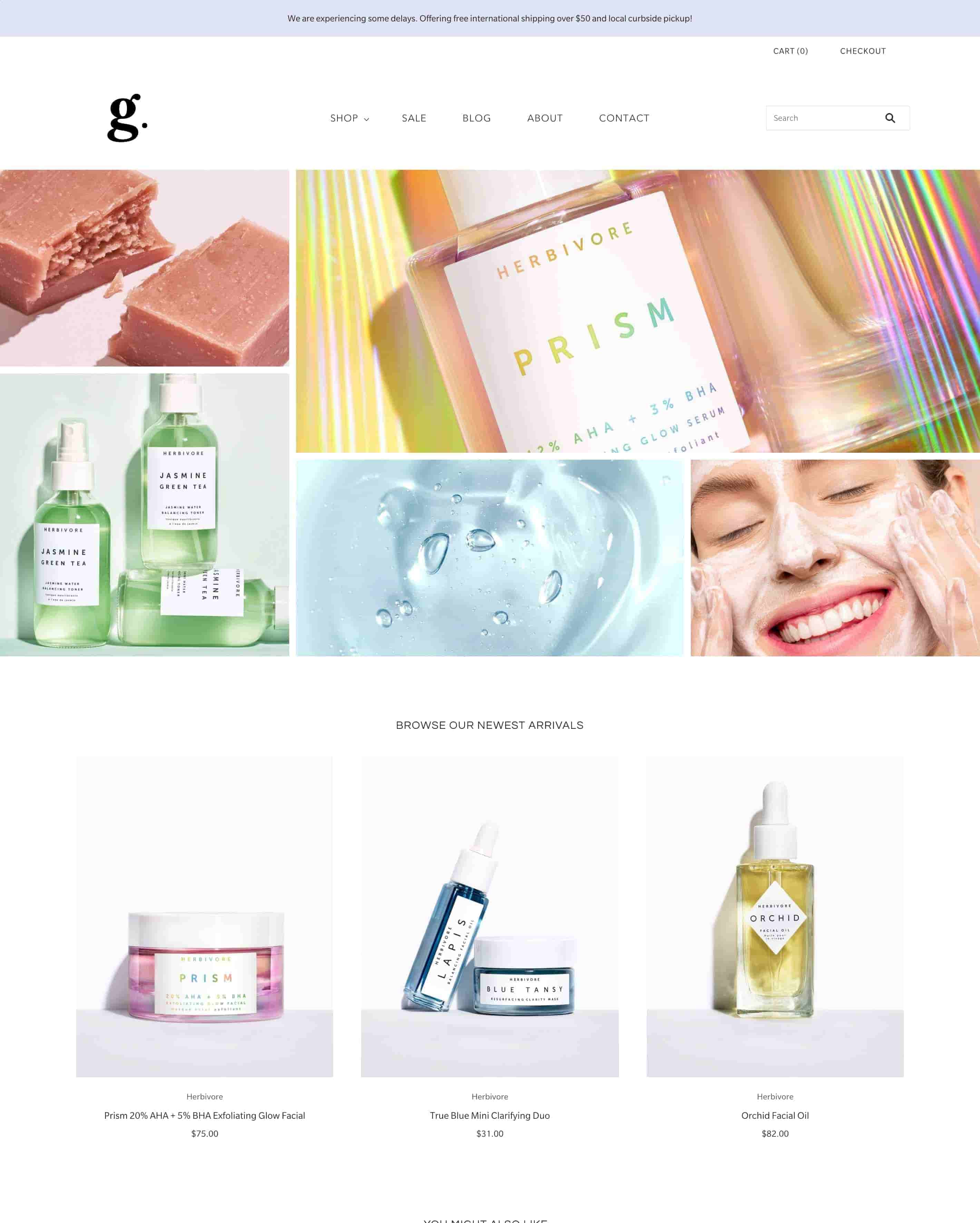 This masonry style theme is perfect for storytelling. The theme is best for stores with smaller catalogs, such as those that work within niche dropshipping environments. With the focus on a smaller amount of products, the conversion rate can be higher. With the enhanced navigational elements, users can find the products they want.
Grid theme is easy to use and you can use a simple drag and drop page builder, so you don't need to have any coding knowledge. Images can be showcased and there are longer text sections so you can build a better story on your website and include all the right keywords. You can also add product badges, a slide-out cart, promotional banners and recommended products.
Grid Theme Highlights
A masonry style theme.
Focuses on a smaller amount of products.
Works for numerous niches.
High-resolution images for improved conversion.
California - Inactive
California is associated with fashion store normally, but it is very versatile. It can be used for any dropshipping business that you might want to create with ease. There is a header slideshow that can be used on the home page. This can display important brand messages or perhaps showcase best-selling or high-profit products. You can also showcase other products using your Instagram feed that inbuilt to the theme's code.
There are four different basic themes that you can use as soon as you install California. These have all been designed with quality in mind. They're aesthetically pleasing and will promote your brand with ease.
California Highlights:
Optimized code for great search rank potential.
Free images can be used from Burst.
Perfect for displaying on all devices including mobiles and tablets.
Instagram functionality built into the theme.
Final Word: The 10 Best Dropshipping Themes for Shopify
If you want to start a dropshipping business, then you should be using one of the best dropshipping themes for Shopify. There are numerous options available, each with features that can help you earn a decent living. Use the list above to make your decision. And also think about adding some great dropshipping apps for your Shopify store.