Businesses that take reservations or rent out equipment/space require some way to manage appointments or spaces used. To do this, the most important thing that you need to do is to have one of the Shopify booking apps on your store.
Why Use Shopify Booking Apps on your Store?
There are numerous reasons why you need to use at least one of the best Shopify Booking apps. For one, 40% of business bookings happen when there is no one in the office. If no one is in the office or online, then there is no way to take these bookings and therefore you could lose out on revenue.
Another reason is that you will want to take advantage of current demands. Appointment businesses are expected to grow by about 13.1%. Therefore, those businesses that aren't offering a way to book online are going to lose out on a lot of potential sales and options. Customers, if they can't find a way to book online, will simply go to a competitor.
Another reason is that customers prefer to use online booking systems. Just under half (42%) would only use an online book system for getting their appointments. Therefore, not offering the system is going to leave you without customers.
Numerous niches could use booking apps from shops to restaurants and professional services too. So which are the best Shopify booking apps for your online store? Here are some of the options for you to consider.
Show More
* read the rest of the post and open up an offer
Restaurant Table Management

This app allows restaurant owners to offer a booking system for their tables. There is a brilliant table management function for customers to book online and you can better manage the capacity of your business. There are also ways for the customer to see the availability of the tables within the premises based on the night. Customers can pre-book their tables to ensure they get the table they want.
When the customer arrives, you can assign them to a table with ease. You can then assign their orders to the table and at the end of their stay, you can print off and offer them an itemized bill.
From your orders menu, there are all the orders from the table. You can also see what other customers have ordered who have been there before. There are also options to calculate the total costs of the business and the evening. You can also see the trends, like whether vegan meals are becoming more popular or whether a certain type of drink is no longer popular. You can use this information to help you plan your business better.
Restaurant Table Management Highlights:
Manage your tables better through your Shopify POS system.
Keep a table's orders on the system with ease.
Claim the free seven-day trial with ease.
See trends within the business for better planning.
Booking App by Webkul
This is a versatile app that is very suitable for any business that offers appointments, rentals, or leases. It can be great for those who are selling professional services or even at a restaurant. You can also rent out holiday homes or private rooms with ease. No longer do you have to take the call, everything can be done while you're away from the computer by the self-service option on your website. The customer can book several items every time.
Each product you list on your website can have a booking feature added to them. Therefore, customers can have easy access to any service you have. The mobile-friendly booking system is perfect and works as soon as you install it.
Administrators can approve, reschedule or cancel reservations/books at any time from the backend of the website. You can also send customer notifications and reminders at any time from the backend of the website.
The app is compatible with the Shopify POS system.
Booking App by Webkul Highlights:
Approve, amend or cancel bookings from customers.
You can connect your booking system to the POS system.
Users can make their appointments.
Can use any product you've listed on your website.
BookThatApp

This is an easy-to-use app that is very versatile and helps you to make lots of bookings for your customers. They can book products, lease equipment, rooms, and more from the comfort of their home on a desktop or mobile device. You don't need to be online to get that booking sorted and therefore, you don't miss out on a potential sale.
There are ways that you can set availability for any service, staff, product, or room. This can be viewed in real-time by your customers. Therefore, you don't have to be double booked and this can help with customer satisfaction.
You can have complete control over the schedule. You can set opening hours, the last time available for booking, restrict the days that can be booked on, lead times, and more.
Those customers who make a booking online can receive notifications and reminders. Therefore, there are not many who will not turn up. And there are ways that you build social proof by requesting reviews and more.
BookThatApp Highlights:
This is compatible with all Shopify themes and works on both desktop and mobile devices.
Customers can complete a booking on your website, even when you're not online.
Manage your brand's bookings from the backend with ease.
Place restrictions on your bookings to ensure that they're profitable and suitable for your business.
Storeify Appointment Booking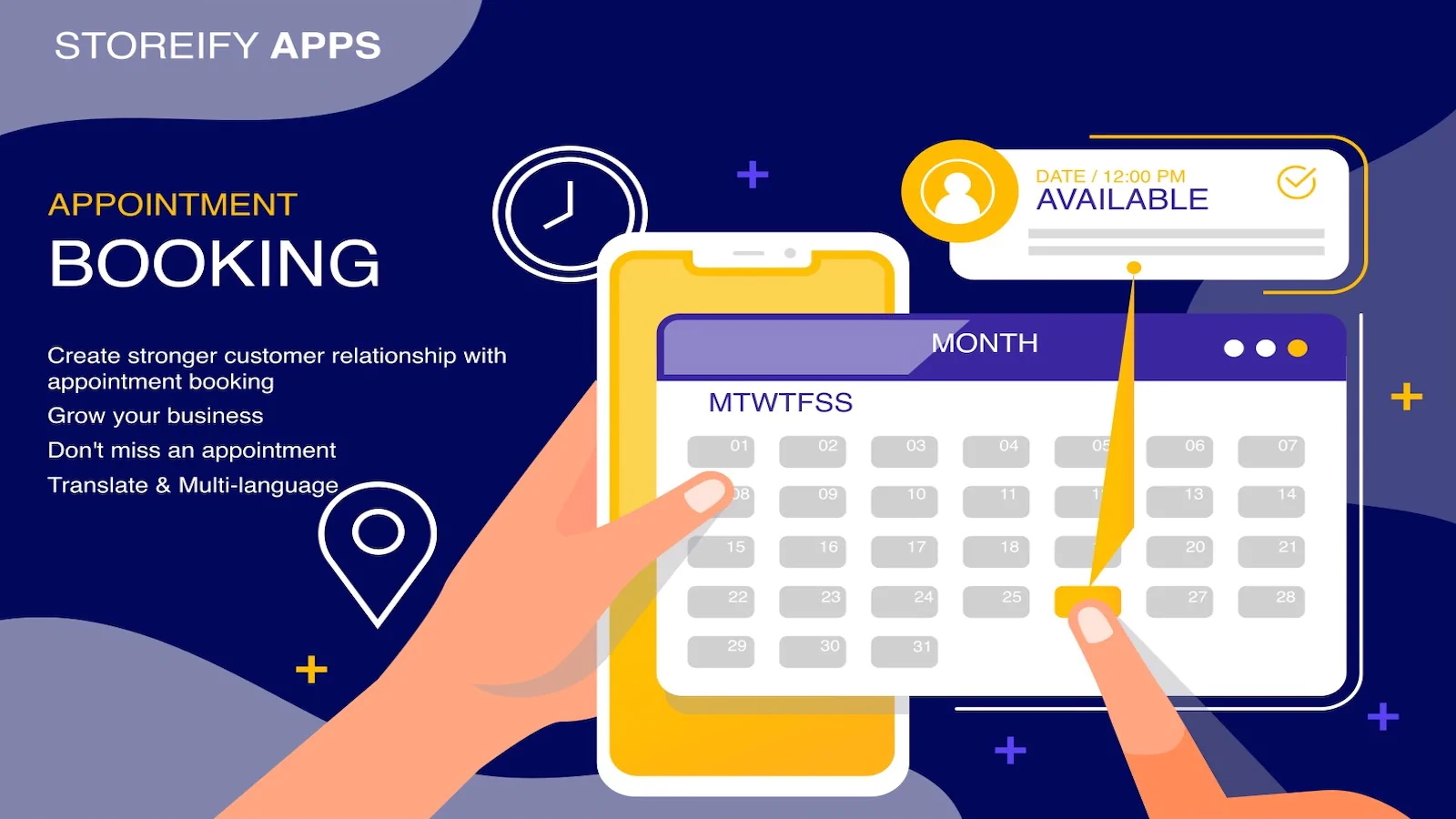 Storeify appointment booking app is a perfect option for allowing your business to create appointment bookings on the website. Customers can easily create and edit their appointments online to available time slots. The app can be used with numerous niches and products and it is one of the most versatile apps on the market. Some of the brands that are already using this app include doctors, pathologists, and car maintenance companies.
The app allows staff to create, edit or delete appointments. Or you can get customers to do that themselves. You can create a booking product with ease or you can use products that you already have on your website.
There are lots of premium customization features that make this one of the best options. For one, there are flexible pricing options that allow you to charge a fair rate. And appointments can be assigned to specific employees that you see as necessary. If the employee is not available anymore, you can always reassign them if necessary.
The app is completely multi-lingual. Therefore, it can be used for businesses with premises across the world in areas that speak different languages.
Storeify Appointment Booking Highlights:
Redirect the customer to a different page after they've made a booking on your website.
Add custom questions to your booking form to get the most information you need.
Manage your staff time.
Add, edit and delete appointments as required. Allow customers to do the same.
Timlify
Timlify is one of the top versatile apps that can allow your team to create appointment options for products, rooms, training, and more. You can have complete control over your bookings on your website. So if a customer books a slot that is not available because of a mistake, you can adjust. You can also control when bookings can be made, choosing the times and days when your brand is going to be open. You can block off times and days as you need.
There is a lot of functionality that you can take advantage of. For instance, everything that you can do on your website can be managed in the backend of your Shopify store. It's not hard to understand or manage third-party dashboards to learn. And you can choose the lead times and what information is required to make the appointment.
The app also has the best mobile-friendly features. You don't need any developer skills or experience to get it working. You can get this app working with the custom CSS options.
Timlify Highlights:
You can automatically generate time slots for your brand, to attract and get customers to book.
Is highly responsive to mobile devices, so customers can book appointments on the go.
Add functionalities to your website with Custom-CSS.
Lots of options help you to manage your website's bookings.
Appointment & Booking Pro
This is a rather simple booking app, but one that allows you to manage appointments with ease. Instead of minutes for the booking, you can book appointments in hour slots. There are 20 themes for your appointment setting interface, allowing you to choose a theme that is as close to your brand as possible. Therefore, you can be sure that there is the right branding and feel for your company.
The app allows for the organization of appointments with ease. Analytics of the appointment trends is easy and helps you to understand more about what the customers are looking for. You can also see how much revenue you are generating from your bookings.
Help with engagement is easy. There are lots of automatic emails that can be sent out. These templates include booking reminders and confirmations. And the app can handle bookings for numerous pieces of equipment, locations, staff, products, and more. Therefore, you can have a smart appointment business with lots of revenue streams.
Appointment & Booking Pro Highlights:
You can analyze your bookings with ease.
More than 20 themes to design your booking interface with.
Numerous products/staff/equipment/locations/etc.
Administer bookings with ease.
Appointment Scheduling App
If you're offering a local delivery service for customers, it will be harder for them to book with you unless you can arrange a time when they will be in. While this can be done manually, it can be frustrating for them and most customers will be making appointments when you are not available. However, this app helps by taking the pain out of appointment scheduling. You can get customers to book a local delivery through Facebook or Facebook Messenger.
The chatbot offers a chance for customers to choose when best to pick up items from your store or get them delivered directly to their door. You can also have a chat system on your website with ease. All of this can be integrated with your store so it happens immediately after the checkout page.
The customer can select the best time and date for them.
Appointment Scheduling App Highlights:
This can be used as a live chat option for customer service.
Customers can request specific delivery/pick-up times.
Organize and book delivery slots on an automated system.
You can install and use it for free.
Sesami: Appointment Booking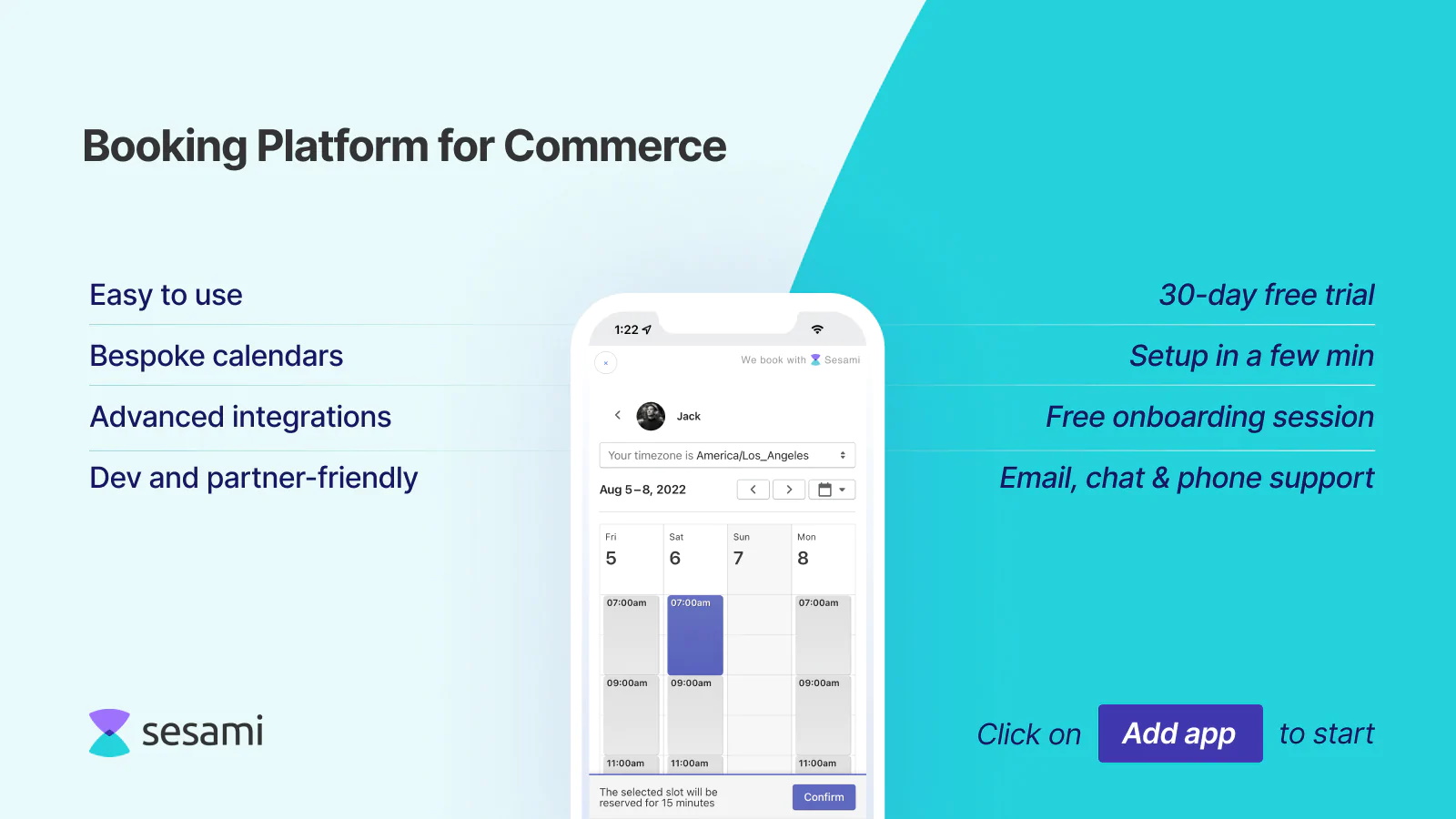 This booking app helps you to sell appointments on your website with ease. This allows you to maximize your revenue and also optimize your team's efficiency. Your customer will get that personalized experience that will help them feel more special. This will increase the chances that they will leave your website a positive review and turn a one-off purchase into a repeat order. The app allows customers to make their own appointments and pay for them online as well.
The app can also be used by your staff. Customers can request an appointment in-store or on the phone and customers can offer the appointments available. When the customer has made a decision, the customer's appointment can be booked with ease.
The booking app can synchronize your appointments to the Google Calendar, which is a great way to manage your website's bookings with ease.
Sesami: Appointment Booking Highlights:
You can link to Zoom, Google Hangout, and other video conferencing tools.
Process customer cancellations within the app.
You can send notifications about bookings with ease.
Take payments online.
Tipo Appointment Booking

This is a powerful tool that allows you to create a smooth booking experience for your customers that allows for better revenue generation. The app can be used within numerous settings including training, sports hall, doctor surgeries, and more. The customer will find the appointment booking aspect easy to use and will not be reluctant to use it.
The app can synchronize with your Google Calendar or Apple Calendar. This can also be sent to the customer. Therefore, you will never miss the appointment, and nor will they. And you can track all appointments with lots of additional information which is simple.
There are customizable designs for the booking interface. Therefore, your booking system can blend into the brand's design with ease. At the same time, you can change the font, color, background image, and more for your own needs.
Tipo Appointment Booking Highlights:
This is a free, but powerful Shopify booking app.
Can make changes to the color, font, background, and more.
Analytical tools for you to see trends.
Can synchronize with your Calendars.
BookedUp
If you use either Calendly or Acuity to manage appointments for your business, then you need to be sure that your customers can book their appointment. This is where BookedUp can help you. It adds a popup widget to your website that allows for bookings to happen at any time.
The app can help improve the conversion rate with ease. And it can also increase revenues with ease and also trust the customer.
The app supports both the free and premium versions of this app. The premium app can help with double booking protection, timezone detection, and more.
BookedUp Highlights:
Allow customers to book appointments on your website.
Improve conversions on your website.
Use a free or premium version of this app.
Can offer numerous protections for your business.
Final Word: The 10 Best Shopify Booking Apps
Above are the 10 best Shopify booking apps that you can use on your website. Any of these are great for your website. So which app will you install?