Social media is one of the most popular activities of audiences online. The average person spends
2 hours 27 minutes on social media
per day. While most of this is talking to friends and family, brands can be discovered by consumers on Facebook and other options. That is why you might want to consider using one of the best Shopify social media apps.
What can you Do With Shopify Social Media Apps?
There are many options and functions that Shopify social media apps can do. For instance, some apps can help you talk to customers through live chat, send them order notifications, sell products on the platform, and more.
And because you can be connected to social media, you can also retarget. The average retargeting on Facebook and other platforms can help you recover 6.5% of carts. This can have a massive impact on your website and in some cases can double or triple revenues.
More than 80% of professional marketers believe that retargeting on social media can be just as good as using Google or other search engines.
So what are the best Shopify social media apps for you to install on your website? Here are some of the apps we think you could use on your website.
Show More
* read the rest of the post and open up an offer
Vitals

Vitals is an essential Shopify app that isn't just one element, there are more than 40 elements that are added to your website to help you improve engagements, increase sales, improve website conversions and help you build a better following online. Some of the features that are included on the app include social media chat options and also ways to send customers to Instagram with feeds.
Another great feature is the abandoned cart feature that allows you to recapture sales either through email or by retargeting audiences on Facebook. This is done through the use of a Facebook Pixel. The app also has ways to improve your website's speed. The faster your website, the more conversions you will have.
There are also ways that you can add more subscribers to your mailing list. You can build a list with popups or a wheel of fortune game that allows you to offer a prize to audiences in exchange for their email address. You can also build trust with audiences by collecting reviews from AliExpress or asking past customers if they would provide their reviews. There are also trust badges that can be added to your store via the footer or more.
Some options allow you to take pre-orders for products. Products that can be pre-ordered can either be new or those that you've run out of stock for.
Vitals Highlights:
There are more than 40 apps that are included within this app.
Numerous apps help you to build trust with customers like sales notifications.
Retarget past customers on Facebook with Pixels.
Live chat options that help you to run communications through Facebook.
Sales Rocket
There are more than 40 different functions included with the app. The options that you can improve sales include the exit intent popups. This helps you by showing a popup that offers an incentive for the customer to subscribe to your mailing list. You can then use this information for you to send abandoned cart emails. You can also send regular emails to your customers.
There are also options to help you add urgency and social proof to your website. For instance, you can add 'also bought' which showcases what other customers have purchased with the product that they're looking at. This cross-selling tactic can help you improve your website's average cart value.
There are also options to add urgency to your website. You can add a countdown timer and more options. The app also includes integrations with your website's social media profiles. And encourage more purchases from a customer with a free shipping bar.
SALES ROCKET Highlights:
You can add more than 40 functions to your website with one single app.
You can improve sales by adding FOMO features.
Improve order values with a free shipping bar that can encourage more items to be added to a cart.
Add more subscribers to a mailing list with numerous features to help you sell long-term.
PingMe
PingMe is a perfect app for those that want to have live chat support using Facebook, Instagram, and WhatsApp. These are great options because they have some of the higher usage values. And it allows you to have chat on all three platforms managed from one dashboard for easier control of your customer service.
You can respond instantly to customers, providing you with a competitive edge that can help you reduce customer churn and improve their opinion of your brand. You can receive and send messages on the go, using your mobile device.
The app also allows you to reach customers when they're not on your store. Therefore, you can continue conversations over a longer period, helping to convert more customers.
PingMe Highlights:
Improve customer satisfaction with a 3-in-1 chat messenger service.
You can provide customer support on numerous channels.
Control the conversation in one location.
You can turn off the chat function when you're not available.
Conzia
This app can help you improve sales on your website by about 40%. You can offer live chat on your website with WhatsApp, Facebook and Conzia. It takes just two minutes to install and set up on your website. You don't need to have any coding knowledge to get it to work. There is also a free forever version for your website.
The app allows you to talk to customers through different apps like WhatsApp, Facebook Messenger, and other options. You can also use this on your mobile device with iOS or Android. You can manage messengers from any chat system from one dashboard, for a better performance of your customer service team.
The app can also collect the main details of your customers. This can include contact numbers, email addresses, and names. And if the customer would like to see a transcript of the chat, they can get that for free and easy. The live chat options can be customized to suit your needs perfectly and you can receive notifications when a message is received.
Conzia Highlights:
Add more chat options to your website.
You can control your chat with mobile apps.
You can improve sales by up to 40%.
Increase the customer satisfaction rate on your website.
Facebook & Instagram Auto Post
If you're looking for a social media app that allows you to build a presence on different platforms but does not take up your time. If you want to keep up the schedule you have, but want to spend less time managing your website's social output, then this is one of the apps to try. This app allows you to publish new content to your social media accounts like Facebook, Twitter, and Instagram with ease.
This app allows you to connect your Shopify store to your profiles with ease. You can just schedule product posts and products will be shown on your profiles with ease. You can schedule the time of the day that the post goes out and you can have a random product chosen.
The app works with Facebook Business pages as well as other destinations. You can choose products based on the collection, random collections, random products, and more. You can also create a post template to make it much easier.
Before a post is published, you can approve your campaign. And you can edit posts and fix issues easily.
Facebook & Instagram Auto Post Highlights:
You can publish content at what times you would like them to be sent out.
Connect with three of the most high-profile social media channels.
You can choose random products to advertise.
Set variables to include in the published post.
Onollo
Onollo is one of the top social media marketing tools that will allow you to create a schedule for social media content for. Once the content has been created, you should schedule it for it to automatically go out. This helps you to improve productivity and marketing. The app allows you to link your website to lots of different platforms including Facebook, Twitter, LinkedIn, and other channels like YouTube.
There is an AI that allows you to build a better schedule with details of when your social channels are most popular.
The app is synchronized with your store's catalog data. Therefore, you can create and publish content with ease using images from your products. You can also schedule Facebook/Twitter posts for products to get more products discovered. There are lots of auto-post options for these popular channels.
Onollo Highlights:
There is a free version of this app to help you connect your store to social media profiles.
Manually create or automate your social media campaigns with ease.
Have the app develop the best updates and automatically send them at the best times.
Takes just a few minutes to connect and get started.
Social Rabbit

Social Rabbit is a great way to auto-publish new content on your social media profiles. This allows you to get your content in front of millions of potential customers. You can link to Facebook, Twitter, Instagram, and Pinterest. And it is really easy to use.
The app allows you to create custom captions for any post. This can be done within a simple template section that can be found in the dashboard. And you can also ensure that your content doesn't sound too spammy. If you don't have a graphic designer, you can use the app's fantastic built-in image editor that can help tweak any image that you have on your website.
The app can be used to help you build engaging and high-converting Instagram stories. This can be an excellent way to help you keep the interest of your main audience.
The app also includes a URL shortener. This allows you to keep those links more user-friendly.
Social Rabbit Highlights:
You can create engaging content for your social media channels.
You can link to four of the main social media channels.
You can make your URLs look better with a URL shortener.
Access is available for an image editor.
Sales Pop up ‑ Social Proof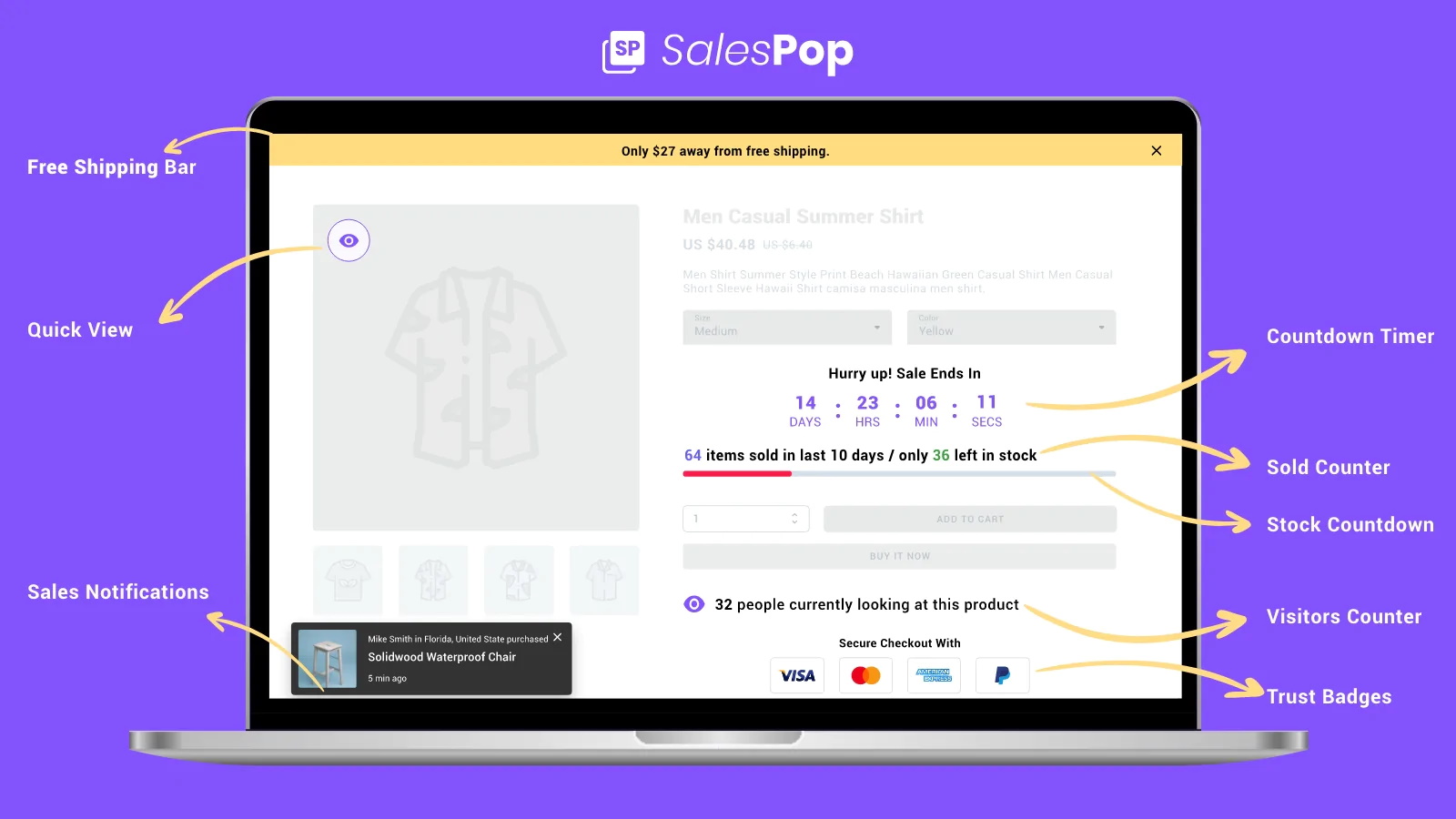 The Sales popup app allows you to add social proof of your app. How it works is that whenever someone else has purchased from your store, the current visitor will get a notification telling them that someone else has made the purchase. This notification can be customized for your specific needs and can match your brand's design.
This app can help you build a strong trust factor on the site. Therefore, you can see more sales and conversions on your website.
The app is great for all kinds of traffic and niches.
Sales Pop up ‑ Social Proof Highlights:
Demonstrate recent sales to current visitors while they're viewing a product.
There are ways to limit the notification frequency over time.
This is fully responsive and will work across all devices.
Adjust the design to match your branding.
Nudgify ‑ Social Proof & More

There are numerous reasons why you might want to consider installing this social proof app. First, it allows you to add four types of notifications, which are known as nudges. The first is a popularity nudge that tells the visitor how many people have bought/viewed the product. Another tells audiences when a customer has made a purchase.
Another option is to tell customers when stock is low. Or you can show when there are special offers, price guarantees, and more.
There is a perfect drag-and-drop space to build your nudges. And there are ways that you can build these nudges within a few seconds. There is no limit to the number of nudges you can have.
Nudgify ‑ Social Proof & More Highlights:
There are four types of notifications to improve the reach of your website.
Drag and drop configuration tools to make it easier to build and deploy nudges.
Completely customizable notifications.
There are numerous notifications you can use.
Passwordless Social Login
This app allows your customers to simplify their login with the numerous options offered by this app. The first is a passwordless login that allows you to send an email to the user with a temporary security code (OTP) that allows the customer to log in.
There is also an option to allow customers to use their social media to log into their accounts. This can be with Facebook, Twitter, and LinkedIn.
Passwordless Social Login Highlights:
There are lots of features to secure your website.
Allow your social login from three of the major social networks.
There are lots of other features.
Numerous payment plans for you to consider.
Final Word: The 10 Best Shopify Social Media Apps
Above are 10 of the best Shopify social media apps for you to consider. These can help you reach new audiences with ease and help you earn more revenue from your store. Which app will you install?