When it comes to selling online, your website's look and style is very important. Customers buy from companies they can trust and if you have a good looking website, you're automatically improving the level of trust between you and your customers. You also need to utilise Wix eCommerce templates that help your customer to progress through the purchasing process.
What do you need from a Wix eCommerce Template?
There are many aspects that can help you improve your website to make it earn more revenue from eCommerce stores. Wix eCommerce templates can carry many of those aspects to help you sell more online but some styles are more aligned to specific niches.
Another thing to consider is the available features. The best eCommerce templates will have features like email subscription, editor choice products and more to offer. You can also connect your store to social media and other platforms to help you sell on your website.
You should also look at Wix eCommerce templates for their speed. Faster websites are linked to higher revenues. For every second it takes for your website to load, you'll lose about 7% of your revenue. In addition, speed and other aspects of your eCommerce template can help you rank well on Google, this can increase your website's traffic levels.
So, what are the best Wix eCommerce templates? Here are the top options for you to consider.
Show More
* read the rest of the post and open up an offer
Watch Store
The watch store template is one of the top options when you're selling high-quality luxury items like watches and jewelry. The homepage is very clean, minimalist and looks very professional for luxurious brands. On the homepage, you can highlight the top sellers on your website with a product gallery that highlights the looks of the product to the shopper. You can also edit the product details on the store to provide customers with the information that they need to make a purchasing decision.
The template allows you to have an FAQ to answer any questions that they might have. You can also allow customers to browse all products and descriptions. Customers can also create accounts on your website which stores their previous orders so they can look through these historic details themselves without the need to call your customer service team.
In addition, the template has easy navigation and social media buttons that are in the lower right section of the website. And due to the minimalist style of the website, the website's loading time will be fast. This can help improve conversions and with your website's ranking on search engines.
Watch Store Highlights:
A modern design that is perfect for anyone who is selling luxurious goods online.
An FAQ section that allows you to answer any question that your customers might have without them needing to contact your team.
A gallery that can be placed on your front page to sell your best products.
Good opportunities for SEO and page speeds.
Accessories Store
The Accessories eCommerce template on Wix is one of the best templates when building an online shop. The basic design is trendy and has a chic style that is perfect for any fashion retailer that wants to establish an online presence. With just a few changes you can establish a strong branding on your website.
The template has an area at the top of the website's homepage that allows you to highlight the best products your store has to offer. You can also use galleries on the homepage to showcase your products and branding. If you have favorite products you would like to highlight, you can do so in the editor's selection area too.
Use high-quality photos to showcase your products in style and then add text and adjust the layout to create an excellent website. You can customize the template with incredible ease and don't need to know any coding or have any development skills to edit your website's layout. This allows you to spend more time marketing your eCommerce store.
You can help your customers keep a history of orders with a customer account areas that includes a login area. You can also add an email subscription area that can collect customer emails. This can help you sell more in the long term and improve your business' prospects.
Accessories Store Highlights:
Collect email addresses for long term marketing campaigns.
Customer account areas so they can manage their account.
Highlight your website's best products using several features.
Impress guests with good speed and modern design.
Fashion Coming Soon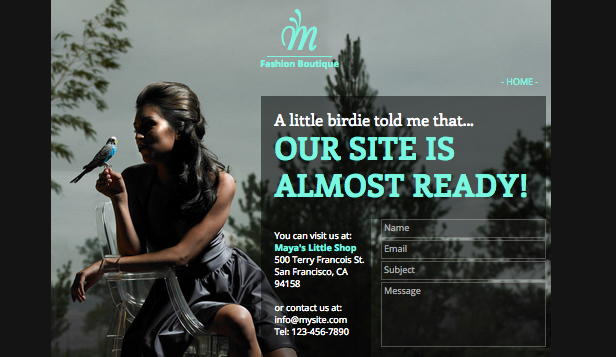 If you've got a website that isn't ready yet but you want to start marketing it, then you should consider using a 'Coming Soon Template'. This template, the Fashion Coming Soon Template is a great choice. It is a one-page template that will tell visitors that you're going to be open soon. To ensure you keep them interested you can use subscription forms to collect their email address.
At the same time, you can connect them to your social media accounts with several buttons that are designed to improve your trust and traffic to your site.
The great design is modern and impressive. You can use a background image that can help you improve the look and feel of your website as well as establishing your brand's identity. The coming soon template is also a good option because it allows you to build a full page with this website template once you're ready to launch your site.
The template is perfect for those that want to attract mobile traffic and want a fast, modern website. You can rank high with just a little bit of SEO work.
Fashion coming soon Highlights:
A one page coming soon website that is perfect for the long term as well.
Use a background image to create a perfect branding image.
Subscribe visitors to your mailing list so you can keep them informed of when your store will be open.
Connect your store to social media networks with ease.
Travel deals
The travel industry is one of the most competitive markets online. The same resort and tour can often be bought at numerous sites online. Therefore, you need a way to distinguish your brand from others on the market. And this is where this travel deal site template can be very useful. Travel deal websites are very popular as customers can save money, but they need to be built like an eCommerce store, with designs that encourage the user to complete a purchase. And this template can also be used for other deal websites like computer deals.
The elegant design of the template looks stunning to guests on your website and will impress them. You can add whatever text, images or links you need for your website's deals and then take the visitor to a stylish landing page that is optimized for conversions. The template is super easy to customize. You can brand your entire website in unique styles that differentiate you from the rest of the competition and can still build trust with your audience. You don't need to know any coding or anything else.
The template includes lots of other eCommerce functionalities that can help you advertise the latest deals and build an email marketing list.
Travel deals Highlights:
Advertise your latest deals on your home page and landing pages.
There are lots of eCommerce functionalities on the template that help you take payments online.
Promote your brand with vibrant colors on your website.
Easily customize your template's look and style.
Sports News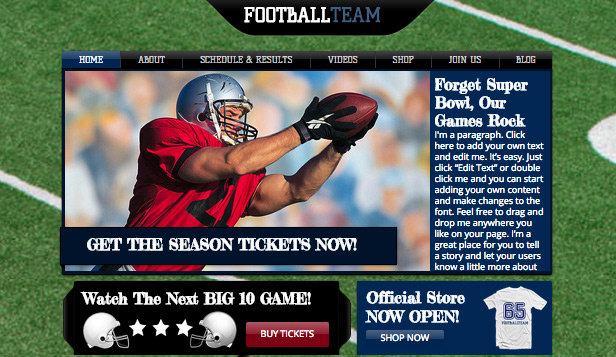 This template is perfect for any sports team or person who is publishing content about a particular sport. There is no hiding the aspect that this template has been built for sport fans. The background image is one of a pitch and there are lots of features, like the game schedule, that all follow traditional functions on a sports website.
The website is counted as an eCommerce template because it allows you to sell merchandise. You can also connect with audiences across your brand's social media channels.
The template comes with a slider that allows you to promote your sports news and other information. The design of your website can be really easy and the colors can be changed. You can grow your business with the template and improve your site's stickiness with the website's loading time reduced to great speeds that can help you have a fast loading site. At the same time, you can get your rank on search engines improved.
Sports News Highlights:
Create a sports-themed website that can rank highly on Google and other search engines.
Connect your website with your social media channels.
Sell merchandise for your website on the store pages.
Includes a game schedule on your website.
Small Brand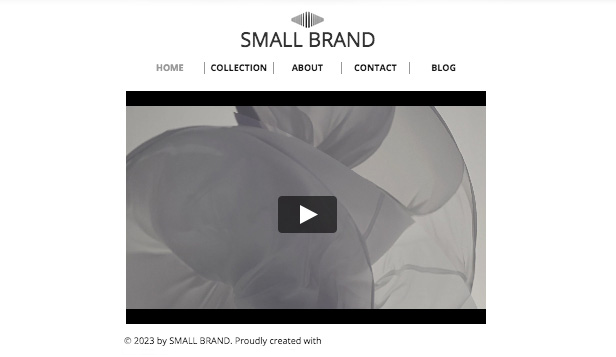 Small businesses need a good website if they're going to succeed in today's competitive business environment. One of the aspects of marketing is having a website that loads fast on browsers, including mobile device browsers, and those that rank well. This template takes care of that very easily. It has a simple design that can be perfectly customized for your brand. You can change the layout and the color scheme to fit your brand and generate better trust with your audience.
The template contains a blog that allows you to publish content on a regular basis. Those sites that regularly publish content will rank higher on Google. This template allows you to do that with style and you can keep customers updated with the latest news.
In addition, you can improve conversions with a video on the front page. You're also able to add a shop to the template and show the entire collection on your website.
Small Brand Highlights:
Simple navigation improves the opinions of your website's visitors.
Add products and collections to your website and sell to visitors.
Show off your products in a sleek and stylish design.
Add a video on to your front page to give more information about your brand.
Author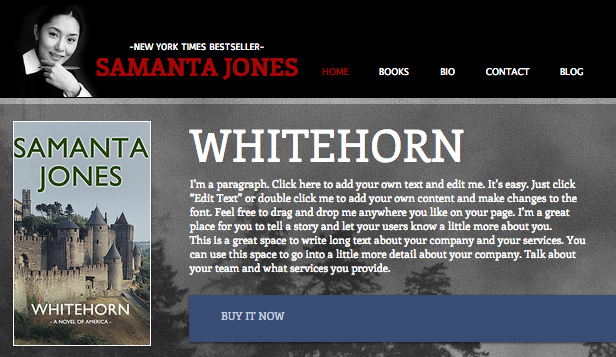 If you want to sell books or other digital content online, then this app is one of the best options. It has a dramatic design that is bold and interesting and designed to build the interest of your products online. You can upload high-quality images and then add the text descriptions of your books with ease. This way to promote your products can be completed with a 'Buy Now' button that can be easily integrated.
To make the template align to your branding, you can personalize the content, layout and colors. These changes can make the template also set the mood that you would like for your products. For instance, if you write horror, you can have a darker website than someone who writes romantic comedies. This also allows you to differentiate yourself from others who are also using this template.
Add a background image to create branding and add social media buttons to keep in contact with your customers and fans. Finally, you can build trust with your audiences thanks to the reviews/testimonials on your site.
Author Highlights:
Easy to customize the colors, layout and more on your website.
Add a buy now button to collect sales on your website.
Build trust by having reviews and testimonials on your website.
Use a background image to create an atmosphere on your website.
Exotic Pet Shop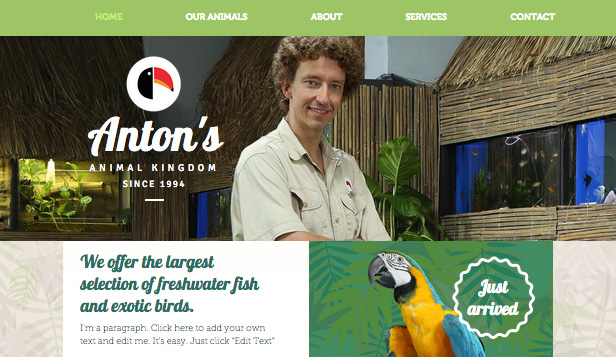 This template, specifically designed for pet shops or business within the pet industry, is a great option for those that want to sell related products. It has everything you need to promote your products online and gain interest in what you have to offer. The template has bold fonts and vibrant colors that are naturally inspired to fit in with the theme. You can also upload high-quality images of your products and animals to help sell them online.
The template has a clean, natural look that is perfect for drawing the attention of the visitor to specific areas on your website. This could be products that are on offer or new stock in your store.
There are also other features that can help you promote your website too. For instance, you can add a contact page that can encourage users to contact your store and ask questions, these can lead to sales. The form can be embedded on several pages of your website. Or you can list events that you're going to run at your location (or locations). This could be animal education sessions or sales that are happening in-store.
You can build a strong email marketing list with the thanks of a subscription box that can be included on the home page. Collecting email addresses can be a business lifesaver. Email has been found to be more effective than other forms of digital marketing platforms.
Exotic Pet Shop Highlights:
The template has vibrant, natural colors that are perfect for businesses that are associated with animals.
You can publish a blog and your upcoming events to promote your store.
Publish the best quality of images on your website with ease.
Collect customer email addresses for your future marketing campaigns.
Travel agency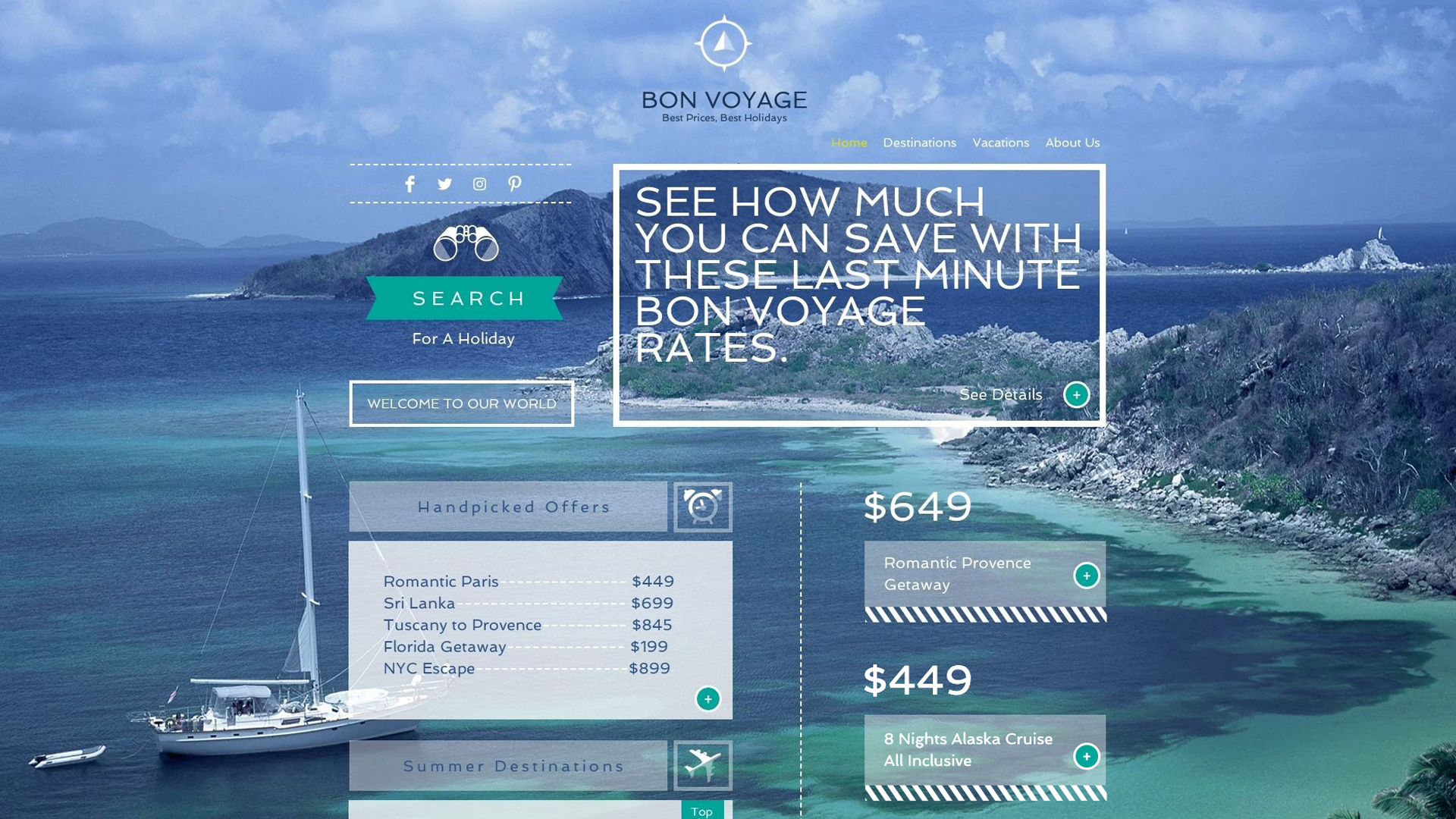 If you're selling holidays then you could use this Travel agency Wix eCommere template. This has an exotic style that will impress your customers with great style and attract their attention to your products that can include vacation packages or other products.
You can adjust the color scheme, fonts and design of the template to make it align to your business needs. You can also have a background image to the template to make it say what you offer. In addition, you can add contact forms and social media buttons that allow you to keep in contact with your audience.
Travel agency Highlights:
Customize lots of elements of your website with ease.
Adjust the background image of your website to let it showcase your products.
Add contact forms and social media buttons.
An interesting design that will attract audiences.
Eco Tours
Eco Tours is a great option if you sell eco tours from your website. With its textured background, bold design and more that will capture the spirit of adventure. You can take advantage of the image-based layout to showcase what your company offers tourists. You can also showcase unique activities.
When you load the template to your website, you'll be able to customize the text and colozrs to suit your branding. You can change the header, small logo and add your telephone number at the page. In addition, you can feature products on the website.
Eco Tours Highlights:
Lots of different features to help you sell products.
An interesting design with a bold design.
Quick to load on browsers.
Great for SEO.
Final Word: The 10 Best Wix eCommerce Templates
If you're selling online, then you need to use one of the best Wix eCommerce templates available. There are lots to choose from, which of the ones you choose from the 10 above is up to you. So what template will you install?