If you're running a charity or nonprofit organization it is more important now, more than ever that you have an online presence for your endeavors. They're a great place to spread the good word about the good deeds you're doing and to raise funds for your efforts. There are lots of Wix templates for nonprofit organizations that you can use.
What are you Looking for in Wix Templates for Nonprofit Organizations?
When it comes to your website there are several things that you need. For one, you need to ensure that your website's speed is fast. For every second it takes for your website to load, you can lose 7% of your income. This can be a massive impact on your fundraising efforts for your nonprofit. At the same time, a slow website can reduce your rank on search engines.
In addition, you should look at ways that you can monetization your website. Websites can be a great source of income and you can request donations, sell merchandise or advertise on your website. This should be a big priority for your business.
You're also going to want to have a place where visitors can subscribe to your mailing list. Email marketing is one of the most effective ways that you can build a great revenue stream for your nonprofit.
You might also want to consider a blog for your website. A blog is a great way to release new about your website. It can also help you increase your ranking on Google. Research has found that those brands that blog more than 15 times in a month will get more traffic, revenue and rank higher than those that blog only once.
So, what are the 10 best Wix templates for nonprofit organizations? Here are some of the options for you.
Show More
* read the rest of the post and open up an offer
Kids Charity
Kids Charity is a great template for those who want to have a nice template that provides the visitor with all the information they need and clear directions on where to go next. When you open the page there is a lovely header image that can be customized and four main options below. These can contain any links you would like, but it is recommended that you include projects, donation and contact at least within these three.
The color scheme for this template is perfect for children, environmental and family charities. While the colors can be changed the current settings show elegance and warmth.
The template has a beautiful footer that can be changed to include your address, social media links and contact details. This allows you to take in enquiries about your charity. There is also a space on the front page to talk more about you and your latest projects.
Kids Charity Highlights:
A nice pastel colored template that is warm and welcoming.
Simple menu at the top of the website template for easy navigation.
Allows for good ranking with high-quality images and good text placement.
Draw attention to your projects and special pages on the homepage.
Feed the World
This is one of the top Wix templates for nonprofit organizations as it has a simple page that can be very impactful. At the top of the page is an image slider that allows you to publish hard-hitting and emotional pictures that can help you draw attention to your brand's efforts across the world. Below this, you can write some content that talks about yourself and the good work that you do across the world. This is broken into different sections. Each section can take the visitor to a different part of your website.
There is a simple menu that is added to the top right of the page. The simple menu design allows for easy navigation across the world. There are also options to enhance the menu to make it easier for the visitors to see other content on your website.
In the footer, there are social media links, contact details and copyright information.
Feed the World Highlights:
Optimized for search engines and is fully responsive.
Great, simple but effective menu design that allows for easy navigation.
Highlight your most recent project on the website.
Enhance your website's appeal with hard-hitting photo slider.
Teen Volunteers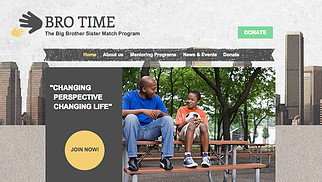 This is an interesting design for a nonprofit organization that should grab the attention of the audience with ease. There is a simple area where you can publish a small introduction to your nonprofit and include an image that represents your good work. In addition, there can be a call-to-action button that can be added to the area to get people to come and volunteer with you.
There's a simple menu option that sites at the top of the page in the center. This is small compared to other menus that you might see, but the design is very modern and looks arty. In addition to these elements, other text areas can help promote your brand to the audience. There are lots of call to action signs scattered about the page to capture the attention and get people to help your brand.
There are also lots of ways for visitors to follow you on social media. In the foot and on the main page area there are links to all the social media channels that you might have.
Teen Volunteers Highlights:
An interesting, modern design for your nonprofit organization.
Lots of call to action buttons to get the visitor to take action.
Mobile-friendly design.
Great for ranking high on Google and other search engines.
Community Action Group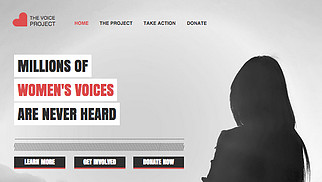 This is a very simple website template. It opens up to a full-page image that has a clear and impactful heading. There is a simple menu at the top of the page that you can customize to provide more details about your brand and what you are doing in the community. At the bottom of the page, there are social media links.
The simple community action group template is really simple and that is part of the point. It is designed so audiences want to find out more. The simplest of pages are also quick to load, so you will have a lower bounce rate. However, you might not see an increase in the number of donations you get. This can sometimes be linked to the number of steps it takes for the action to take, with this template, the number of steps is increased.
The template is completely optimized for mobile devices and can rank high on Google and other search engines.
Community Action Group Highlights:
A simple website template that can use an impactful image to provide an emotional pull to the audience.
Social media links at the bottom of the page.
A fast loading website template that can improve search rank on your website.
Clear and concise, but lacks information on the frontpage.
Fundraising
This fun little template is perfect for numerous nonprofit causes. Its main goal, as the name might suggest, is to fundraise for your nonprofit organization. This template starts with a heading at the top with some text underneath explaining who you are and what you offer. There is a little image next to this that shows a hand placing money into a piggy bank. Below this, there is a very large donate button.
There is also more text, images and other 'Call to Actions' on this page that really push for the audience to donate to your good cause. The simple, pastel colors of this app make it very good for numerous causes and niches. It's also easy on the eye and allows your text and call to actions to take the attention on the website.
Fundraising front page also includes a contact form that can be used by your customers to email you. Finally, there are social media links at the bottom of the page.
Fundraising Highlights:
A chic website design that is modern and aesthetically pleasing.
Concentrates on getting donations from visitors.
Lots of text and few images on the front page.
Good for ranking on search engines like Google.
Small Brand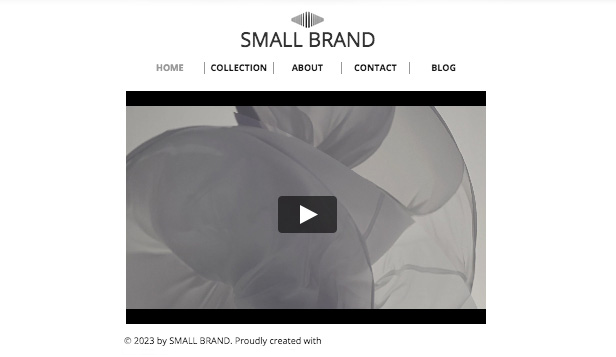 One of the first things that you need to do is to make sure that your small nonprofit business gets noticed. This can be very hard to do, but this template is one of the best to allow you to grow your traffic and improve donations through your website. It has a sleek, professional appearance that is stylish and has blogging facilities that can help you get the word out about the projects that you're working on.
Included with the template are customizations that can be made. This includes template layout, colors and even the font that can be changed on the website. Therefore, you can align the look and style of the website to your specific needs.
There are also navigational systems within the website that allow you to have great movement across your website. You can also improve your website's performance in search campaigns through blogging, fast speed and good navigation.
Small Brand Highlights:
Sleek design that looks professional and stylish, will really impress visitors to your site.
Customize the design, colors and more of your website.
An easy to use blogging system to get more about your good deeds published.
Build a better navigational system on your website to help with ranking.
Exotic Pet Shop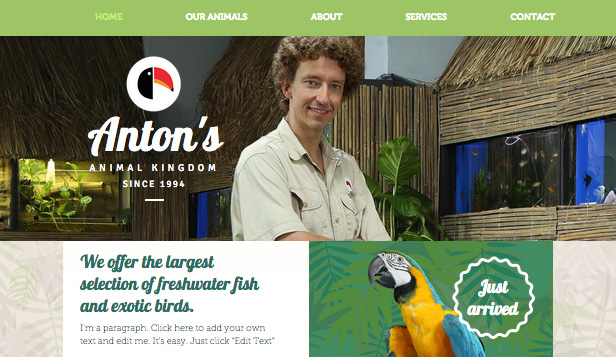 The exotic pet shop template might have been specifically built for pet shops, it can be used for a wide range of organizations, especially those who want to be connected to animals. This template has natural coloration and is perfect for those who want to have more connections to animals and nature. There is everything that you could want in a template for attracting audiences and getting them to interact with your nonprofit.
For instance, you can use clean code and fast loading times to rank higher on search engines. At the same time, this will improve donations and the value of those donations in addition to the increased traffic that it will bring you. You'll also be able to sell merchandise, market your good deeds on a detailed blog and announce events that are coming up on the events page.
There is a great contact page on the website that can also encourage users to contact you. This form can also be embedded on numerous pages to help you reach a larger audience. You'll also be able to subscribe visitors to your website's mailing list. This can help keep them informed about new events going on and sell to them in the long term.
Exotic Pet Shop Highlights:
Vibrant, exciting, natural colors that are perfect for numerous nonprofits.
Publish a blog and list upcoming events to keep audiences engaged.
Use high-quality images on the template without slowing it down.
Use email marketing to draw more donations and improve funding for big projects.
Travel Agency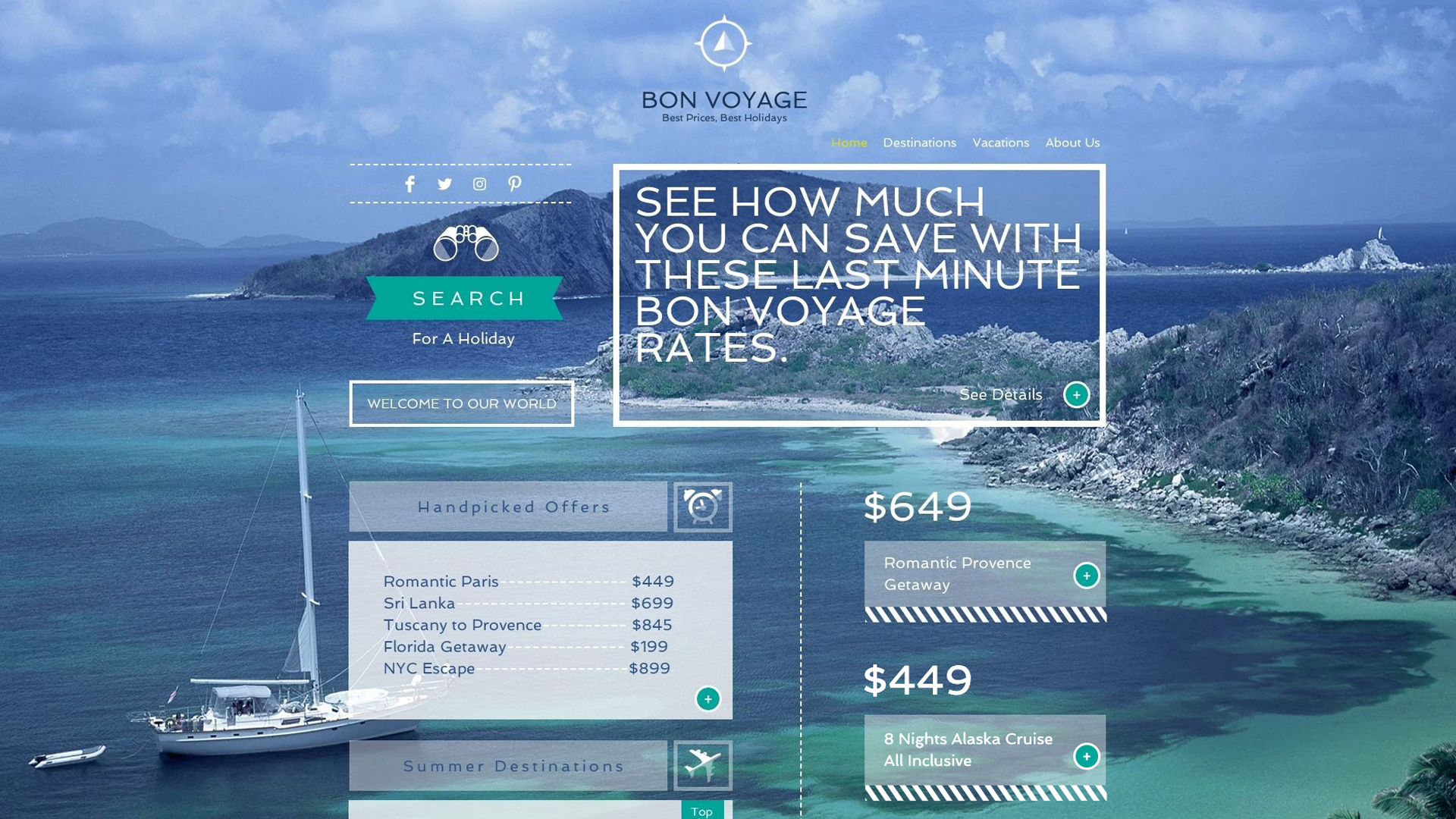 If you're working abroad or send people abroad, then this might be a good template for your nonprofit. The template is very effective at showcasing far away places and has an exotic style that is impressive, but not overwhelming. There is a great deal of attention to this template that allows you to build an effective platform to market your nonprofit. You can also promote different packages, merchandise and good causes to donate to.
You can adjust the color scheme used on the website and you can also change the font, design and more. You can therefore easily align your website to the branding of your nonprofit. There is also a background image on your website that can be changed.
To help with building engagement on your website, there are social media buttons and a contact form.
Travel agency Highlights:
You can customize numerous areas of your website for better nonprofit branding.
Adjust the background image of the website with ease.
Engage visitors with social media and contact forms.
The template has clean code and fast loading times.
Tutoring Company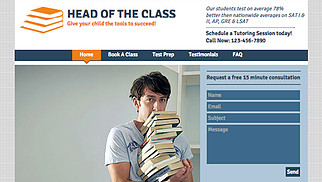 Sometimes you want a professional theme that is perfect for displaying what you can offer your clients. This is a great template for your nonprofit to display that. It has easy navigation and is excellent for new nonprofit organizations to get noticed. The template allows you to showcase testimonials that can help you earn donations.
The clean design is great for fast speed and you can add text to your front page to help you rank highly on search engines. In addition, there is a slider that can help you showcase some of the projects that you're working on.
Tutoring Company Highlights:
Get your website ranking highly on Google and other search engines.
There is a great slideshow that can demonstrate the good work you're doing in the community.
Build trust with client testimonials.
A great design that is perfect for numerous nonprofit niches.
IP Law Firm
This is a sleek and sophisticated design that is perfect for any nonprofit that wants to work and showcase a more corporate style. There are lots of areas on the template that allow you to showcase your specialities, qualifications, projects and more with ease. And the design and coding of the template make it a fast-loading page and this can help you rank highly on search engines with ease.
The template is perfect for showcasing the value of your team of volunteers. You can detail their experience, interests and anything else that makes them a great asset to your nonprofit. This can also help build trust between you and potential donors on your website.
The template is also great for keeping people up-to-date. There is a dedicated blog section that allows you to write and publish news about your charity. There is also the possibility of publishing fantastic photos on the website to keep people informed of your work. This is perfect for any nonprofit, whether you're large or small.
IP Law Firm Highlights:
This is one of the top templates for those who want to have a corporate, professional feel on their website.
Loads quickly on any browser and across devices. Therefore, you can rank highly on Google and other search engines.
Can list your volunteers and detail more about them including experience and qualifications.
Use blogs to keep readers interested in your projects and drive fundraising campaigns.
Final Word: The 10 Best Wix Templates for Nonprofit
If you're looking for one of the best Wix templates for nonprofit then there is a list of them above. They're all good in their own ways and it will depend on your preferences on which one you would like to use. So what template will you install?