Being an artist can be tough, especially when you have to sell your work to generate revenue. One way to sell your work is to have a great website where you can showcase your work. Or it could be used to get new customers commissioning your work. There are plenty of Wix templates for artists that you can choose from as well.
What are you Looking for in the Wix Templates for Artists?
There are many things that you need to look for when you want to create a new website using one of the Wix templates for artists. The first thing you need to consider is whether there are any templates that can professionally showcase your current work. Your previous art sells future work if you work on commission and a good image can sell your current work online.
Good imagery needs to be used so people can see your work in great detail. In addition, you want to have a website that can load the website quickly. For every second it takes your website to load on a browser, you're going to lose 7% revenue. This could result in you having to work harder in order to generate enough of a living on your website.
You might also want to consider other features on your website. For instance, you might want one that can take payments, or has a good set of menus to encourage more engagement with audiences. Or you will want a news section to tell followers on your website where the latest displays of your work will be.
So, what are the best Wix templates for artists? Here is our list of recommended options.
Show More
* read the rest of the post and open up an offer
Small Brand
This app is not specifically for artists, but it is great for small, one-person brands like yours. This template is designed to bring in traffic and revenues for your website. It has a very sleek and stylish design that allows you to upload photos or your artwork and then display them to visitors. The template is completely compatible with revenue-generating extensions, allowing you to sell on your website.
There are numerous customization that can be made to the template. For instance, you can change the layout of the template, placing certain features in different areas, depending on your needs. You're also able to change the colors of the website, so they're more aligned to your particular brand/style. These small changes can make a significant difference in your performance online and can help you make a living out of your work.
The template can also help you be found online. There is room for a blog where you can keep fans up-to-date on the latest news for your work, or give them regular updates about new work. Those that publish more than 15 blog posts per month can see an increase in traffic, lead generation, social media rank and higher revenues. Therefore, this template can help you improve your site's overall performance.
Small Brand Highlights:
A very sleek and stylish design that will give you a modern look to impress visitors to your site.
You're able to make all the customizations to the template's design.
Start a blog to help you promote your website.
There is easy navigation to help visitors go from one page to another.
Online Photos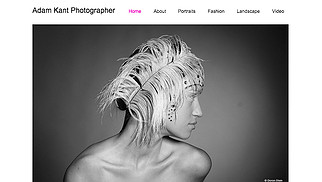 A minimalist theme that has an elegant design with a lovely menu that allows your guests on the website to move from one page to another with ease. The website opens with a lovely slider that allows you to show your artwork in a beautiful way. This template allows for your customers to have a customer area, where they can save art designs that they've bought from you.
In addition, if you offer customers a chance to order prints or portrait sessions, there is a simple booking element that can be used on the template. The nice white background offers your artwork a chance to shine. While the example template doesn't show any text, this can be added. You can also add a video gallery and you can use this to showcase some more of your work.
This template is well designed, with good coding. Therefore, with some SEO work, you can make it rank highly on Google and other search engines.
Online Photos Highlights:
With some good SEO work, you can rank highly on all search engines.
A beautiful template that looks amazing.
Perfect for selling visual work like portraits and pictures.
Allow customers to book events or services with you.
Photo Studio
This simple template is elegant as it is sleek and stylish. It has been perfectly designed for photographers and artists to showcase their creative projects with ease. You can start with multiple photo galleries that can showcase not just the finished articles, but also how your work started and the process of it.
You can also edit the online portfolio to showcase your work. You can also have your website work as a way to get new clients. You can showcase your current customers and can then have potential new customers through a booking form. Customers can also speak to you through a great contact form that can help you engage with visitors.
To promote your website, there is a blog that can allow you to publish news about your new work, events, schedule appearance and more. The black design is a great aspect of the template as it allows your work to take center-stage and you can build a brand around those images.
The template also has social media connections that can help you keep customers engaged.
Photo Studio Highlights:
Sleek design that is great for focusing attention on your artwork.
Can have video and photo galleries.
Online portfolios allow you to showcase your latest work.
Connect with audiences across social media, contact forms and online booking forms.
The Artist
This is a vibrant and colorful template that has been designed specifically for those who want to sell creative and visual products like artwork or graphics on a website. All you need to do is add the pictures of your work to the gallery and add the customizable text to your website to help you sell. With some SEO work, this template is the perfect option for ranking on Google as well.
You can start your branding straight away with a clever and aesthetically pleasing headline that will capture the attention of the audience. The background image of the template can be changed to suit your needs. And it is a fixed background. Therefore, no matter how much your customers scroll down the page, they will still see the image behind your text.
The menu is really well designed for visitors to find their way around your website. This can help you sell more of your artwork and engage with you. In addition, you can link your social media accounts to the template to help your website guests connect with you.
The Artist Highlights:
A well-designed template that can help your customers navigate around the store.
Use a strong background to grab the attention of your audience and keep them engaged.
Connect your website to your social media networks.
Sell your artwork through your website with ease.
Food Photography
One of the great things about food photography is that the basic designs that serves not just those within the food industry but artists as well. This template is perfect. The home page has a lovely set of slider galleries that are perfect for showcasing your work in a stylish way that can build brand identity and demonstrate your talents.
The template also has a great bio page where you can talk about your history as an artist and what you offer your customers. You can also discuss your awards and accolades with the customers to prove your brand.
The sleek navigation of this website template is really aesthetically pleasing. At the same time, there are elements within the template that can people contact you on your website, find out if there are other services that you can offer them and perhaps book an appointment with your customers.
To help customers keep in contact with you, there is a space for contact information at the bottom of the website. This can include connections to your social media accounts for your website.
Food Photography Highlights:
Has lots of chances for images on your website to demonstrate what skills you have.
Customers can book services on your website.
A slider that shows lots of images.
A bio page that allows you to promote your brand.
Graphic Design Portfolio
This template will let your designs shine on a bright and exciting design that can really demonstrate your website's skill. The template is very sleek and is perfect for highlighting your artwork for attracting the attention of the audience. And with the customization options that are available on this template, you will be spoilt for choice on your website's final design.
The template has a menu that isn't in the typical location at the top of the page, but instead it is located at the bottom of the page. This can mean that some people don't move around your website, but the sleekness of the website design and the fact that most of your imagery will be higher than the fold of the website, you can improve stickiness on the website.
To help you get more clients and customers, there are portfolios, contact pages and more. You can also improve your website's marketing efforts through social media links and a blog page.
Graphic Design Portfolio Highlights:
Use a blog to improve your site's SEO and market your brand.
The navigation bar is located at the bottom of the page.
Images are prominent on your front page that helps you market your website.
Sleek design for impressing guests.
Janis Photography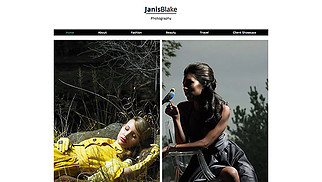 This is a minimalist template that has a sleek and modern look. It has great speed for a website which is really important. The faster your website, the more traffic that you will get because Google will rank you higher. In addition, a faster website will also help you convert more of your visitors to customers.
The template is perfect for those who work in a creative industry, like artists. There is a lot of space for images of your work. You can also sort your work with categories. All images and text can be edited and prepared for publication.
The website has a beautiful menu. It can showcase several areas of your website. It can include a client testimonial and a place where you can write about your branding and your history.
Janis Photography Highlights:
A sleek, modern design that is impressive for visitors.
Showcase your work with great images and videos.
A bio and client areas that can help you tell more about your brand and who buys from you.
Lots of customization options for your website.
Creative Portfolio
This is a bright and colorful template that allows you to build a beautiful brand on the internet. You can choose the colors to match your needs, adjust the design and upload photos of your work to showcase your work to anyone who visits your site. With the excellent design and brilliant coding, there is no reason why your website can't rank highly on Google and get more customers.
In addition, you can connect to your audiences through social media platforms and contact information that can be displayed on your website with ease.
To help with your website's design, there's an excellent slider on the front page. This allows you to have your website showcase more within a limited space and all above the fold. This is a one-page design as well, making it easier for you to edit and giving you a basic website that can be very powerful, something that allows you to spend less time maintaining your website and more time creating beautiful pieces of art.
Creative Portfolio Highlights:
A sleek, modern design that is very colorful and can attract audiences with ease.
A slider that can showcase all your work with ease.
Connect with audiences with a contact form and great social media network connections.
Fast website.
Film Editor
This template is a great way to turn videos of your work into a great selling platform on a website. You can highlight all kinds of work on your website including videos of you completing art projects or showcasing your work at exhibitions or on display. This template is perfect for selling your skills and work without too much trouble.
You can keep in contact with your audience through an excellent contact form that is at the bottom of the one-page website. Just below the contact details, there is also a place where you can connect your website to social media platforms. This can help you to engage your audience with ease and keep them subscribed to your website.
Film Editor is a great choice for those that want to manage their website less, but have a great platform to build a brand on. It is easy to manage, rank and showcase work.
Film Editor Highlights:
Showcase your work with videos.
Easy to manage so you can spend more time on your work.
Connect with audiences through an inbuilt contact form.
Engage with audiences through social media contacts.
Landscape Photography
This template utilizes a full-image background and minimal layout for you to find the perfect portfolio promoting template. It is suitable for lots of different creative industries including artists. You can upload photos of your work to a gallery that will showcase your work and promote your brand.
You're able to customize the color scheme and design, this can help you match your branding to your website with ease. The menu is located at the bottom of the website page. You can include a bio/about us page on your website that can tell visitors more about you. You can also showcase who you've worked with before.
Landscape Photography Highlights:
Large imagery on your front page.
Customize the page's color schemes to match your brand.
Simple website to edit.
Showcase your brand and previous customers.
Final Word: The 10 Best Wix Templates for Artists
If you're in the creative arts, then you're going to need to promote your brand. Use one of the best Wix templates for artists to help you grow. Which of the top options will you use from the list above?