Online courses are one of the best ways that you can monetize your WordPress website. There are numerous ways that you can deliver learning materials on your website. By installing one of the many WordPress plugins for online courses, you can deliver excellent courses and improve revenues on your store.
What is Needed within WordPress Plugins for Online Courses?
When it comes to delivering learning materials on your site, there are several features that you need within the WordPress plugins for online courses. The first is the ability to store learning materials in a secure area, behind a wall that only logged in members can see. You also need a way for the customers to pay for your learning materials.
There are other things that can be included as well. For instance, you could have community areas, teacher profiles, exams, questionnaires and more. You always want to make sure that your WordPress plugins are easy to use.
It also shouldn't slow down your website. The slower the website, the lower it will rank on search engines. The lower it is ranked, the less traffic you will get and the poorer your returns will be.
So, what are the best WordPress plugins for online courses that we recommend? Here is our list.
Show More
* read the rest of the post and open up an offer
Tutor LMS – eLearning and online course solution
Tutor LMS is one of the most complete, feature-packed WordPress course apps that you can use to create and sell courses online. The features of this learning management system are great and offer all the key elements you need to make your website's courses perfect. For instance, you can manage, administer and monetize your website.
The app contains an intuitive course builder with an unlimited number of courses and lessons that can be accessed through a frontend student dashboard. You can include all kinds of material on your website, include video lessons that can be hosted on several different platforms including YouTube, Vimeo and more. You can also have teacher profiles and panels to have different courses taught by different people.
To help get students through the courses there are different ways to deliver instructions and you can test students through quizzes. There are also ways to encourage students and others to share and sell your courses with earning and commission allocations. Tutor LMS is a free WordPress plugin that also has a lot of premium addons. Therefore, you can spend as much or as little as you want on your website.
Tutor LMS – eLearning and online course solution Highlights:
Create lots of blended learning opportunities for students.
Use online classrooms to deliver lots of great teaching modules.
A fantastic and user-friendly course builder.
A free plugin that allows you to buy additional functionality.
MasterStudy LMS – WordPress Course Plugin

Online education is a great way to earn money from your knowledge. And with the latest Covid-19 pressures across the world, online teaching has really taken off. In some countries, more courses were taken during 2020 than any other year. With MasterStudy LMS, you have the ability to offer courses to your website visitors and monetize your website.
This user-friendly tool is edited through a WYSIWYG editor. This software, written in JavaScript, is very easy to integrate and allows you to rich text edit your website. There are lots of key elements of MasterStudy that can allow you to have fast loading pages throughout your courses.
There is a powerful admin panel that gives you complete control of your courses. There is also a messaging system that allows you to speak to and engage with students. You can also add quizzes on your website and then post results on the site and have course announcements that students can see.
With the plugin, you will have lots of original shortcodes that make implementing and inserting your courses onto your page easily. You don't need any development skills or specific knowledge other than that of what you're teaching. The plugin is compatible with the WordPress text editor, Elementor Widgets, WPBakery Page Builder and more. Therefore, you're not limited to how you make your website pages, and your courses, look aesthetically pleasing.
MasterStudy LMS – WordPress Course Plugin Highlights:
Create an engaging environment for your students to learn in.
Communicate with students with a message board.
Create league tables on courses and post quiz results on your website.
Use shortcodes to add your course to any website page.
WP Courses LMS
This is a free and easy learning management system that allows you to build and sell courses online through your WordPress website. You can use the intuitive interface and drag-and-drop tools to help you build courses without any specific website development skills. Therefore, this is one of the most perfect plugins for those that are looking to sell their skills online without having to hire a developer.
You can develop any kind of course on your website, whether you want to use videos or just stick to images, text or audio content. You can also mix learning materials to deliver courses that are more suitable for multiple learning types.
The free plugin integrates perfectly with any theme. It also has lots of design elements that can be implemented to enhance the look of your website. All design elements are mobile-friendly, therefore, students can complete learning whether they're at home on the desktop or on the move through a mobile/tablet.
Students can also stay engaged with their course progress through tracking. There can be icons, progress bars and more that can show what lessons they've viewed and completed. In addition, you can keep all your content restricted to just those users have logged in and paid for the content.
WP Courses LMS Highlights:
Create courses with multiple learning materials and types.
Use videos that are hosted on Vimeo, YouTube and other platforms.
Can be integrated with numerous themes and can add in design elements.
User and mobile friendly.
Online Course System for WooCommerce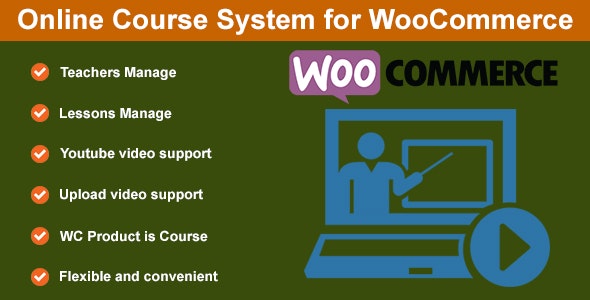 If you have numerous teachers and online courses, you can now build a strong website that will enable you to monetize this and earn a revenue, while also paying your teachers. Integrated with the powerful WordPress WooCommerce option, this WordPress plugin is one of the best on the market for delivering courses.
You can create, edit and remove teacher profiles with ease and use WooCommerce products as courses. All courses can have an introduction video that users can watch to understand the overview of the course. It also supports YouTube video or you can upload a video from your computer. You can also add lessons titles, videos and descriptions with ease. All of these aspects can be added to, edited or deleted as you need to.
All lessons can have a teacher assigned to them. Therefore, they can be responsible for the students on the course and their learning.
Online Course System for WooCommerce Highlights:
One of the top performing learning management system plugins for WordPress websites using WooCommerce.
Makes it easy to monetize your website.
Use videos and other learning content within lessons.
Assign teachers to your courses with ease.
Edivently LMS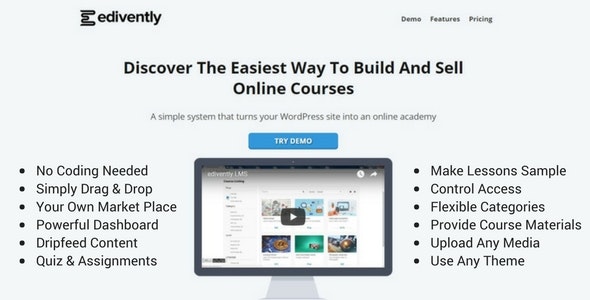 This plugin allows your WordPress website into an online academy. Instructors on your site can create and sell online courses and create a marketplace for the courses that customers can look at and sell them. You can integrate with your students through a dashboard that allows you to message an entire student body or individual students.
From the dashboard, you can also track course enrollment, completion of the learning materials and any sales. Students are also able to take and manage courses on their website. They're also able to track course progress via personal accounts.
All courses can have landing pages. This is where you can sell the advantages of taking the courses that you've created. And you can create excellent courses with lots of different materials with lessons, topics, assignments and quizzes.
Edivently LMS Highlights:
Create and manage courses on your website with ease.
Monetize your website by selling courses.
Track the progress of your students in the unique dashboard.
Set assignments and quizzes to test how students are coping with your learning materials.
Ultimate Learning Pro WordPress Plugin
This WordPress LMS plugin allows you to create premium learning platforms for students and instructors. You can create courses, reward students and gather feedback with ease. With the app, you can allow other people to help manage and administer your courses, ensuring that students are completing their work.
There is an intuitive course builder that is easy to use and allows you to complete your courses within the WordPress environment. All the premium addons on the WordPress LMS plugin are included with the app. Therefore, there are no hidden costs with this app.
The app also allows you to control enrollment of your courses. With Ultimate Learning Pro, you can choose to let students enroll automatically. Or you can manually add them to courses after they've made a purchase on your site. Students can use PayPal or Stripe to make payments. Courses can be paid for one by one or you can run a membership system, where students pay a set price per month and they can then enroll on your website.
To make a more engaging website, you can offer rewards to students. Students can take notes from the courses and those that perform well can be provided with student badges that show how they've performed.
Ultimate Learning Pro WordPress Plugin Highlights:
Create quizzes that can have the questions randomized. This prevents students from learning the order of the questions.
Control enrollment of your courses, let students enroll automatically or manually add them.
All premium addons are included with the plugin, so no hidden costs.
Very versatile LMS system for your WordPress website.
WpCourses Pro
WpCourses Pro is one of the most complete packages when it comes to running an online school. You can sell your courses with WooCommerce and generate classes with Moodle. The plugin allows you to update the name, price and direct category of the course that will appear as a WooCommerce product within the course dashboard. You can also apply promotions and discount coupons to all courses, helping you to improve conversions on your website.
You can all work with Moodle to help build courses. This includes allowing groups to take classes together, following any course format that you want to implement on your store. There's also autologin for your website, so students only need to enter the password once. You also don't need to be in control of everything, you can give moderators a chance to approve enrollments and new students.
WpCourses Pro Highlights:
Allow teachers to register on your website to help manage courses.
Use WooCommerce to sell your courses.
Improve conversions with discounts and coupons.
Generate effective lessons that students will enjoy.
Good LMS - Learning Management System WP Plugin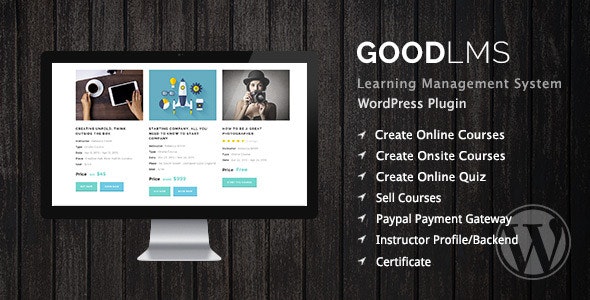 This WordPress plugin for online learning allows you to monetize your learning courses through excellent features that can help create courses. Students can pay for their courses through several different methods, including PayPal, Stripe, Paymill or Authorised.net. This can be done directly, or you can choose to collect payments with other options like a bank transfer.
The app is really easy to use with so many features that creating courses and helping students to manage their learning will be really simple. You can also use the plugin to help build a good connection with students. Students can therefore be enticed to continuously come back to your website to learn more.
The Good LMS is perfect for those that want a good platform that can help take their website to the next level.
Good LMS - Learning Management System WP Plugin Highlights:
Lots of options to collect payments.
Easily manage access to your learning materials.
Engage with your students before and during their courses.
Encourage students to take on more learning after completing a course.
Learnomatic - Udemy Affiliate Plugin for WordPress
A slightly different take on the learning process, Learnomatic allows you to build an affiliate link with Udemy to sell courses sold on their site. Therefore, you don't need to host the online courses on your website, but instead, create courses on Udemy and then sell the courses via your website.
There are advantages to this. When you promote your own course and bring in students, you earn the entire revenue for the course sale. But you can also get commissions for earning money from other courses from other teachers on the site.
This can mean that you can keep your website's speed and concentrate on improving your site's SEO.
Learnomatic - Udemy Affiliate Plugin for WordPress Highlights:
Create affiliate links to your courses on Udemy.
Benefit from the marketing efforts of Udemy as well as your own marketing.
Get commissions for courses that have been developed by other teachers.
Keep the management of your website easier.
GuTutor - Online Tutor Directory Booking and Management
This plugin allows you to build an online or offline tutoring business that allows for students to book time with their teachers/tutors with ease. It includes the ability to list tutor information, schedules, subjects, student and tutor information, courses, calendars, reports and reviews.
You can also set such things as product descriptions, detailing what is included in all tutoring sessions and more. Tax details, payment settings and email information can also be included within the backend, making managing of your learning system much easier.
GuTutor Highlights:
Have a list of tutor and teachers who can be booked for learning online and offline.
Can include lots of information about your business like what the teachers are like, payment details and more.
Manage the schedule of your teachers easily.
Change product descriptions of your courses and tutoring opportunities with ease.
Final Word: Top 10 WordPress Plugins for Online Courses
Online courses are a big hit with customers across the world. You can sell to private customers or sell to businesses, looking to enhance the skills of their staff. There are numerous WordPress plugins for online courses for those that offer the complete package to those that only afford a certain aspect of the online learning process. Which of these learning plugins will you install?
Do you want to know what plugins another website is using? Then why not use this WordPress detector to find out for free.