There are many activities that you should be doing on your website. And there are lots of important WordPress plugins to use. However, SEO is really important. About 70-80% of your traffic should be coming from people who are using Google or another search engine to find your store. They could be finding anything from your home page, products, services or blog post. But if your site isn't optimized for search engines, you're not going to get the traffic you want. That is why you need one of the best WordPress SEO plugins.
How can WordPress SEO Plugins help your Website?
There are many different ways that WordPress SEO plugins can help your store improve the rankings online. For one, they can help you maximize the potential of your images by reducing their size on a page and improving the alt tags that are associated with them.
Or perhaps your website could benefit from having more traffic by optimizing your content on your website. Some WordPress SEO plugins can analyze text for a given keyword and give you suggestions on how to improve it to get it ranked higher. Or perhaps they can add things like rich text snippets, help you get better metadata.
Alternatively, WordPress SEO plugins can help you build better websites through speed and linking. Websites need to be fast. For every second that your website takes to load, the fewer visitors you will have. This is because Google will reduce your ranking and 7% of your audience will leave your site for every second it takes for your site to load.
So, what are the best WordPress SEO plugins? Here are some of the top options for you to consider.
Show More
* read the rest of the post and open up an offer
Yoast SEO
There are many people who would rate Yoast SEO as one of the top choices for SEO on the market. And they do have an impressive tool kit for SEO. Without a doubt, you could certainly improve your site's ranking by using the app, and for the free version, there is little you can't do.
At the basic level, Yoast SEO helps you optimize your site's key data so that Google and can properly index it. It can also analyze website pages for the right keyword usage, helping you to edit the text and tell you what needs to be improved. For instance, it can tell you if your keyword is mentioned too much, or not included in a H2 tag. It can also help you identify issues with your images like there is no keyword in the meta data for your images.
Yoast SEO can also provide you with the latest score your website.
There are free and premium versions of Yoast SEO available. The free version is great for those who are starting out, but there are limitations. For instance, you can only use one keyword per page and you don't get pillar content or linking suggestions. In the premium this is sorted and you can use up to five keywords per page.
The premium version also allows you to see a preview of the post on Facebook, Twitter and Google. So you can see what other customers might see when your content is shown. On the free version, only the preview for Google search is available.
Finally, Yoast can help you with internal issues which are often forgotten about. For instance, you can get a redirect option that allows you to bypass all those 404 errors that might occur. This can happen without you doing anything if someone on another site makes a slight typo. For instant, you have a page example.com/post-1 and they accidentally link to example.com/post1. You can create a redirect where you send audiences to the right page.
Yoast SEO Highlights:
Used by some of the top websites that use WordPress.
Easy to use and has lots of features to get the most out of your website.
Helps you write better content for search engines and users.
Can help with 404 errors and other problems that are often forgotten about.
All in One SEO Pack
The All in One SEO pack is another all inclusive SEO package that certainly is used by a lot of WordPress owners. It is considered one of the best because it offers users a vast array of tools to help them build a better found website on Google and other search engines.
The app includes lots of great options for the users. For instance, there is support for Google Analytics which can be an important toll when building brands. You will also get titles for pages automatically optimized for search engines as well as meta tags. You can also have the provision of the XML Sitemap for your website, helping you get your pages indexed faster by Google and other search engines.
The app also comes with the help of avoid duplicate content on your website. While some say duplicate content isn't a problem, for many it is something that will get you penalized. When compared to other options on this list, All in One SEO pack is certainly one of the top options. And something that you will want to try.
All in One SEO Pack Highlights:
A free SEO app for your WordPress website.
Can help you avoid duplicate content with ease.
Optimize your titles and metadata for Google and other search engines.
Connects with Google Analytics.
SEO Framework-Free SEO Plugin
This one is one of the most highly recommended WordPress SEO apps with beginners and experts alike. It has all the tools that can be used by those who are new to using the WordPress environment, but there is also API for those who have better developer skills. It can help you get your site ranked easily and without problems.
There are free companion plugin extensions manager and many extensions will help improve your SEO. For instance, there are extensions to help with keywords, your local presence, fixing title, and more.
The plugin can also work with WooCommerce and bbPress. This integration is great for those that want to sell products off their website. The app can also sitemap your website with ease, allowing better indexing of your website. There are tools in place to help you sort out those 404 pages as well.
SEO Framework-Free SEO Plugin Highlights:
Allows you to avoid problems with 404 pages.
Easy use and highly recommended.
Can be used by beginners and experts alike.
Integrates with WooCommerce and bbPress.
Premium SEO Pack- WP SEO Plugin
This app has two main functions. The first is to help you increase the SEO profile of your website. The second is to help you change how your brand looks on search engines and social media to improve the click-through rate of your website's results. The search engines optimization aspect of the plugin is really useful, especially if you're using WooCommerce or another eCommerce plugin.
The plugin is also completely translatable. So if your native tongue is not English, you can make it easier to use the plugin by changing the settings in your plugin. The plugin also works with multisite and you can customize each page of your website to ensure that you can get the best results for each page.
The ease of installation, the lack of impact it has on your website's speed and the ease of use make this a great option when it comes to choosing the best WordPress SEO plugin for your site.
Premium SEO Pack- WP SEO Plugin Highlights:
Can be used in many different languages with ease.
Increase the rank of your site with ease by fixing many of the common SEO errors on a website.
Easy to install.
Easy to use.
Squirrly SEO-Free SEO Plugin
Squirrly SEO plugin helps you get great SEO for your website's articles, pages and products with ease. The plugin doesn't just offer you the tools to get your website ranked better on Google and other search engines, but it also has a vast knowledge bank that you can access with ease to start improving your site's SEO.
One of the top options available with this plugin is that it has keyword search. This allows you to find relevant long-tail keywords that can help you rank higher. You can also benefit from the audit suite that can highlight where your website might need some attention.
For those that use Pinterest, you can also use this app to help you with rich pins.
Squirrly SEO-Free SEO Plugin Highlights:
Helps you to automatically update your website for better SEO performance.
Can help you find long-tail keywords that can help you rank higher.
Use Rich Pins on Pinterest.
Can perform an audit for your website's SEO score, to find where you need to make changes.
Rank Math-Easily Improve Your SEO
Rank Math is one of the other top SEO plugins that's available. It is a free plugin, though there is a premium version that is now available. The app allows you to optimize the entire site's global SEO settings with ease, with a nice wizard that can improve the site's SEO profile immediately. The app starts by helping you optimize page and post SEO profiles immediately.
In addition, you can use Rank Math to help you improve Google Rich Snippets. You can use any of the 14 different kinds of rich snippets. This can help you appear at the top of the search results on a given search.
The app can track your keywords on Google and optimize the breadcrumbs on your website. Rank Math is really easy and is almost a clone of Yoast with a few differences. For one, you can have more than one keyword checked on each page. Each keyword can have a test with a score that is applicable.
Rank Math-Easily Improve Your SEO Highlights:
There is a free and premium version of this plugin.
Check multiple keywords for each page and post.
14 different kinds of rich snippets that you can use.
Optimize your website's breadcrumbs.
SmartCrawl SEO-Improve Your SEO
The SmartCrawl SEO plugin will help you improve your site's WP SEO optimization. The plugin will boost the page rank for your website as well as increase the domain authority of your website with Google. Therefore, you don't have to worry about your SEO practices and you can be guaranteed better ranking on Google. The plugin gives your site a regular checkup to see if there are ways that you can improve your website's SEO footprint.
The plugin can also let you leverage more from your social media through Open Graph integration. This allows you to connect your social media accounts and will credit you when someone shares your posts. There is also a Smart Page Analyzer that can scan pages and tell you the posts for keyword density and readability. The app can also recommend changes for you to implement on your page.
SmartCrawl SEO-Improve Your SEO Highlights:
Can help you with 301 redirects.
Quick setup for your WordPress website.
Can analyze content and give you recommendations.
Boosts your site's SEO page authority with ease.
SEO Optimized Images-Give your Images SEO
Images, as well as text, needs to be optimized if you're going to get the best results from your website and rank highly on Google. This app helps you to get your images sorted without a problem. It will suggest and allow for changes to the alt and title attributes to all the images. This can be done automatically done for you, all you need to do is to tell the plugin what the pattern is and the changes will be done for you.
The problem with this app is that once it is disabled, all the changes that are made by the plugin will be gone.
The plugin is also GDPR compliant and there is a premium version of the app, should you need it and get more features.
SEO Optimized Images-Give your Images SEO Highlights:
GDPR compliant, allowing you to operate within the EU.
Doesn't add anything to the WordPress database.
Can automatically change alt and title tags for you on images.
Helps you improve SEO areas that aren't normally covered.
WP Meta SEO-Live SEO Analysis
This app helps you edit the metadata in the content of your pages and posts with live SEO analysis. The plugin can work with manage different page builders, making it versatile and useful for numerous builders.
There is also a redirect manager that can help you avoid those common pitfalls that so many other brands will suffer from. For example, there is a 404 error manager that can prevent this error from displaying on your website. 404 errors can cause significant issues on your website.
The app also comes with integration with Google Analytics and you can track visitors to your website with ease. You can also perform checks on your website with a dashboard SEO checker system. Finally, you can see what any page or post will look like in the search results of Google with a snippet review.
WP Meta SEO-Live SEO Analysis Highlights:
Check what your search snippets will look like.
Get recommendations on how you can improve your search ranking on Google.
Easy to use.
Prevents 404 errors from happening.
WordPress SEO Post Optimizer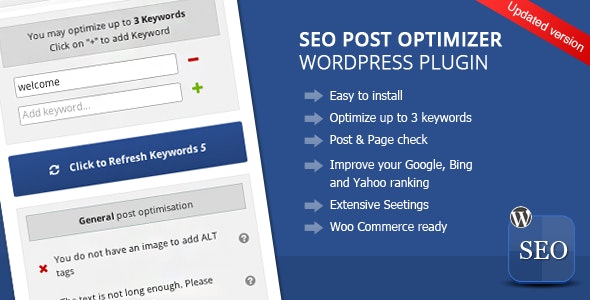 This plugin allows you to improve your Google ranking with ease and sustainably. It does this by optimizing the content of your website through your posts. Each post can be checked in less than 10 seconds and can work with any language. It can also check the value of your keywords to help you get the most out of them.
This plugin prevents you from over optimizing your content. This is when you have a keyword that is mentioned too many times. This is otherwise known as keyword stuffing and it can cause your website to be penalized by Google.
The plugin only needs to know what keyword you're targeting and it will do the rest and provide you with a list of action points in which to change.
WordPress SEO Post Optimizer Highlights:
Check your website's content against the best SEO indicators.
Have a checklist of the things that need to be done to your website for better ranking.
Prevents keyword stuffing.
Easy to use.
Final Word: The 10 Best WordPress SEO Plugins
SEO is one of the most important activities on your website. However, having one of the best WordPress SEO plugins, as well as a good WordPress theme, on your site will make the task much easier. With the right SEO profile, you can expect your website to be getting more traction, traffic and revenue. The question really is, which of the WordPress SEO plugins will you install?