Affiliate marketing is one of the most popular ways that people make money online. This is because the model is perfect for those who have limited startup funds but have a huge following online. It also allows someone to have a passion for a genre (like TV, games, food, etc.) but not have to work tirelessly within the industry. To become a good affiliate marketer, you need to have one of the best Wix templates for affiliate marketing.
What are you Looking for in Wix Templates for Affiliate Marketing
When it comes to promoting your brand as an affiliate marketer you're going to need to have one of the best Wix templates for affiliate marketing. There is some debate on what makes a great affiliate marketing website, but there are some common aspects that many web designers will agree with.
First, you need to find a theme that is fast. Speed is very important for websites. The faster the speed of your website the higher it will rank on Google and other search engines. This will yield more traffic to your website and more people reading your content. This will lead to a natural increase in your website's revenues through affiliate marketing.
At the same time, speed is linked to revenues. For every second it takes for your website to load, you're going to lose about 7% of your revenue. This is because people will abandon a site as the page takes too long to load. That is why minimalistic templates are so popular for affiliate marketers, they're quick to load.
You'll also want somewhere to subscribe your audience to a mailing list. Research has shown that 7 out of every 10 visitors to your website will never come back again unless they subscribe to you. Email marketing is also a great way to sell affiliate products to your customers. Email marketing has an ROI of between $38 and $44 for every $1 spent.
Finally, you want to have a customizable template that can be adjusted to your branding. This should include colors, images and more. This should help you spend more time creating content than you are managing your website.
You need to be publishing content all the time. The top affiliate marketing websites are publishing content on a daily basis. You should at least be aiming to publish more than 15 blog posts per month as well as other content on social media like Instagram and Facebook.
So, what are the best Wix templates for affiliate marketing? Here are some of the top options.
Show More
* read the rest of the post and open up an offer
Travel Blog and Podcast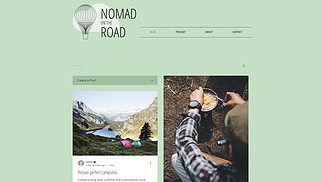 This is a perfect template for those that want to run an affiliate marketing website because it has been built around that marketing model. You can use the template to publish blog posts about your chosen niche with ease and include lots of text and visuals for you to sell the products you would like to sell in that instance. It is also a good way to attract audiences to your website.
In addition, you can customize the website template to make it look more aligned with your values and branding. And you can share any post that you make easily across social media. The ease of updating your blog posts is also really good. You can therefore focus on producing more content and getting that content on your website rather than having to tweak your website for performance.
The pastel designs that are natural on this template are easy on the eye. And the simple design allows you to focus the attention of the audience on the content that you want them to see. Every blog posts will contain a featured image that can attract the attention of visitors to your website as they're listed on a masonry-style front page.
To help with navigation across your website, there are simple menu layouts that look beautiful and seamlessly blend into the design. The template is responsive, being able to be viewed across devices and browsers.
Travel Blog and Podcast Highlights:
A simple to use template that offers you a lot of scope to product content.
All blog content can be promoted with a featured image.
It easy to navigate around your website.
Spend more time creating content and less time tweaking the website design.
Sports News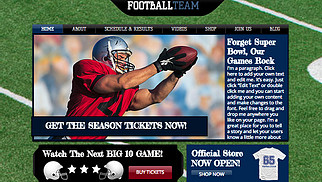 This template has been perfectly designed for anyone that has a passion for sport and wants to have an affiliate marketing business based in this niche. There's a sports field background that is perfect for the template and you can change this to be more specific for your own sport/niche. There are also lots of great options for monetization including selling merchandise of your team from the site.
The template also allows you to publish game schedules with ease. Therefore, you can be an informative site and this can be a great way to increase the number of returning customers you have to your site. There is also a great way to grab email subscribers with a subscription area. Email marketing is one of the top affiliate marketing options.
In addition, you're able to share photos and videos on your website. This can be a great way to increase engagement on your website. It can also help with revenue increases and keeping customers on your website for longer.
Sports News Highlights:
A sport's related static background for your website.
Upload videos and images to your website for greater engagement.
Easy to add affiliate links to your site.
Add your own merchandise for more revenue growth.
Small Brand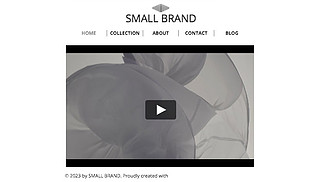 If you're selling something like software, business services or something similar, then this might be the small affiliate marketing theme that you're looking for. It has a professional look that can reassure your audience that you have the best intentions and they can trust you. It is perfectly designed for eCommerce as well as blogging, meaning there are several ways that you can promote your affiliate links on your site.
The sleek and stylish design is perfect for a modern website. You can convert the design into something more unique to your website as well. This can include changing colors and simple design elements such as where photos go.
There is a great blog page that allows you to publish as much as you want. Each blog you publish per month can help you bring in the traffic you need to get affiliate sales on your website.
Small Brand Highlights:
A sleek and stylish design that will allow you to have an impressive, modern design.
Customize your website's design with ease to make it fit your style better.
Easy blogging facilities to help you promote your website and affiliate products.
Great navigation for your audience to discover more content on your website.
Watch Store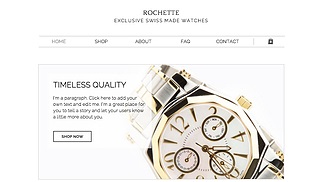 Affiliate marketing can take two forms. One is when companies write posts about the products/services that they wish to sell. The other is when the affiliate marketer acts as if they're the shop and they list products as if they're on their store. Then when the customer clicks on the 'buy now' button they're taken to that product page on the affiliate partner's website.
This is a great option to earn money when you're looking to sell a high number of lower-ticket items. And this template is perfect for that. It is a polished, clean template that has everything you need to recreate a shop that can help you sell products in an affiliate marketing scheme. All you need to do is to ensure that the 'Add to Cart' button is changed so that it directly links to your partner's website.
The template allows you to edit the product details on your store, so you can market it as much as you like. You're also able to upload and display numerous product images for you to succeed. To help with engagement, you can use the excellent FAQ system that allows you to tell customers more about you.
Watch Store Highlights:
This is an easy to use template that allows you to act as a shop would with the products.
An FAQ system that can help reduce the number of customer queries that you have.
Change the product details to make them unique and rank better on search engines.
List your top products on the front page for more visibility.
Accessories Store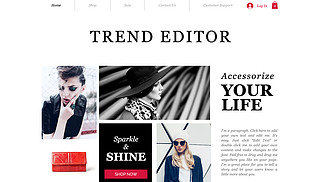 This is another eCommerce template that can be used as an affiliate marketing website. It has a trendy, chic appeal that is perfect for fashion and accessories. It is also great for other luxurious or high-ticket items that you might want to have. The customer can see your highlights of the best products at the top of the page with a great gallery and you can use other elements to showcase products you think customers will like. There's also an editor's favorite area on your website.
To help sell on your store, you can use high-quality images, add text to them and then adjust the design. You can customize this website with ease. And you can then leave it to start marketing the website and bring traffic to your website.
To help with the longevity of your branding, add a subscription area to collect customer emails. This allows you to use email marketing for more affiliate sales.
Accessories Store Highlights:
Collect customer email addresses for more marketing power.
It is really bold and modern style.
Highlight the best products on your website on the front page.
Easy to customize and promote across numerous digital channels.
Travel deals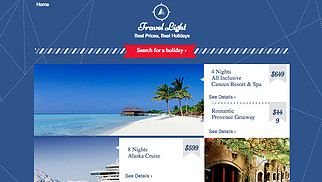 Travel deals was perfectly designed for affiliate marketing. It is a highly effective template design that has been used by numerous brands to showcase products and direct the visitor to the correct page. Customers who want a good deal will not be able to leave your website as they scroll through the aesthetically pleasing listings that you have on your website. It is the perfect website for the deal style affiliate marketing plan.
However, the elegant template has other features that make it a great option for your affiliate marketing business. For one it is easy to customize. Therefore, you can change the look to make it fit your preferred design in your branding. The whole template requires little time for customizations, allowing you to build a website without the need for a developer or any coding skills.
The template also includes eCommerce functionality to help you sell your own merchandise if you're looking at going in that direction.
Travel deals Highlights:
Advertise deals and products easily on your website.
There is eCommerce functionality for you to have merchandise.
Promote your brand with vibrant, exciting colors that catch the attention of the audience.
Is one of the easiest templates to customize.
Film Editor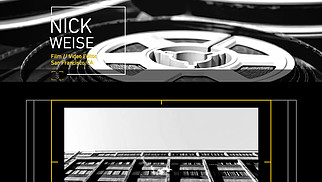 This is one of the easiest templates to turn into an affiliate marketing website if you want to focus your efforts on video creation. It has all the functions and elements you need to turn your videos on sharing sites like YouTube and Vimeo into a great set of affiliate marketing pages that can help you bring in revenue.
To help you keep in contact with customers, there is an excellent contact form that is located at the bottom of the one-page website. There's also a place where you can connect your website to social media platforms. This can help you increase engagements with your audience without too much trouble.
This template is perfect for those who want less website management and would prefer to create content for audiences to watch and share.
Film Editor Highlights:
Create videos that can help sell affiliate marketing videos and showcase them here.
Spend more time on your work by having less website areas to manage.
Engage with audiences through contact forms.
Connect with audiences across social media.
Food Photography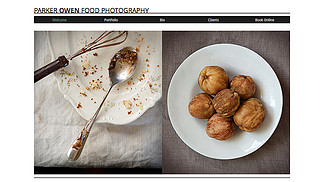 Affiliate marketing is all about convincing the customer to go on another journey to buy the products that you're advertising. This can be a hard ask and you have to try to use all the tricks of online marketing to get this to work. Food photography helps you do that by allowing you to use photos in your work to create a more alluring piece of content that can convince visitors better that they need to listen to you.
The template has a great bio page where you're able to talk about you, your experiences and your skills. This can be important because you want customers to learn more about you so they can learn to trust you. This area is a great place to advertise your expertise and build that trust.
The template also has sleek navigation that allows your visitors to explore more around your website.
To help with your customer engagement, there's space for the contact information at the bottom of the website. This can include connections to social media.
Food Photography Highlights:
There are a lot of chances to showcase your affiliate products with images.
Customers can book sessions with you so you can consult with them, another revenue generation idea for affiliate marketers.
A slider can show your customers lots of images.
Build trust with the bio page on your website.
Property group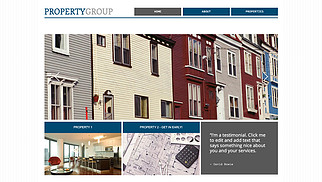 This is a beautiful and clean template that is ready to promote your products. You can customize the text and images on the template to fit your particular brand and promote the website to get it to rank for specific keywords. These products/services can have core images that are attached to them to increase the number of customers who are leaving your website to go and buy those products.
You can also use the images on a slider to grab the attention of the audience. You can choose the transition animation with ease.
This theme is very easy to use. There's no coding knowledge required to make it work.
Property group Highlights:
A highly professional design that's perfect for your brand to sell image sensitive products on your website.
Use lots of text to improve the ranking of your website on search engines.
Loads quickly on browsers that help you to rank and retain visitors.
Simple to edit.
Author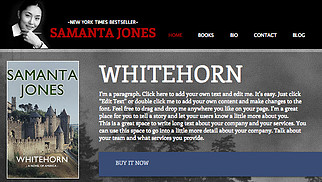 If you're looking to sell books or other digital content on your website, then this is one of the best apps for you. It has a very dramatic design that is bold and captures the attention of the visitor with ease. It also has a design that can focus the eye on a single product, the ebook.
There are lots of great features that get the audience to move towards the buy now button. This can then link to a merchant where the product is.
The content on the template can be aligned to your own personal branding. This can be really important as you will want your own content, layout and colors integrated into the template. You can also change the background image to make it more suitable for your audience/brand.
Author Highlights:
Is really easy to navigate around the website.
Add the buy now button to move customers to the product page to make a purchase.
Build trust with reviews and testimonials on your website.
Easy to customize, so you can brand the website exactly how you want it to be branded.
Final Word: The 10 Best Wix Templates for Affiliate Marketing
When it comes to the best Wix templates for affiliate marketing there are numerous options available. The list above includes ten of the best templates that you can use. Which one you use will depend on many factors, So which template will you use?