When you have an eCommerce Shopify store you will be looking for ways to increase your revenue. One of the best ways to generate a greater income is to market to existing customers by offering them upsells or cross-sells. It is always easier to sell to an existing customer and less costly too. And therefore you need at least one of the best Shopify discount apps.
Advantages of Shopify Discount Apps
Discounts are an important part of shopping online. Research has shown that a discount can help you sell 73% more when they're included in a bonus pack. And for customers, searching for discounts is a type of game, 75% of online consumers will search their emails to find your brand's latest discounts in an email. But coupons don't mean you lose out. Customers with coupons tend to spend 23% more than those without.
Here are 10 of the Best Shopify Discount codes to help you offer discounts on your products in a variety of ways.
Show More
* read the rest of the post and open up an offer
Klaviyo
Klaviyo is a great app for offering discounts to your customers. Discounts are a great way to encourage your customers to make further purchases or to return to your store. This app is used by some really big brands so you can be sure that it is a great option. This is an automated app so you will save some time using it.
This app enables you to send emails to your customers with discount codes and encourage them to either visit your website again or complete an abandoned cart and you can encourage them by offering them a discount on their purchase.
You could offer a discount for reduced shipping or discounts on their next purchase. You can offer a discount with a time limit to try to encourage FOMO (fear of missing out).
Another great feature is to connect discounts to pop-ups that appear to customers that have not yet converted. These can pop up at a specified time or following a specific action such as going to leave the page or abandoning a cart. These can help to increase conversions and in turn, increase your profits.
This app is great at building customer loyalty. It is much easier to convert customers that know your brand already so it's a great idea to use discount codes to try to encourage customers to return to your store or spend more on your store each visit. Sending emails to your customers will enable you to remind your customers of you and encourage them to return to your store to make further purchases.
Klaviyo Highlights:
Send discounts via email to encourage customers to return to your store.
Get help from the customer services team should you need it.
Use pop-ups to encourage conversions.
Add several team members to manage the account.
ConvertWay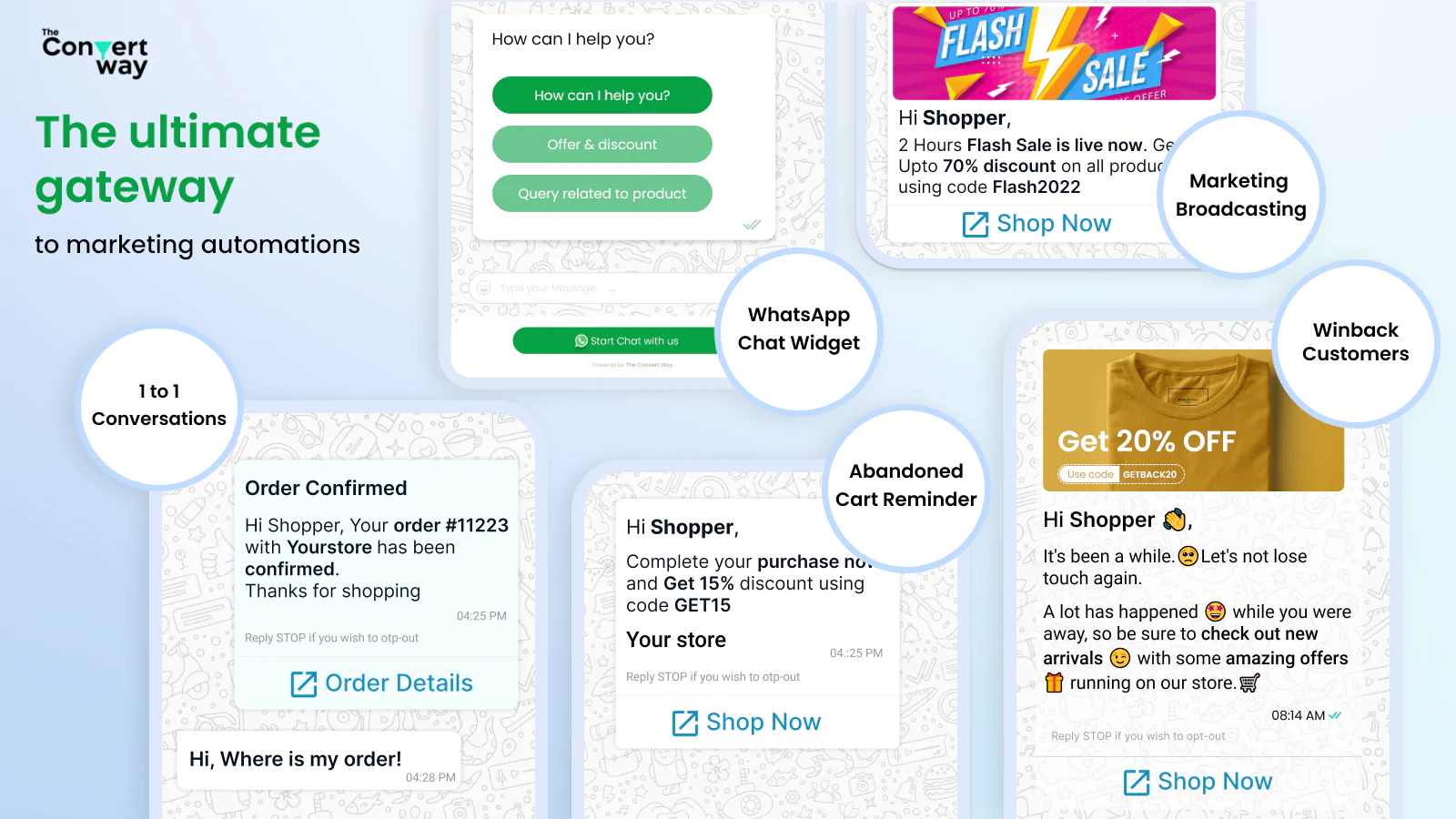 This app allows you to send discount codes to your customers via SMS alert. You can also use this to recover abandoned carts. You can send up to three abandoned cart SMS to try and get the customer to return to your store and make a purchase. The timings for these are 10 hours, 24 hours, and 72 hours later. You can offer a discount to encourage the customer to complete their order.
When the order is made, you can also use this app to connect with your customers to keep them informed about their delivery, such as tracking, canceled orders, and thank you notes and invoices. This app is available in over 200 countries worldwide so this app is suitable for global
stores. It is fully automated so it will save you a lot of time.
ConvertWay Highlights:
Send an SMS to recover abandoned carts.
Send discounts via SMS to encourage customers to return to your store.
Available in more than 200 countries.
Track your customer orders
Vitals

This is a great app with loads of functions and features in one handy app. There are more than 40 features available including plenty of options for offering your customers discounts. The Vitals app has so many apps in one app that they can really save you money.
In particular, you can use the wheel of fortune to use gamification to offer numerous discounts to your customers in a fun way. You can offer the wheel of fortune to all customers visiting your store or you could offer it following email sign-up. This will enable you to produce a great email list to share news, new products, and further deals and discounts for your customers.
You could also offer a discount for customers when they leave a review. Reviews are great for increasing trust, especially if visitors to your store are completely new and haven't shopped with you before. Another option is to use pop-ups to offer coupons, perhaps when a customer is about to leave your store if they haven't made a purchase. Or you can use a pop-up to collect email addresses so you can send a coupon for the customer to use at a future date.
Vitals Highlights:
Use pop-ups to collect emails.
Over 40 different features and functions in one handy app.
A spin-the-wheel option to offer coupons.
Works with all Shopify themes.
Bundle Builder

If you offer products in bundles on your store then you will want to offer a discount to customers buying products together. This app allows you to put products together in a bundle with either single or multiple SKUs. You can offer a discount code for buying several products together.
This app can be used to offer a variety of discount types. So you could offer a category of products that are so much for so many. For example, choose 3 items for $20. You could offer a discount as a percentage for buying more than one product. So for example, if you purchase a top, trousers, and shoes you get 10% off.
You could offer a larger percentage discount if people order a greater number of products. According to the developers of this app, they have helped 'thousands' of Shopify store owners to increase their revenue so this app could have a significant impact on increasing your revenue.
There's lots of help available should you need it using this app and you can customize the app to have the layout you would like and you can choose all the discount options.
Bundle Builder Highlights:
Discounts are based on a percentage or a set price or tiered.
Offer great discounts as more products are purchased.
Enables you to bundle products together.
Lots of friendly customer support available.
Unlimited Bundles & Discounts

This app enables you to offer discounts for bundles of products on your website and increase conversions on your website by doing so. The app is designed to increase your sales and is easy to use, you do not need to have developer skills or know coding to be able to use this app.
You can use this app in several ways, to promote the bundles on your website. For example, you can add a discount depending on whether the customer buys a certain quantity of products or whether they purchase a mixed group.
You can also offer seasonal discounts with the Unlimited Bundles & Discounts app so you could perhaps offer a Christmas tree bundle or gift wrap bundle for example. If you sell perishables you could bundle together customers' favorite foods and offer a festive discount to increase sales .
Unlimited Bundles & Discounts Highlights:
An easy-to-use app, no coding knowledge is required.
Increase conversions and improve profits.
A variety of discount options.
Offer seasonal discounts.
Upsellkit

With this app, you can have products put together either and encourage either more sales of one product or encourage additional purchases of other products, known as upselling and cross-selling. You can encourage the customer to increase the number of items they produce by offering a discount for buying additional products or the same product in great numbers. You can do this with this app.
The options for bundles are presented to the customer as a pop-up at the shopping cart. When they choose a bundle option they can click on it to add it to the cart. You can customize the cart and offer discounts as either a percentage discount or a fixed amount off.
This app is easy to use, you do not need to be a developer or have coding knowledge. It uses a simple drag-and-drop editor, it can be completely customized and is mobile friendly so it won't affect your SEO.
Upsellkit Highlights:
Use a pop-up cart to offer upsell and cross-sell discounts.
Easy to use the app.
Offer discounts as a percentage off or a fixed amount.
Candy Rack - All-in-One Upsell
You can use this app to increase your revenue by using a single clip pop-up to sell products to your customers. You can easily install this app with one click, you do not need to have any developer's knowledge or be able to use coding to use this app. This app also has a great reputation.
So the customers are presented with a pop-up that suggests a bundle with a discount, if they would like to make an additional purchase they can just click on the pop-up. This app uses intelligent AI to select the best options for products to offer as upsells.
Some additional services can help such as offering warranties and gift wrapping.
Candy Rack - All-in-One Upsell Highlights
Offer discounts on bundles as popups.
Uses intelligent AI to select products to offer.
An easy-to-use app.
Customer support is available.
Discount Ninja
This app gives you a lot of options for offering discounts to your customers to increase sales. You can add a free product as a gift when buying a product, you can offer BOGO and a discount depending on how many additional items are purchased. You can also make your discounts have a time limit to increase urgency.
With the Discount Ninja app, customers can enter a discount code at the cart to see the final price. You can also notify customers that their discount has been activated.
You can offer discounts across the whole store or on just certain products. You can integrate with an email app to collect email addresses and send discounts via email. It works with Shopify checkout.
Discount Ninja Highlights
Customer support is available.
Lots of discount options are available to offer customers.
Customers can enter a discount code at the checkout.
Works with Shopify checkout.
Sale & Discount Manager
Sale & Discount Manager is an 'all-in-one' app that can help you manage your discounts and promotions. This app is produced by Shopify store owners. The app is fully customizable and can fit seamlessly with your branding. It will help save you time and is designed to work smoothly.
You can offer discounts as a percentage discount or as a fixed discount. It will also prevent additional discounts. The discounts can also be integrated with social media, like Facebook and Instagram.
You can offer a variety of discounts and sales at the same time and you can include an unlimited number of products in the sale.
Sale & Discount Manager Highlights:
An all-in-one sales app.
Integrate discounts with social media
Customizable and integrates with your branding.
Manage your discounts & promotions.
All In One Automatic Discount

With the All In One Automatic Discount app, you can offer your customers greater benefits if you encourage an upsell. You don't need to create and share discount codes with this app; it is automatically applied to the cart. You can have different discount offers available at the same time as well.
You can offer all sorts of discounts with this app including BOGO, bulk purchases, free gifts, wholesale, free shipping, etc. It is also possible to look at the analytics for your promotions to see which are working best.
A handy feature of this app is that you can put discounts in priority of discount in case a product has more than one discount on it.
This app is mobile-friendly so won't affect your SEO. If you need any help there is the live chat, contact or book a call with us.
All In One Automatic Discount Highlights:
Offer customers a variety of discounts.
Prioritize discounts on products.
Customer support is available.
Mobile-friendly app.
Final Word: The 10 Best Shopify Discount Apps
These are 10 of the best Shopify discount apps, they offer a variety of different features but will all enable you to offer bundles or groups of products as discounts to increase your sales. Which one will you choose to use for your Shopify store?