Not every online store has to be open to the public. Instead, you might want to limit access to your website to only those your trust or have a relationship with. To do this, you can use one of the Shopify private apps.
Why Use one of the Shopify Private Apps?
There are numerous reasons why you might want to use one of the best Shopify private apps. For one, you might sell age-controlled products, like alcohol, which you need to not sell to those under a certain age to protect you from being sued.
Another reason might be because you're a wholesaler and you want to keep prices and products away from the general consumer. This can be easily done. And it can be very profitable, nearly a third of wholesale orders are now coming online. This doesn't remove offline-only wholesalers, so the actual amount bought online might increase if these sellers are removed.
In the UK, online wholesale is one of the biggest growth markets.
You might also want to provide privacy to keep customers' information secure. You must ensure that your website doesn't leak information. Brands that have done this have faced massive fines. Amazon has faced the largest GDPR fine with one fine totaling $877 million. Private websites might help protect your data.
So what are the 10 best Shopify private apps? Here is our list.
Show More
* read the rest of the post and open up an offer
B2B Private Store
This app gives you control over the people who are accessing your website. It is perfect for businesses that are focused on certain customers, like B2B or specialty businesses. All the eCommerce that is done on your website will be private, only those who are registered and validated will be able to access your website and the products on there.
The app works very simply. All visitors and non-approved customers are redirected to a login form when they visit your store. Only once they've registered, you've approved their account and they've logged in can they access your store and look at the products that you have.
As the administrator, you can verify, allow or deny all registration requests. This allows you to push out those who might cause you problems or don't meet your criteria. There is also the option to look over your older customers and disable accounts that have not been active for a while or have not fulfilled account requirements.
To help manage your store you can set certain pages to be locked and others to be free for all. Therefore, you can still publish blog posts that can be a great way to market your website. In addition, there are lots of control elements that can help you have a smoother website with more controls.
There is also the option to create email notifications when the user has been approved. You can make changes to this template with ease.
B2B Private Store Highlights:
Add an email notification about account activity.
Accept or deny registration requests.
Easy to use the app.
Allow some pages to be available to all customers and some to be available only to registered users.
Smart Age Verification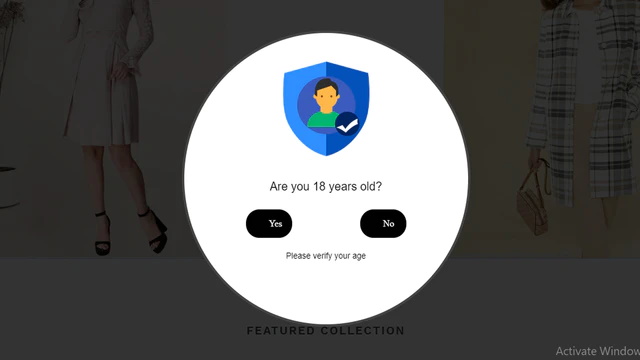 Sometimes you need to ensure that only those who should be buying from you, based on age, are on your website. This is where Smart Age Verification can help. This app can be installed with ease. There are no coding talents or skills required to get this app to work on your website. Once installed you can have two ways that you offer age verification: birthday or self-certification.
You're then able to set an age limit such as 18+ or 21+. You set the age with ease. The age verification popup can then be customized with a great headline and subheading. You can also add the logo to your store.
The app is completely responsive to desktops, tablets, and mobiles. Therefore, customers can't get around your security simply by switching devices. And if the customer isn't old enough they are redirected away from your website.
Smart Age Verification Highlights:
Allows for two ways for age verification.
Set your age limit.
Customize the age verification popup.
Quick and simple to install on your website.
B2B Login/Lock & Hide Price
This is an interesting app that allows you to hide your website from only those who are authorized to access the content. There are lots of options with this app that make it one of the most versatile on the list. For example, you can create a private store, allow access to products but hide prices, and more.
The setup for the app takes less than one minute, it is fast and easy and requires no developer knowledge for you to get working. Access to your website can be done under the customer login page or you can create a custom content page to make it work. Another option is to restrict all visitors to your website.
Or you can change your website so you can lock specific pages on your website, whether this is products, collections, the homepage, or more. Therefore, there are lots of options for you to consider and build the website that you would like.
There are numerous ways that you can also control pages with a special login or password access for you to use. There might also be multiple accessibility rules that you might need to implement on your website.
B2B Login/Lock & Hide Price Highlights:
Import passcodes for your website through a CSV file.
There are lots of options for you to create an account page.
Lots of ways to make your website private.
There are numerous ways to allow access.
B2B Verify Customers
This app allows you to create a way to verify business customers on your website. Customers who land on your website will have to verify their application on your site. You can reject the applications based on your website's requirements.
Those who have not been authorized to visit your website will not be able to see product prices and they can't see the 'add to cart' buttons. However, you can replace these items on your website with a message that you have created yourself. In the custom message, you can persuade the customer to create an account.
There is an automatic registration on the app. However, you can customize this to your specific needs. The app works on Online Store 2.0 themes as well as older themes.
To help you manage your website's customer list better, you can see all customers at one table. You can reject customers or disable their accounts if you need them to be disabled. You can do this based on tags and in bulk.
B2B Verify Customers Highlights:
Get customers to register an account.
Accept or deny customer registrations with ease.
Bulk approve or reject customers as needed.
See a list of your customers on a single table.
Verified Private
Customers can make purchasing decisions very quickly. So it is important to reinforce your shop's data protection with a seal of approval and verified by a third party. This is an app that can help you. It is a cost-effective and simple app for you to use.
The app is a verification badge that allows your store to demonstrate your commitment to protecting personal data. Websites that display badges are often those that get more sales.
The app works in several steps. You download the app and then you complete a web verification questionnaire about your business. They then have a team analyze your website's privacy option and validate compliance. The team will also provide you with feedback and then you can receive your custom verified private badge of approval.
The app takes just minutes to set up. The team who manages the app is 100% US-based and can help you.
Verified Private Highlights:
Your team can analyze your website's privacy.
They will provide you with feedback.
Improve trust with your brand.
Display the customized brand.
Bad Customer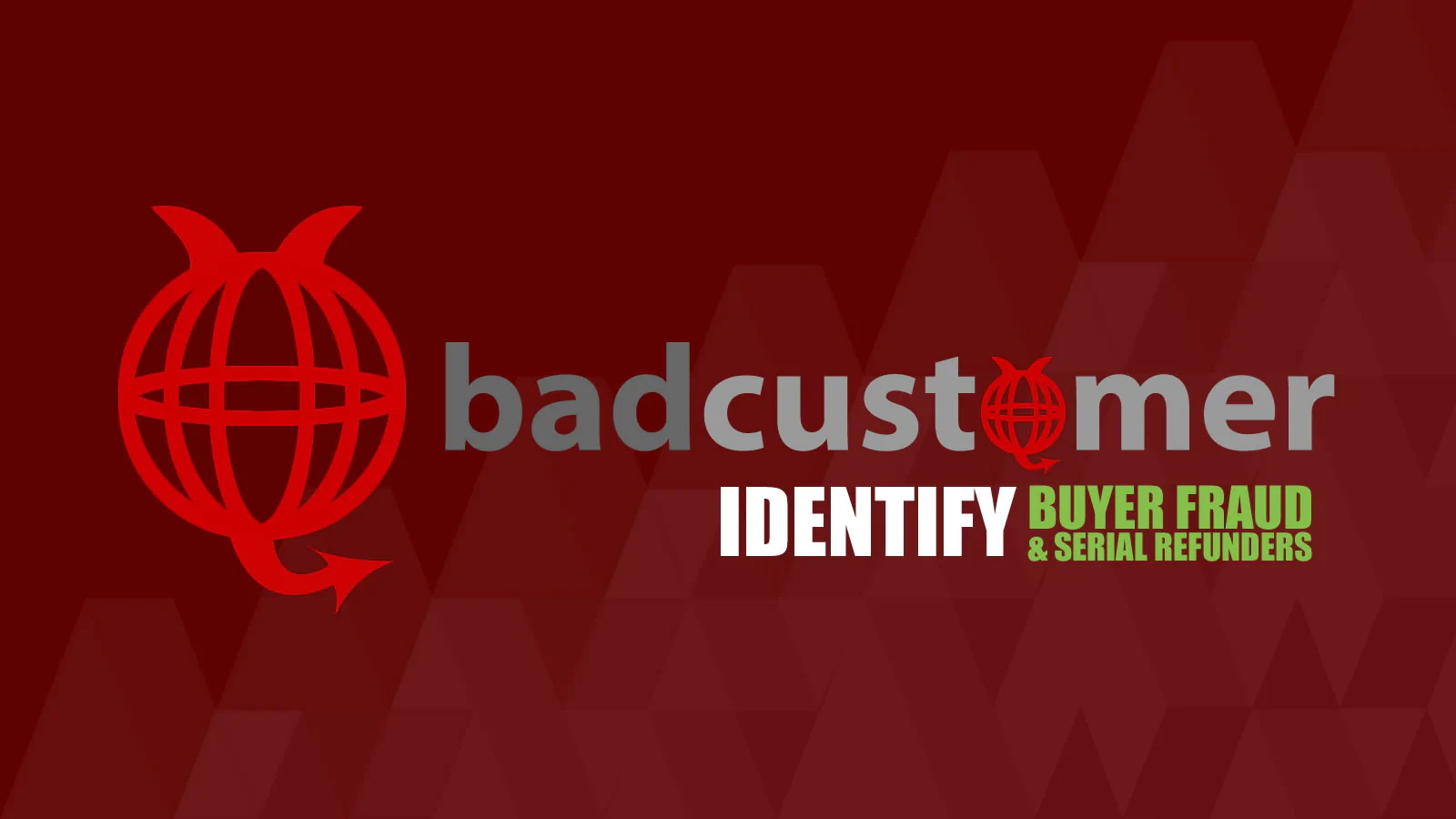 This app allows you to identify bad customers before you ship orders to them. This means that you don't lose out on shipping orders to customers who have a habit of charging back purchases or making excessive refund requests. That way, you can save on costs both in terms of lost revenue and also in terms of the time lost in managing these customers.
Most anti-fraud tools use algorithms that look for suspicious activity. However, this solution is a lot less complicated. The app's developers will identify bad customers by looking at their purchasing history across the world on other sites. If that customer has had a lot of refunds or chargebacks, then the customer or the address is highlighted as a potentially bad customer. You will get a warning that allows you to make the final decision as to whether you want to ship the order or cancel it.
The app allows you to avoid some of the problems that you might get when you have chargebacks. Because banks and credit card companies will benefit from chargebacks because they can charge you. Banks even have a name for this: friendly fraud.
Bad Customer Highlights:
Finds the customers who are most troublesome based on purchasing history.
You make the final decision as to whether you will send the order.
Can cancel orders.
Protects you from customers who make excessive refund requests and chargebacks.
Reveal Lock Manager
This app allows you to lock certain areas of your website. This can be products, collections, pages, and more. This allows you to ensure that some of your pages can only be accessed by privileged customers who have access via your passcodes or other option. This makes a great option for those who are looking to run a business like a wholesaler or something slightly different.
You might also want to run your website as a premium content option where you can lock content until customers have paid for viewing it. Then you can charge for access to one article or access to the whole catalog of information.
Reveal Lock Manager is one of the best apps for protecting content on your website with a simple system. Once a lock is applied, only a valid key can be used for the customer to access the content.
Reveal Lock Manager Highlights:
Best apps for protecting content on your website.
Once a lock is applied, only a passcode will open it up.
Can unlock based on logging in.
Easy to use app.
Smart Security
Smart Security is a one-click installation app that allows you to build a website that has strong security options. You can instantly have codes generated that will protect any images or text on your website. Customers can shop and add products to their carts without any interruptions. There is no coding knowledge required to make this work.
The app works great on any device, including desktops and mobile devices. The app improves the safety of your shop's content including preventing your photos from being stolen and used on another website without your permission.
There is lots of support available for those who want to use the app but are having trouble. Support is available 24 hours, seven days a week.
Smart Security Highlights:
Very simple app that takes just a few minutes to install and get working.
Protect content from being stolen.
The app works on lots of devices without issues.
Protects text and images.
Simplify my login
This app allows you to offer customers a simplified way to access your website. This can be done via a mobile and SMS OTP. It is really simple to install and you can configure everything.
There is support available for you seven days a week. All you have to do is create a ticket and they will respond within 24 hours. The app offers support for both existing and new customers across the world.
The app works with every Shopify store, no matter what plan you're working with.
Simplify my login Highlights:
Simplifies the login to your Shopify website.
Uses the SMS OTP option.
Great support for you and your customers.
Perfect to work with any new or old Shopify store and plan.
Login To View Price

This app allows you to manage the price visibility on your website within just a few clicks. Whether you want to keep prices secure based on whether they're logged in or because you want to increase conversions. This app is so simple to use. There is no coding required to make it work.
You can choose to hide product prices until a customer has logged in. Or you can choose a customer tag and allow only those customers the chance to see prices.
Login To View Price Highlights:
Simple app that hides the prices.
Reveal prices only to those who log in.
Hide prices unless the customer has a specific tag.
Perfect for numerous brands.
Final Word: The 10 Best Shopify Private Apps
Above are 10 great Shopify private apps that allow you to create a better Shopify website. Which one will you use on your store? Let us know in the comments below.