There are many different aspects of managing your business often left behind when small businesses start. One of these is running messaging. There are many ways that Shopify inbox apps can help here.
How can Shopify Inbox Apps Help?
There are many ways that Shopify inbox apps can help your business. For instance, you might want to have an inbox app that can help you collect information from customers. Or you might want an inbox that all your staff can connect to. This can be important because many businesses can improve collaboration with a shared inbox.
This can also improve customer support. And good customer support can improve sales (Think Amazon style). Research has shown that 86% of customers will buy more and spend more with good customer service.
So what are the best Shopify inbox apps for your brand? Here are 10 of the options that you might want to include on your website.
Show More
* read the rest of the post and open up an offer
Helpwise

Helpwise is an email app that has a shared inbox for team email accounts. It can be difficult for larger Shopify orders to help customers if several people may be involved in a customer's journey. By using Helpwise, if a customer phones up and requests information on their order following an email sent by a colleague you will be able to search for the email sent by the colleague and respond to the customer directly. This will allow for a smoother working process for your staff and an easier transaction process for your customers.
It's simple to use, if you'd like to see email correspondence related to a customer you find their address in Shopify and you can see all the details about their orders etc. You can then reply to their emails with all the information you need about their order.
Helpwise highlights:
A shared inbox for your team.
Find customer details to send an email easily.
See previous correspondence.
Reply to customers with ease.
Messenger channel
This app allows you to add a simple Shopify inbox to your store where you can receive and reply to customer messages from Facebook, Instagram, and your online store. These can all be stored in one place. It takes just a few minutes for your website to be connected to your social media accounts with ease.
The app can then help you close sales on social media without you having to switch apps. This can save you lots of time and improve your revenues with ease. The app also allows you to offer more photos of products or services with ease. In addition, you can increase conversions with live, personalized discount codes for you to use.
With this app, you'll be able to offer a better service to customers while also managing everything in one place. Therefore, you can save time and effort while also streamlining the process for staff.
Messenger Channel Highlights:
Connect your store to Facebook and Instagram.
Manage customer messages from one location.
Improve workflows on customer service.
Offer discounts and complete sales on the chat functions.
Official WhatsApp Business API
This app allows you to connect your store with WABA API and convert these inquiries into customers. It takes very little effort to get this app to work on your website. You start by installing the app on your website, then you can link your verified Facebook Business account and then you can verify the number you would like to link.
This allows you to turn your WhatsApp into a sales channel. You can send product messages to scale to customers on your Chat, this forms part of your campaigns. You can also send automatic replies to your customers with ease.
The app allows you to add customers who've opted in to receive your communications and then you can send them powerful notifications. For instance, send them welcome, delayed messages, abandoned cart messages, back-in-stock alerts, instant reminders, and more. You can also send more shipping notifications so that you can keep their expectations to the right level.
Official WhatsApp Business API Highlights:
A great app that can serve many functions.
Have a WhatsApp inbox on your website.
Sell to customers on WhatsApp with ease.
Simple pricing plans.
Willdesk

Willdesk is one of the top customer support options online. It allows you to have a customer service team manage all the support in one simple place. Therefore, there are no lost messages, or confusion on messages when customers jump from one platform to another and there is an improvement in your response times. This app can connect your live chat, WhatsApp, contact us page, email, Facebook, Instagram, and more.
Then you can speak to your customers in real-time regardless of where they or you are. This app allows you to provide service on every channel with integration into the customers' history. So you can see their order history, support history, and more.
Studies have shown that this app will help you reduce support time in half and the automatic FAQs allow you to cut customer queries by 30%. This is through tracking orders, FAQs, and other options. Therefore, you can save the time of your customer service team's time.
Willdesk Highlights:
Reduce the time it takes for your website's customer service team to deal with queries.
Reduce the number of queries that you get.
Improve conversions and revenue.
Can work with numerous different languages.
Whatsapp Chat & Abandoned Cart

This app allows you to get a customizable WhatsApp chat widget to their store. You can add your branding, colors, text, and more in just a few minutes. The app can help you in so many different ways. For instance, you can send abandoned cart recovery notifications that allow you to earn more revenue. You can also send order notifications, such as when the order has been picked up or when the order has been collected by the courier.
Messages are all sent from a dedicated number that is approved by WhatsApp. The app allows you to have lots of different agents use one inbox. This allows you to ensure that all queries are dealt with.
To these messages sent on WhatsApp, you can add discount codes that improve your brand's revenues.
Whatsapp Chat & Abandoned Cart Highlights:
You get a dedicated WhatsApp number for your website.
Manage all inquiries from one inbox.
Send discount codes and abandoned cart reminders with ease.
There are lots of options to make this match your store's branding.
File Upload To Inbox

You can use this app to receive files from customers directly to your inbox for print on demand and personalize the products that you are going to send out to them. Many niches can make use of this product from print-on-demand clothing to personalized gifts and more.
The images can be sent directly to your email inbox in a format that is more suitable for your work. Therefore, you can improve your workflow and ensure that the product you deliver to your customer is accurate and of the highest quality.
The files that can be uploaded to your website include zip, pdf, Excel, Word, images, videos, and more. Anything that is up to 2GB in size. And this makes it better than traditional email because these systems often block content when there are files that are too large.
File Upload To Inbox Highlights:
Allows your customers to upload images and other files directly to your website.
Improve your website's workflow and receive files that are too large for email.
Perfect for your website if you're a POD or other personalization company.
Easy to install and use.
FAQ Prime Lite

The FAQ+Contact us+WhatsApp+Track app enables you to have a Shopify inbox chat and there are also lots of other features available with it including video shopping, contact us forms a help center, and an FAQ page. It's a really easy app to use with no need to know any coding or to have any developer skills, It's a simple one-click install. The pages are already set up as templates for you to use.
There is automated customer support for post-purchase and the support is available in multiple languages. There's WhatsApp live chat among other chat providers and you can receive inquiries via email for your helpdesk. You can check customers' orders and respond via the helpdesk and reply to them. Other useful features include social shares.
FAQ Prime Lite Highlights:
Use your inbox to reply to chat queries.
Social shares.
Multi-language options.
Easy to install.
Ablestar Email Reports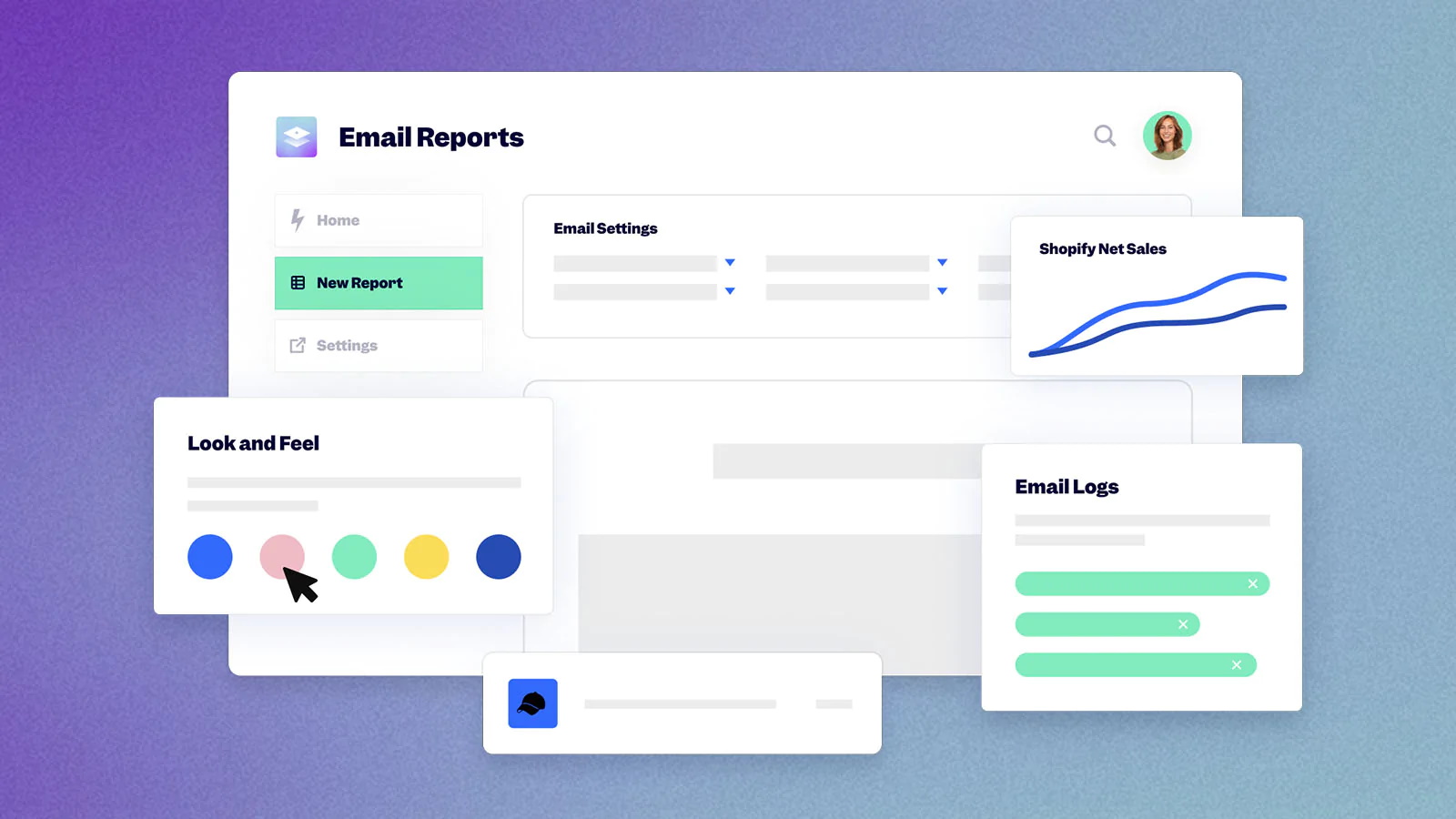 This app, Ablestar Email Reports will help you receive email reports from your Shopify store. It can collate the sales summaries from your sales emails so you don't have to read each email individually. You can receive these daily, weekly, or monthly and this could save you so much time.
The app is easy to install and use. You can use this app to compare sales results from different periods, manage your stock levels, and monitor trends.
This app is mobile-friendly so it will not affect your SEO and you will be able to review your email reports on your phone with ease.
Ablestar Email Reports Highlights
Receive email reports from your Shopify store.
Analyze your sales and find ways to take advantage of trends.
A mobile-ready app that won't affect your SEO.
Receive reports daily, weekly, or monthly.
Automizely Email Marketing & SMS

Automizely has over 30 features for increasing sales and conversions in this app. It has a lot of email and inbox functions with the bonus of getting other features to help your Shopify store grow as well. With this app, you can automate your email marketing. You will be able to send attractive coupons to your customers via email marketing when they sign up to receive your newsletter. You can also send emails to customers who abandon their shopping carts.
Some of the additional features include popups, spin the wheel, and social proof pop-ups. These are great ways to collect email addresses for future marketing. Other email options are post-sales emails such as asking for reviews. You can also let customers know if there has been a price drop on a product they're interested in.
Additional features you might like are countdown timers and an inventory countdown. You can also organize the contacts on your CRM and personalize their messages. You can send email notifications via email.
Automizely Email Marketing&SMS Highlights:
Encourage email sign-ups with pop-ups. There are also SMS features.
Over 30 features to help you improve your website.
Send coupons via email.
Manage contacts on your CRM.
SuperCEO: Daily sales reports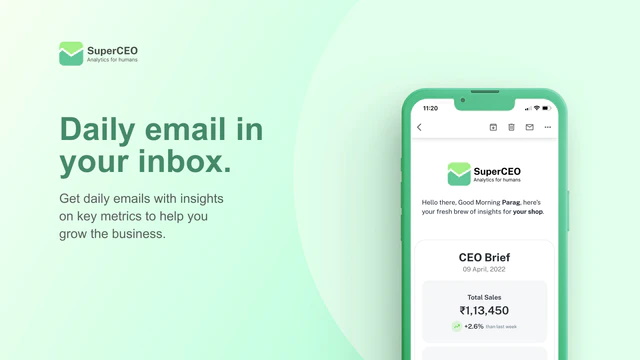 The SuperCEo app will help you manage your daily data and see where your business is heading from one convenient place. This will be sent to your email inbox daily so you can make the most of it every day. It's a really easy app to use and can be set up with one click.
From your inbox, you'll be able to see your sales reports, best-performing products, etc. A great aspect of this app is that it is free.
SuperCEO: Daily sales reports Highlights:
A free app that allows you to keep costs down.
Get all your analytics straight to your inbox daily.
See how your business is doing.
Find out which products are performing the best.
Final Word: The 10 Best Shopify Inbox Apps
There are lots of ways that you can use apps to support your emails for your Shopify store. These Shopify inbox apps can send sales reports to your inbox and help you see how your store is progressing, which products are selling best, and analyze how your Shopify store is doing in general. Some of them can help you with managing your email contacts and with sending mail to your subscribers.