Mobile shopping is becoming one of the ways to shop online. Whether they are just browsing or purchasing, customers are spending more time on their mobile devices than ever before. And they expect your brand to be mobile-friendly. So here are some of the best Shopify Mobile apps for your store.
Why is Shopify Mobile Apps Important?
Shopify mobile apps are really important for your brand. They will help to turn your website into something that is more mobile-ready. Therefore, you can improve the speed that it loads on a customer's mobile device. And this can help with conversions and revenues. By the end of 2021, the global mobile eCommerce sales were $3.56 trillion. While the pandemic played its part, there isn't expected to be a drop in sales after the pandemic.
Nearly four in five customers who have used SmartPhones have purchased with them within the last six months. This is a significant number and the trend is growing, especially as numerous customers are moving to use their mobiles more, with some estimates saying consumers are spending 25% more time on mobile devices. According to some research, the mobile commerce market is set to double the 2020 figures by 2025.
But not having a mobile website can lose your customers. Mobile websites load quicker, which is vital. Customers will switch off the website if you don't have a website that will load quickly enough. In addition, websites that have a mobile device, load faster, and have better usage tend to rank higher on Google and other search engines. The more traffic you get, the more revenues you will generate.

Show More
* read the rest of the post and open up an offer
StoreLab
StoreLab includes your favorite app-building toolkit. It will turn your website into an iOS/Android app that is available to customers at a click of a button. The app allows you to use a drag-and-drop interface that can help you create the perfect look and there is complete freedom for you to highlight the best products, collections, offers, or limited editions you need. The app also allows you to instantly update the website and preview the changes with ease.
To help get customers to your store, you can use push notifications that can help you reclaim abandoned carts, sending customers automatic reminders of their purchases. You're also able to segment your audience, sending each group a personalized or appropriate message for them. And you can be sure that notifications can be sent at the most effective time with scheduling.
The app allows you to analyze everything on your website. This can include how your push notifications are working and when your customers are online.
StoreLab Highlights:
Get push notifications on your website with ease.
Create an excellent mobile website design.
Improve the performance of your mobile site.
Analyze the performance of your push notifications.
Vajro
This app allows you to build a native iOS and Android app for your store. You can then make it look and work exactly how you would it to work. There is no need to know or deploy any coding, the app will do that for you. All you need to do is to drop the widgets you want into the design you would like to have and customize their use.
The robust features of this app make live selling, push notifications, and automation easy. You will be able to increase sales, drive engagement and build a better brand that customers will love and trust with ease.
The app comes with four pre-built themes for your mobile app. These can be a useful way to get your mobile app started. The app can also automatically synchronize all the store's products with your Shopify store. So you don't have to manually enter this information. And there are lots of ways to use FOMO elements on your mobile app to drive sales.
Vajro Highlights:
Improve your website conversions with FOMO elements.
Four themes to choose from.
Drag and drop mobile app builder.
A perfect option for numerous small and medium brands.
Shopney

Shopney app market is a great way for you to boost your mobile sales with ease. You can save on marketing ad spend and improve conversions with ease. There are lots of options to make your website perform better with push notifications that can help you improve conversions by 500%.
The app includes features that allow you to build the best mobile app for your store. You can import products with ease and then start selling with app-exclusive discounts, FOMO options, and personalized shopping experiences. There is also the option to add live chat to your website.
The app is perfect for small local businesses as well as international commerce giants. There are options to sell across borders with ease. And you can get started within just one day.
Shopney Highlights:
Create your own mobile store app.
Add FOMO options to your website.
Live chat options can be added.
Easy to sell internationally.
Appmaker
Appmaker is a great option for those who are building a new mobile app for their store that can work on Android and iOS. There is no need to have any developer or coding skills for this to work. The app comes with top features to help you build your app and give it a competitive edge.
The app comes with deep linking to create engaging content and build purchasing paths that will sell. Customers can find the products they want with better product searches and you can be sure that they will find what they want. The app is a great option for those worried about not getting their app installed either. The app builder has one of the best download rates.
The app comes with some useful and highly detailed analytics that are perfect for those who love to see how perfect your campaigns are working. There are numerous functions including push notifications that can help you build better marketing campaigns.
Appmaker Highlights:
Real-time synchronization with your website's main features.
Improve marketing with push notifications.
Convert more iOS and Android users with ease.
Build a better mobile app for your store.
MageNative
This app allows you to provide an immersive user experience with your Shopify mobile app. It can be customized and launched within minutes. You can build an excellent application that can help you drag and drop elements into the correct position and then create your app within three simple steps.
You can track the performance of your app with in-built analytics that shows you where the sales are being made and lost. You can track uninstalls, map revenue, segment users, and monitor conversion funnels. This allows you to plan for better campaigns and improve your website's performance.
In addition to your website's performance on mobile, there are ways to bring back customers with push notifications that can help you drive sales and traffic. It can help you to use abandoned cart strategies to help you build sales with those who were almost ready to make a purchase. This app doesn't need any coding to work, you can do it even if you have no experience with development.
MageNative Highlights:
Improve your website's performance on mobile devices.
Create more sales through push notifications.
Don't need any developer skills to work.
Track results with ease.
Tapcart
Tapcart is one of the best mobile app builders that is trusted by Shopify brands. It allows you to improve your customers' experiences on your website to convert more visitors, get more repeat orders and drive revenue at your store. The app is used by numerous top brands including Princess Polly, LSKD, Culture Kings, Pier 1, and others. All of them instantly build a mobile app that performs at the very best possible and helps them to generate more revenue.
The app can instantly synchronize your store's backend and help you build an app with a drag and drop interface. No need to have any coding skills with this app. In addition, you can import all your products, collections, inventory, and more with the app. All of this data will be kept up-to-date with real-time synchronization, allowing you to focus more time on marketing your brand.
The app can also be used to send an unlimited number of push notifications. This allows you to reach your audience instantly and offer them personalized offers.
Tapcart Highlights:
Used by some of the biggest brands on Shopify.
Easy to use, no developer skills required.
Synchronization of all your store information.
Send an unlimited number of push notifications.
Evlop
Evlop is a mobile app builder that allows you to create an Android and iOS app for your Shopify store. You can use the smart blocks, and drop them into the right place to create an app that is perfect for your brand. The blocks can then retrieve the information that is relevant to them, direct from the store and they can display the information in the perfect style for you.
The tool is multilingual, available to target users from different cultures around the world. All development can be branded to your colors and logo. This can increase brand recognition for your store.
In addition, you can use the push notification options that can help you reach your audience easier and for the best cost. The app can also help you keep the app relevant with real-time updates with all the stock, prices, products, and more aligned to your desktop store.
The app is advanced and one of the best options for those who have no developer skills.
Evlop Highlights:
Build a mobile app for your store within minutes.
Brand the app in your colors and logo.
Send push notifications with ease.
Synchronization of your store's information.
AfterShip Mobile App Builder

This is a great way to provide a better mobile experience for your audience. It can be sold via the Google Play Store or Apple App Store with ease and allow you to get more traffic to your website, browsing of your products, and sales for your brand. Therefore, it is a great way to increase the value of your brand and website. The app builder is very simple to use. It takes just one click to get working. After that, you can build your app store with the drag-and-drop builder.
To get more downloads, simply share the app download link/QR code. It helps to build your website's foot traffic with ease. And the store can be customized to your exact needs, including colors and branding.
The app comes with lots of options for marketing including sending push notifications, supporting discount coupons, an announcement bar for promotions, instant product search, and more. Your customers can even save something they like to a wishlist or share them with friends via social media with a click of a button.
AfterShip Mobile App Builder Highlights:
Easy to use the app on your website.
Synchronization of your products.
Easy to market your app online.
Perfect for promoting your brand on iOS and Android.
Hulk Mobile App Builder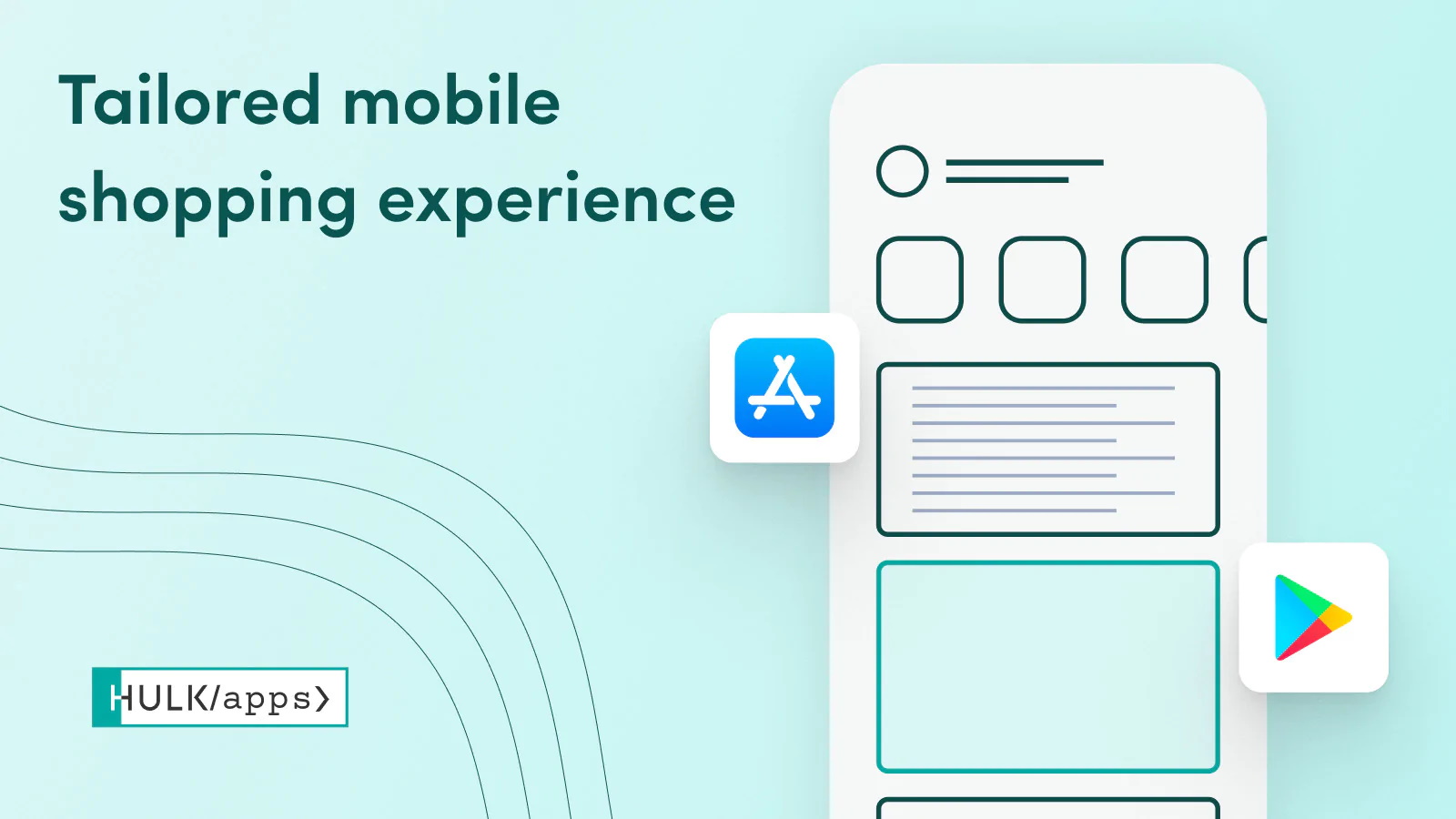 This app allows you to build a fantastic mobile app for your website. The interactive dashboard is fantastic and offers an unlimited number of design sections for you to customize and use. There are also three styling options and you can improve the look through great color and style customizations.
The app includes lots of features to help you sell. For instance, there is a single-page checkout, region-based push notifications, feature-rich push notifications, and automation that help you to reclaim abandoned carts.
Hulk Mobile App Builder Highlights:
Easy to use mobile app builder.
Send lots of marketing content out.
Build your store within minutes.
Reclaim abandoned carts from your visitors.
BizWizely
This app allows you to build mobile apps and redefine your brand, getting more sales. The app works on both Android and iOS, allowing you to expand your reach online and improve your revenues.
The tool is really simple to use and comes with some great features that are perfect for those without any developer knowledge. By the end of the design process, the checkout procedure will be simplified for your customers, reducing the number of abandoned carts you have. In addition, you can send an unlimited number of push notifications to your customers.
BizWizely Highlights:
Send push notifications to your customers.
Integrate with Facebook.
Easy to use builder.
Improved design features for your website.
Final Word: The 10 Best Shopify Mobile Apps
Above are 10 of the best Shopify mobile apps that you can use for your website. Which one will you use for your website and which will bring you the most revenue? Let us know your choice in the comments.