Shopify isn't just about buying from a desktop website. Shopify is about taking your website to a whole new level by getting you to have a mobile app. However, to get the most from your store, you need one of the Shopify shop apps.
Why Use One of the Shopify Shop Apps?
There are numerous reasons why you will want to use one of the best Shopify Shop apps. For one, you want to make sure that your audience will be able to access your website when they're using their mobile devices. A mobile app is one of the best options. In 2021, shopping on apps increased by 30%.
But that isn't the only reason. Some apps optimize your current website. This means that your website is loading faster. For every second that your website takes to load, you are going to lose 7% of your revenue.
Another problem is that you want to make sure that your website is optimized for conversions. There are several ways to do this, and some of the apps in this list will do that. The average conversion rate on websites is 2.86%, but some stores can achieve conversions of 11% or more. This can be helped when using Shopify as a way to populate other stores like Etsy and others.
So what are the best Shopify shop apps for your store?
Show More
* read the rest of the post and open up an offer
Shop channel

The Shop Channel provides you with a way to control, manage and optimize an ecosystem that improves the experience of shopping with your brand. You can convert more sales on your website with Shop Pay, which is one of the highest converting checkouts on the internet. You can also have better order tracking on your website. This can help build trust with your audience and reduce the support required because customers can track orders themselves.
There is also a mobile storefront. This allows you to have a better profile online. The app can also help with product recommendations, automate your marketing, and provides an excellent analytics dashboard.
Shop Channel Highlights:
Available in countries where you have Shopify Payments.
Perfect for numerous brands who want to optimize their store.
Creates a mobile-friendly store.
Adds automation and order tracking.
The Shop Events Calendar
The Shop Events Calendar is a great app for you to add a mobile-friendly calendar widget. There are two different designs that you can choose from. The first is a simple calendar view. A second option is an event listing view. Both of the options are optimized for users on mobile devices and you can keep your branding simple with the same styles and fonts as your current website.
You can showcase a wide range of types of events. Users have already created 18,000 events on more than 750 stores using the apps.
If you want to customize your website's calendar this can be done with ease. You can change fonts, colors, and more. You can also integrate your website with Eventbrite.
The Shop Events Calendar Highlights:
Has been used by more than 750 stores.
Integrates with third-party websites for more functionality.
You can use this app to showcase events in two different styles.
Customize the app to match your brand or stand out on your website.
Facebook & Instagram Shopping

This app allows you to take your products on the Shopify store and then promote them on the Meta pages that include Marketplace, Shops, and Instagram Shopping. Therefore, you can improve the chances of your products being discovered by new customers.
The app allows you to enable ads on the Shops and Instagram Shopping, with an integrated Ads feature that allows you to reach a larger audience and improve engagements. If customers do want to make a purchase, there is a chance to simplify the purchasing journey with a quick, easy and secure checkout using their Facebook and Instagram interface.
As a merchant, you can create both prospective and retargeting ads that allow you to expand your reach and bring back audiences who've been on your website before. There are lots of analytics that you can use as well.
You don't need to have developer skills to set this up. There are easy controls and simple analytics to help you make the most of this app.
Facebook & Instagram Shopping Highlights:
Take your shop's products to Instagram and Facebook.
Take payments on Facebook and Instagram.
Retarget users who've already visited your website on Instagram and Facebook.
Use ads to find new customers on social media channels.
Shopney

Shopney is a great option for you to build a mobile app store for people to use to browse your store and shop. With a mobile app store, you can expect to get more customers and more sales. Research has seen that you can build revenues as millennials are now using mobile apps more to shop.
This app allows you to also promote more of your products through push notifications. This can help you increase your conversions by about 500%. And these push notifications are free. You can also improve traffic levels and offer app-exclusive discounts.,
You might also want to build more conversions with FOMO tactics. This includes using flash sales and countdown timers on your mobile apps. And you can reduce cart abandonment with a faster checkout experience. Or you can offer personalized shopping experiences with recommendations.
Other features can help you build the mobile app without any developer skills. It takes less than a day to create your mobile app and release it. And in addition, you can integrate all your favorite apps and manage your shop app from your phone, wherever you are.
Shopney Highlights:
Build a mobile app quickly and easily.
Integrate features from your main store to your mobile app.
Build a better experience with faster checkout.
Marketing tactics like FOMO and push notifications are included.
The Shop Music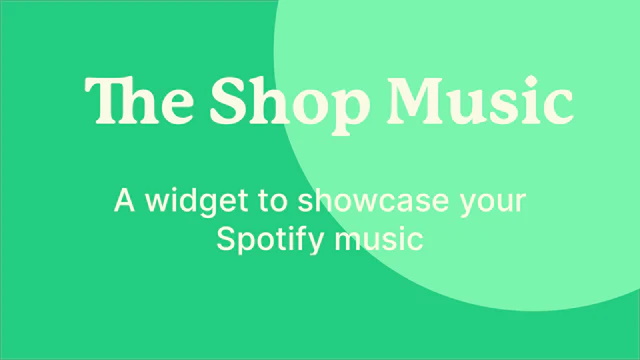 When someone visits a physical store they will often hear music or radio playing throughout. This is because music has been found to keep audiences in the store longer and spend more money. However, this tactic has not been used on internet stores very often. There could be numerous reasons for this: slowing down a website, making it hard to get the music license.
This app is really easy to install and is completely mobile-friendly. Therefore, music can be played while users are browsing your store whether they're on a desktop or their mobile devices. The app is the most recently played on Spotify. The app can also highlight what is currently playing to the customer.
It is really simple to get ready. It takes just a few clicks to get going.
The Shop Music Highlights:
Play music when someone is visiting your store.
Adds a new engaging element to your website.
Improves your conversion rate by creating a happier mood.
Mobile-friendly app.
AfterShip Mobile App Builder

This is another way that you can get a mobile app for your website. You can get this app to help you build your store app that can be added to Google Play Store or the Apple App Store. It takes just a few minutes to get started with this app, and your mobile store can be used on iOS and Android stores. There are options for page customizations, including changing the colors, text, fonts, and more.
The app allows you to build a download link/QR code that can improve the uptake of your mobile app. You can add your shopping app link or QR code to your website or other marketing materials to improve the number of people who will download your app.
There are also ways for you to market your brands. This includes an option for an announcement bar for promotional news or sending out push notifications. You can also add discount coupons. The customer, when on your website can also take advantage of your instant product search feature, a wishlist, and product recommendations and can share product links with their social media followers.
AfterShip Mobile App Builder Highlights:
Includes app analytics so you can see how your app is performing.
Wishlist, product link sharing, push notification and other features included.
Build your mobile app in one click.
Simple to customize options.
Tapcart
Tapcart is a mobile app builder that has been trusted by numerous Shopify brands of varied sizes to help create a better mobile experience for more conversions, and repeat orders and drive better revenue for your website. The app developers provide services for thousands of the top Shopify brands including: Fashion Nova, Princess Polly, LSKD, Culture Kinds, and more.
The app allows you to synchronize your store's backend and build a mobile app with a simple drag & drop editor. There is no need to have any developer or coding skills.
The app has lots of features to help you. There is the option to have instant page loading, one-click checkouts, lots of integrations, and support from an excellent team of developers that can help you to create, launch and manage the store app to ensure that you get the most from your app.
There are also options to add push notifications and abandoned cart notifications to your store with ease.
Tapcart Highlights:
Add push notifications to drive traffic.
Build a website within a few clicks.
Add customizations as you wish with a drag-and-drop builder.
Synchronization with your Shopify store backend.
StoreLab Mobile App Builder
StoreLab is one of the best app-building toolkits that are available. The app will turn your Shopify storefront into a simple iOS/Android app with ease. These features are available as soon as you install the app on your store. There is a drag and drop interface that makes the app really simple to use. And there is a lot of freedom to add app-only features like highlighting new products, collections, or limited editions. And you can update instantly, so any device hosting the app will get the changes.
The app allows you to have push notifications with ease. You can do this to bring customers to your website with a sale, or you can get them back after they've abandoned the cart. You can set this to be done on an automatic setting. There is also a way to segment your audience to send the best message to the audience.
There is a powerful analytical system to help you see the success rates of your campaigns.
StoreLab Mobile App Builder Highlights:
Analytical options to see the results of the app.
Build the app in just a few clicks.
Improve mobile app checkout experience.
Know when your customers are online.
Google Shopping Feed XML/CSV
This app allows you to build a Google Shopping feed to help you expand your brand. There is no complicated setup and you can have the feed for your products that is compatible with Google Shopping and Bing Ads. The app allows you to have a list of 10,000 products, this will be emailed to you within 15 to 30 minutes of you installing the app.
You can generate a new feed for every currency. You can also advertise the original price and currency of the target country. Therefore, you can take your website international with ease.
The app can include all variants in the feed. The variations can include color, size, material, and more. And you will never get a list that includes products that you cannot fulfill.
Google Shopping Feed XML/CSV Highlights:
Get a daily email with a list of 10,000 products to market on Google and Bing.
Easy to upload the CSV file.
Includes variants of the products.
Doesn't use products that aren't in stock.
Lyst
Lyst is a definitive fashion shopping app. The team provides all the tools needed to grow your business. And you can get your products discovered by thousands of new customers. All you need to do is install the app and apply for a position. Once you've been accepted, their team will help you by getting your product catalog uploaded to their platform. The one-time connection and uploading of all the items will mirror what you have available on your website at the time of installation.
This simple app allows you to find new customers and build a stronger, more revenue-generating business.
Lyst Highlights:
Connect your website to Lyst.
Apply for a position on their website.
Their team does a lot of the work for you.
Get discovered by thousands of new customers.
Final Word: The 10 Best Shopify Shop Apps
Using one of the best Shopify shop apps, or more than one can help you to improve your brand's revenues. Which one of the apps above will you use? Let us know in the comments.