If you offer a service, it can be hard to get the news about it out to the wider audience. A website is a must for this task and using Squarespace is a great option. There are several Squarespace templates for services that can also help you create a website that is aesthetically pleasing and converts visitors into customers.
What do you Need on your Squarespace Templates for Services?
There are many aspects that you need to consider when choosing which of the Squarespace templates for services you want to use. For one, you want to make sure that the template can promote your brand and services in a clear and concise way. The easier it is for the audience to understand what you have to offer, the more conversions you will have.
In addition, you will want to improve your website's performance. This starts with the website's speed. The faster your website is, the more revenue you will make. Research has shown that for every second your website page takes to load, you will lose about 7% of your revenue. When many online stores can have loading times of 8 to 11 seconds, most businesses are losing out on half of their potential revenue.
You will also want to ensure that you can generate more traffic through search engines. Search engines should contribute about 60-80% of your website's traffic. You can only do that if you have a good ranking on search engines, which is partly due to your website's speed and also how the site is written.
So, what are the best Squarespace templates for services? Here are some of the top options for you to consider.
Show More
* read the rest of the post and open up an offer
Ready – Freelancer Squarespace Template
Ready is the perfect option when you want to showcase your services on a website for your potential clients to see. It is an elegant, professional and minimalist template that can impress clients and help you rank better on search engines. The template has been perfectly designed for numerous niches but has the focus of coaching, consulting and freelancers in mind. That doesn't mean it can't be used by other services either though. The design is perfect for attracting the attention of the audience.
The template has a built-in 'call to action' button that can help you book appointments with potential clients. Or it can be used to help you collect enquiries about your work. There's also a scheduling system that can help you manage your time and ensure no two clients have the same time booked up. And because it is automated, you can save time doing this manually and have more time to service customers.
The navigation on this website is really good. You can use the hidden menu that's located on the left-hand side of the website. The menu will only appear when the customer clicks on the icon. Then it will slide out.
To help with building an audience across devices, the template is completely responsive. This is another feature that can help you rank higher on Google and other search engines. There are also social media buttons that can be used to connect your website to your social profiles.
Ready – Freelancer Squarespace Template Highlights:
An aesthetically pleasing design that has been built for professional services.
An inbuilt appointment setting function to help get more clients to your store.
The minimalist design helps to speed up your website.
Connect your website to social media links embedded into your website.
Skye – Modern Blog Squarespace Template
Skye is one of the top Squarespace templates that's used by bloggers and small brands across the world. It is a fantastic opportunity for you to share news about your website with high-quality images that can draw in the audience and make them pay attention. Skye is often used by those who are in travel, food, creative or freelancers. Therefore, it is perfect for service-based brands to use. The visual aspects of this template are awe-inspiring and can really help you to get your website to be branded.
The minimalist design of the blogging theme is perfect for ranking and conversions. It is fast and ranks well on all search engines. And there are numerous features to help you to get more from your website. There is a fullscreen design and an easy to read grid-based system. The template is really easy to edit and maintain. Therefore, you can spend less of your time on your website and more time servicing customers.
The blog post designs are excellent. They will help create a sense of what your brand's ethics are and how you can help your customers. And with the great navigation on your website, the experience of your visitors will be really good.
Skye – Modern Blog Squarespace Template Highlights:
This is a modern design that is great for those who want to blog.
A visually impressive theme that is perfect for showcasing images and visual content on your website.
Is perfect for mobile responsiveness.
Can rank highly on Google and other search engines for increased traffic levels.
Sofia Rey – Freelancer Squarespace Template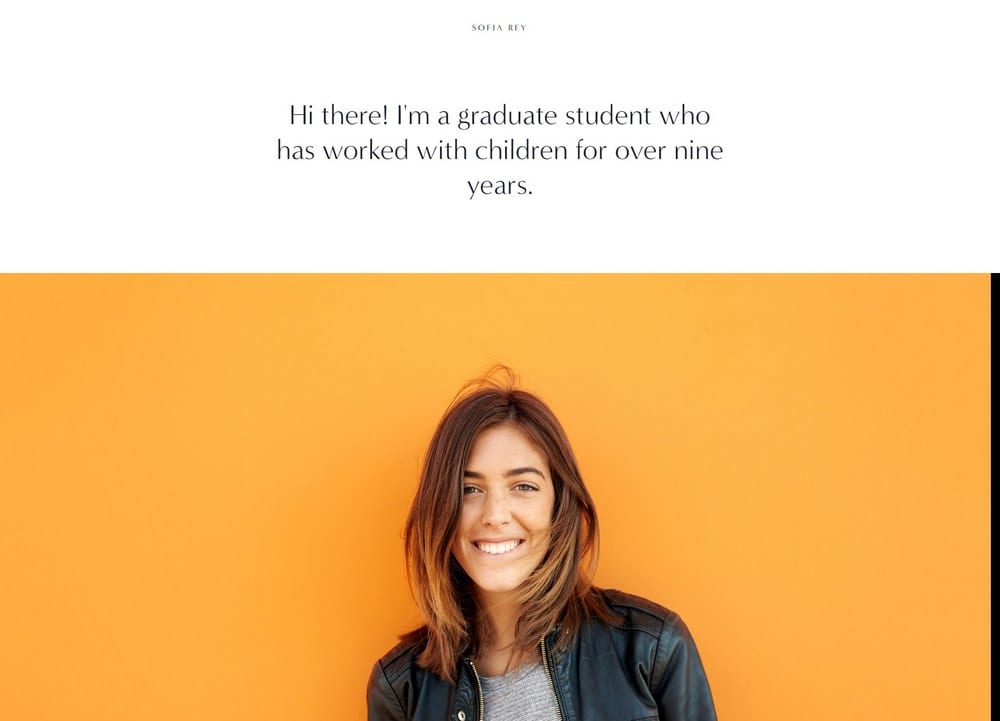 This theme is perfect for freelancers who offer services as their main option. This template allows you to bring many elements of your experience, future events and brand to the forefront to market what you can offer visitors and how choosing you will help them solve a problem.
This Squarespace template has sections for all sorts of elements that can help you to promote your brand. For instance, there are sections where you can showcase your skills, services, reviews and get them to speak to you via a contact page. These are all editable and look stunning, so will impress visitors to your website.
The template can also come with an aesthetically pleasing resume section. This can help you sell more of your experience and background. In this area, you can include your training and any awards that you may have picked up along the way.
The templates vibrant, sleek and professional design is impressive. However, it isn't hard to customize for your own needs and maintenance is really easy. Guests will be impressed.
Navigational support on the website is great on the template. There's a simple menu, located at the top left of the design. In addition, there's a place to link your website to your social media accounts with links that are located in the top right.
Sofia Rey – Freelancer Squarespace Template Highlights:
Lots of features to promote your personal brand to potential clients.
Connect your website to any and all social media profiles that you have.
Get inquiries into your brand through a contact form that is easy to edit.
Showcase testimonials and reviews of your work directly on the website.
Rally
Rally utilizes an aesthetically pleasing scrolling design to produce a streamlined website that can be perfect for you to display the services you offer. The simplified design can be a great option for highlighting your talents and what you sell and the beautiful menu on the website is located in the top right corner of the design. Next to the menu there is space for your social media buttons to be placed.
This template is perfect for blogging. Blogging should be an integral part of your website's promotional campaigns. Research has shown that those brands that publish more than 15 blog posts per month will receive 70% more leads than those that blog once a month. All blogs on this template can be promoted with ease. You can attach a high-quality image that will showcase your work.
The scrolling action on this template is really smooth. Therefore, the user's experience on your website will be high. The speed of the template is also impressive, allowing your site to have shorter loading times and improved ranking on Google and other search engines.
Rally Highlights:
This template has been optimized for speed, allowing your site to load quickly.
You can list lots of blog posts about your services/advice.
It has a smooth scrolling action on the website to improve customer experiences.
This is the perfect Squarespace template for services and other niches.
Harris – Minimal Corporate Squarespace Template
Harris was built for those that offer services in mind. It is a minimalist Squarespace template that is perfect for corporations, freelancers and small brand service providers across all niches. Many agency brands will also find this template perfect for them. The design and features of this template are perfect for helping visitors to see your value as a partner and can help you convert visitors to your website with ease. And this can help improve revenues.
The features start with a beautiful header placed in a great location. It has numerous customization options, allowing you to design a look and style that matches your brand with ease and sell what you have to offer. The template also has great navigation with an easy to locate menu at the top-right corner of the design. Clients will find their way around your website with ease and this can reduce your website's bounce rate.
To help with building your website there are numerous inner page templates that you can use. These include about us pages, services, your current clients and more. Therefore, you can build a highly successful website that can tell other businesses why they should buy from you.
Harris – Minimal Corporate Squarespace Template Highlights:
The minimalist design helps this website template to load fast.
Set the brand on your website with an easy to customize header.
Easy navigation helps visitors and search engines navigate across your site.
Fast speed, easy navigation, responsive features allow this template to rank high on Google and other search engines.
Hatch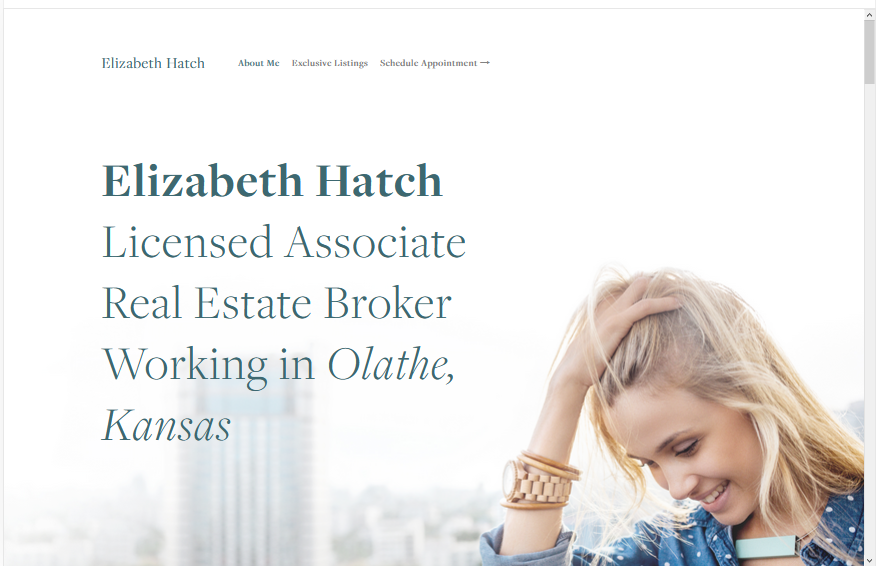 This is a simple, awe-inspiring template that allows you to sell your services with ease and in style. There's sophistication in how this template allows you to use a one-page design that can sell your brand's story and tell the audience exactly what you offer and what you can do to help them. The visual appearance of the template is also impressive, allowing one background image and large text writing to tell a story and set your brand's ethics.
There is a 3D scrolling effect that instantly grabs the attention of the audience and the fast loading of the page is impressive. With the right tweaks to your SEO, there's no reason why you can't rank your website high on Google and drive lots of traffic to your website for conversion into leads and sales.
In addition, this template has a 'call to action' and subscription form that is at the bottom of this page. This can be linked to your email marketing that can be one of the best ways that you can sell digitally.
Hatch Highlights:
Easy to customize template that has all the features you need on one page.
Subscribe visitors to your website with ease with a sign up form at the bottom.
Fast loading and scrolling allows your website to load quickly.
Can rank highly on Google and other search engines.
Jasper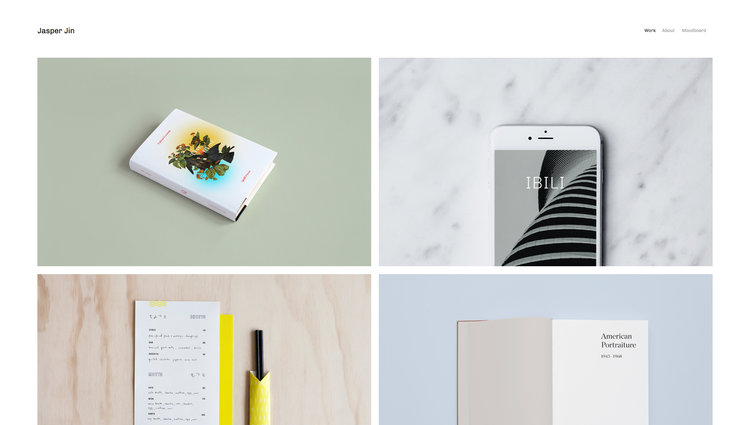 Jasper is a Squarespace template that looks simple but carries a lot of weight that's impressive to guests while being easy to maintain. The front page is perfect for showcasing your portfolio of services within a grid-style homepage. This can create an alluring summary of past or current projects.
The homepage contains great page animations and scaling fonts with page headers that can boldly display work across your website and improve your website's return on investment. This template can help you create project pages that can have a story-driven experience with elegant images, a bold title and captions can help you engage audiences with emotions and more.
Jasper is a great template for those that have projects they want to showcase and services to sell. It is easy to use and can load quickly on all devices and browsers.
Jasper Highlights:
Easy to maintain website that features lots of imagery for your projects.
Grid-style layout for easy page design.
Fast loading website that's great on all devices.
Just a few tweaks to get your website to rank highly on Google and other search engines.
Hayden – Agency Squarespace Template
This template was specifically created for design agencies and other service providers. It is a modern, effective and sleek Squarespace design that will impress guests. There are numerous sections on the template that can help you sell your business and get visitors to believe that you're the right option for them. For instance, there are services, clients, portfolio and case study areas of the website. You can also utilize the scheduling system for getting website visitors to book appointments with you.
Hayden features beautiful design elements that are striking. There's a menu in the top right of the design that helps customers navigate around your website with ease. This is a sticky navigational bar, so the bar will move down with the visitor as they scroll down your website. There are also social media links that can help connect your website with your social media activity.
Blogging is really important to today's marketing team and this template offers the perfect environment for that. Therefore, you can build more traffic to your website.
Hayden – Agency Squarespace Template Highlights:
A very easy to customize Squarespace template that's perfect for service businesses.
A sticky navigational bar that will scroll down as your customer does.
Create promotional content with a blog section.
Fast loading with great SEO potential for building traffic.
Carson – Portfolio Squarespace Template
Carson is an unusual template. Its unique design is appealing to website designers and visitors of websites. Instead of a scrolling design, this one has a static homepage where the background image changes depending on where the visitor's mouse is on the screen. If a visitor clicks on their location, they can be taken to a new place on the website.
This design is very interactive and interesting, adding to the appeal of the design. The pages on the website can display projects, services, clients, about us and more. There's also a hidden menu that can link to lots of other pages on your website and allows for more traditional navigation around the website.
Carson is very adaptive and can be used by lots of different niches.
Carson – Portfolio Squarespace Template Highlights:
A unique template that's designed to engage and be attractive to your audience.
The background image will change when the customer is hovering over a link.
A hidden menu for a more traditional navigational experience.
You can showcase clients, services and more.
Bedford
Bedford is a great option when it comes to Squarespace templates. It works for all niches of websites including those in the service industry and can add eCommerce elements to your website. There are lots of different elements you can utilize for your website. These include sidebar navigation and a scrolling homepage.
The eCommerce elements allow some service industries to sell their services online or have another revenue stream with ease. Therefore, Bedford can improve your revenue potential. And all pages can have videos added to them that can help with improving conversions and more.
Improve results with 'call to action' buttons.
Bedford is fast loading and responsive. Therefore, your website should have lots of potential.
Bedford Highlights:
A multipurpose website template that is perfect for those that sell services.
Take payments for your services online with eCommerce functionality.
Add videos to your website to help promote your brand with ease.
You can use banners to help sell products and services.
Final Word: The 10 Best Squarespace Templates for Services
If you operate a business that sells services, then you're going to want to impress guests quickly. Only by using one of the best Squarespace templates for services are you going to achieve this. Look at the options above to find the best template for your website.
If there is a Squarespace website that you liked the design of and want to know what template they're using, use this Squarespace template detector.