Wix is a popular website building tool that is well advertised. One of the advantages of Wix is that its editor is super easy to use. All you need to do is to choose a template and start moving things into position or edit the elements that are already available on the design. There are several Wix blog templates you can choose from.
Why Choose Wix Blog Templates?
Wix blog templates are a great way to get started on your website. They've already been designed for the best display of information for audiences. Most audiences expect certain styles or design choices. For instance, many websites that are about animals, nature or conservation are often green or black.
By using a Wix blog template, you can build a site that is perfect for your blogging activities. And some of the templates are specified for certain blogging spheres like travel. By using these templates you can speed up the development of your website and have a great template that promotions your regular content.
For most blog templates, you will find that your blog content will be listed on the home page clearly. You might also find that there are lots of great link building opportunities and ways to showcase visual images.
So, what are the 10 best Wix blog templates? Here are some options.
Show More
* read the rest of the post and open up an offer
Travel Blog and Podcast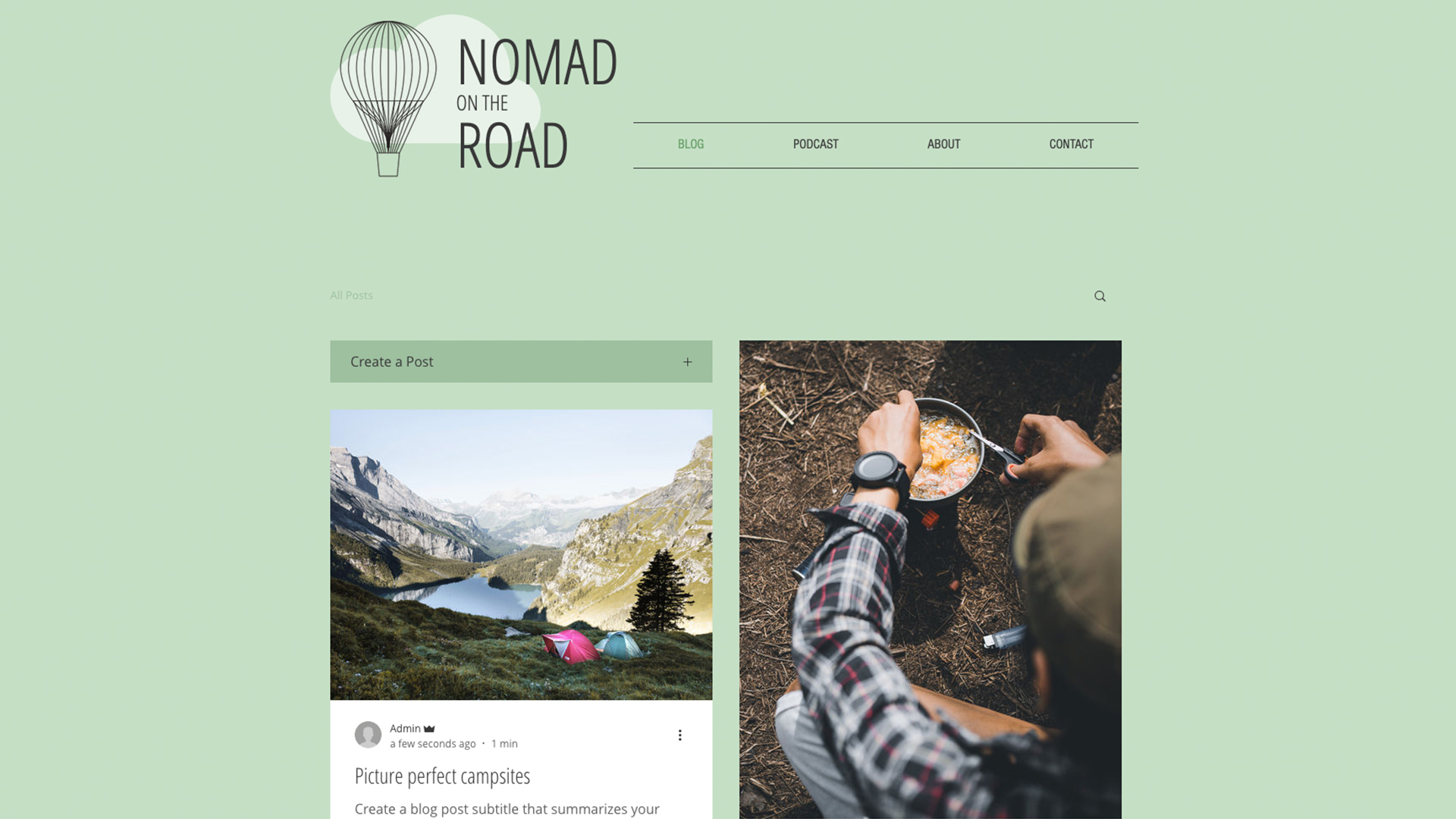 This is a stylish, but simple, blog template that is perfect for travelers that write about their journeys and the places that they're visiting. There is a simple pastel design that is eye-catching and allows readers to feel comfortable on the page. At the same time, there is a masonry style when it comes to showcasing your blog posts. Each blog post can have a high-quality image included.
The template is really simple to customize and update. Those without any kind of knowledge of website design will be able to use this app. Plus the speed at which it can be updated means that you don't have to spend too long updating your website but instead can spend your time collecting experiences to write about, or advertising your page.
The website is also great for visitors. Simple navigation allows for users to find the page they're looking for quickly. The template is also perfect for mobile devices, allowing you to impress mobile users.
Travel Blog and Podcast Highlights:
An interesting, simple yet functional Wix template.
Easy to update, doesn't take long to manage your website.
Masonry design for your blog content, each blog post has its own image.
Works across devices and browsers.
Fashion Blog - Website Template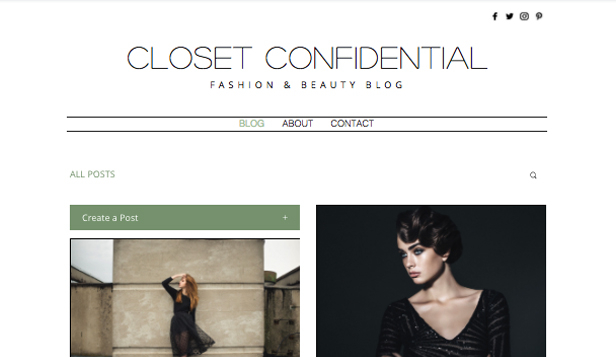 This template is perfect for any bloggers, fashion designers or professionals that rely on visual cues to promote their content. It has been specifically made for fashion bloggers with lots of clean, white space that highlights images that you use on the website to focus the reader's attention on the fashion. The template also uses chic fonts that gives you an editorial feel that brings the template right into the fashion niche.
It is really easy to create text and visual posts that can be shared on your website and with audiences across the world. Whether you're writing about new fashion, showcasing your own creations or want to comment on international fashion shows, you've got all the tools you need with this app.
You can customize many elements of the template with customizable layouts, color schemes and more for your website to be branded for your specific needs. You can use the bold website title and minimalistic design to really get your message across and the easy, subtle navigation will improve user experiences on your website.
In addition, you can get visitors to subscribe to your website with a bold signup form at the bottom of the template.
Fashion Blog:
Minimalistic design that allows you to focus on products.
Customize your webiste with ease.
Visitors can subscribe to your mailing list.
Perfect for the fashion niche.
Sports News - Website Template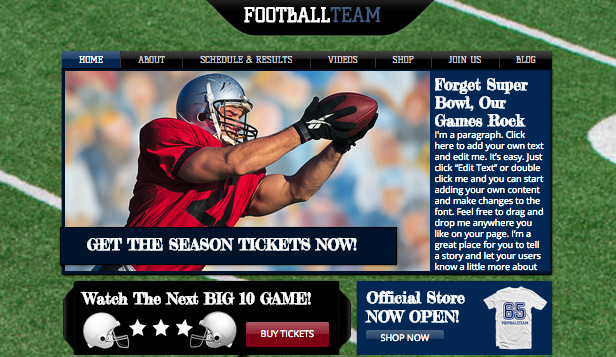 Sports are a great way to make money online. A blog about your favorite team or sport can be linked to numerous affiliate schemes that can help you monetize your website with ease. This theme boasts a turf-themed background with a sleek design that is perfect for any blog that is related to sports.
The template allows you to publish upcoming games and results from the previous matches that you've played. At the same time, you can showcase merchandise, videos and photos.
There is a beautiful slider that allows you to build a portfolio of the latest news on your website. In addition, you can build social links to keep in contact with your audiences.
The theme is easy to update, but it can be overwhelming if you're not used to managing your website. However, for those that want to publish lots on the website, this is one of the top blogs for those with sport teams. It also works well on mobile devices and is responsive to the user's screen resolution and device.
Sports News - Website Template Highlights:
Showcase merchandise on your store to monetize your website.
Display images and videos on your website with ease.
Has a background image that allows you to build a nice theme for your sport.
Showcase social links for your website.
Tour Operator - Website Template
This Wix template is perfect for those who operate holiday or travel blogs. There are vibrant colors and bold fonts that allow you to use this free website to grab the attention of your audience. You can show off exotic locations and brilliant travels whether you're using the fast loading blog or strip slideshow gallery.
You can add text to describe your unique packages or travels. You can also monetize your website further with services and other information. This template isn't just good for travel bloggers, it can also be good for businesses that sell travel packages or a tour agency.
The template includes a small front page that has the latest posts on it. This is great for those that want to put a lot of energy into their writing, but not much time on marketing. The template has been built for speed, therefore loading times are lower.
Tour Operator - Website Template Highlights:
Great imagery on the template will help promote your brand.
Bold color scheme to help you build a vibrant brand.
Advertise your website's services and products.
Easy to edit and promote your blog.
Small Brand
Not every blog has to be associated with a big business. In fact, smaller brands can benefit much more than larger brands from a blog. Those with a blog that publish more than 15 posts a month can expect to get 70% more leads than those companies that don't blog at all. At the same time, small businesses can build more inbound links and improve SEO with a blog. That is why this Wix blog template is such a great option.
The sleek and stylish website template is perfect for the modern business to showcase its professionalism to potential customers, suppliers and others. This template can allow you to upload photos that showcase your products, services and other essentials online. To help brand the website, you can customize the layout and color scheme. These can be pretty important features of any website and can make visitors instantly recognize your brand across the internet.
There is an elegant blog that can store lots of content to promote your website's content. You can improve marketing by having an explainer video on your website's front page. Finally, the simple navigation of the website allows your visitors to explore your website with ease and find the information they want. This can reduce bounce rate and improve website stickiness.
Small Brand Highlights:
Perfect Wix blog template for those small businesses that want to establish their presence online.
Sleek and stylish design that showcases a professional look.
Easy to customise the layout and colour scheme of your website.
Have an explainer video on the front of your website to tell customers more about you.
IP Law Firm
This professional Wix template is designed for those who are working within the legal industry but can be used for the websites and blogs of other professionals and businesses. It is sleek and sophisticated, completely versatile and responsive to the screen resolution and device that the user is on. When you're using this template, you're going to be sending out a message that says you're a cutting edge firm that is looking to the future.
You can use the template to detail your business' specialities, staff and showcase your press announcements, news or blog content. This allows you to keep clients and customers up-to-date with ease. You can include photos and text within any blog and these can be displayed with ease. Customers will be able to find the blog posts without too much challenge either. The recent news is close to the bottom of the template's front page.
You can also use the inbuilt contact form to build communications with visitors. And you can further promote your services, content and more with the excellent image slider. There is also a simple header and easy navigation. You can also complete your design with a great placement of your logo to really make your branding stand out.
IP Law Firm Highlights:
Add lots of branding to your website to make your company stand out.
Have your recent blog posts showcased at the bottom of the front page.
Simple header and easy navigation for great user experience.
Fast loading and works well on all devices, including mobiles.
Family Practice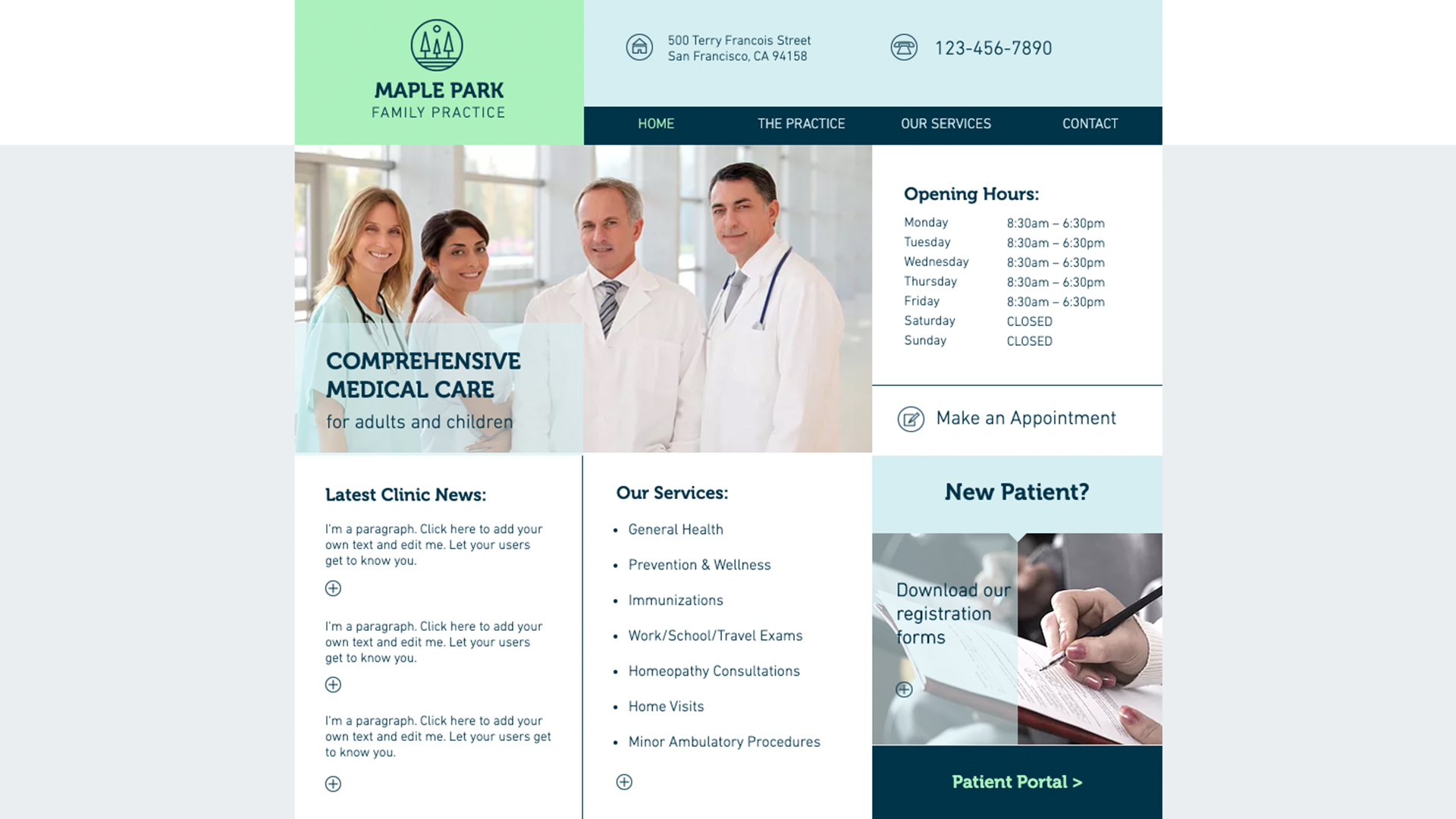 This app is perfect for those that work within the medical arena and want to provide useful information about their clinic, practice or news in general about health. It has a welcoming design that is warm and caring. You can inform those visiting your website about everything that you have on offer at your location and even provide them a link to your patient portal so they can access their own records online.
You can even get new patients into your books with an online form option that allows you to streamline the paperwork process. The clean design is perfect for showcasing news about your clinic or perhaps offering health advice to your patients in the lovely news section.
There is also a slider that can help you showcase lots of great images about your practice to help patients feel relaxed about visiting you. And to help new patients find your practice, you can include a map with directions on how to find you.
Family Practice Highlights:
Clean, simple design that is easy to customize and views perfectly on all devices.
Have an online registration form for new patients.
Display blog content on your website with ease.
Showcase a map about how patients can get to your clinic.
Medical Group
This app is again another one that is perfect for those who are in the health industry. If you're a doctor or other medical products, you can use this app to showcase your brand and spread the news of your organization. It has a polished, professional look that shows patients and others that you're clean, hygienic and can help them with medical needs.
There are lots of features that make this template worthwhile. For instance, you can introduce staff members to visitors in a team page, add helpful FAQ sections and keep patients up to date with all the latest news and advice from your brand.
The template is really easy to use and there are small blog sections that allow you to build content on your site and start building traffic into your site. The design is a little busier than some other templates, but if you have a lot of information to tell visitors, this is a great choice. There is even a slider and explainer video option for the front page.
Medical Group Highlights:
Build a strong reputation with this template with news and FAQ sections.
Allow visitors to meet your team of doctors, nurses and other members of the business.
Include a slider and explainer video on your front page.
Professional style that has customizable options for the perfect branding.
Skin Clinic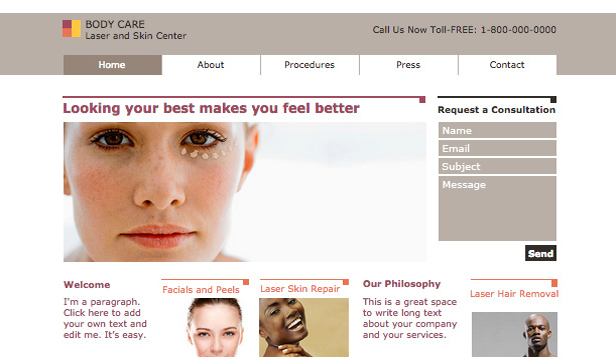 Those who are in the beauty industry might find this theme one of the best for their Wix blog template needs. You can use the fresh and polished template for building a branding that will inspire confidence and help you get the most from your visitors. You can wow them with videos that showcase your treatments, products and services with ease. You can also add images to demonstrate how you achieve results.
The theme has a rather simple design, letting your business' results speak for themselves. There is a perfect blogging/press area, contact forms and more to help you keep in touch with your audience and get them to visit your website again and again.
To help you sell more there is also an appointment booking section. And those that want to market direct from their website, you can add social media and contact us forms to help keep in contact with vital customers and others.
Skin Clinic Highlights:
Promote your store using explainer videos right on your front page.
Use images to demonstrate how results were achieved.
A unique blog and press area to spread news about your brand.
Book customers into sessions on your website with ease.
Private School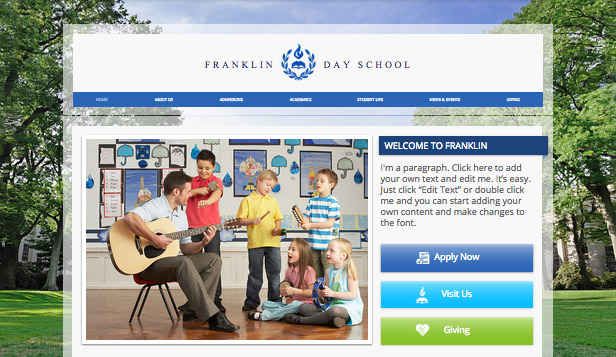 Online education has become an important part of life around the world in 2020 and this template allows you to take your private school or education business to the next level. You can give students and parents a warm welcome with a friendly, professional template that will inspire confidence in your educational settings.
You can describe your programs, classes, share news and photos on the blog and other pages on the website with clear images and an easy to use drag and drop design. The bright design is perfect for the target audience and you can inform visitors of more events at your school with a slider and important dates section.
This template is one of the best for those that want to keep contact with important people but don't need to sell to anyone. The clear, precise and easy navigation helps you to maintain an image and the attention of the audience. The more information that visitors can find out on your website, the more productive your school's team can also be.
Private School Highlights:
Showcase classes, programs and school news with ease.
Drag and drop design elements to the template.
Easy navigation gives audiences better control of their experience.
Professional design.
Final Word: Top 10 Wix Blog Templates
When it comes to blogging on Wix, you will want to use one of the best Wix blog templates. There are a few to choose from and you might want to pick an option that was specifically designed for your niche. So look at the above options and see which is best for you.