When you start a business, you will want to keep costs down. This is important because at the beginning you're going to have limited income but there will be necessary expenses. For instance, you will have to pay the monthly fees for Shopify. And while most Shopify stores will make their first sale within 14 days, this isn't always the case and this doesn't mean that you have the funds to afford a premium theme at the beginning. That is why you might be looking at free Shopify themes.
Can Free Shopify Themes be Good?
While free Shopify themes sound like you're going to get a below-par product, the truth couldn't be further away. All themes that are available on the Shopify theme store must meet specific criteria. For instance, they must have clean code, be mobile-friendly, have social media functionality and reflect on Shopify's standard.
Therefore, while they might have fewer features than you would expect from a premium edition, they can be useful for those businesses looking to get started and add features later.
Another reason why you might also be looking at free Shopify themes is that you've got a lot of apps that you want already and don't need to pay twice for the additional features on a theme. This can be a good choice. If you're using apps like Vitals or Sales Rocket, sometimes you can get away with a free theme because many of the premium theme features are already included with the apps. Or you can get additional functionality with free apps as well.
Whatever your reason for using the free Shopify themes, there are numerous great theme options. Here are the nine best options for your venture.
Show More
* read the rest of the post and open up an offer
Venture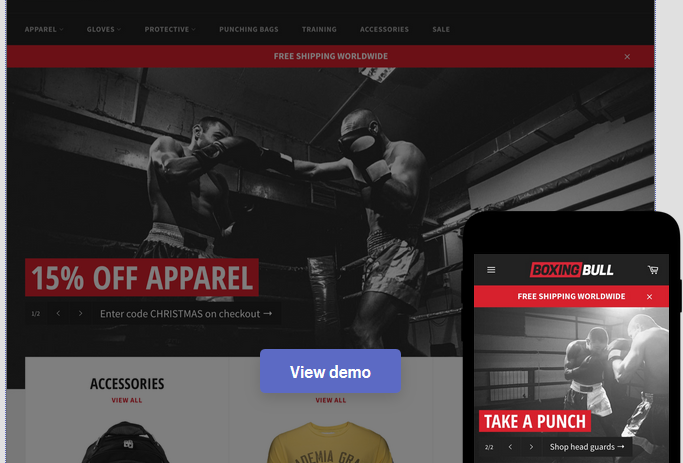 Venture is a grid-style website that is perfect for those website owners who are on a tight budget. It works with shops that have both small and large product categories and with those who operate numerous business models. For instance, you could be an affiliate networker, dropshipper, wholesaler or even just a basic store and you can use this theme as your online store with ease.
The theme is very colorful. It is great for showcasing high-quality products that you sell yourself or are available to buy from you but supplied by others. You can also help visitors to navigate around your store by using multi-column menu options that can also help you rank higher on Google. A good navigational set for your website can also help you reduce bounce rates and improve conversions on the website.
To help you promote your products there are slideshow functions built into the theme. These can allow you to showcase important messages with ease. You can include top-selling products, featured vendors or details of the latest offers on your website with ease. All images can also be linked to their own page, so visitors can click on them to get more information.
Venture Highlights:
Can handle large and small catalogs.
Ideal for any type of business model that you might want to operate.
Three aesthetically pleasing styles you can use on your website.
Slideshows and promotional banners can be added to your website with ease.
Boundless
Boundless isn't featured packed, but it is a high-quality theme that is available for free. It creates a simpler website design that can sometimes convert more visitors than some of the high function themes you might otherwise use. However, that doesn't mean it doesn't have any unique features. The theme itself has a sticky navigation option that keeps your menu at the top of the screen, no matter how far down the user scrolls.
At the same time, you can expect your customers to enjoy looking at your brand pictures. The theme can host these in high-definition and include large images. Perfect for showcasing what your store has to offer. And because of the coding, the theme's loading times won't be affected. Therefore, your site can be fast loading. This can improve revenue levels but it can also help you rank higher.
The theme is also great with the slideshow. This can showcase top products and services with ease. The slideshow comes with a popular fading effect. Or showcase more of your brand with a video that is shown on your home page.
Boundless Highlights:
One of the top free themes available but still carries great navigational options for your visitors to find products on your store.
Bring your brand to life with a great slideshow option.
Be found online with SEO options that can help you rank higher.
Video options for those who want to use moving images to portray more about their brand.
Supply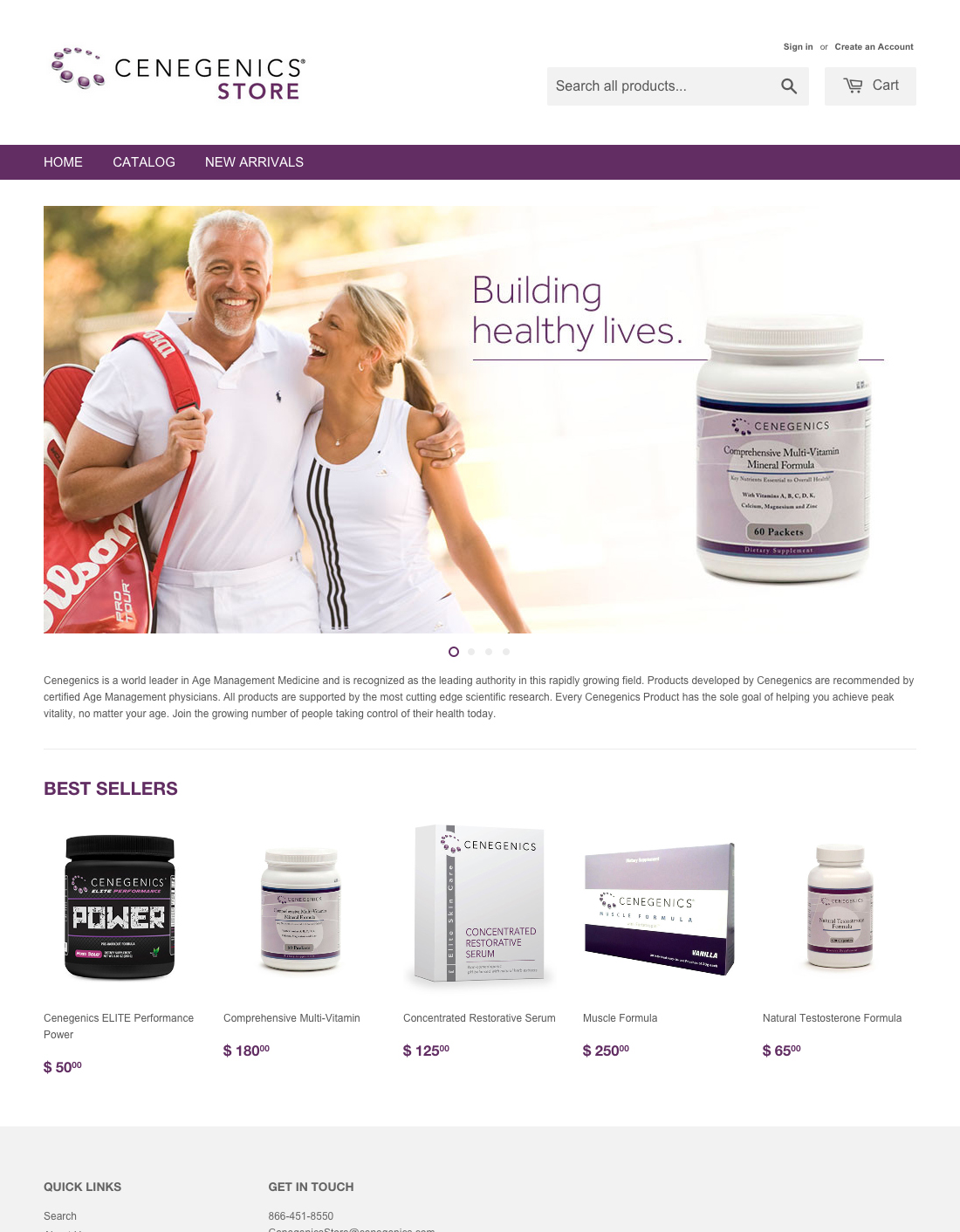 Having a large catalog doesn't mean you have to have a premium theme to showcase them all. This theme does the job very well and at the great pricing level of nothing. There are collection filtering sidebars to help customers find the products with ease. Customers can filter products based on what collection they're in, their brand, price and other options you get to choose.
You can also add additional branding options to your website with a slideshow that can showcase your store and display the best products on your website. The theme is completely optimized for all devices, include mobiles. Therefore, customers can shop with you even while they're on the move.
You can also have royalty-free images hosted on your website thanks to the free ones that are supplied by Burst. This is available to all Shopify theme customers.
Supply Highlights:
This free theme is great for those who want to have a large catalog, but low startup costs.
Showcase your branding and best products in an aesthetically pleasing slideshow.
Offer customers the chance to filter products based on various options improving conversions and increasing revenues.
Optimized for all devices and search engines to improve your site's traffic.
Express
Express is perfect for those that want to have a simple presence on the internet. Perhaps you want to focus more on your offline store, but know that an online store is important for the foot traffic to your physical store. Well express is a great option as it is ideal for one-page websites. It can showcase all your product information and brand details all on one page, making it quick for customers to see everything that they need to visit you.
It has also been designed so that those using mobiles can visit your website quickly. As mobile traffic is now making up more than half of all internet traffic, this is very important. And if you want, you can still sell online, with an excellent quick buy option that allows the customer to speed through the checkout process. With the right app, you might also be able to get the customer to pick up the order from your store.
The theme also includes a slide-out cart. Therefore, customers can add and view their cart without leaving their current page. Great for those that want to have a website that is easy for customers to use.
This theme is great also for those who have few products (less than 20-50). And could be the perfect option for those that want to open a niche business or side business.
Express Highlights:
Help the customer make the purchasing decisions they want to make quickly and complete transactions at speed.
Ideal for those businesses that want to have a small web presence and have small catalogs.
Great cart options for improved shopping experience.
One page designs for easy editing and management of a website.
Narrative
Narrative was built for those stores who don't have a very high number of products to sell. In fact, it is the perfect option for those who are selling just one product or a range of three to four products. To help you sell those products there are lots of features within this aesthetically pleasing design. For instance, you can display a hero video on your website. This can autoplay as the customer lands on your website, be displayed in a full screen mode and can be a warming touch to your free Shopify theme design.
The app is also good at adding visual storytelling elements to your website. There are customizable image blocks, quote slide and more to help tell visitors to your store more about your website. You can also help customers get around your website with a sticky navigation option. This keeps your menu, logo and the cart at the top of the screen as they start to scroll down the page.
Narrative Highlights:
Use a hero video to help you tell visitors more about your brand.
Display lots of information about your brand with a sleek vertical slideshow on your home page.
Great navigational options with sticky menus.
Optimized for small catalogs.
Debut
Debut is one of the top options when you want to have a feature full free Shopify theme. The theme includes a slideshow that can be displayed on your homepage that can showcase multiple products on your website with ease. Your customers can click on any of the images and be taken to the product page and if customers want to find something else, they can use the predictive search features to find the products they want on your store.
To help improve trust, your audience can see what other customers have thought about your brand. There is a customer testimonials area that will include comments and quotes from your customers. And you can show customers more details about your brand with a homepage hero video that you can create and host on YouTube or Vimeo before connecting to your website.
One of the best features of this theme is that it allows you to arrange local pickup for your customers. Therefore, you don't need to arrange couriers or shipping agents. Customers can order online and pickup from your store.
Debut Highlights:
Great filtering and live search functionality.
Build specifically for those stores with a small catalog.
Use a YouTube or Vimeo video as a hero video on your website.
Can arrange local pickup for orders.
Simple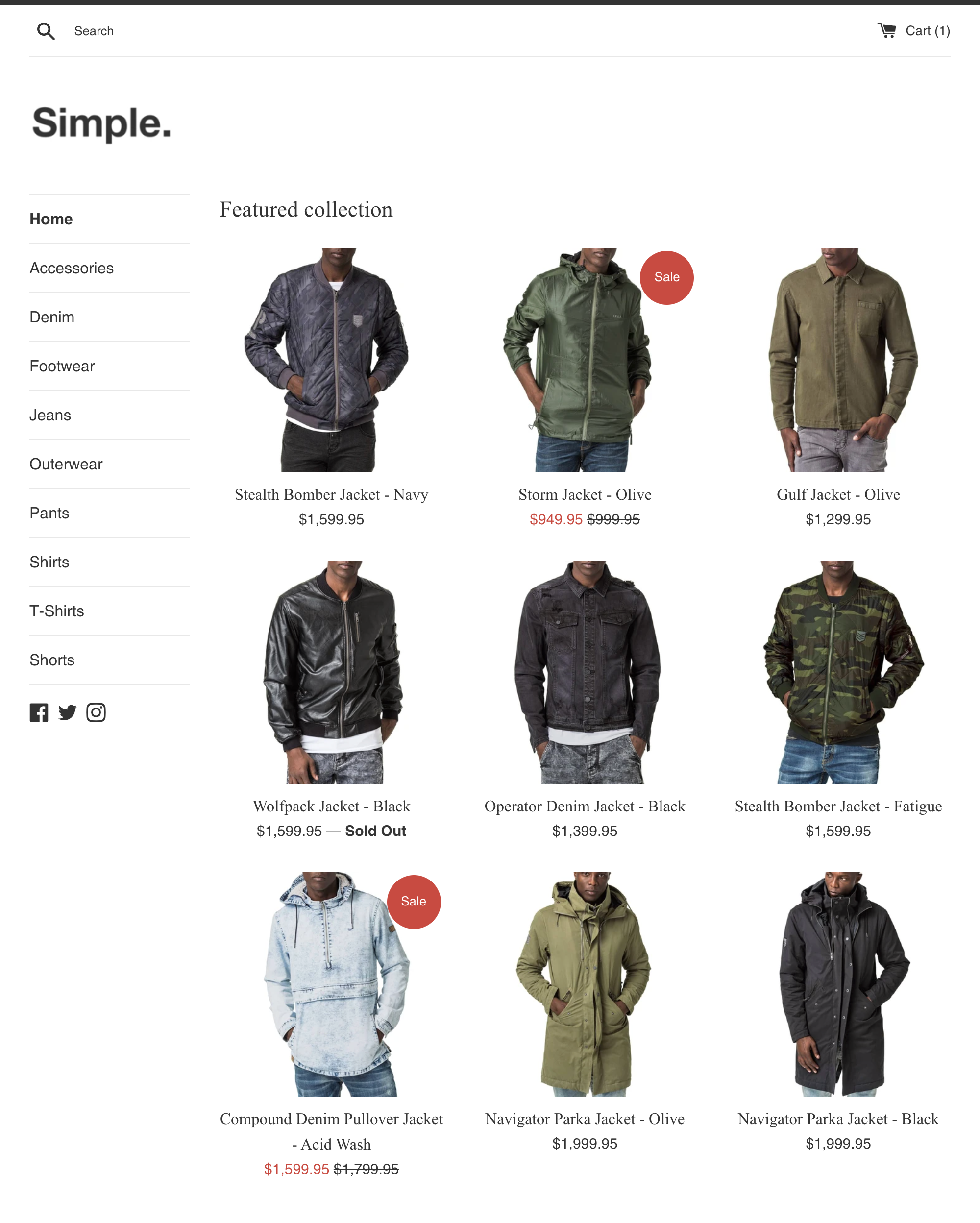 Simple is an easy to use and basic Shopify template, but it has some features that some business owners might find useful. For instance, you can create excellent navigation across your website with accordion-style menu options that can be displayed in your sidebar. These can display your products and collections with ease.
You can also improve customer experiences with high detailed product image zoom features. Customers will enjoy seeing the finer details of your products and you can also animate any brand images on your page with sleek, transitional effects that look professional.
To improve profitability on your website, you can showcase recommended products on product pages. This can increase cross-selling and upselling. It is also a great way to increase the average order value of your carts.
Simple Highlights:
Easy to use free Shopify theme that comes with many features.
Recommend other products on your Shopify products.
Use product zoom to let customers see your products in better detail.
Accordion style menu options.
Brooklyn
Brooklyn is designed for modern apparel stores. You can build a strong brand within the fashion industry with this theme whether you're dropshipping, selling print on demand products or have your own clothing lines to sell. You can show multiple product and brand images at the top of your home page in a neat and professional header slideshow. This can be a great way to get customers from your home page to your product pages.
You'll also be able to build trust with audiences thanks to the home page video options. Videos must be hosted on YouTube or Vimeo.
In addition, there is a dynamic product grid layout. This allows you to showcase your products in a space-saving concept that is easy to do. The theme will also change the layout based on how many products are being displayed.
The cart can also slide out, allowing customers to add to their cart and see what is in it without leaving the current page.
Brooklyn Highlights:
Host a video at the front and centre of your home page, must be hosted on YouTube or Vimeo.
Grid layout that changes depending on the number of products displayed.
Slide-out cart to help customers shopping.
Great navigational options.
Minimal
Minimal is a great option for those that don't just want a cost-effective solution for their website, but those that want an easier website to manage. Minimal isn't about minimal website features, but more about the design feel. Minimal websites have designs that load quickly and allow the focus of the user to be drawn to specific areas of the website.
Minimal websites have become very popular in recent years because of the need for speed on website loading times. Plus they seem to perform well with high conversions.
This theme does have lots of features as well. For instance, there is a slideshow that allows you to showcase multiple product and brand images directly on your home page. This way you can start to sell as soon as the customer lands on your website. You can also entice them with product image zoom, that gives them a better view of their products and can help them with their purchasing decisions.
The front page of your website can also include a video. This has to be hosted on YouTube or Vimeo, but it is a great way for you to tell more about yourself and the brand. It can also be a great way to sell to audiences as they prefer seeing product videos than they do reading about products in text.
You can also help customers search your website for the videos that they want. There is product filtering that can reduce the number of options on a screen based on numerous criteria from type, best selling, price and more. Finally, you can also recommend products to customers on the product page. This can help you increase the value of orders without having to market any more.
Minimal Highlights:
Optimized for mobile devices and search engines.
Can showcase related products in a recommended area on the product descriptions.
Showcase your brand with a front-page video.
Add product filtering to your shop to help customers find the products they want.
Final Word: The 9 Best Free Shopify Themes
When it comes to starting a Shopify store on the lower budget, you might want to look at one of these nine best free Shopify themes. While they're free, they're not skimping on the features they can include. You might want to upgrade to another theme later on, or you might find that one of these themes will do you well for the rest of your Shopify career.