How your Shopify website looks will depend largely on the theme that you choose. There are numerous options for themes across Shopify store and beyond. Therefore, it can be hard for you to choose between the top themes.
What Makes A Great Shopify Theme?
There are many aspects that can make or break a theme for your store. You need to be sure that it has the features for your store. For instance, some will be better suited for a single product, others will be better for those with thousands of products. There are also other aspects to consider. Some themes are designed for certain styles (like single page) or parallax effect. So you have to decide what type of theme you're looking for.
There are several things that you're going to be looking for when you're building a website. You want a theme that will rank high on Google. Approximately 93% of all website traffic is driven search engines. Most websites have more than half their traffic from search engines.
One of the factors that will influence your website's rank on search engines is the speed of the website. And speed can also impact your website's revenue. Just a one second delay in the loading of your website can reduce your revenue by 7%.
Here are a selection of the top themes that you could use on your Shopify store.
Show More
* read the rest of the post and open up an offer
Booster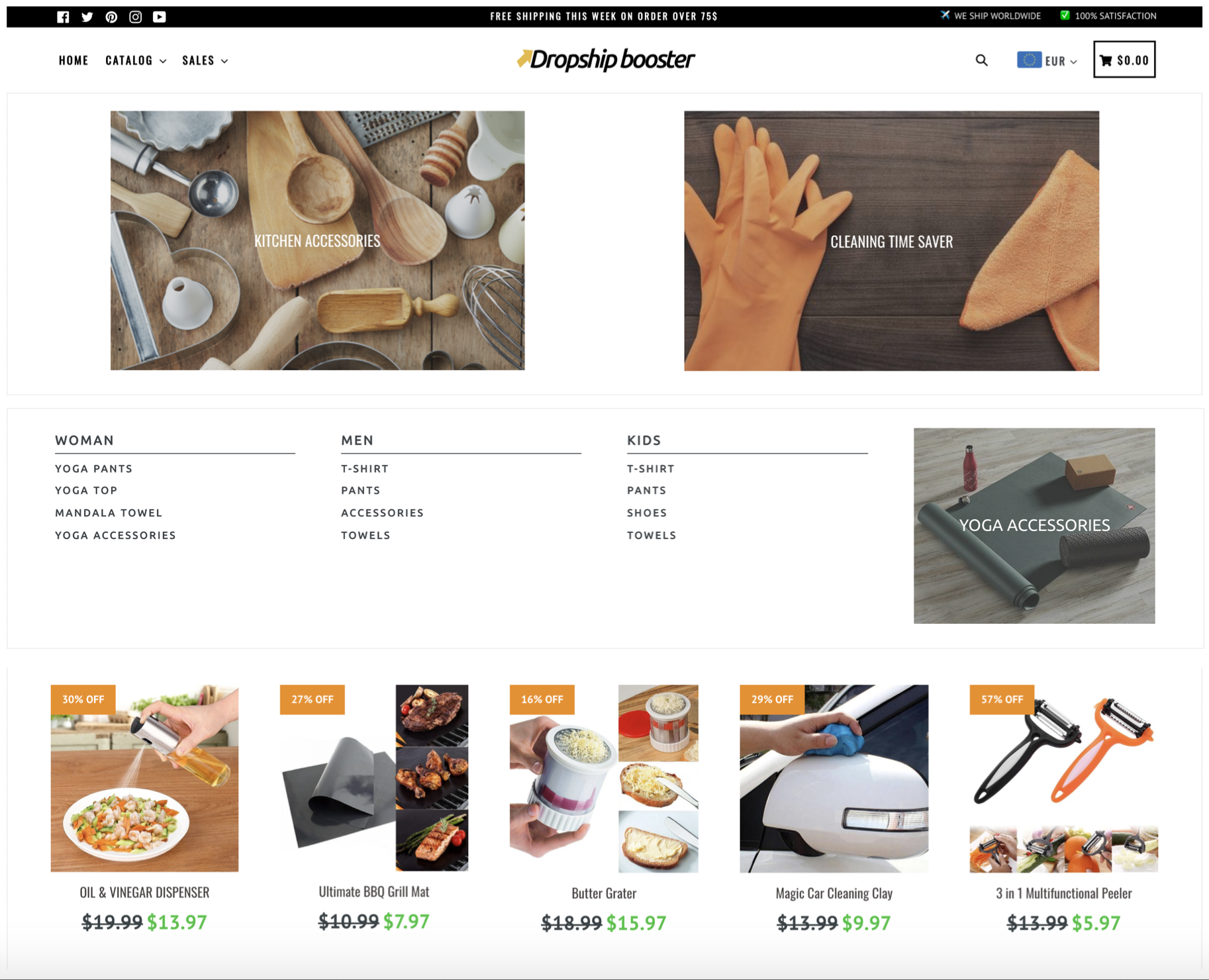 Booster is one of the top Shopify themes available. It is highly functional, with lots of features that are normally only found within apps. Therefore, buying this theme can help you with costs in the long term as you won't need to spend more on other app subscriptions. Some of the features it includes are a countdown timer, SEO and social proof. According to the developers, the average Shopify store owner could save more than $2000 a month with this theme.
The theme has lots of beautiful layouts and designs that can help with the aesthetic appearance as well as SEO tools to help you rank well.
With the theme, you're sure to be able to maximize your returns and impress guests. And the speed of the theme is very impressive. Therefore, there is going to be very few people who will abandon your search.
Booster Highlights:
Save more than $2,000 on apps with all the additional functionality that is included with this theme.
Reduce cart abandonments and improve ranking with a fast theme.
Is fantastic with SEO, helping you to improve your ranking on Google and other search engines.
Responsive theme design. Can be viewed on any device or screen resolution.
Broadcast
If you want to showcase your products with a lot of imagery, then this is a great theme for the task. The theme has many features that center around the images of your products and you can connect it to your Instagram account to showcase additional images that you showcase there.
There is also the chance to add a featured video or background video to your store's design. This can help you build trust with audiences as well as adding a testimonial section to add social proof to your store. This aesthetically pleasing Shopify theme allows you to engage audiences through the Disqus blog commenting system for those that like to blog.
Your products can also be displayed with some of the best features online. Customers can use the quick view to see product details without having to leave the search page or another aspect. The view is through a popup that looks elegant and impresses the guests. This reduces the bounce rate that can happen when customers are loading new pages on your site.
Broadcast Highlights:
Optimized for all major search engines, helping you to rank highly and gain traffic.
A great, visual theme for your products, allowing customers to see the finer details.
Responsive for all devices and screen resolutions, giving you better coverage and more traffic.
There are free stock images you can use on your site, supplied by Burst.
Streamline
This is a multipurpose Shopify theme that will allow you to use the numerous features to build a successful store. The theme is built on the philosophy of storytelling, which can draw the audience into your brand through emotion and the anticipation of something exciting happening. It's also a good way to showcase your brand's history. This gives customers a positive purchasing decision and can help with raising conversions.
All stories can include text and images. This site is perfect for all search engines and with a few adjustments, can be a great way to improve your site's ranking on Google or other search engines. The code is completely clean, therefore it is great for speed as well, another important factor when it comes to selling online.
The theme also allows you to build significant levels of traffic through Instagram with integration with the social channel. And you can add interest to your store with great animations. This engagement can increase brand recognition.
Streamline Highlights:
A mobile-friendly theme, that will display perfectly on any device or screen resolution.
Has a sticky checkout that encourages the shopper to continue browsing.
Can animate text, images and videos to make them more engaging and build anticipation.
Can use free stock images across your site, all stock images are supplied by Burst.
Testament
Testament is a great theme for most stores but it's mostly used with clothing, luxury and lifestyle brands. However, whatever brand you are or your niche, it is a great option. What makes it perfect for clothing, luxury brands is that it includes a color swatch feature. This is where you can display the exact color of the variants as images, instead of just saying blue/red/yellow, etc.. This reduces returns from your customers and improves customer satisfaction. It might also help with conversions as customers can make a more informed decision.
This theme also has a product quick view option. Customers can see the finer details of the product with a popup that allows them to remain on the collection page. In addition, you have the sticky navigation feature that allows for easier movement of the visitors from one page to another, reducing bounce rate and improving the period of time a customer is on your website.
To help with navigation more, there is a multi-column menu option.
You can add engaging features to your website with the use of video on the home page. This could be an explainer video of your brand or an advertisement of certain key products. The videos can be hosted on YouTube or Vimeo, which means the speed of your website isn't affected. The videos can also help you get more emotional attachment with your visitors.
Testament Highlights:
Sticky navigation available on the store improves user navigation.
Quick-view options allow customers to see more details of a product without leaving the collection page.
Tell the brand story on your website with a video hosted on video sharing websites.
Showcase what colour variants your products are with swatches.
Loft
Loft is a grid-style Shopify theme that is perfect for any store that wants to display elegance and style at the same time. Using storytelling method, you can build an emotional pull for your brand and have customers start to trust your brand. There are also excellent Instagram feeds and you can add lots of content from your social media channels as well.
The theme has lots of options to improve navigation across your store. For instance, there are multi-level menus that can be used. High class navigation is linked to better rankings on search engines. You should also be able to improve conversions on your site through featured products on the home page. This could be a product that has the best profit margins or one that is a top seller with other customers.
Loft Highlights:
Storytelling will help showcase your products or brand history and improve the trust between you and customers.
Designed specifically for brands which have large catalogues.
Can use high-resolution images on your site to impress customers.
Great navigational tools to make it easier for your customers to move between pages.
Capital
Capital is a very colorful Shopify theme. It is the perfect choice if you have a large catalog as it has the ability to display all your products within an elegant and beautiful design without products being lost in a mass confusion of products. There are excellent styles that can be used on your store to create the design you want to.
Navigation with this theme is excellent, it is multi-level and it makes it easier for customers to transverse your store. Menus can include categories or sub categories with ease on your store. And customers can use the advanced product filter or the live search function to help them find the products that they really want quickly and effortlessly. These are features that other themes require you to have an app for.
To help with your marketing, there is a fantastic Instagram gallery. This is perfect for growing your following on the popular network and with the nice hover-over effect, there are great ways to showcase key products on your website.
Capital Highlights:
There are three great styles that you can choose from, giving you the perfect choice in style and brand look.
A highly responsive theme that helps customers see your website, regardless of the device they're using.
Optimized for search engines, that allow you to be found on Google and other search engines.
Free stock images can be used. They are supplied by Burst.
Magic World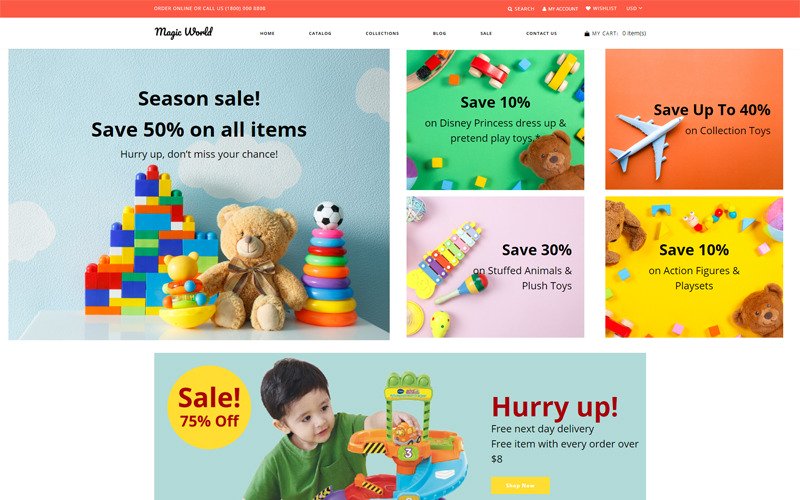 Magic World is a fantastic theme for those that want to add a lot of color to their brand and showcase their products with style. It is one of the best themes out there because of the way that it closely matches the style of highly successful websites across the world. The easy-to-follow content allows you to direct customers to the products you want them to see with information or section notes.
There is great navigational options that allows you to improve conversions, increase order values and rank highly on Google and other search engines. The fantastic SEO options make this a great app for those who haven't run an eCommerce store for long. It is fully-responsive, which is good for SEO and there are other elements that are closely matched to the demands of Google.
There are also great ways to publish new content on your site, like blog posts. And keep customers engaged on your website with a slider that can direct customers to a specific offers or products that are usually kept below the fold. Finally, there are sorting options that allow customers to see the products that are most relevant to them.
Magic World Highlights:
Has multilingual and multi currency functionality.
You can use social media integration to help you generate traffic and reach your target audience.
If you have a physical store, you can direct customers to your location with the help of Google Maps.
Clean coding for better search ranking and speed up your website.
Mr Parker
This is a multi-vendor website that allows you to have numerous sellers on your website, without a large catalog. This app allows you to have better quality control on your marketplace store and communicate with fewer, but more reliable vendors to give you a great business model. There are four fantastic theme styles that you can choose from.
There are a wide variety of color options and the site's design can be completely unique for your own branding and suitable for your specific niche. You can also build engagement with your key audience with marketing popups that allow you to share promotional messages with customers really easily. You can optimize the images with ease with this theme. Therefore, you can give customers a close-up look of the products on your store. And the theme can handle large images without a problem.
Mr Parker Highlights:
There are four beautiful theme styles you can choose from for your perfect website look.
Optimized for search engines, so your site can rank highly and you can drive traffic to your products.
Great for those who don't want a large catalog.
Can be used for those who want numerous vendors to sell on your website.
Masonry
This theme is designed for a masonry layout on the home page. There is a slideshow option that can showcase numerous product/brand images to promote additional features as well. This theme has the functionality to build a reputable and professional brand.
There are four unique and elegant theme styles that allow you to stand out from the crowd. All the styles include infinite scrolling, and it doesn't matter how many products you have, customers can stay on one page to see all the products.
There are also other features that can make navigation easy for customers. This allows them to discover new products or the ones that they want really easily. There is an accordion-style menu option that can be easily displayed in the sidebar and you can have a product quick view on your website.
Masonry Highlights:
There are four, elegant themes that you can choose from.
The theme is optimized for search engines, allowing you to be found on Google and other search engines with ease.
Highly-responsive, so your site can be viewed by customers on mobile devices and other devices without issues.
There are numerous features that allow you to build a site's marketing potential and earn a significant revenue through high conversions.
Atlantic
Atlantic is a great theme for increasing conversions and has been proven to do this. It is a suitable theme for online stores with a large catalog and is particularly suited to clothing and beauty stores. It has a sharp and clean look with lots of features to enhance the browsers ability to find what they're looking for such as menu and search options.
This store can support large stores with a high number of transactions and works well for brands that have both online and physical stores. This app is easy to use with a simple drag and drop page builder.
Atlantic Highlights
An easy to use drag and drop page builder.
Works for brands with both online and physical stores.
For stores with large catalogs.
Great for stores using product videos as well as images.
Dawn
This Shopify theme is great for showcasing images with simple fonts, especially as storytelling. It will enable you to showcase your product images from both small and large catalogs. There are lots of features to enhance the images such as lookbooks, galleries and image zoom to help customers choose products.
This theme is easy to use and customize with a simple drag and drop page builder. You don't need to be a website developer or know how to code. Blogs are great for improving your SEO so you should make good use of the blog page available with this theme. You can also set up an FAQ page to answer customers questions and ideally improve the number of conversions. There is also a recommended products page where you can showcase popular products that your customers are likely to be interested in.
Dawn Highlights
For both small and large catalogs.
Image features such as zoom and lookbook.
Easy to use.
Menu and heading options.
Trademark - Inactive
Trademark is a great, elegant Shopify theme that allows you to build a beautiful website without the need to know any coding or past website developing experience. This is a beautiful theme with lots of options that make it a perfect choice for many niches, specifically though the lifestyle, beauty and fashion niches.
There are two styles within the theme that can be selected. They are both visually attractive and will help make a great impression on your visitors. There are lots of navigational options to make your site better for moving around. There is also a live search option that helps customers to locate and view products that they want.
There is also a multicolumn menu option to improve navigation and this helps with ranking. The menu can also include image of products to make it easier for customers to know what they're clicking on. The theme allows you to promote your brand's core messages with any featured images, videos or text in a slideshow feature that can make your products standout. The slideshows can be animated and located anywhere you like. If you like to blog, there is also a blog slider.
Trademark Highlights:
Includes a full-width Instagram feed that can help you to showcase the best products in your store.
The theme is completely optimized for search engines, this can help you rank higher on Google and bring in more traffic to your store.
The numerous navigational and search options makes the user experience great.
This theme is built with code that makes it fast and mobile friendly. Therefore, your website can visited by a user on any device or using any screen resolution.
Final Word: Top 10 Shopify Themes
Whatever theme you want to use on Shopify, you need to make sure that you're using a good one. These are the top 10 Shopify themes that we recommend, which one will you install?
If you see another Shopify store that is using a theme that you like the look of, discover what the name of that theme is. Here is a quick scan tool that will give you that information.